Delhi
6 Cray Dishes Like Red Ross Sandwich, Joey's Pizza & More Yummies To Try @ How You Brewing?
Tucked away in a neat, sunny street in Amar Colony is a little bistro-esque eatery called 'How You Brewing?'. If you're thinking the name sounds kinda familiar, we'll fill you in on the namesake - remember Joey's famous line from F.R.I.E.N.D.S. - 'How you doin'?', yup, that's where the name of this cute F.R.I.E.N.D.S.-themed eatery comes from!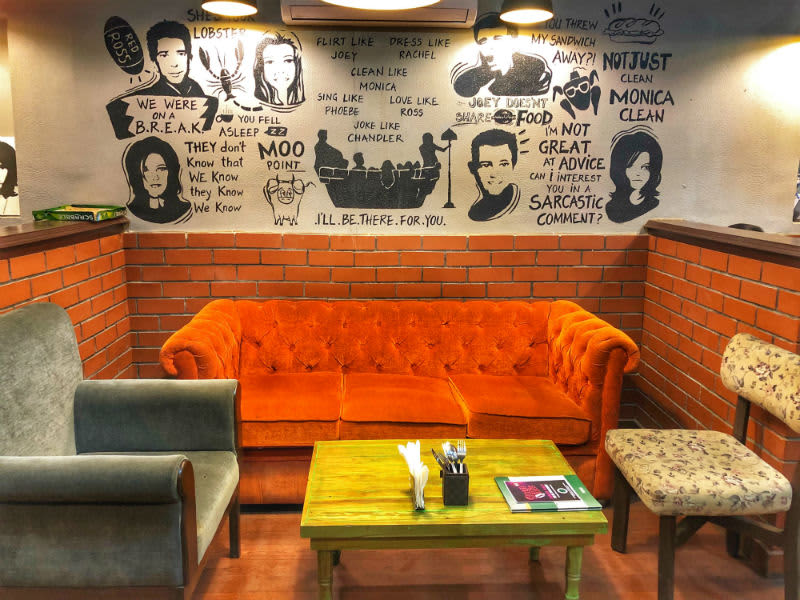 Walk into this place and the first thing you'll notice is a replica of the exact same orange couch that became so popular in the classic sitcom and we plopped our bottoms down on it post-haste! Having settled ourselves in comfortably, we looked about and spotted an entire wall plastered with funny quotes from all the F.R.I.E.N.D.S. characters including the 'King of Sarcasm' himself - Chandler Bing! Loving the vibe of the place, here's what the peeps over at How You Brewing dished up for us:
1. Chocolate Peanut Butter Shake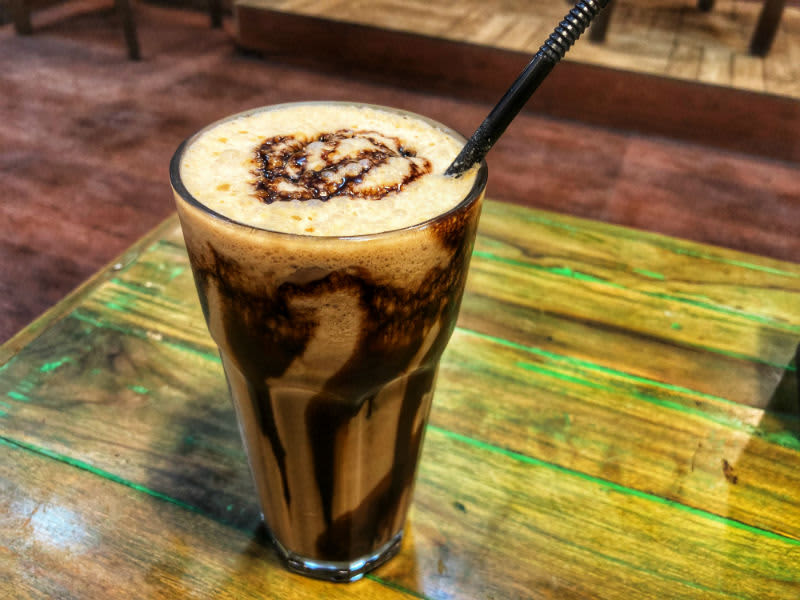 Chock-full of copious masses of salty peanut butter, their Chocolate Peanut Butter Shake was blessedly chilled, came with oodles of syrupy chocolate and was neither too sweet nor too salty. Our verdict - they nailed it! We'd suggest you start off with this one to cool off in this unbearable heat and then dig into the nibbles they have on offer.
2. Iced Mocha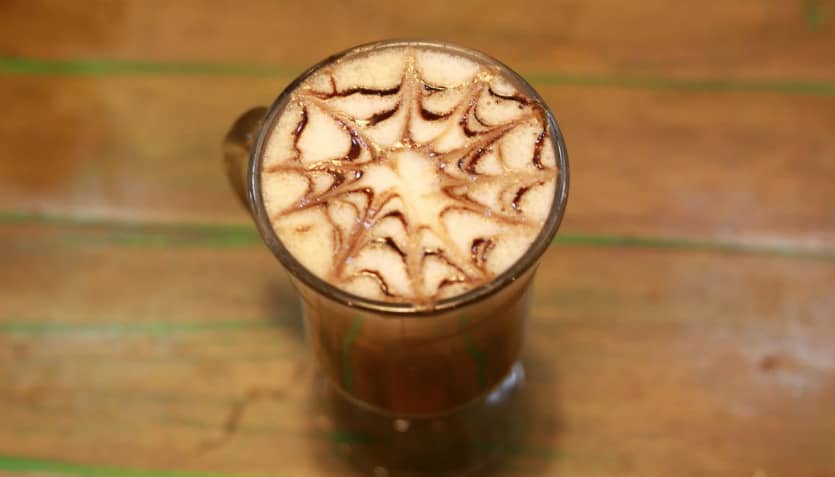 Since no weekend lunch can ever start without a cuppa joe, we ended up ordering their chilled Iced Mocha, and fair warning - we were NOT disappointed! Presented in a dainty glass cup with pretty coffee artwork swimming on top of the froth, their Iced Mocha packed quite a punch, caffeine-wise, and was served with lots of choco powder thrown in for good measure. Sunday dose of caffeine served in style is all we'll say!
3. Red Ross Sandwich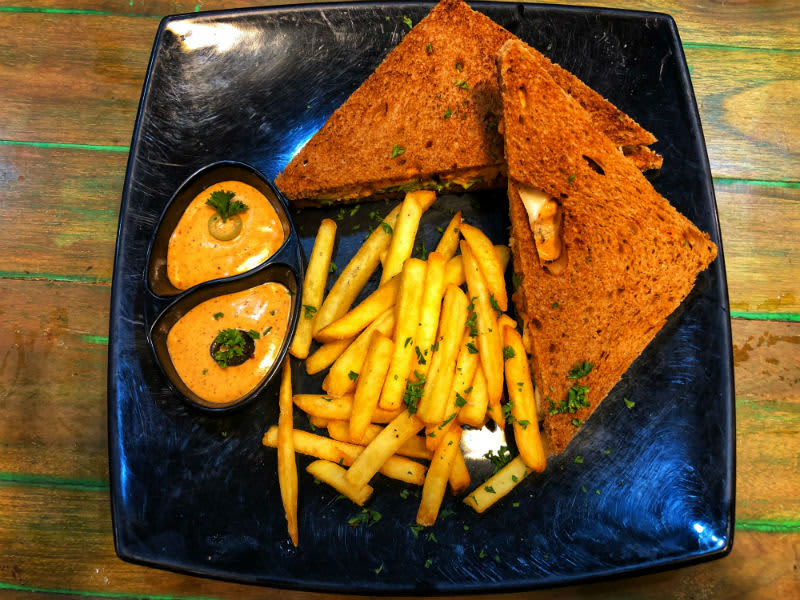 Inspired by the famous episode where Ross tries to convince Phoebe and Joey that he gets all red-faced when he's mad (unsuccessfully, we might add), these peeps came up with a lil something called the Red Ross Sandwich. Served with a scoop of crisped-to-perfection French fries along with two massive halves of a whole sandwich crammed with juicy chicken strips and the most zesty Chef's special sauce that we legit could not get enough of! Yummy!
4. Joey's Pizza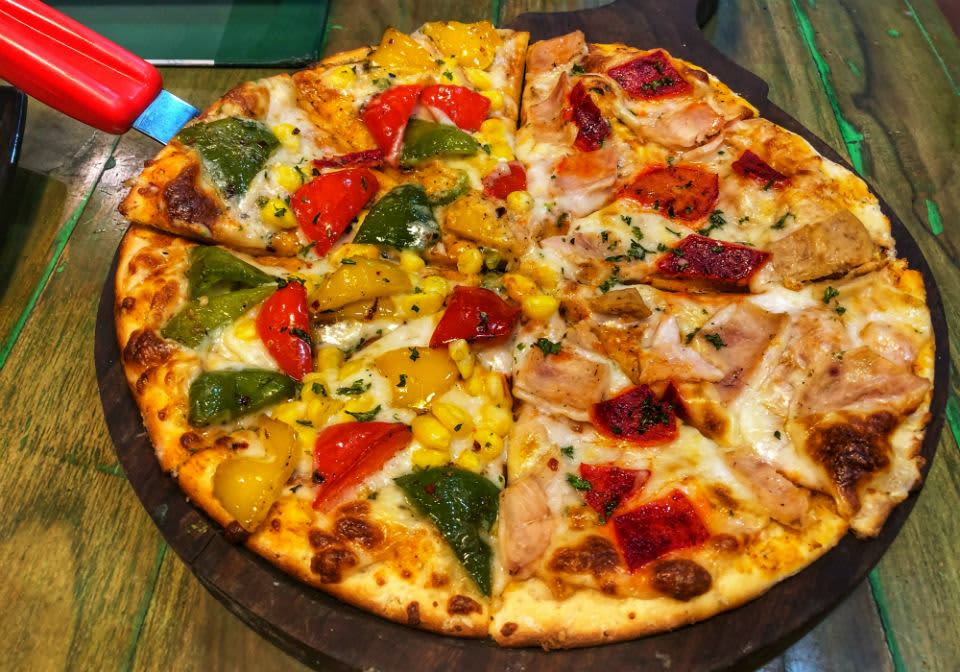 We'd like to call this one Joey + Phoebe's pizza, seeing as half of the pizza was a riot of veggies, and the other half was studded with well-cooked hunks of chicken. The veggie half came with lots of corn, capsicum and nicely sauteed onions on cheese and got a thumbs up from us. Moving to the chicken half, this one proved a match to the veg side and was delish as well, to say the least!
5. Chicken Lasagne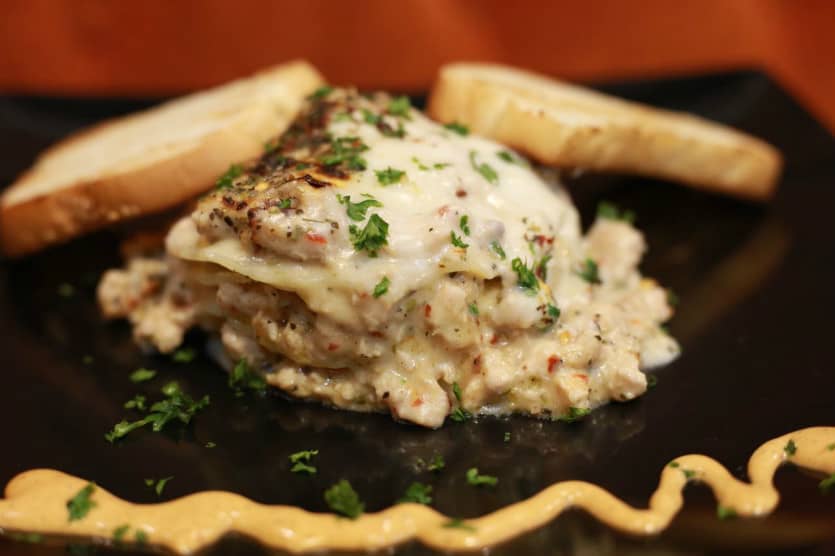 Layer upon layer of cheese held shredded chunks of chicken plus generous garnishing with lots of oregano and pepper is how we'd describe this dish. Their Chicken Lasagne was served with two pieces of lightly toasted garlic bread sprinkled with sesame seeds. Our take? This dish is perfect for when you're super hungry and in the mood for something cheesy and satisfying!
6. Chocolate Chip Waffles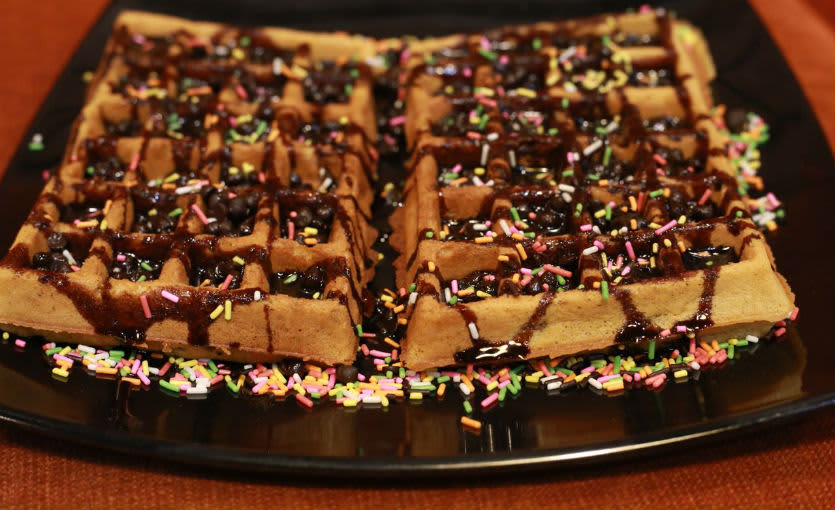 Wanting to end our happy meal with something sweet, we opted for the classic choice - a plate full of Chocolate Chip Waffles that came smothered with oceans of chocolate syrup, not to mention lots and lots of crunchy rainbow sprinkles. Needless to say, we polished off every last crunchy bite!
If you'd like to make a pit stop at a nice, breezy place that does good comfort food and is also incidentally Insta-worthy, then come pay this place a visit and we guarantee you'll come back with a full tummy and lots of pictures! Seeya there!
Where | How You Brewing? - E-125, Near Tagore International School, Amar Colony, Lajpat Nagar IV
Meal For Two | Rs 600
Timings | 9 AM - 11 PM
Call Them | +91 9821 473 600
Check Out Their FB Page | https://www.facebook.com/howyoubrewing