Delhi
7 Card Vendors Tucked In Chawri Bazar You Need To Check For Exquisite Invitations RN
Disclaimer: Bearing in mind the current health crisis befalling the city and the world at large, we're tweaking our content policy and recommendations. Stay positive, keep hygiene levels up and don't fall prey to panic and misinformation.
Nestled in the heart of Nai Sarak - Delhi's stationery, printing and textbooks market - Chawri Bazaar is truly one of a kind. People especially flock here for shortlisting and customizing all kinds of wedding cards available, whether on a budget of Rs 5 or 500! And so here are our curated, top 7 best wedding card vendors to be found in Chawri Bazar:
1. R K Cards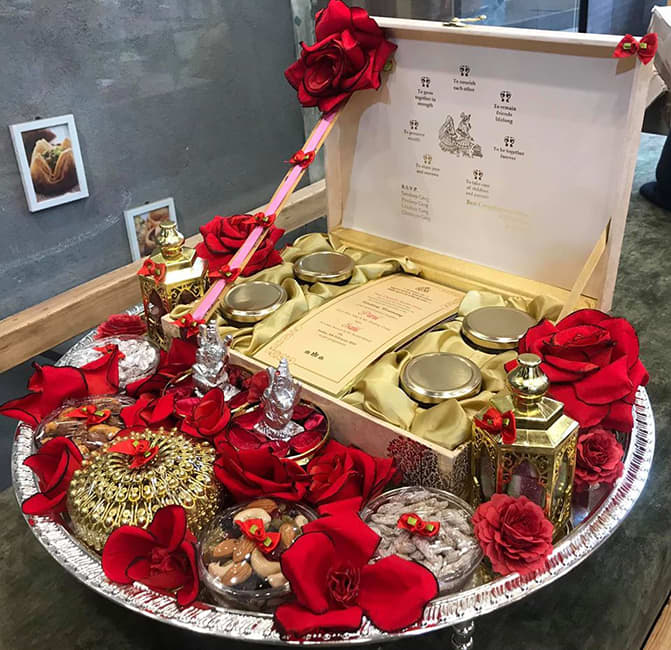 R K Cards specialises in cards manufacturing that caters to all kinds of occasions. These guys are very quick with their delivery and keep in mind the budgetary specifications as well. They have triangle shaped 3D boxes, laser prints and loads of other designs that'll leave you in awe. So, check out their collection and place an order asap! 
Where | R K Cards - No. 82, Main Market Lane
Call Them | +91 9899 611 017
Timings | 11 AM - 7 PM 
Check Out Their FB Page | https://www.facebook.com/RK-Cards-161950137204090/ 
2. Classic Designer Wedding Cards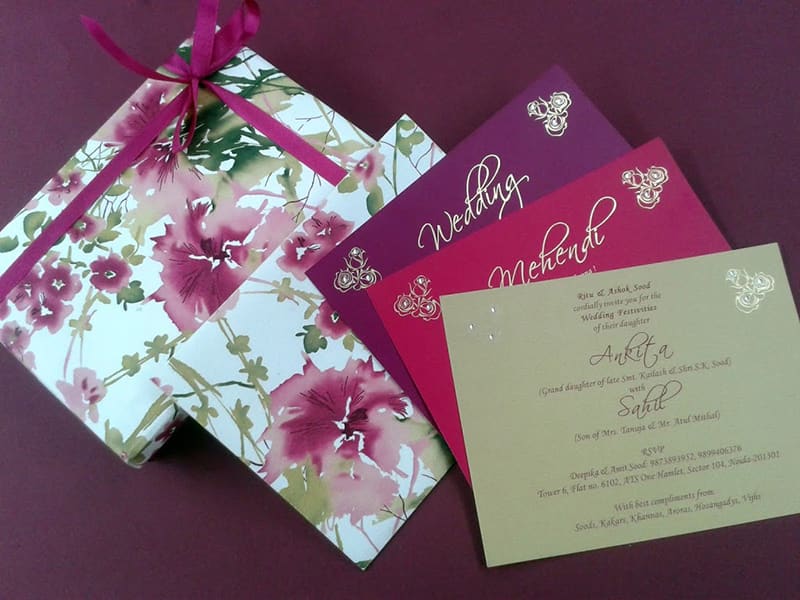 Classic Wedding Designer Cards deals in more than 27 variety of cards like RSVP cards, photo holders, menu cards, bar mitzvahs and loads more. They have been in the business for the last 46 years and have an insane range including boxes, laser cuts, paper bags and a lot many more. Check out the collection and pick a pretty one for your D-Day right away!  
Where | Classic Wedding Designer Cards - 4118, Satte Wali Gali, 1st Floor
Timings | 11 AM - 7 PM 
Call Them | +91 9810 620 336
Here's Their Website | http://www.classicindiaweddingcards.in 
3. Jay Kay Cards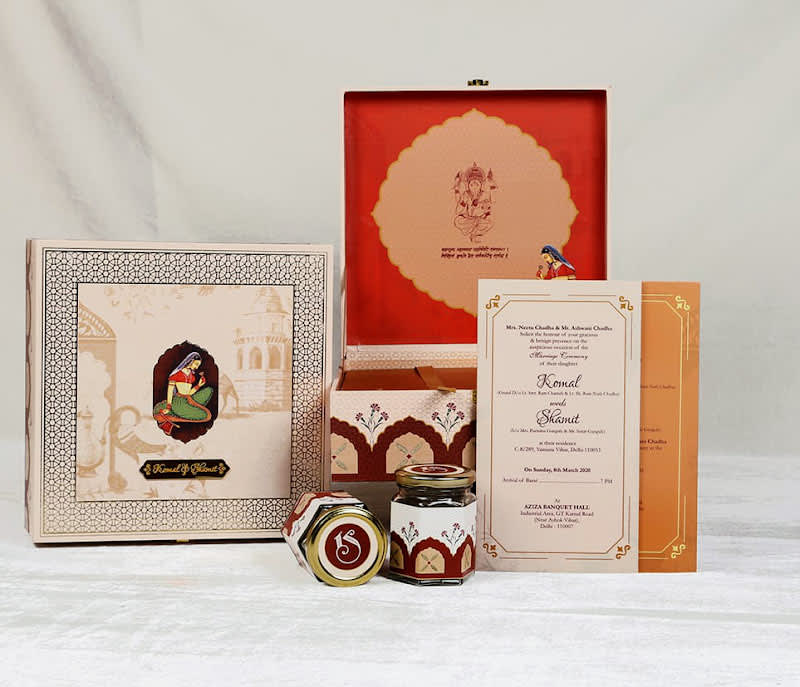 Tucked inside a muddy lane, this shop is a warehouse of exclusive and vibrant designs. They specialize in designing creative and exclusive wedding cards in accordance with the themes suggested by their patrons. Designed with the assistance of creative designers, the wedding cards are appreciated by clients for use of innovative and creative patterns, colours and elegant designs. Go drop by and get your dream card printed here!
Where | Jay Kay Cards - 3617, Near PT College
Timings | 10:30 AM - 7:30 PM 
Call Them | +91 11 2393 1014
4. Wedding Cards 4 U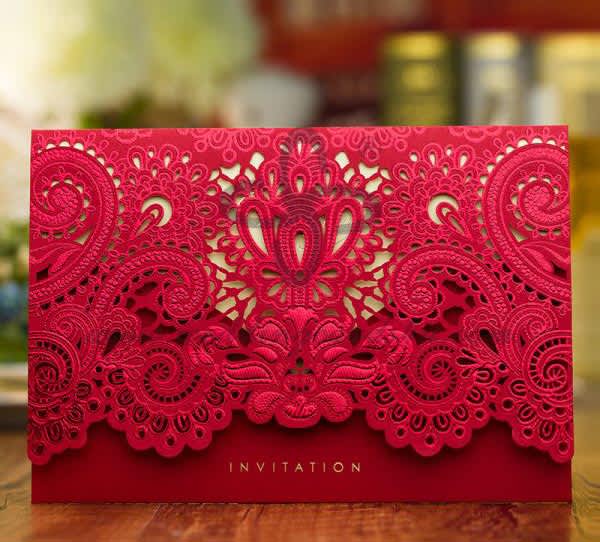 This shop is known for its bespoke and superior handcrafted personalised Indian wedding invitations. Their wedding boxes are really elegant and can be redesigned according to any theme that takes your fancy. Some of the unique designs these guys have are paper laser boxes, scroll invitations, doli wedding invitations and lots more. Come check them out!
Where | Wedding Card 4 U - 145 First Floor, Bhagwati Market
Call Them | +91 11 4914 7909
Timings | 12 Noon - 8 PM
Check Out Their FB Page | https://www.facebook.com/INDIANWEDDINGCARDS4U/ 
5. Mittal Cards Gallery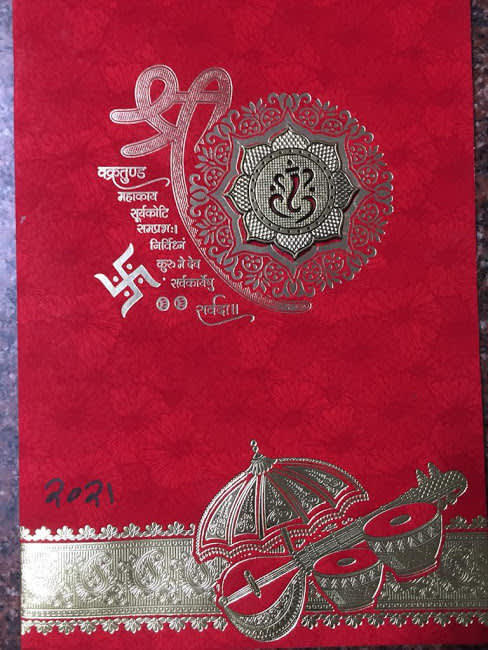 Picture Credits: Deepak Tyagi
"We've been selling the best wedding cards since the past 150 years", says the owner with pride. The adage 'Old is gold', stands very true for this shop! A huge store as compared to others in the area, Mittal Cards Gallery has an array of wedding cards that are readily available. For cards with digital prints and exclusive designs, they're always happy to fix appointments with their designers for you. So, if you have a set design in your mind for your card, these guys will deliver just that!
Where | Mittal Cards Gallery - 3627, Near Loha Bhavan
Timings | 11 AM - 6:45 PM 
Call Them | +91 11 2391 1353
Here's Their Website | https://mittal-cards-gallery.business.site/
Check Out Their FB Page | https://www.facebook.com/MittalCardsGallery/
6. Shiva Cards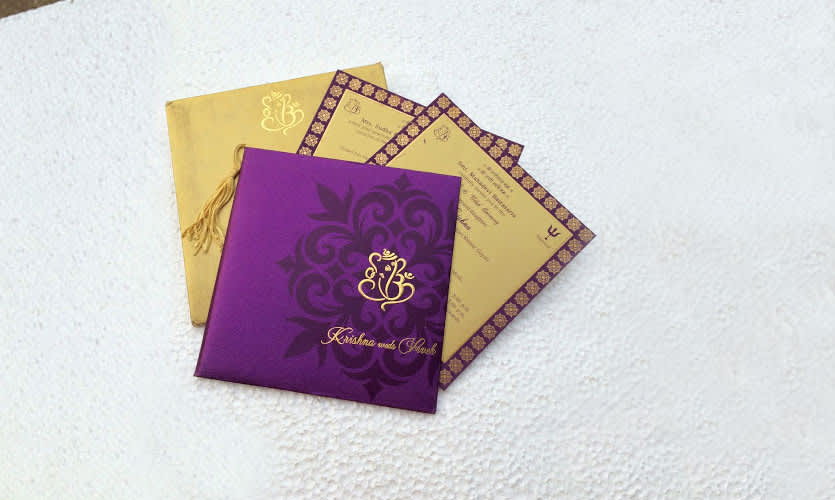 The store is engaged in manufacturing and supplying an alluring range of wedding cards, embossed with meaningful traditional symbols, a combination of striking lace and other decorative accessories. Backed by a team of highly innovative designers, they've been able to deliver a wide collection of wedding cards appreciated for their trendy style, vivacious colours and brilliant designs. Nice!
Where | Shive Cards - 3653, Gali Lohe Wali, Charkhe Walan
Timings | 11 AM - 8 PM 
Call Them | +91 11 2391 7242
7. Kalash Cards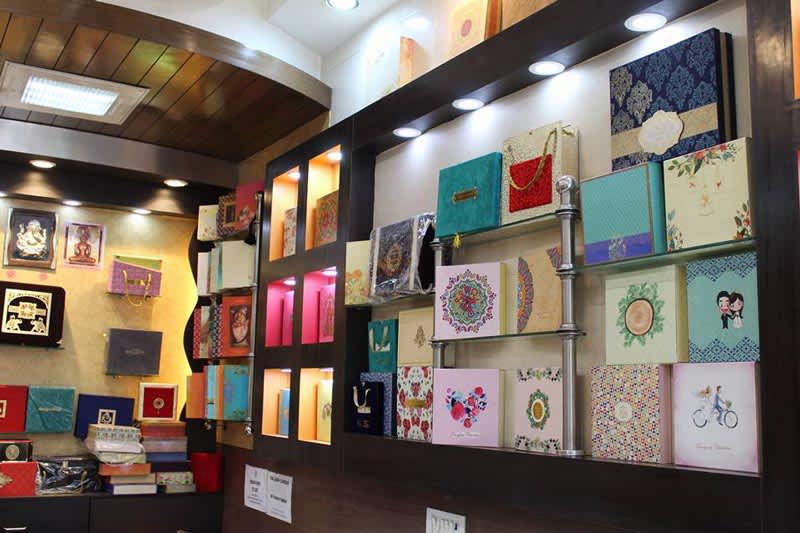 Kalash Cards create handcrafted, traditional, Indian wedding cards for people of all faiths. Their cards reflect the diverse and colourful traditions found in the Nation. In order to make the most important day of your life memorable, they focus on highest quality products and exclusive designs. They also offer unique wedding boxes for the purpose of distributing gifts in the ceremony. Check them out!
Where | Kalash Cards - Kalash Cards, 707, Chawri Bazar Rd, Manohar Market, Hauz Qazi, Chandni Chowk
Timings | 11 AM - 7.30 PM
Call Them | +91 11 4611 3764
Here's Their Website | https://www.kalashcards.com/
Check Out Their FB Page | https://www.facebook.com/kalashcards
So head to these shops and get the perfect wedding card you've been dreaming of!