Delhi
6 Awesomesauce Places That Whip Up The Most Gigantic Parathas In All Of India (WHOA)!
Every Indian loves a traditional paratha. They're versatile, filling and tasty AF. Be it an aloo paratha, gobi paratha or keema paratha, these discs of delight come in every shape, size and form. But some places have decided to take it up a notch and have come up with the most gigantic parathas you've ever seen. Here's a list of all the places in India that serve crazy HUGE parathas that you can hog on!
1. Tapasya Paratha Bhandar, Rohtak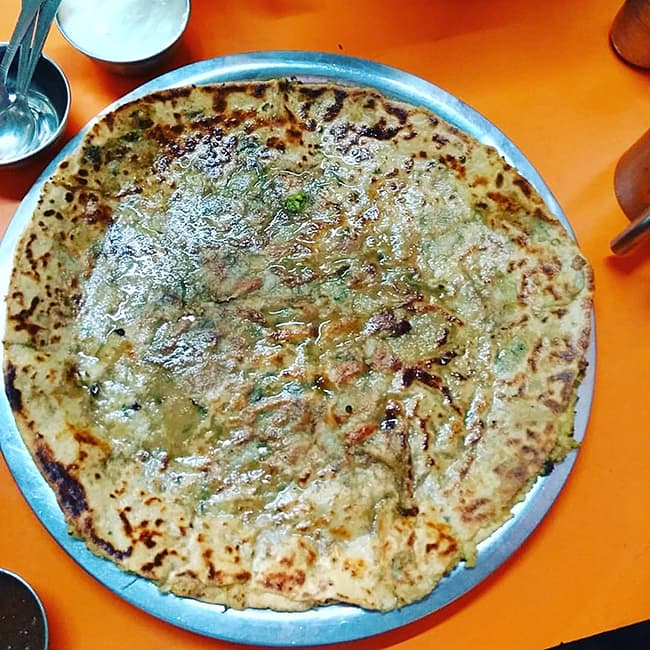 Tapasya Paratha Bhandar is a dhaba located on the Delhi bypass in Rohtak. The menu of this place is extremely exciting for they have a huge range of stuffed variety of parathas like Matar Pyaaz, Aloo Gobhi Pyaaz, Palak Paneer Mix, Hindustan Special Paratha, the stuffing of which is made up of a special dry fruit mix and tons more!
But that's not all - they boast about serving the biggest paratha in the country which is 18" in size and weighs 1kg. There's more - Tapasya Paratha Junction's surprising challenge of finishing 3 full-sized parathas in 60 minutes, which is next to impossible, will fetch you a sum of Rs 5,100 and a lifetime supply of food if you succeed. Head to Tapasya Paratha Bhandar and take on the challenge fosho!
Where | Tapasya Paratha Bhandar -  Delhi Bypass, Bus Stand Road, Rajiv Chowk, Rohtak
Price | Rs 300 Onwards
Timings | 9 AM - 10:30 PM
Call Them | +91 7206 204 852
2.
Mooch Marod, Bengaluru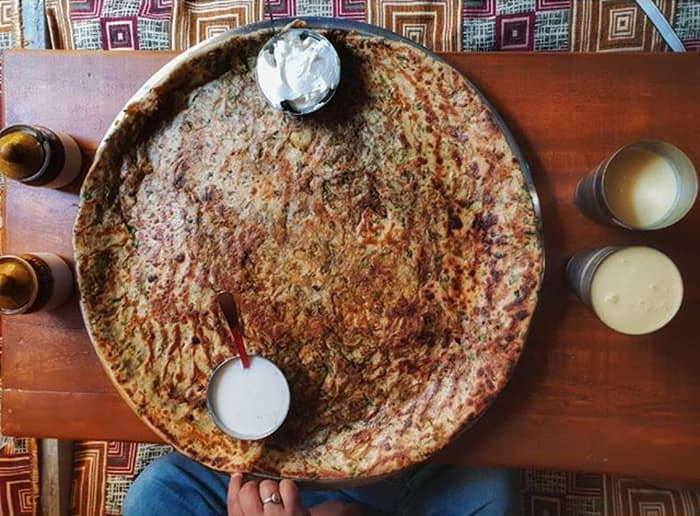 Picture Credits: the.blog.of.foodstreet
Mooch Marod wants to you satisfy your paratha cravings in a big way. Literally BIG. Their parathas are about 24 inches wide and 2kgs heavy! They are touted to be the biggest in Bengaluru. Topped off with their in-house fresh white butter, this one's monstrosity at its best. It's stuffed paratha after all, with classics like aloo to interesting ones like baby corn-onion. Come over and try them fosho!
Where | Mooch Marod - Whitefield & Koramangala, Bengaluru
Price | Rs 320 Onwards
Timings | 6:30 - 10:30 PM
Call Them | +91 7015 928 377
Check Out Their FB Page | https://www.facebook.com/MoochMarod/
3. Prisha Paratha Junction, Delhi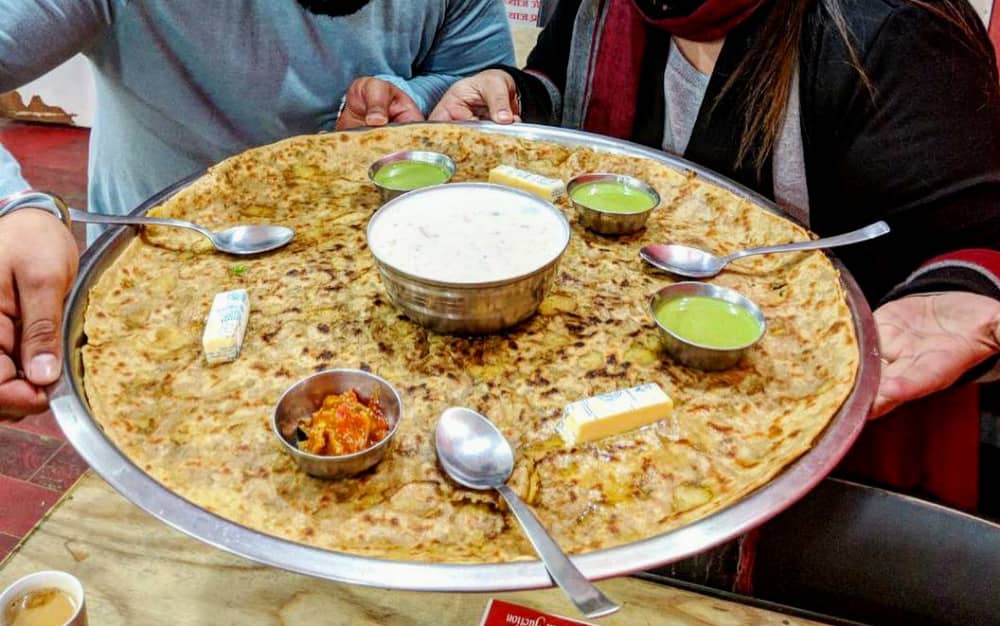 Picture Credits: Chatpati Shikha
Consider yourself a foodie? If you can devour 3 major parathas from Prisha Parantha Junction in Uttam Nagar, you can win Rs 11,000. Finishing 3 of these king-sized paranthas is no joke! Each one is made out of 600 gm of flour, veggies like onions and potatoes and 3 chunks of butter along with raita and pickle! These scrumptious parathas apparently weigh over 1.2kg and are 2ft long. So what do you have to do? Simply come on an empty stomach and try your hand at 3 of these king-sized parathas to stand a chance to win moolahs!
Where | Prisha Paratha Junction - 274-A Opposite Metro Pillar 715, Uttam Nagar
Price | Rs 300 Onwards
Timings | 8 AM - 11 PM
Call Them |  +91 8375 092 909
Check Out Their FB Page | https://www.facebook.com/prishaparanthajunction/
4. Halwa Paratha Wala, Delhi
This one's for all the paratha lovers out there. If you're bored of having those regular aloo and gobhi stuffed parathas & wish to try something new and exotic, then try your hands at this halwa paratha. Tucked in the bylanes of Nizamuddin is a small shop that dishes out this incredible and funky treat. It's an interesting combination of sweet and savoury flavours, all in one go. This deep-fried delight is not only a treat to the palate, but to the eyes as well. Scoot over with your entire squad to relish this fantastic dish!
Where | Halwa Paratha Wala - Nizamuddin, Nizamuddin West
Price | Rs 30
Timings | 8 PM - 11 PM
5. Royal Murthal Dhaba, Murthal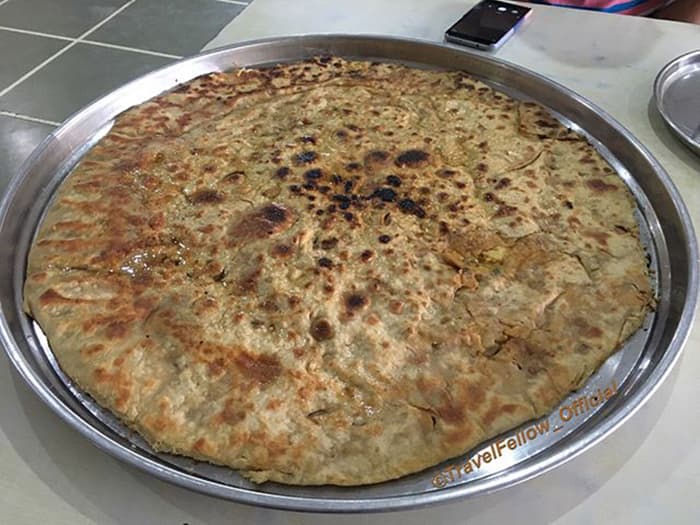 Picture Credits: travelfellow_official
The Royal Murthal Dhaba, as the name suggests, is a dhaba-cum-hotel located Murthal in Haryana. It boasts of serving one of the biggest parathas ever which is 24 inches in size and is too much for even a group of 4. It weighs about 4kgs and comes in multiple variants. Head over with your gang and take up the challenge of finishing it all up!
Where | The Royal Murthal Dhaba - NH 1, Near Flyover, Sonepat, Murthal
Price | Rs 70 Onwards
Timings | 24*7
Call Them | +91 9991 177 576
Check Out Their FB Page | https://www.facebook.com/royalmurthaldhaba/
6. House Of Paratha, Pune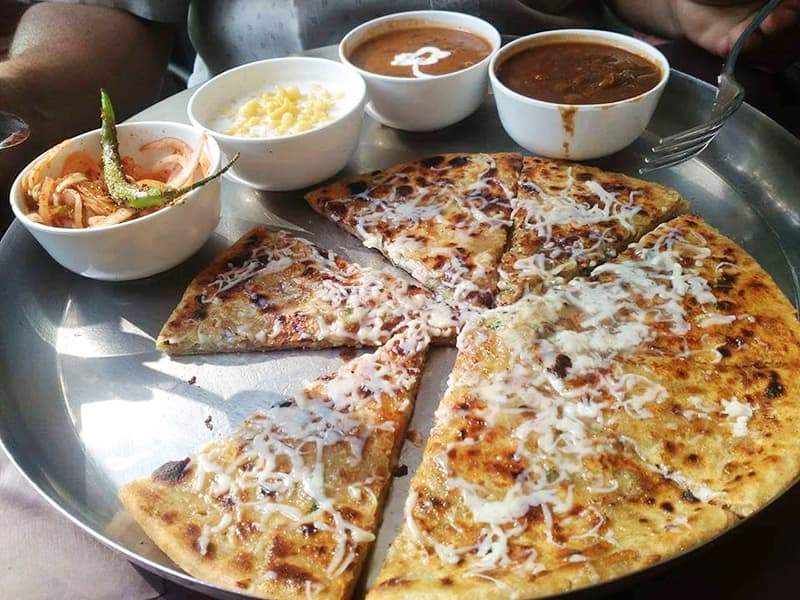 Nothing beats this thali served at House Of Paratha. The Baahubali movie might be a feast for your eyes on the screen but the thali is even better. It has Devasena Paratha, Kattapa Biryani, Sivagami Shaahi Pakwan, Bhallaldeva Patiala Lassi and the giant Baahubali Paratha that tops the list. The accompaniments include 5 types of farsan and fried snacks, 5 varieties of sweet dishes, a drink or shake, salad, pickles, chutney and topped with 3 types of ice creams! It's served in a giant steel thali and you will have to wait at least an hour for your thali to be served to you. Or you can simply call the restaurant before arriving so that your order is prepared before you arrive.
Where | House Of Paratha - Cat No. 1206, B-19, J.M. Road, Shivajinagar, Pune
Price | Rs 500
Timings | 11 AM - 11:30 PM
Call Them | +91 7775 977 757
Check Out Their FB Page | https://www.facebook.com/houseofparatha/
Wait no more and head to these awesome destinations to devour these mouth-watering and gigantic parathas!