Delhi
6 Ah-mazing Places From Where You Can Order Up Delish Navratri Thalis While You Fast
It's that auspicious time of the year again where we celebrate the goddess Durga, and as a way to show devotion, many of us fast for the 9 days that the festival lasts. But boy, we all know that fasting for that long most definitely causes some sort of food monotony, what with the limited variety of food to gorge on, and, not to mention the pandemic making it harder for us to get out of the house. This rules out wandering the streets in hopes of finding lip-smacking plates of Navratri food, which obviously causes our foodie souls much grief.
But, fret not peeps, there's a solution to everything! And this is why we bring you a list of places from where you can simply order up scrumptious Navratri thalis and enjoy a fulfilling meal after your fasting period, right at home. So, scroll on!  
1. Gulati Restaurant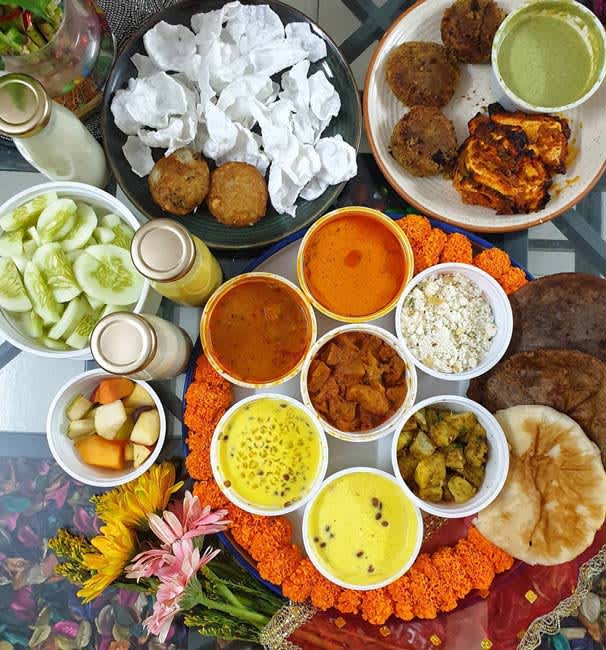 Picture Credits: whatdillieats
 With Gulati Restaurant, fasting has never been more appetizing, which is kind of ironic given the nature of the festival, but we're fosho not complaining. Gulati Restaurant brings to you a wide array of dishes that make up their humongous mouth-watering Navratra Khas Thali, all prepared without onion and garlic. They also offer other delish Navratri dishes like Navratra Khas Platter, Kheer and so much more, making your Navratri meal after the fast a feast you will look forward to with excitement!
Where | Gulati Restaurant - 6, Pandara Road Market
Price | Rs 610 Onwards
Timings | 12 Noon - 11:30 PM 
Call Them | +91 11 2338 8836
Check Out Their FB Page | https://www.facebook.com/gulatirestaurant 
2. Sattvik Restaurant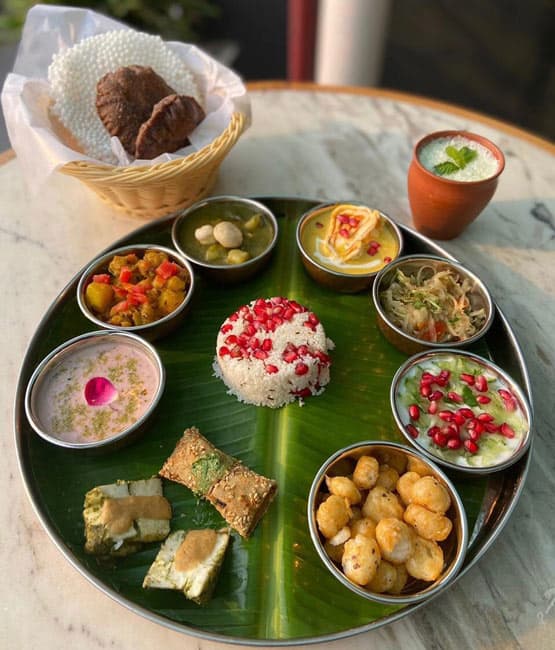 If the entire hassle of cooking up a meal after your long fasting period gets on your last nerve, we would ask you just to chill and order from Sattvik. Their Navratri Thali is a masterpiece, comprising of Masala Chaas, Mint Paneer Tikka, Shakarkandi Ki Seek, Kacche Papite Ka Salad, Zafrani Sattvik Paneer, and some 6 more dishes (that we couldn't add here 'cause of the paucity of space), which amounts to a humongous meal that'll take at least two people to finish. We're sure your taste buds are just tingling to bite into these delicacies, so order 'em up, immediately! 
Where | Sattvik Restaurant - S 5, 2nd Floor, Select CITYWALK, Saket
Price | Rs 875 Onwards
Timings | 12 Noon - 11 PM 
Call Them | +91 11 4059 9913
Check Out Their FB Page | https://www.facebook.com/satvikrestaurant 
3. Vega Restaurant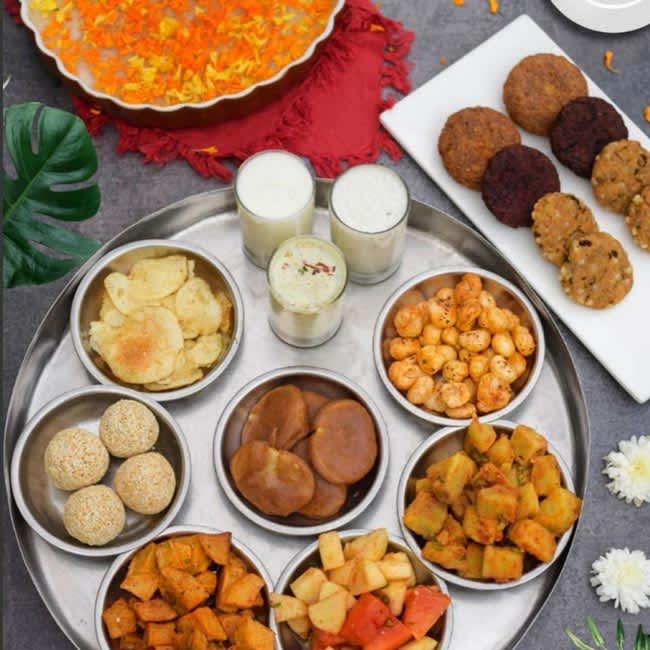 Picture Credits: vega.pure.vegetarian/
Vega's Navratra Thali offers up to 15 different varieties of dishes, setting high standards for all other Navratri thali that you'll try after getting a taste of this delish monstrosity. The 'Navratri Feast' as the thali is called, promises to quench your hunger with sweet and savory dishes alike, all prepared with the utmost hygiene and care. So, give the good folks of Vega Restaurant a call, and enjoy a thoroughly appetizing meal!
Where | Vega Restaurant - Hotel Alka Classic, Outer Circle, CP
Price | Rs 685
Timings | 11 AM - 11 PM 
Call Them | +91 9811 835 770
Check Out Their FB Page | https://www.facebook.com/vegapureveg/ 
4. Sagar Ratna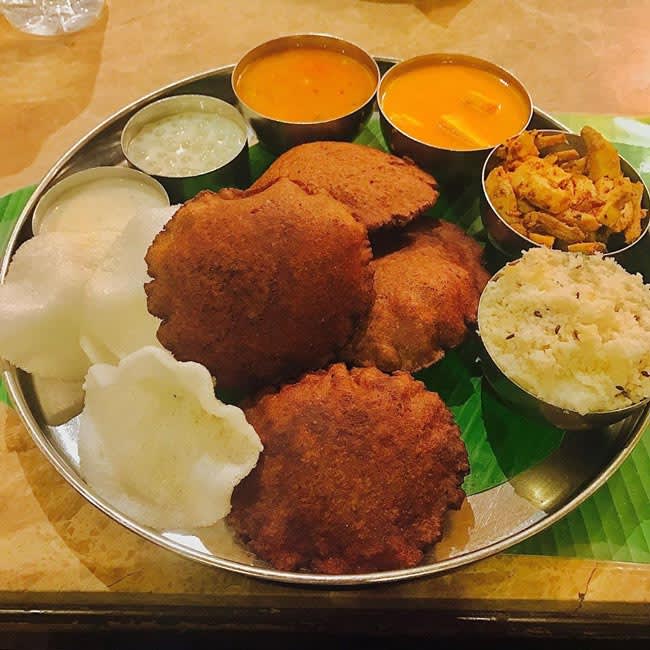 Picture Credits: mancuisine
Sagar Ratna has compiled a special menu for all those who're fasting this festive season, and their specially curated menu comes in two different thalis; the Navratra Executive Thali and Navratra Deluxe Thali. Each Thali boasts of mouth-watering delicacies like Shahi Paneer, Aloo Tamatar, Samak Pulao, Singhara-Kuttu Poori, Kheera Raita, and Sabudana Papad. We're wholly sold and raring to try out this deliciousness, what about you?! 
Where | Sagar Ratna - CP, Sarojini Nagar, Def Col & Other Outlets
Price | Rs 310 Onwards
Timings | 8 AM - 11 PM
Call Them | +91 7428 386 403
Check Out Their FB Page | https://www.facebook.com/sagarratnaindia/ 
5. Govardhan Vegetarian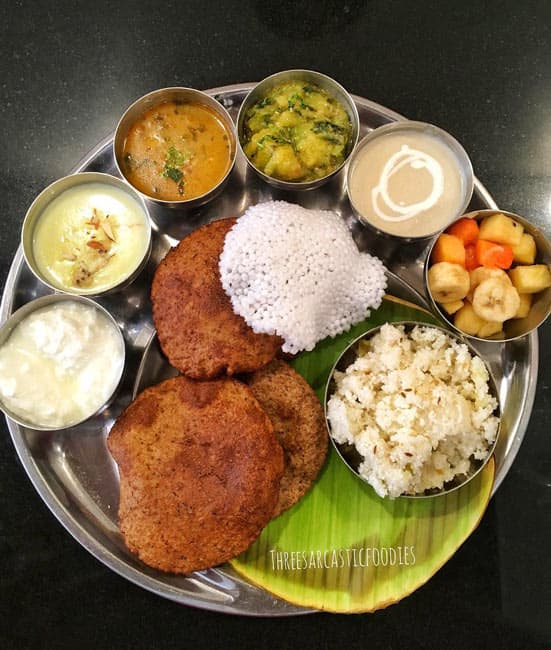 Picture Credits: threesarcasticfoodies
Govardhan Vegetarian has introduced its own version of the Navratri Thali, like many restaurants, and serves specially curated dishes for their Special Navratra Thali. Indulge the foodie in you, even while fasting, and taste the sublime flavours and the delectable wholesome taste of their super-affordable-but-delicious thali. So, order up these yummies and give your hunger pangs a rest! 
Where | Govardhan Vegetarian - Adchini & Kamla Nagar
Price | Rs 280 Onwards
Timings | 10 AM - 10 PM 
Call Them | +91 11 4201 5544
Check Out Their FB Page | https://www.facebook.com/govardhanSN/
6. Chaayos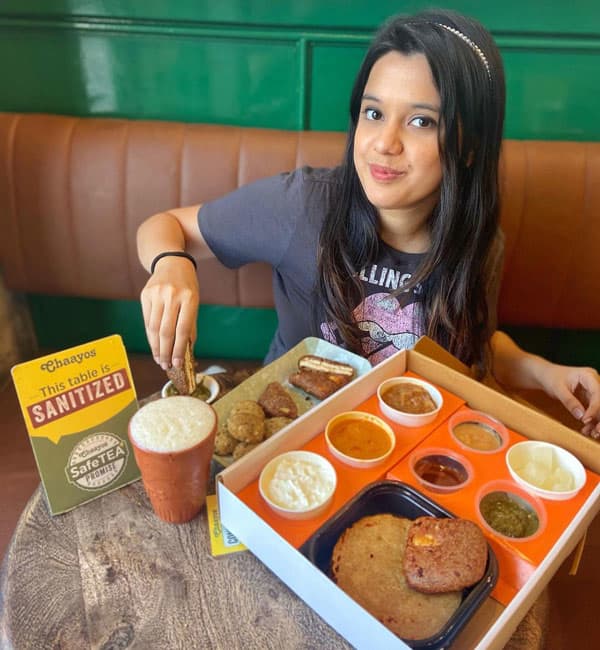 Picture Credits: zingyzest
Chaayos is another restaurant that is dabbling in the culinary arts of creating the perfect Navratri thali for its loyal foodie followers. Their specially curated thali is cooked using 100% desi ghee and consists of Aloo Ki Sabji, Paneer Ki Sabji, Kuttu Parathas, Paneer Pakoda, 3 Chutneys, Curd and Dessert. They're also serving several Navratri snacks for the peeps that might not want to go all out after their fast, so do check those dishes out as well. We can say with certainty that this is a meal that we would definitely order up even when we're not fasting. How about you?!
Where | Chaayos - CP, Green Park, Saket & Other Outlets
Price | Rs 309 Onwards
Timings | 8 AM - 11 PM 
Call Them | 1800 120 2424
Check Out Their FB Page | https://www.facebook.com/Chaayos
So, there goes our list of places from where you can order up scrummy Navratri thalis. All you have to do now is whip out your phone and get to ordering!