Delhi
6 Affordable Places Serving Desi, Yummy Honey Chilli Potatoes Starting @ Rs 35 A Plateful
Honey chilli potatoes is a dish that's served at the fanciest of Asian restaurants to roadside Chinese van to boot! And since honey chilli potatoes are bae (and our standing order whenever we go out), here's a list of best places serving 'em up - we guarantee you'll be drooling by the end of it!
1. Chinese Van @ Sarojini Nagar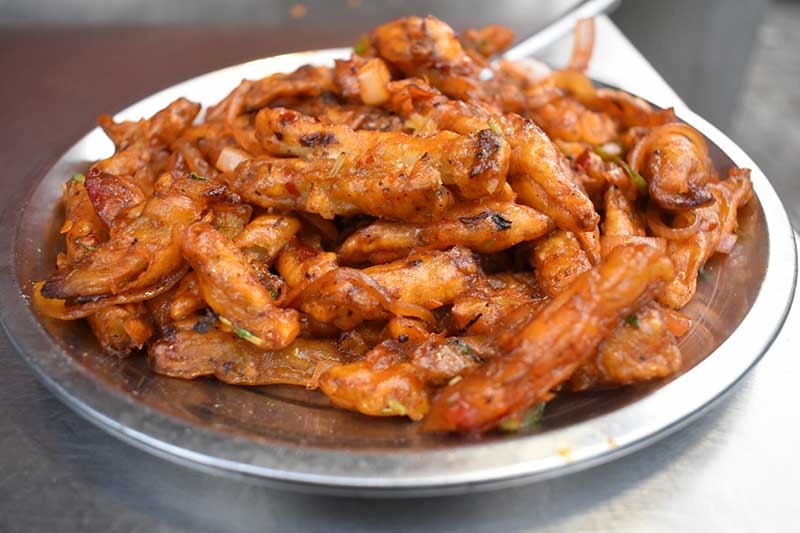 The quantity is just perfect for their price and the plate is filled up to its capacity, loaded with steaming hot crispy potatoes topped by stir fried vegetables and crispy onions to go with 'em. A perfectly light dish for snacking while shopping, we highly recommend this when you land up in Sarojini! 
Where | Chinese Van - Lane E, Near Bata Store, Sarojini Nagar Market
Price | Rs 70
2. KC Fast Food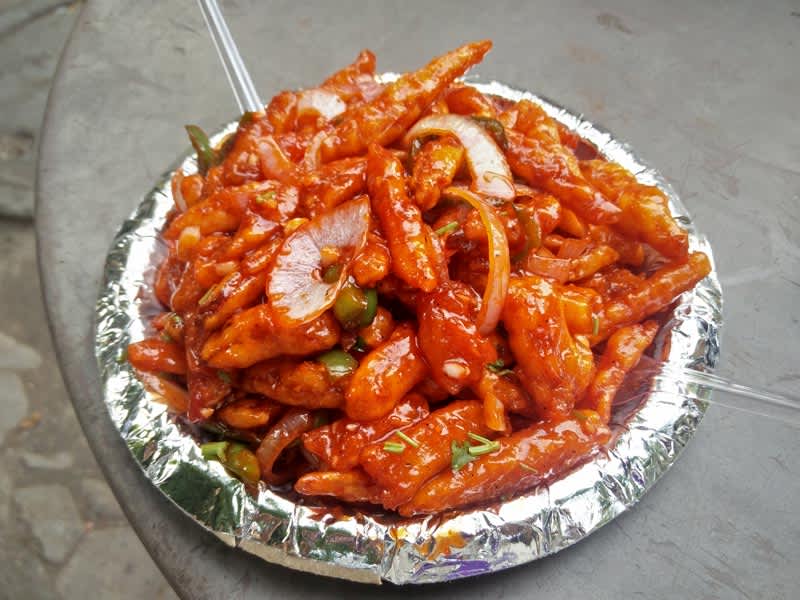 Okay guys, y'all NEED to try their Honey Chilli Potato if you're ever near Ashok Vihar! They're crispy and crunchy and perfectly cooked with onions, capsicum and just the right amount of spices. The flavour of the perfect mixture of sauces will captivate you, plus they serve a HUGE quantity; it'll take at least two people to finish their half plates (we're not kidding!). We dived right in and bet you will too, once you try this delish dish!
Where | KC Fast Food - Shop Number 19, DDA Market Near Lakshmi Bai College, Ashok Vihar Phase III
Price | Rs. 70 (Half Plate) & Rs 110 (Full Plate)
Call Them | +91 9871 793 873
3. Stall Outside LSR College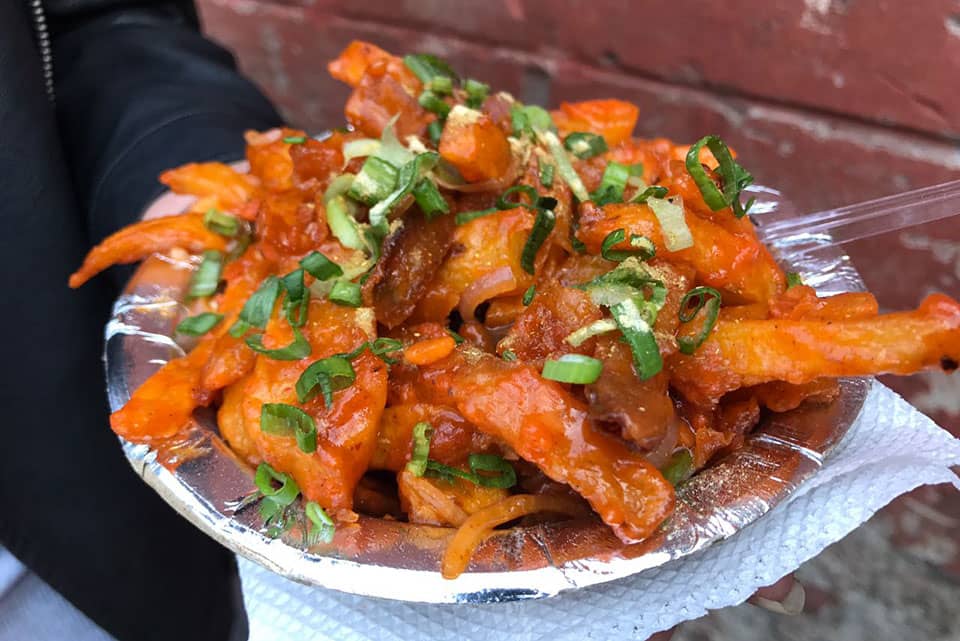 We found one stall outside LSR selling stellar crispy Chilli Potatoes that we just had to share with you guys! This stall whips up some yummy, crispy Chilli Potatoes which, rather than burning a hole in your pocket, will for sure fill the hole in your tummy! They garnish this perfectly crispy comfort food dish with spring onions and from our experience, this one is better than the one at LSR's canteen! Sorry LSR! 
Where | Stall Outside LSR - Lala Lajpat Rai Road, Amar Colony, Lajpat Nagar IV
Price | Rs 35
4. Hutkar Burgers & Ice Creams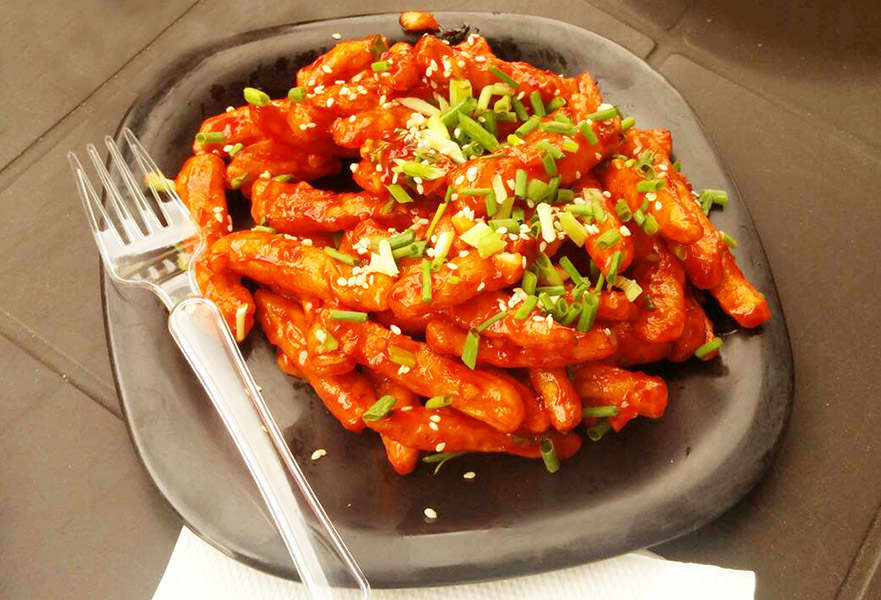 The garlic paste and the fried potato fingers are as beautiful as they sound and here at Hutkar, they tasted just as well! You're always good to go with Honey Chilli Potatoes in Hutkar if you find yourself lost and starving in Indirapuram. There is essentially nothing wrong with the quantity OR the quality! 
Where | Hutkar Burgers & Ice Creams - Shop Number 7, Krishna Apra, Indirapuram & Paramount Spectrum, Ghaziabad
Price | Rs 105
Call Them | +91 9990 764 000
Check Out Their FB Page | https://www.facebook.com/hutkar
5. Papa Veg Chinese Food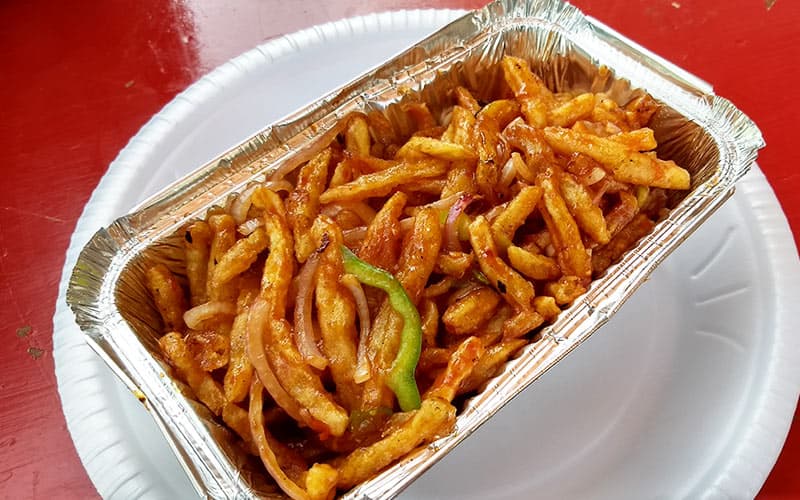 By the looks of it, the potato fries looked smaller than usual and perhaps because of this, it had an even texture throughout, setting it apart from those dishes which are crispy on the outside yet soggy on the inside. The flavour balance was delectable and we could have happily devoured a ton of it, being the couch potatoes that we are! 
Where | Papa Veg Chinese Food - 15, A-2 Block, CSC, Near Mother Dairy, DDA Market, Paschim Vihar
Price | Rs 120
6. Jabrawn Food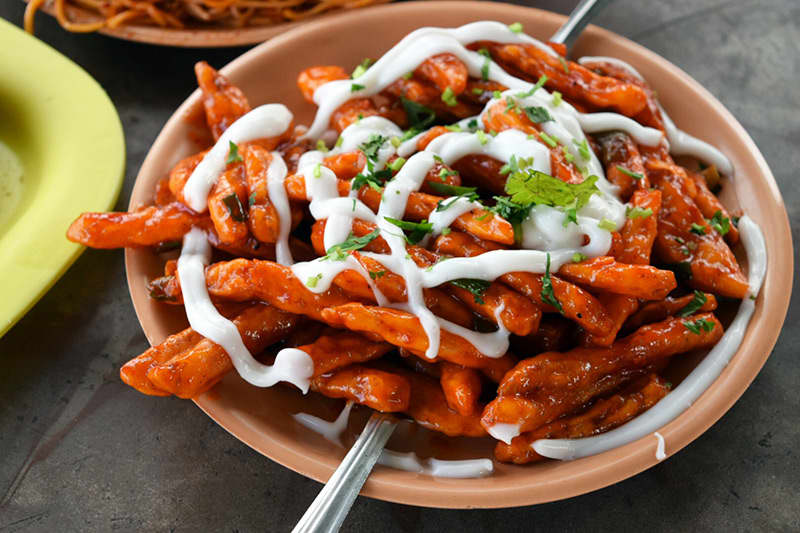 This by far is the best selling item on Jabrawn's menu, and during the hour we spent there, lip smacking plates of Honey Chilli Potatoes were ordered at least 20 times (no, seriously)! The crunch on the potatoes, the sweet and salty flavour and the topping of mayo that Jabrawn in Noida generously slathers on, makes it a must order when you land up here!
Where | Jabrawn - Opposite New Amity Parking, Amity University, Sector 125 
Price | Rs 60 ( Half Plate) & Rs 110 (Full Plate)
Call Them | +91 8076 419 720 
Choices choices! Which one are you heading over to first?!