Delhi
5 Yummy Dishes You Can Have Under A Pocket-Friendly Rs 200 At Woods Cafe In Ghaziabad
We're always in the search of some affordable yet yummy and finger-licking food all over Delhi. This time, we bring to you a treat for all the vegetarians as well as those who need some aesthetic snaps for their social media feeds. The Woods Cafe in Ghaziabad is touted to be the best, so how could we not try it out? This eatery is based in a picturesque location, surrounded by trees with an aesthetic wood cabin serves as the restaurant area. You can choose to sit in the shade of the trees or under the sun and if it's too windy, there's a whole lot of seating inside too. Here's what all we had at this place!
1. Cookies & Cream Shake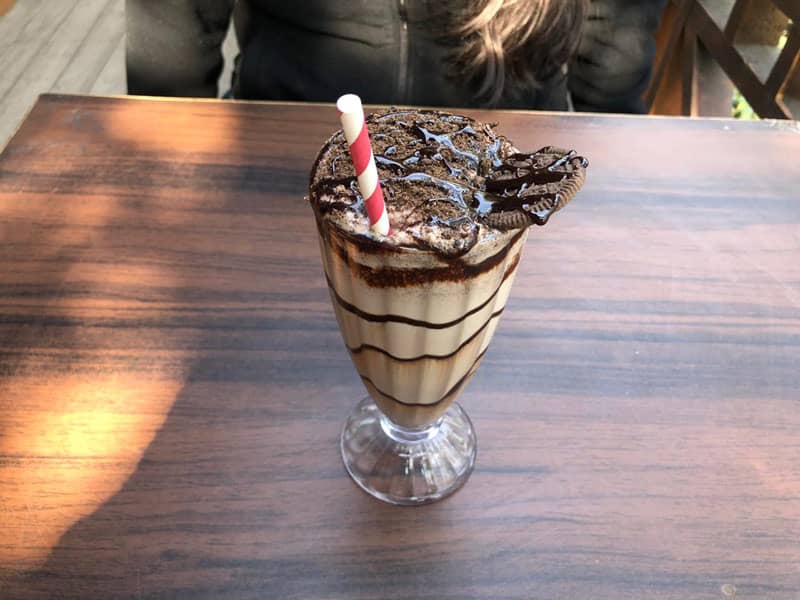 Sometimes all that is needed to make a winter afternoon perfect is a wholesome and cool milkshake, don't believe us? Then you have to try this one out! The milkshake lover in us couldn't resist the Cookies and Cream Shake & we're so glad we decided to try this beauty out. It was served in a classic tall glass and the drink was topped with cookie crumbs, Oreos and chocolate sauce that made our heart skip a beat. We especially loved the use of a paper straw as an environmentally-conscious alternative to plastic. The drink itself was everything we wanted it to be. Our favourite part was the delicate balance of sweetness, that did not turn overpowering and made us enjoy the drink even more. This one is a must-try for all milkshake and chocolate lovers!
Price | Rs 140
2. Honey Chilli Potato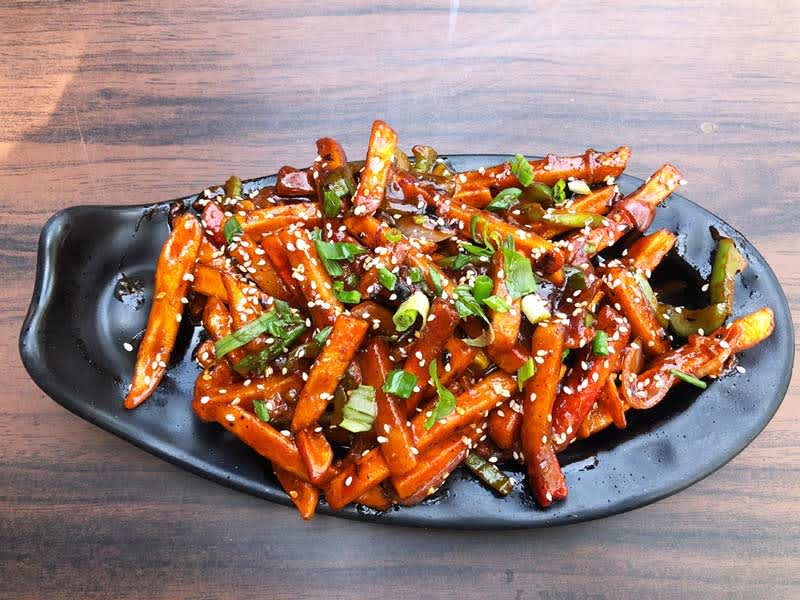 In these chilly winter days, all we need are some crispy and chilli flavoured fries. We all know that us Dilli walas can hardly resist some yummy Honey Chilli Potatoes. We ordered this dish at Woods Cafe to satiate the Chinese lover in us. The yummy was served piping hot and came filled with veggies like capsicums, onions and drenched in the quintessential red sauce, it sure did make our mouth water. The potato strips were crisp and fried to perfection with a fluffy centre. But we did feel that the salt content in the sauce was imbalanced. Yet that did not stop our fervour as we enjoyed the delicacy!
Price | Rs 175
3. Cheese Butter Maggi
Maggi is more than a household name for all of us, it seems like a family member now. The quick solution to our untimely hunger pangs has made its way to most quirky menus but our favourite part continues to be the new twists and turns to the recipe that lead to amazing and delicious variants of our favourite noodles. One such variant we decided to try was the Cheese Butter Maggi. Just the sound of noodles in a buttery and cheesy concoction is enough to make our heart jump with joy. Served in a miniature kadhai (which we loved!), this maggi dish is sure to impress all of us who love some comfort food. The familiar taste profile of the Maggi complimented the cheese and made us feel like we were back home, in the lap of luxury!
Price | Rs 150
4. Chilli Soya Chaap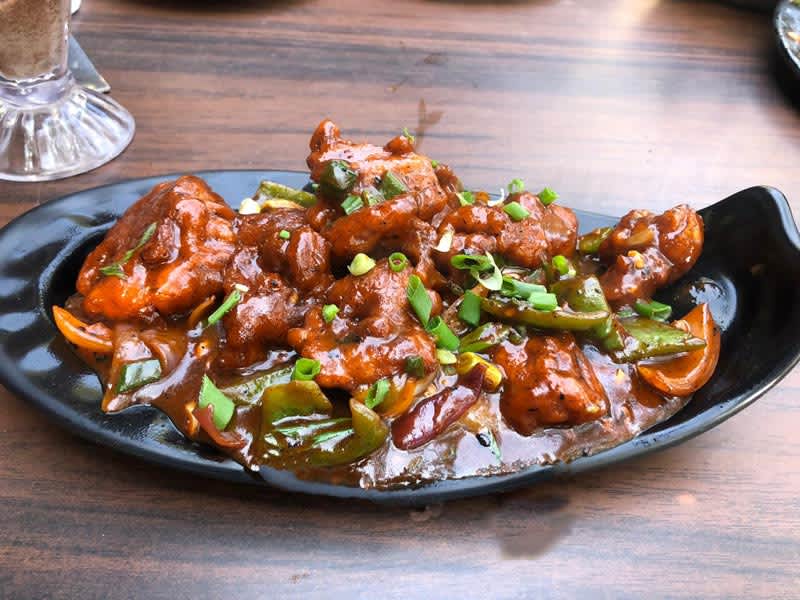 To turn up the heat, we decided to go back to our beloved Chinese food. This time we settled on the Chilli Soya Chaap, 'cause the street food lover in us must have some chaap. The dish was generous in proportion and the glistening chaap filled us with happiness. The soya chunks were fried to perfection, before being cooked in a tantalising classic chilli sauce and the accompanying veggies make it the perfect snack. 
The dish tasted very similar to the Honey Chilli Potatoes, but we felt that the chaap complimented the tangy sauce better and succulent pieces of soya were the ideal munchy for a cold winter afternoon. Our favourite part was the perfect frying of the chaap, that added a distinct texture to the dish. This one is a must-try for all you spice lovers!
Price | Rs 150
5. Veg Biryani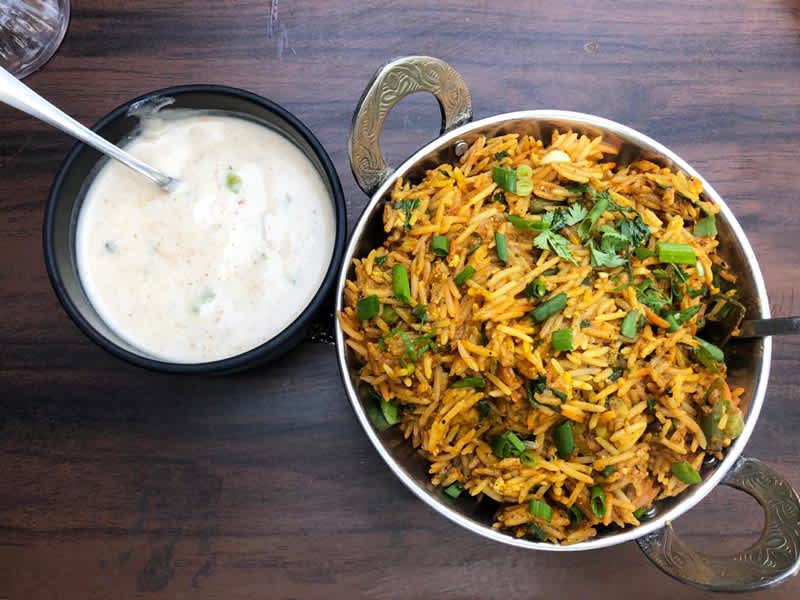 For our scrumptious main course, we decided to give in to our indulgences and decided to have some flavour filled Veg Biryani. It was served in a miniature kadhai and came accompanied with a bowl of refreshing raita. One of the most appealing dishes of the day, this vegetable biryani stole our hearts and left us wanting more. The aromatic rice had a rich orange tinge and the dish had lots of vegetables overall. We especially appreciated the thick curry that bound the rice and veggies together. The raita functioned as a refreshing way to cut the spiciness of the biryani. We assure all you biryani lovers, be it vegetarian or non-vegetarian will enjoy this aromatic and spicy rendition fosho! 
Price | Rs 180
We've recounted our experience, when are you dropping by to start your own memories?
Where | Woods Cafe - Indira Priyadarshani Park, Arthla, Mohan Nagar, Ghaziabad
Call Them | +91 9971 510 554
Timings | 11 AM - 11:30 PM
Meal For Two | Rs 500
Check Out Their FB Page | https://www.facebook.com/woodscafe.cafe/