Delhi
5 Yummies Like Litti Chokha & Pav Bhaji Starting @ Rs 20 To Try In & Around Karol Bagh MS
Areas around metro stations are slowly transitioning into major food hubs that people prefer more than standard restaurants now. The food available there is quick, cheap, and for most parts, delicious. So, we decided to visit one of the most popular stations that offers a fantastic variety of street food, i.e., Karol Bagh. Read on to find out the various street-food options we tried here!
1. Chilly Paneer Roll @ Wrapss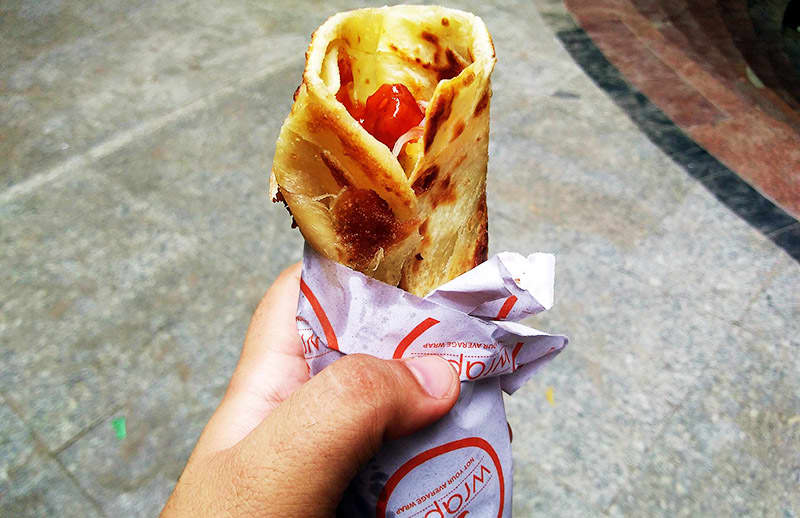 Located on the opposite side of the Karol Bagh Market, this little food joint serves, you guessed that right, veg and non-veg go-to wraps, Chinese food and tandoori momos that are famous among the myriad of students who frequent the station. We tried their Chilly Paneer Wrap that had cubes of cottage cheese and diced onions dripping with a spicy Chinese-style gravy and that were rolled in a thick, crispy maida roti.
The roll was uber-soft on the inside, and the paneer was fresh and juicy. The combo was utterly delightful and appropriately spicy. An economical item that easily satisfies those evening-snack cravings, y'all should definitely give this one a try!
Price | Rs 80
Where | Wrapss - B-1/8, Apsara Arcade, Near Karol Bagh Metro Station Gate 7
Timings | 11AM - 11PM
2. The Good Ol' Chowmein @ Metro Snacks Shop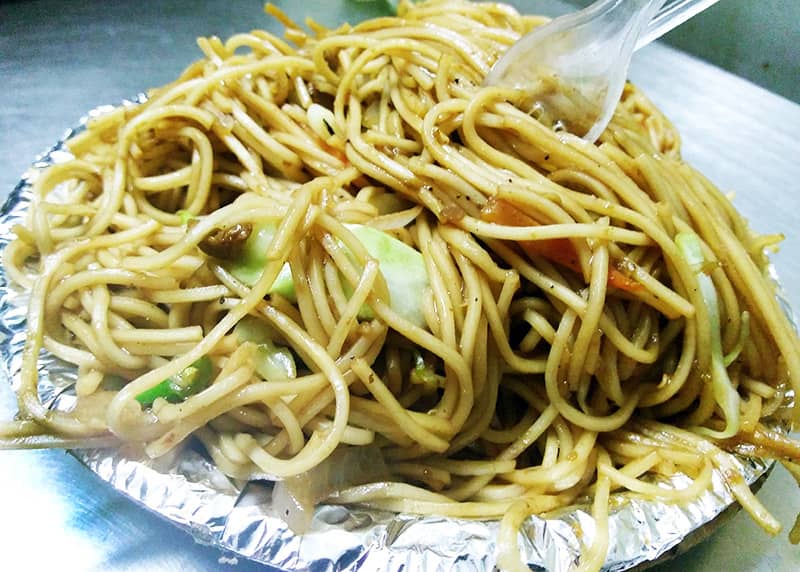 This stall serves a wide variety of convenient snacks for metro travellers. We, however, chose a very typical item that is usually used to judge the quality of any street-food joint. But what we didn't know was that we were in for a surprise! Their Chowmein, along with plenty of veggies, had chunks of soya too. And to top it all, the dish was spicy AF, so much so, that finishing it became quite a task because of the generous quantity. The soya chunks truly enhanced the taste of the dish, and overall, we had a great time devouring the spicy snack while enjoying the marvellous weather. Whenever in the area, make it a point to this this place out!
Price | Rs 40
Where | Metro Snacks Shop - Behind Karol Bagh Metro Station Gate 2
Timings | 10 AM - 10:30 PM
3. Steamed Paneer Momos @ An Unnamed Stall

How could have we gone without trying Delhi's dearest snack? A momos stall set beside the Metro Snacks Shop sells the softest dumplings you'll find in KB. We picked up a plate of our beloved steamed momos seasoned with oregano and served with a creamy white sauce and spicy red sauce.  And truly, this snack DID NOT disappoint! Stuffed with crumbled paneer and finely chopped onions, these momos were perfectly cooked and brilliantly appetizing! Though the white sauce could've been creamier, we absolutely relished their thick chilly red sauce.
Do visit this small stall the next time you're getting down the KB station!
Price | Rs 60
Where | Unnamed Stall - Beside Metro Snacks Shops, Behind Karol Bagh Metro Station Gate 2
Timings | 10 AM - 10:30 PM
4. Litti Chokha @ An Unnamed Stall

This stall located in the same line at the station's exit to the KB market serves a mini version of the yummy litti chokha dish and is equally scrumptious and super cheap. We ordered two pieces of litti that were tiny wheat balls made in desi ghee and heated on a charcoal grill. They were filled with a powdered channa (or sattu) stuffing and served with some pudina and mustard oil chutney and our favourite aloo ki chutney instead of the regular chokha. We enjoyed eating this amazing and quick snack & would highly recommend this stall to y'all foodies!
Price | Rs 20
Where | Unnamed Stall - Pusa Road, Old Rajinder Nagar, near Karol Bagh Metro Station
Timings | 10 AM - 8 PM
5. Pav Bhaji @ Jhakkas Pav Bhaji Mumbai Wala

This stall, true to its name, makes classic Mumbai-style spicy pav bhajis and vada pavs at economical prices! Garnished with butter and coriander leaves, the dish was served to us with some onions dipped in a flavoursome pudina chutney.  The tangy and spicy bhaji tasted excellent with the soft, buttery pavs. The snack was an uber-pleasant end to our time at KB, and we urge the admirers of Mumbai's street-food to try this awesome stall!
Price | Rs 70
Where | Jhakkas Pav Bhaji Mumbai Wala - Pusa Road, Old Rajinder Nagar, Near Karol Bagh Metro Station
Timings | 10 AM - 10 PM
Truly, the Karol Bagh station houses a wide variety of street food stalls that bring the tastes of other states to Delhiwallas. We can't wait to go there a second time to try our favourite dishes and explore something different too!