Delhi
5 Yummies Like Gravy Burger & Creamy Spring Rolls To Hog On @ KALA Burger WALA, Subhash Nagar
Abundantly flavoured, texture rich, mouth watering and lovingly served in hearty quantities (not to mention affordable AF rates) are all things Dilliwallahs look for while scoping out great food joints. And today, we've found you a place which serves just that. KALA Burger WALA is a small eatery in the streets of Subhash Nagar and we couldn't help but gorge on the platefuls of delicacies they had to offer. Come, take a look at what all we tried here!
1. Creamy Spring Roll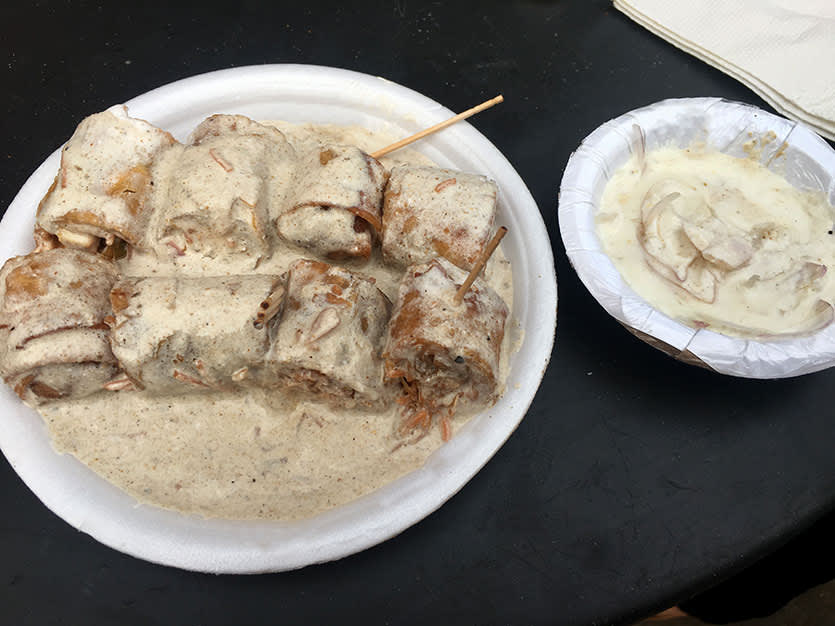 If we talk about quirky experiments, we'd lovingly like to mention this delicacy that combines the best of Chinese and Indian street food. These Creamy Spring Rolls that were dipped in chaat flavoured yogurt cream tasted like nothing we've ever had before. The spring rolls were soft & well cooked and the yogurt added the taste of Delhi's chaat to this Chinese delicacy. A must try, we say! 
Price | Rs 100 
2. Masala Chaap Roll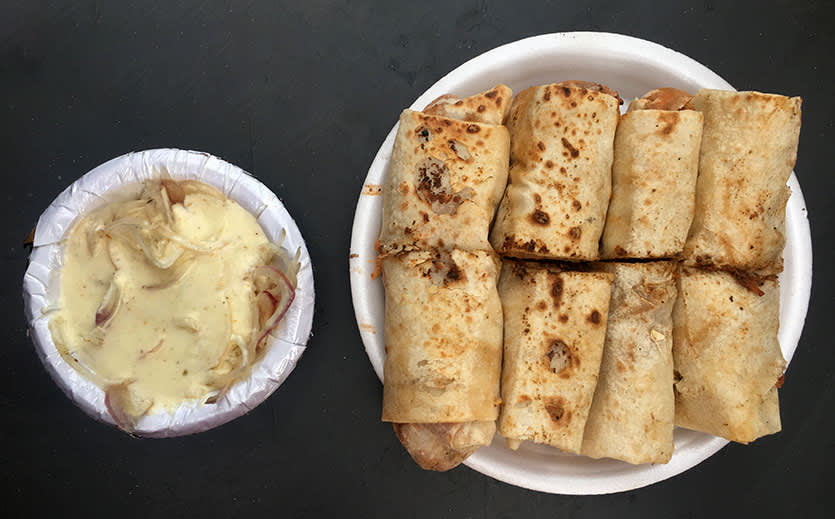 If you're a vegetarian who is constantly told that chicken rolls are better than veg rolls, this one's for you. The dish, though vegetarian, tasted as good as its non vegetarian counterpart. The spicy, creamy sauces that were loaded in these yummies made them a tad bit spicy and extremely soft. These rolls were, hands down, one of the best vegetarian ones we've ever tried. Also, they're served in abundant quantities, so hog to your heart's content!
Price | Rs 180
3. Schezwan Chowmein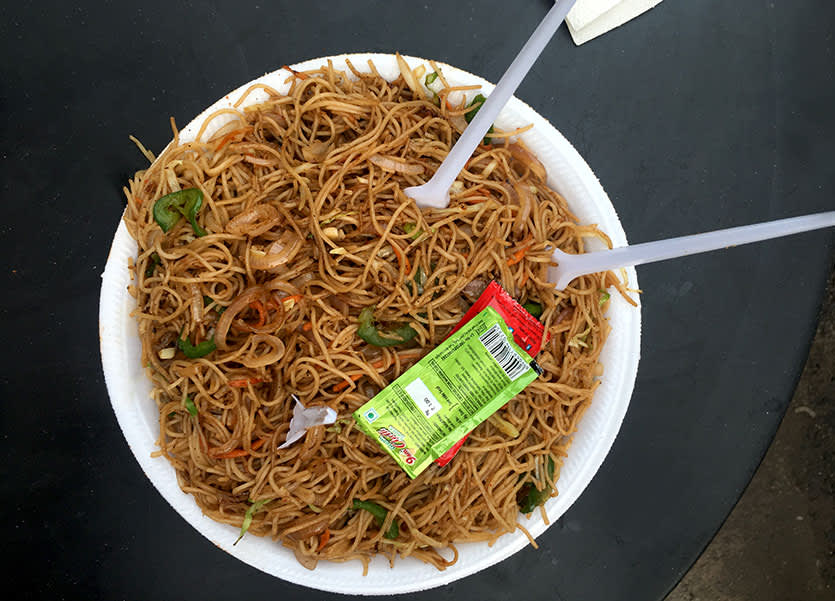 Speaking of affordable rates and hearty quantities, we had this plateful of Schezwan Chowmein at just 90 bucks here. Our tip would be to mix in the chili sauce given alongside the dish, since it can be a little low on spiciness. However, when paired with the tangy sauce, it is definitely worth a try, especially thanks to its pocket friendly price and quantity that can serve at least two foodies! 
Price | Rs 90
4. Gravy Paneer Burger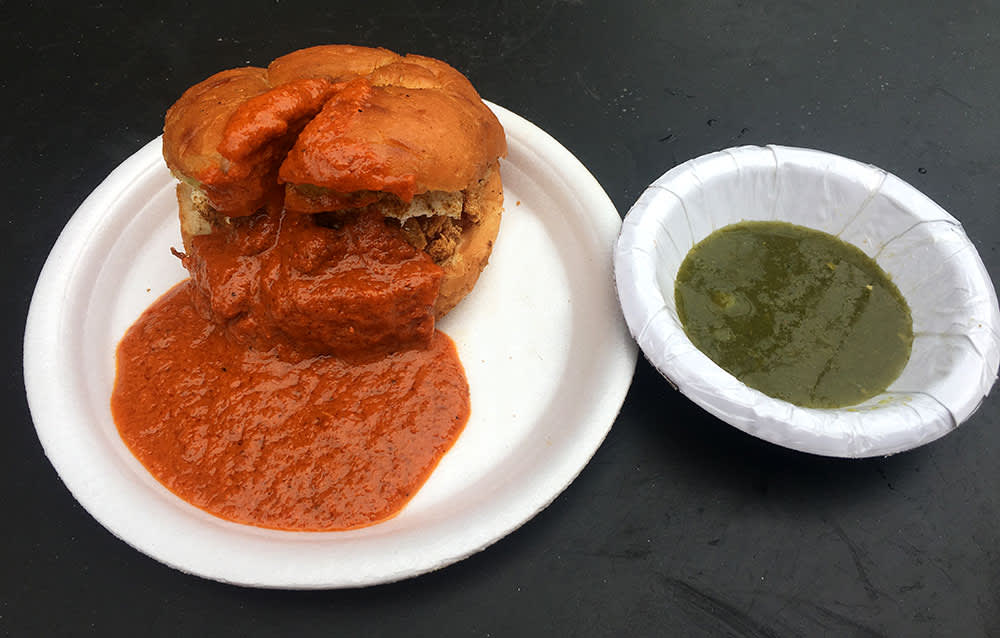 Always on the lookout for offbeat grub, we found this burger oozing with yummy gravy. Even though it's a combination that doesn't seem to work in theory, the burger turned out be delicious with a plethora of flavours in each bite. From the soft bread to the spicy gravy and the heavenly mix of sauces, it is everything you'd expect from an authentic street dish. Also, this is one of their most loved specialties here, so we're not the only ones recommending it!
Price | Rs 65 
5. Gravy Manchurian Chaap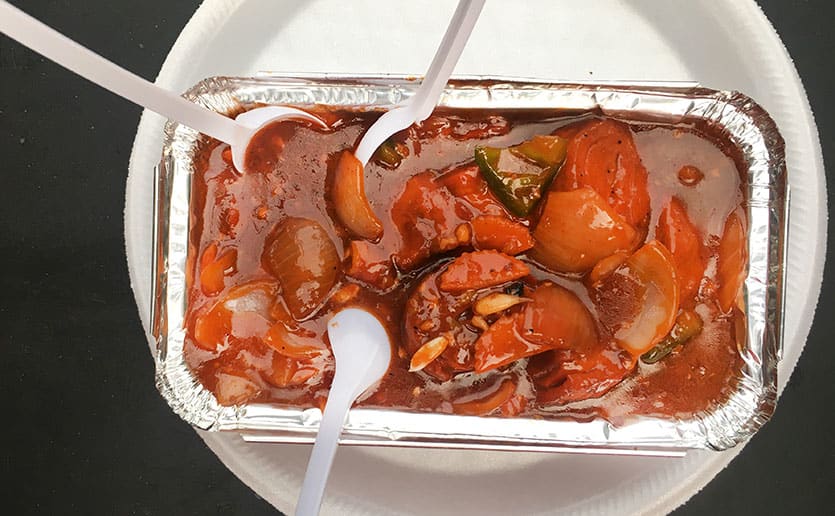 Another unheard of combination, this Gravy Manchurian Chaap is more chaap and less gravy. Even though this mix of chaap and Chinese gravy didn't work out as well as their other experiments, it tasted decent overall and the chaap was well cooked. This one could be tried for casual munching! 
Price | Rs 170
This little joint serves everything we expect Delhi's street food to be and their offbeat experiments & dishes are definitely something hatke than what we usually have. Paired with a chilled soft drink and a group of buddies, coming here can result in one great evening! 
Where | KALA Burger WALA - 6/28, Shop No 4, Subhash Nagar
Call Them | +91 11 2514 6344
Timings | 4 - 10 PM 
Check Out Their FB Page | https://www.facebook.com/KALA-Burger-WALA-1419482814931517/