Delhi
5 Waffles Like Bubble Taco Waffle & More You Gotta Try @ The Dessert Lane At Horn OK Please
We're sure you all must've heard by now that Delhi's Happiest Food Festival - Nescafé presents Horn OK Please, co-powered by MAGGI and Uber Eats, is HERE! YAY! And since we truly believe that food festivals are all about eating like no one's watching, our favourite part of this fest is gonna be the Dessert Lane. Yes, this edition of H.O.P. is gonna have an entire section dedicated to desserts where you can score yummilicious waffles, ice creams, kulfis, pancakes, macaroons, cupcakes, brownies and oh so much more & we've picked out 5 mouth-watering waffles that you MUST try at this awesome-freaking-sauce carnival this time!  
1. Bubble Gum Velvet Waff-Wich @ The Belgian Waffle Co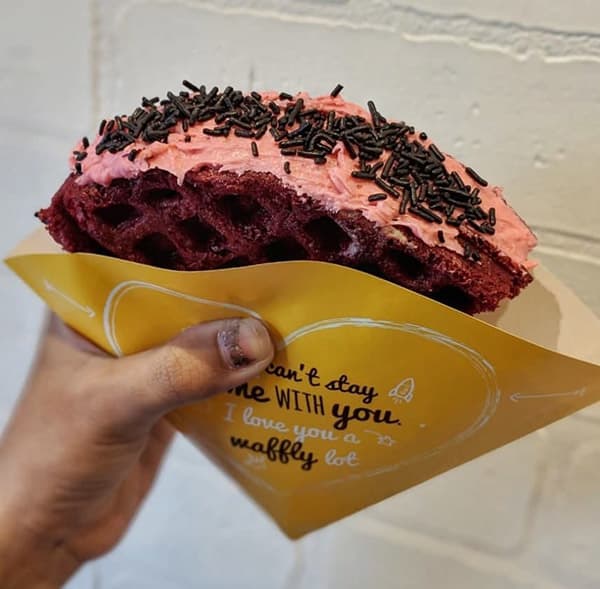 What could be better than having our childhood favourite bubble gum flavoured ice cream sandwiched between 2 red velvet waffles? Nothing, absolutely nothing and that's why you gotta nosh on the Bubble Gum Velvet Waff-Wich at The Belgian Waffle Co's stall at Horn OK Please. These guys have been delighting our taste buds with their delicious waff-wiches and even savoury waffles, so drop by their stall and try out all their crazy flavours! 
Here's Their FB Page | https://www.facebook.com/thebelgiawafflecodelhincr/
2. Crispy Belgian Chocolate Chip Waffles With Black Ice Cream @ Icekraft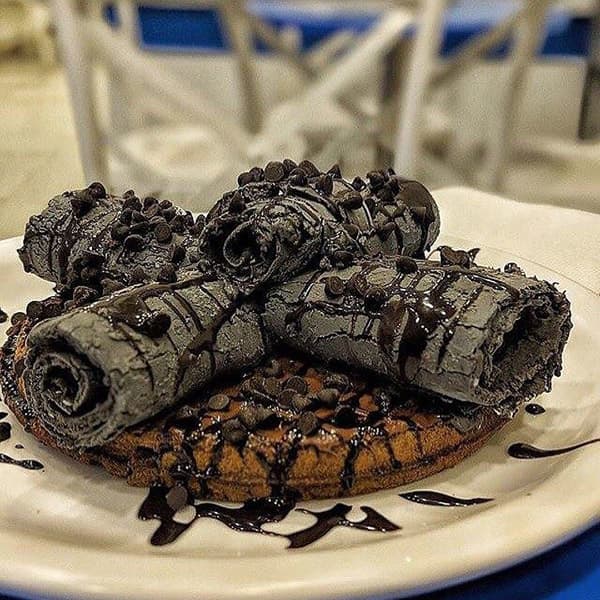 Oh, this is one of our personal faves at the Dessert Lane. Icekraft is coming to H.O.P. 4.0 and they're bringing their mouth-watering waffles and black ice cream with them - YES! We especially can't wait to devour their Crispy Belgian Chocolate Chip Waffles that come topped with yummy black ice cream rolls and look all things delicious. So, be there and also try out their loaded freakshakes and pancakes while you're at it!   
Here's Their FB Page | https://www.facebook.com/icekraftRajouriGarden/
3. Bubble Taco Waffle @ Waffle King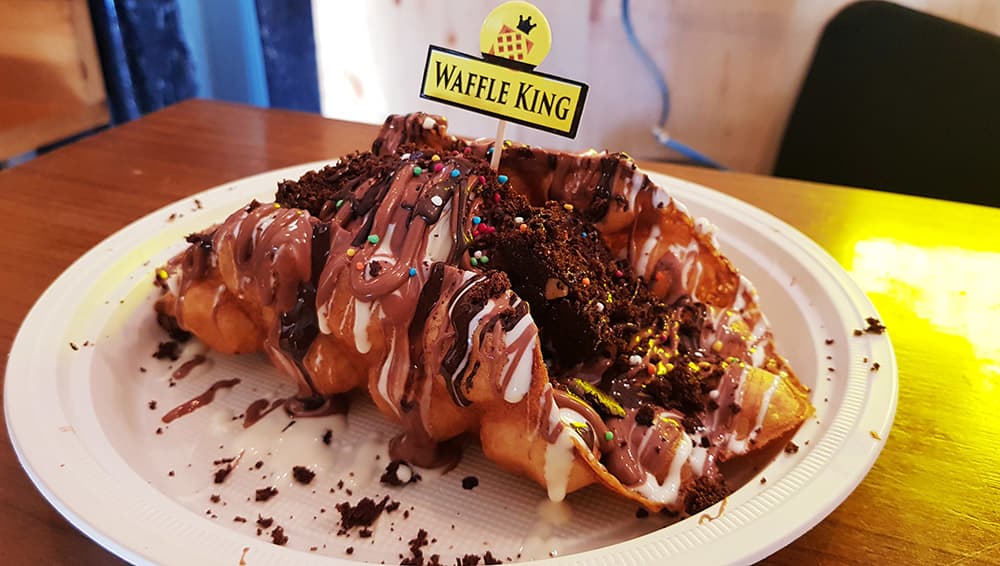 We really don't need to introduce these guys to you, do we? They've been giving us #WaffleGoals ever since they opened up for business. And while we already love their White Heaven, Chocolate Fantasy, Nutella Weds Brownie and Crazy Monster Waffles, we can't wait to get our hands on their super loaded and delicious Bubble Taco Waffle at Horn OK Please this November! This one is a taco shaped bubble waffle that has tons of ice cream, brownies, chocolate sauce, sprinkles and all things nice, so don't even think about missing it out!
Here's Their FB Page | https://www.facebook.com/Thewafking/
4. Red Velvet Waffle @ WAFL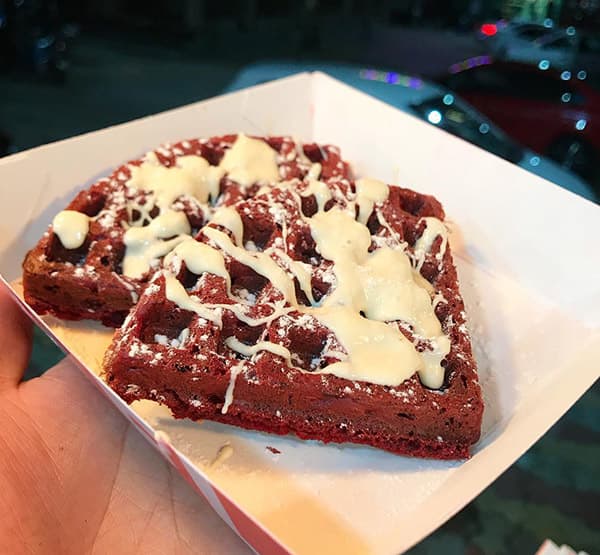 This international waffle chain has been winning hearts ever since it entered the Delhi foodie scene and if you've ever tried their super-loaded and delectable waffles, you'd know exactly why! You HAVE to pig out on their famous Black Forest Hong Kong Waffle and their classic Red Velvet Waffle no matter what while you're strolling down the Dessert Lane at India's largest modern day food festival!
Here's Their FB Page | https://www.facebook.com/WAFL.India/
5. Crunchy Chocolate Bubble Waffle @ Creme Borne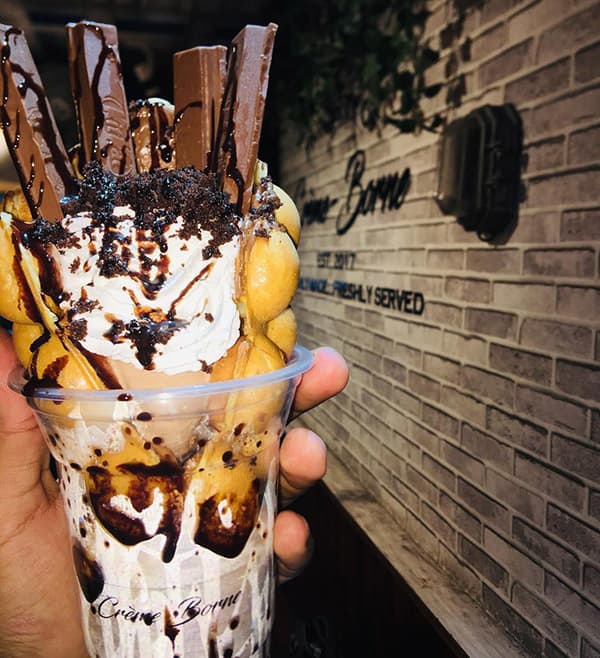 One of the first places to bring the famous black ice cream to the city, Creme Borne is coming to Horn OK Please this time and we CAN'T KEEP CALM! The best bit? Besides their delicious black ice cream, these guys are also bringing their Crunchy Chocolate Bubble Waffle and we can't wait to devour it while grooving to the live music that'll be playing in the background here. #FestFeels!
Here's Their FB Page | https://www.facebook.com/cremeborne/
Wipe away the drool, people and stay tuned for more details as this time there's going to be a kickass Quirk Bazaar, an amazing Kebab Gully whipping 100+ kebab varieties, a Food Truck Park, a China Town zone for all your Asian food cravings, a Momo Land whipping up huge varieties of scrumptious momos, a RAD Experience Zone with trampolines, skateboarding arena and LOTS more here!
When | Friday - Sunday, 16th - 18th November
Where | Gate No 14, Jawaharlal Nehru Stadium 
Timings | 12 Noon - 10 PM
Book Your Tickets Online Here | https://goo.gl/XjJ86Y
RSVP On FB Here | https://www.facebook.com/events/245810259611541