Delhi
5 Types Of Delish Chur Chur Naan Thaalis You Can Nosh On Under Rs 140 HERE In Paharganj
Hailing from North India, you're more likely than never to have come across stellar places (read dhabhas) serving one of the best renditions of a chur chur naan. What we get in Delhi are not like the original naans of Amritsar but still, we've tried to emulate them and that too brilliantly! We have not one but a huge number of eateries doing chur chur naans, out of which a few have literally led the way for others.
This time we decided to try Chawla De Mashoor Amritsari Chur Chur Nan for they're said to be the pioneer and the most famous place for your daily dose of crunchy, buttery and stuffed naans. The shop opens at noon and serves beautiful thaalis throughout the day laden with thick dal makhani, a flavourful portion of chole and the staple raita. So, we finally decided to take on FIVE of its best offerings and by the time we were done, we were almost bursting by the seams. Read on as we take you through everything that we had here!
1. Stuff Paneer Chur Chur Naan Thaali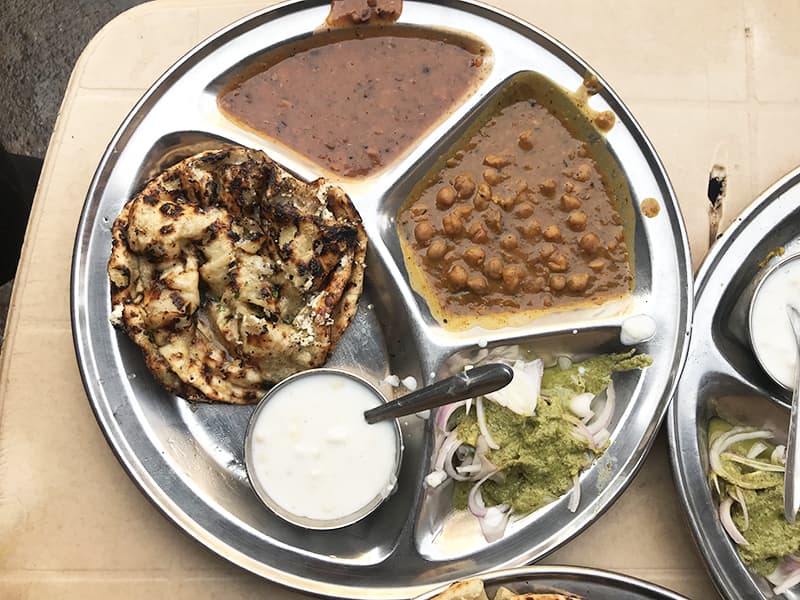 What is equivalent to butter chicken in terms of breads? Yes, it's any bread stuffed with paneer because that is what everyone wants. The Stuffed Paneer Naan at Chawla's is one of the bestsellers and now we know why. The paneer chunks were flavoured with masalas and kneaded into the dough to be baked inside the tandoor. This thaali is perfect for your winter weekend brunches for you and your family!
Price | Rs 130
2. Stuff Missi Chur Chur Naan Thaali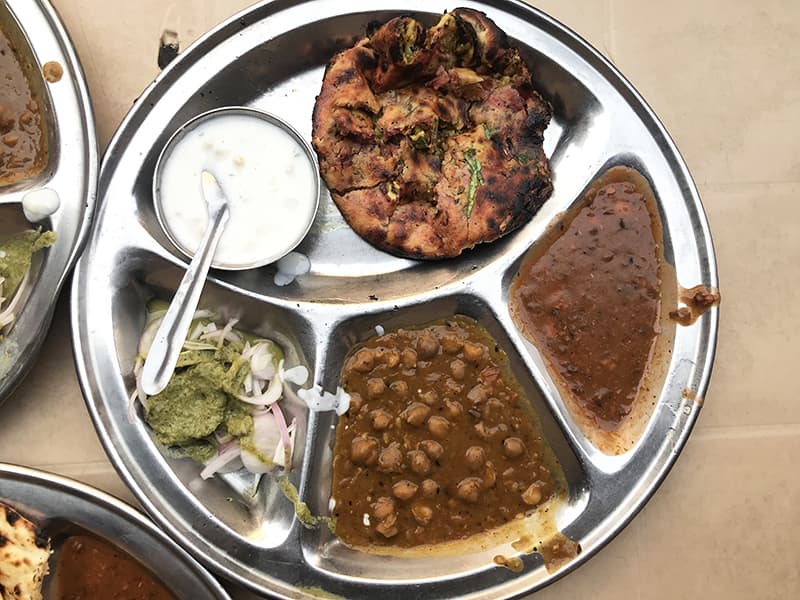 What was supposed to be a trial became a revelation when we stumbled upon their missi stuffed naan which, according to us, was the highlight of our visit to this place. Resembling exactly like a missi roti, this tasted the best out of the lot and with the stuffing of gobhi, aloo, pyaaz and oodles of butter, it transported us to our days spent in Amritsar devouring authentic buttery naans!
Price | Rs 130
3. Stuff Aloo Piyaz Chur Chur Naan Thaali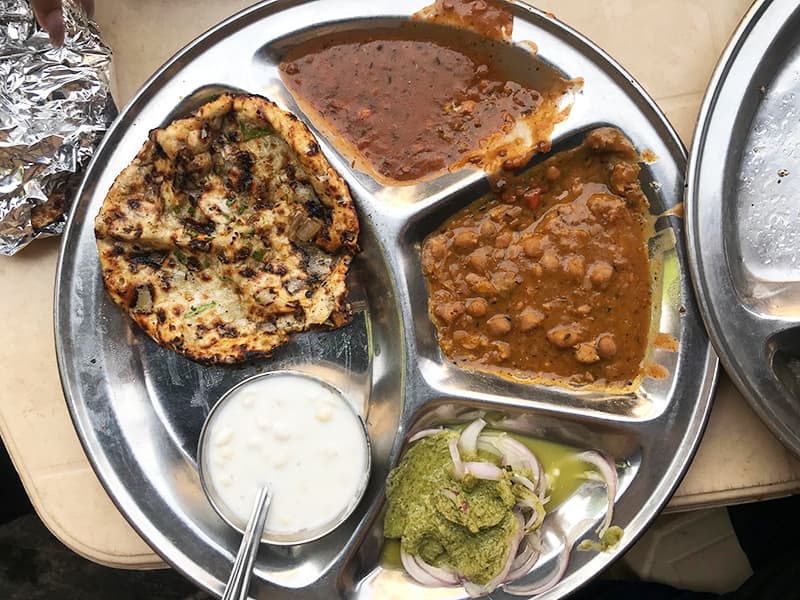 What do you expect from something that is a given classic and makes you happy beyond no limits? Our childhoods were full of parathas made lovingly by our moms and stuffed with pyaaz and aloo and that is exactly what this naan is. Served piping hot, you'll gobble them up in a jiffy and would defo be left asking for more. Calling all the desi lads of Dilli, what are you waiting for?!
Price | Rs 120
4. Special Mix Chur Chur Naan Thaali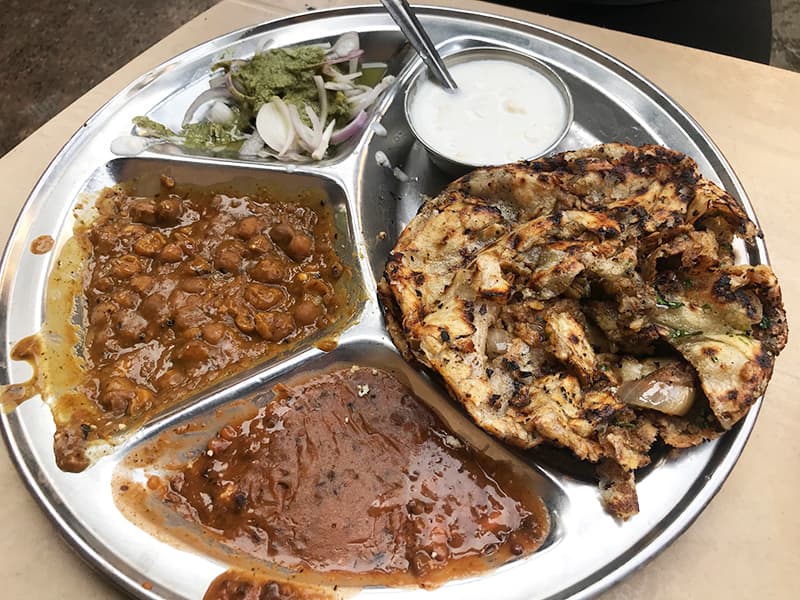 On enquiry, the establishment's owner told us that we should order the Special Mix Naan but we were sceptical of it as more often than not, suggestions like these are just a gimmick to sell more naans by the dhaba. And by this time or maybe because it was nothing different from the other naans, this item turned out to be quiet a disappointment. Let's just say that you can take your chances if you want but this place has many other and better options to offer.
Price | Rs 130
5. Sada Butter Naan Thaali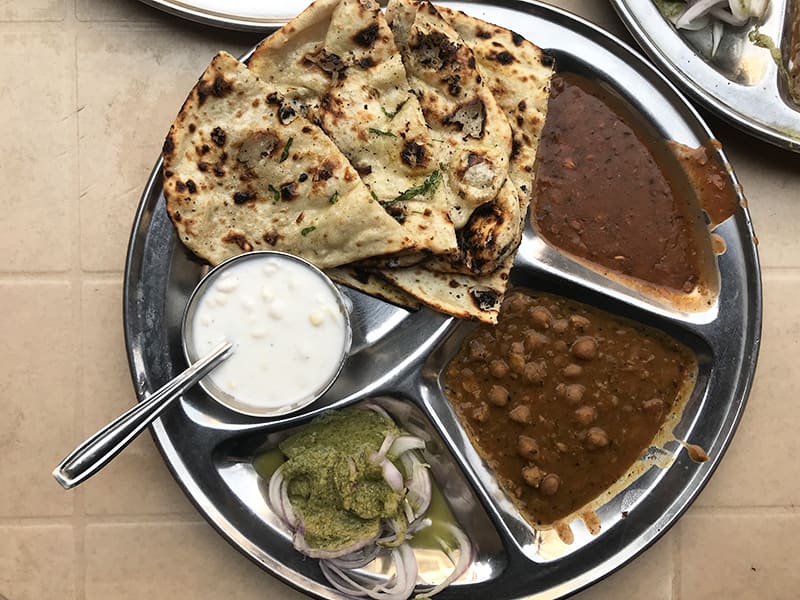 And finally, at the end of the menu came one of the most decent, simple and yet lip-smacking variant of the naans. Their Sada Butter Naan is nothing but a crispy, amply buttered, perfectly cut out pockets of a freshly baked naan. The crunch of this delight was just unbelievable and we would definitely recommend you to dip this sada naan in dal makhani and savour it like there's no tomorrow!
Price | Rs 90
The winters have finally set in and it's time to get out of your quilts and begin food explorations in the bylanes of our beautiful city. Chawla De Mashoor Amritsari Chur Chur Nan in Paharganj has withstood the test of time and has been serving naans topped with insane amounts of butter since ages. So, why not head down to this eatery and see for yourself what the actual hype is about?!
Where | Chawla De Mashoor Amritsari Chur Chur Nan - 8955, Chowk Multani Dhanda, Paharganj
Call Them | +91 9540 023 223
Timings | 10 AM - 11 PM
Check Out Their FB Page | https://www.facebook.com/Chawla-De-Mashoor-Amritsari