Delhi
More Misses Than Hits @ This Chaap Place In Geeta Colony That Does Sunny Leone Chaap & More!
With the variety of food that exists under the vegetarian category, especially in India, sometimes it makes us wonder whether we would ever be able to cover the list, having even one item a day, in this lifetime. But, just to nudge y'all in this direction, we found you an eatery in East Delhi, named Veerji Malai Chaap Wale, which serves quirky dishes like Chicken Popcorn and Fish Tikka. Now, what's so quirky about chicken popcorn and fish tikka, you may ask? Well, we'll tell ya. These items here aren't really non-vegetarian at all! Interesting, right? 
This place actually has an extensive menu just for our vegetarian friends. Offering over 50 items, the dishes vary from tandoori to fried to other methods of preparation. The ambience offers a compact seating area for 5-7 people with comfort, and 10, without it. Needless to say, we had to try what all they had on offer. But alas! The place didn't really live up to our expectations. So, here goes the list of the things that we tried here.
1. K2FC Japanese (Lollipop)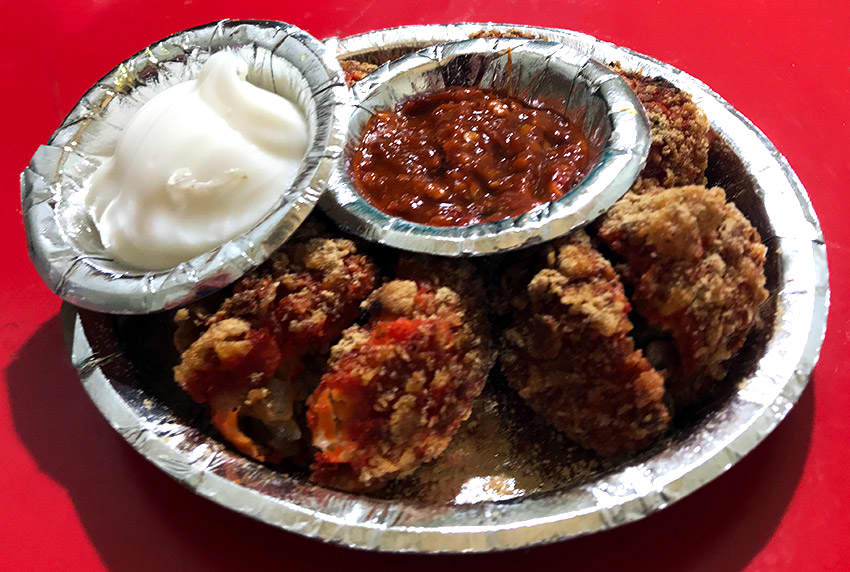 Yes, this item was vegetarian. And yes, it was fried. Their K2FC Lollipop, which sounded exotic, seemed a little bland for our taste. The soybean was far from visible and the filling mostly comprised vegetables. Served with mayonnaise and spicy tomato marinade sauce, the sides seemed to enhance the otherwise average tasting dish. We could taste the wide variety of spices in our mouths as we bit into the crunchy coating of the pieces. Perhaps, their attempt to produce something similar to KFC was not on point on this one. But for those who're looking for a casual snack in the evening, this is one of the dishes you can always opt for!
Price | Rs 180
2. Malai Chaap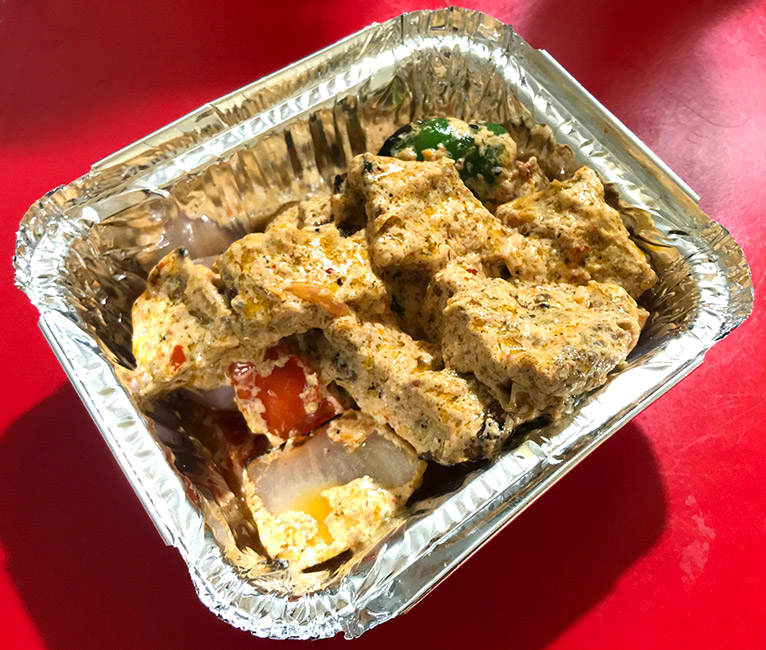 Since this item was in their name itself, it had to be one of our picks. This tandoori dish was dripping with grease and oil. Coated with cream marinade and immersed in the sea of fat, this item wishes you a happy cheat day. The chaap was soft and cooked to perfection. Served with pieces of bell peppers and onion, this dish didn't make us regret our choice. Does it do justice to hype it has been given? Probably not. But it's a pretty good snack if you're looking for a light food item!
Price | Rs 130
3. Sunny Leone Chaap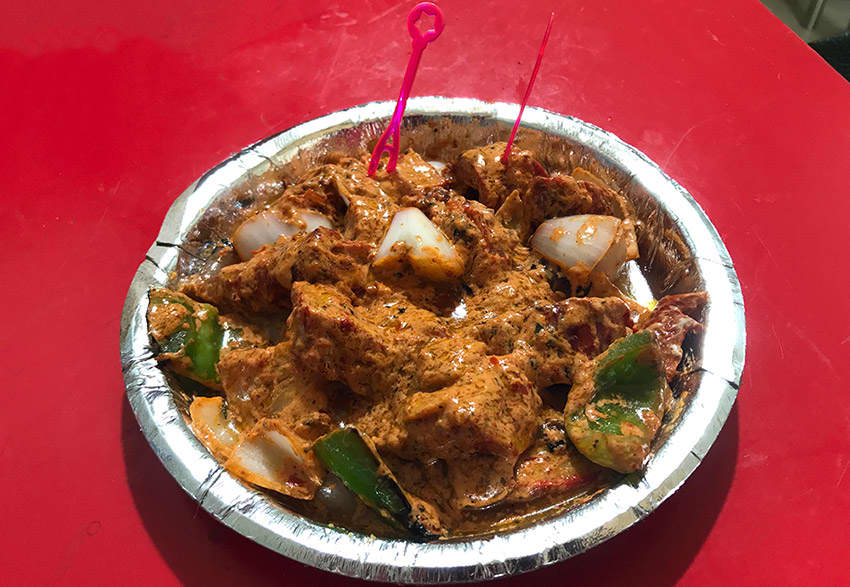 Oh yes, you read that right! The name of the item is in fact Sunny Leone and we just tried it for the sake of its name. If you want to know how a name sells, this is your answer. This item actually had nothing exotic to it, alas! The tandoori marinade was very greasy, again. Served with capsicum and onions, this item had waves of flavours when we took our first bite, but did quite an injustice to the name. Although, the owner had admittedly done it for the sake of attracting people, the item itself was a pool of grease. The taste wasn't very exciting and rather oily. The abundance of spices just ended up covering for the lack of any other element. But, hey, it's good enough to be given a shot just for the sake of its novelty,as far as the name goes, 'cause why not?
Price | Rs 150
4. Chicken Popcorn 
Apparently a Malaysian item, this dish was one of our favourites, irrespective of where it came from, served with mayo and spicy tomato sauce. This fried deliciousness is the appropriate reply to whoever thinks that vegetarians can't have fun. This dish, was indeed, very good in taste and the sauces were the cherry on the cake. The chaap was cooked to decent softness which didn't make it mushy or fall apart. The crispness was a treat and reminded us of KFC's fried chicken, only was this neither chicken, nor was it from KFC. But don't let this stop you from trying this exotic dish out! 
Price | Rs 240
5. Veg Fish Tikka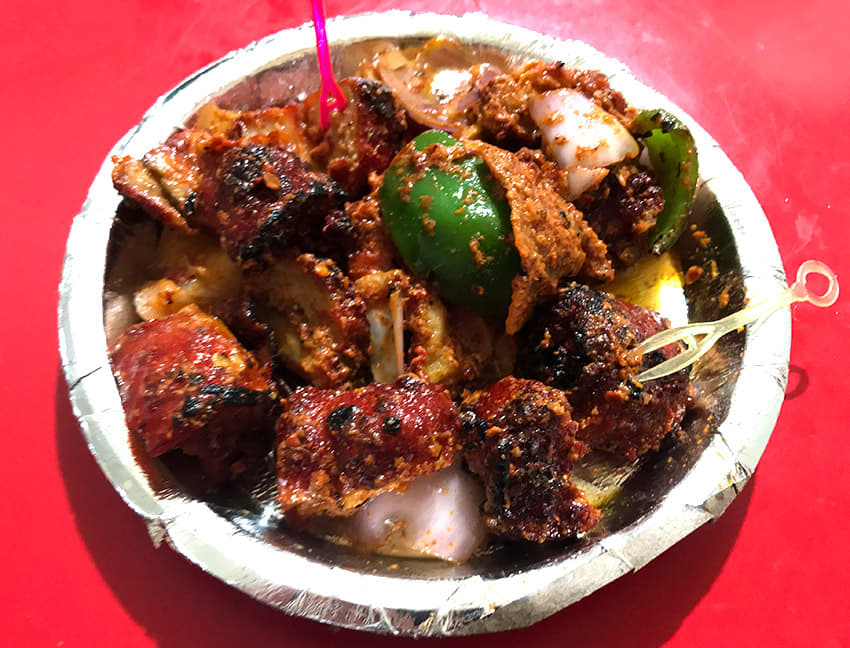 This 'exotic' item from the tandoori menu was supposed to be exciting and scrumptious, but it was far from it. The chaap pieces were coated with blended herbs and tomato puree and were served with green bell pepper and onion pieces. Keeping that aside, the chaap pieces were delightful, despite not being exemplary. The pieces were soft and melted inside our mouths as soon as we bit into it. The marinade was a whiplash of spices and complemented the overall taste of dish. A good option for an evening snack, grab your plate ASAP!
Price | Rs 150
This one and a half year old restaurant was a satisfactory visit for us. The menu offers some really delicious and delightful items. But to our dismay, some of the items were average. The grease coated every inch of our plate, and while some dishes tasted good with it, some made us uncomfortable. Overall, the place has some really good items and can be your go-to place if you're looking for a light hangout place. 
Where | Veerji Malai Chaap Wale - 6/174, Near Ram Leela Ground, Geeta Colony
Call Them | +91 9953 531 278, +91 9205 057 918
Timings | 4 PM - 12 AM (All Days)