Delhi
5 True-Blue Authentically Turkish Foodie Delights We Savoured @ The Pretty Baris In GK
Being die-hard foodies till our last gasping breath, we went in search of one of the most appetizing and rich cuisines of the world, Turkish food. Our vivacious search landed us in front of a gorgeous eatery called Baris! Nestled in the heart of GK-3 market, this blue and white themed café is widely popular for its Turkish ambience and food.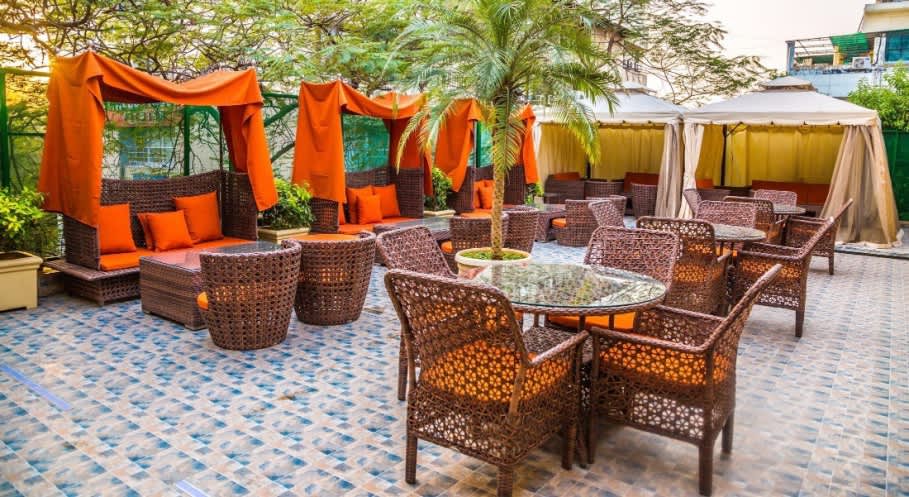 The place comprises a divine terrace and first floor and we were in total awe of the ambience here which was heavily inspired from Turkey. Beginning with the floor tiles, which were especially customized to give a feel of a middle-eastern palace to the walls that were hand carved to give it a Mediterranean touch to the cutlery used, everything looked just perfect! The first floor accommodates a lavish bar on one side possessing every kind of alcohol known to mankind, and with canopies on the two corners and lush greenery on all sides, the place is no less than a Turkish haven!
Stupefied by the look of the place, we ended up gorging on the following:
1. Chicken Shish Taouk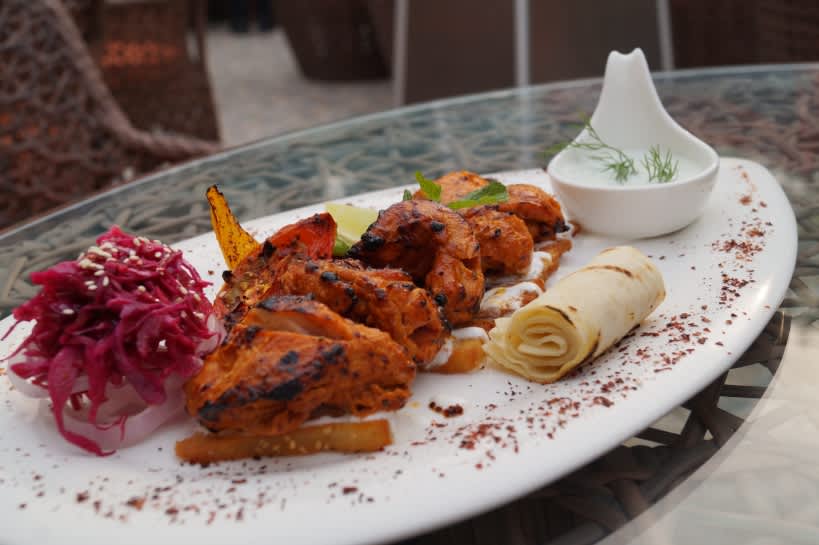 Resembling our most loved dish, the chicken tikka, the USP of their Chicken Shish Taouk was the marination which comprised yogurt, garlic, tomato paste, salt, oregano, pepper, allspice, cinnamon and cardamom whisked with lemon juice and olive oil. Enormous chicken pieces were marinated evenly in this mixture before being grilled in the tandoor and garnished with mint leaves. Needless to say, the dish was perfect with every flavour playing its respective part and enhancing the overall taste of the dish.
2. Adana Kebab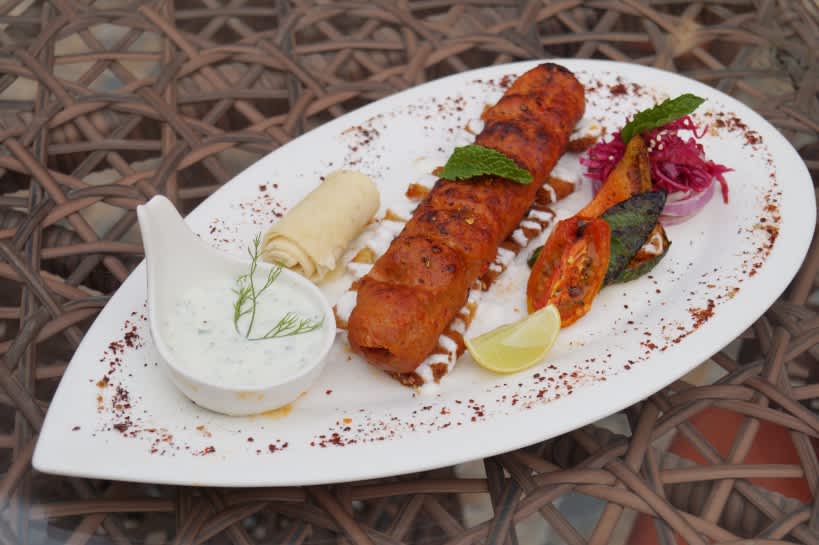 Named after the fifth largest city of Turkey, this culinary item was a delight! Hand minced meat is grilled over burning charcoal and sprinkled with a mixture of cumin, sumac, salt, roasted chillies and a handful of spices from adana, which instils the flavour in the kebabs. 
Served with cacik and pickled red cabbages, these kebabs had us drooling all over them. The aroma alone was enough, let alone the mushiness of the kebabs that left us wanting more. Garnished with mint leaves and presented with garlic yogurt, this is a must try item off their menu for sure!
3. Cigar Borek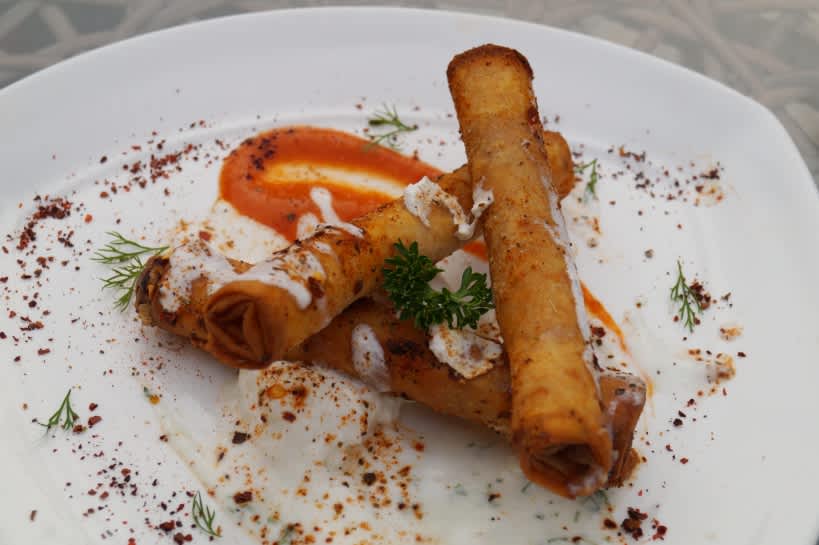 Crumbled feta cheese, dried mint, chili powder, caramelized onions and chopped coriander were rolled in a pastry sheet before deep frying them in olive oil. The rolls had fine crispness on the outside with a searing mixture of cheese and onions inside leaving us utterly satiated. The blend of cheese and mint and the crunchiness of onions gave the essence to the dish which, despite being deep fried, hardly left any traces of oil, which earns it lots of brownie points!
4. Ispanak Kebab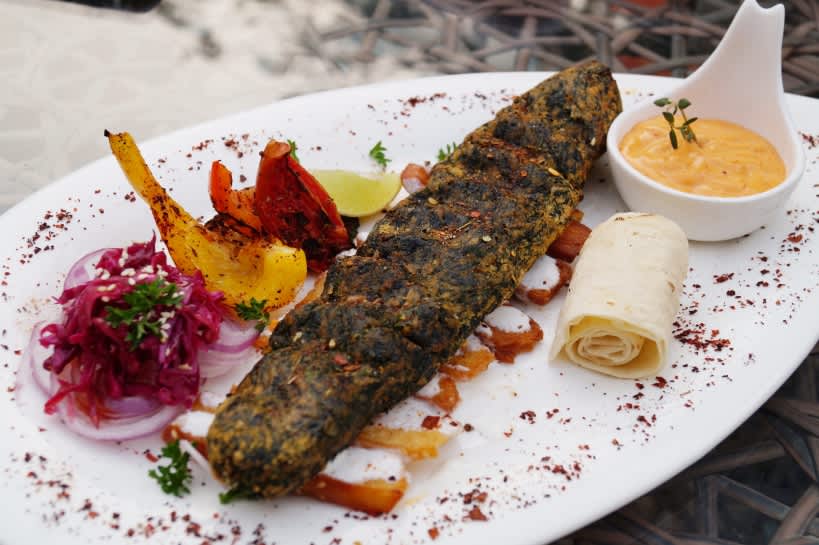 This dish was the epitome of perfection and a total veggie lover's delight. Minced spinach with crushed potatoes was grilled to perfection and sprinkled with roasted chillies, oregano, cumin, sumac and salt before being served to us with pickled cabbage and cucik along with a spicy tomato dip. The kebab had a slight crisp on the outside and was heavenly squishy on the inside. All we can say is, this dish made us fall in love with spinach all over again!
5. Kuzu Incik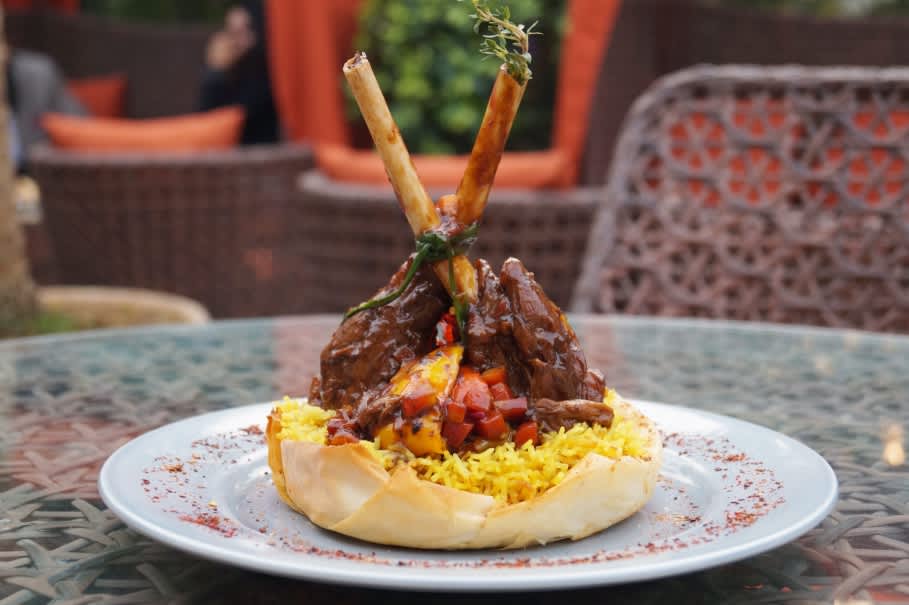 The presentation of this one left us spellbound. On a base of wafer patty, we had saffron rice with grilled vegetables along with pomegranate and tomato roasted lamb shank. The lamb was amazingly soft and melted in our mouths straightaway! The true essence of the dish can be felt when all three things are scooped in at once. The sweet and tangy flavour of the sauce stays on the palate long after we were done with our meal!
To sum up, this place is class apart and has a distinct character of its own making it stand apart from its peers. Scrumptious food, an alluring and prepossessing ambience and an experience of a lifetime is what one can expect from this place - come on by!
Meal For Two | Rs 2,000
Location | Baris- Building 3, Local Shopping Complex, Masjid Moth, GK III
Here's Their FB Page | https://www.facebook.com/eatatbaris/