Delhi
5 Treats To Hog On @ This Dessert Place In Hudson Lane To Quell Your Gluttonous Cravings
We have a major thing for cute and cosy places, so when we saw this tiny new place called Dayum while walking through Hudson Lane, we knew we just had to go inside. The first thing that caught our attention as we stepped inside was their signature neon sign, 'Carpe Dayum,' which is an interesting wordplay! This place came about to be as the owners felt that there weren't enough good dessert options out there & wanted to introduce churros to the mainstream and we totally approve of that! Apart from churros, they even have some lovely sundaes, crepes and beverages to satisfy your sweet tooth. So, without further ado, let's see how did they do on the taste part!
1. Choco Caramel Churros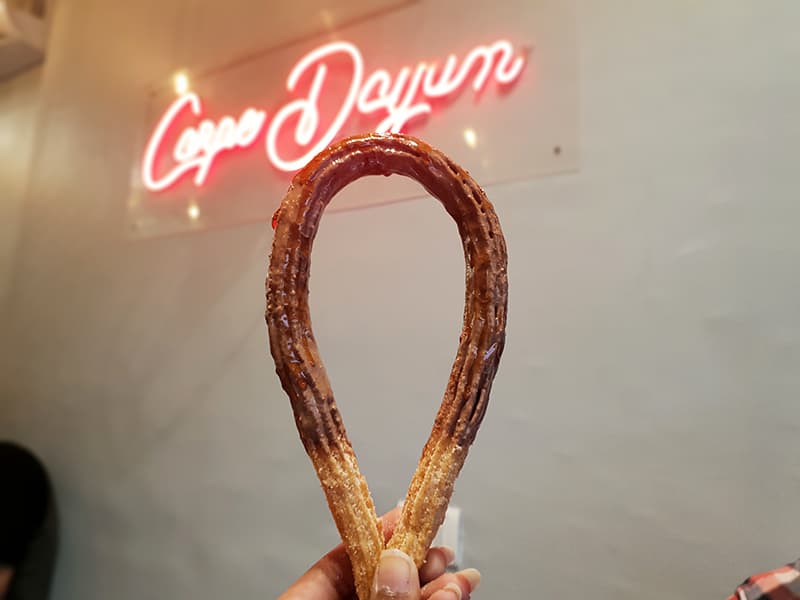 Chocolate and caramel are a match made in heaven and what can be better than a churro that helps you indulge in the chocolaty richness and caramelized sweetness at the same time. Believing in this, we went for the Choco caramel churro next and weren't disappointed. Made especially for the ones with a sweet tooth, this delight was judiciously dipped in chocolate sauce and caramel to make you lick your hands as you eat it. Perfectly crunchy on the inside and sweet on the outside, this sweet treat is totally worth it and we give it a big thumbs up!
Price | Rs 140
2. White Choco Fruity Pebbles Churros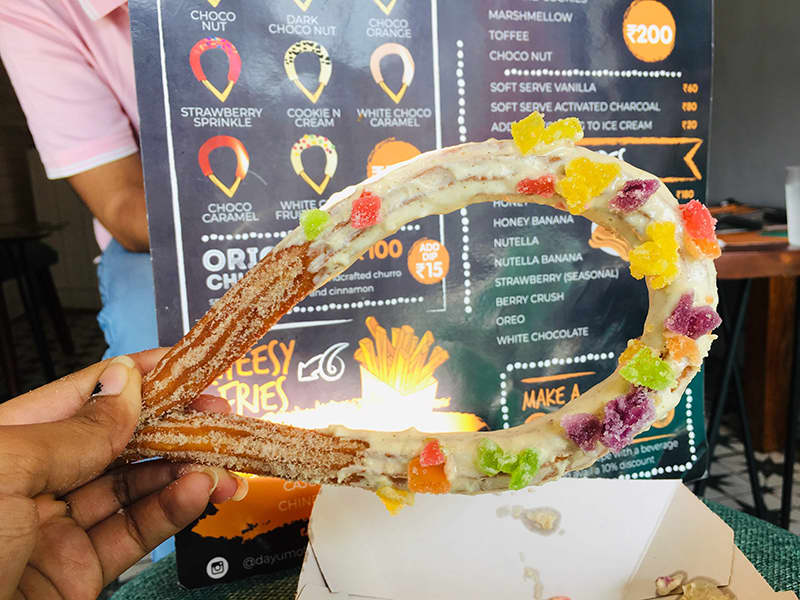 Often treated as one of the most underrated variety, white chocolate can be heavenly if made right. Add to it some fruity goodness and you've struck gold with the perfect combination. To try this combo, we ordered the Fruity Pebbles white choco churros and we absolutely fell in love with how pretty it looked. You can definitely judge this book by its cover as it tasted as good as it looked and gave us a mouthful of fruity and chocolaty sweetness. The crunchy churros and gooey pebbles provided the perfect balance. You should totally give it a shot!
Price | Rs 140
3. Marshmallow Sundae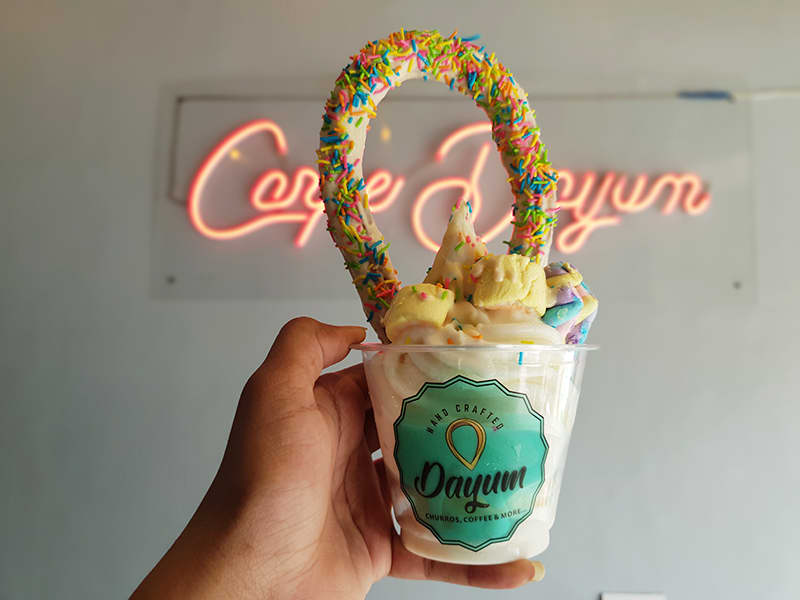 Ice cream sundaes for the win, right? Who doesn't love ice cream topped with sprinkles and chocolate, well we sure do! So we decided to try out the Marshmallow Sundae which was a pleasant surprise. The ice cream base was super creamy and unique because we don't think we've tried that ice cream flavour before (and trust us, we've tried A LOT of ice cream flavours.) It was topped with melted white chocolate, colourful marshmallows, a churro ring and finished beautifully with rainbow sprinkles. This one was our most favourite of the lot and looked right out of rainbow land, if it exists! So, do give it a try.
Price | Rs 200
4. Oreo Crepes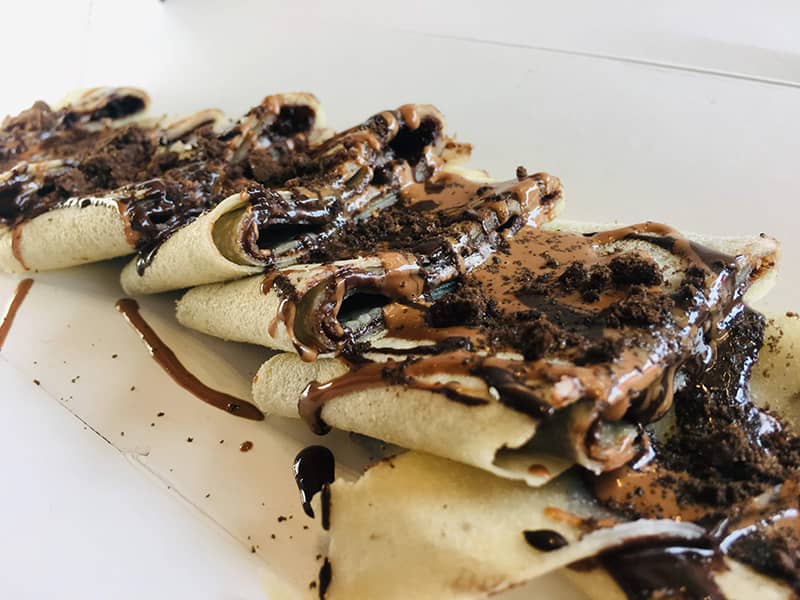 Oh, crepes! The famous French delicacy that we all seem to adore, crepes have been around for a while now. We decided to move over from the basic Nutella and banana variants and tried out the Oreo ones. And we're glad that we did for with each bite, the taste of our favourite Oreo was absolutely evident with milk as well as dark chocolate. We definitely loved the amalgamation of the soft golden crepes with the burst of chocolate and our beloved cookies. Believe us, we wouldn't want to miss giving these a try!
Price | Rs 200
5. Jamaican Jerk Fries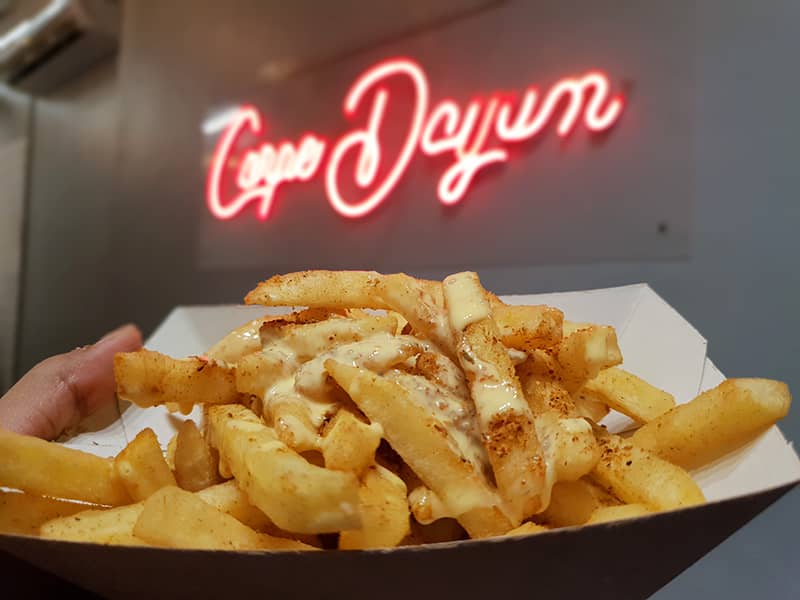 To balance the sweetness of all the desserts on our table, we were craving something savoury so we decided to give their fries a try. Jamaican Jerk Fries stood out as an uncommon and new flavour so we rushed to order it. For a place which specialises in churros and other desserts, their fries seemed a little underwhelming as expected but gave the necessary savoury punch to get back to our desserts. Crispy fries mixed with a unique spice and some tangy flavoured mayo, this snack acted as a fine accompaniment to the plethora of desserts we had wolfed down. Give them a go if you want to balance the sweetness!
Price | Rs 100
If you're a churros fan and love all things sweet then you should definitely pay this new outlet a visit. We agree that their prices might be a little on the higher side for the quantity they offer but it's totally worth a shot. Their crunchy and sweet treats make for the perfect dessert to munch on after your nice meals and you'd be left wanting for more!
Where | Dayum - 2528, Hudson Lane, GTB Nagar
Call Them | +91 958 229 2276
Timings | 11 AM - 11 PM
Meal For Two | Rs 400
Check Out Their FB Page | https://www.facebook.com/TheDayum/