Delhi
5 Totes Awesome Stores In Sarojini For The Trendiest Boots Starting @ Rs 600
Ah, winters - the season of frigid cold winds, hot cinnamon-flavoured coffees and warm blankets that we don't want to get out of! The season, although harsh, gives us the opportunity to get lazy, comfy and toasty! The only things that make getting out of our cosy beds a little easier are the gorgeous knitwear, the leather jackets and our favourite winter staples - boots! 
So as soon as the winter winds blow, we start our hunt for the most stylish winter-essential that will keep us snug and warm, while effortlessly upping our fashion game. We went on a boot-trail in Sarojni to find the most stylish boots at the most affordable prices and here's what we unearthed!
1. Sawhney Shoes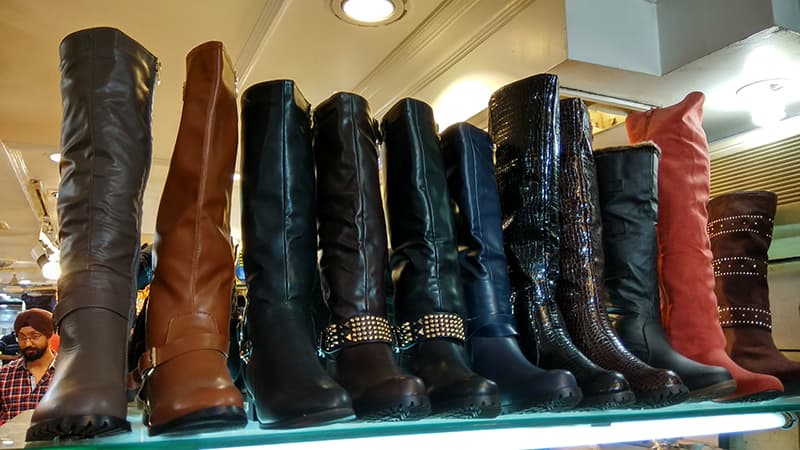 Located in the centre of the market just opposite the benches that one slumps in after a day of rigorous shopping and bargaining in Sarojini, stands Sawhney Shoes in all its glory! Although the shop may not be the biggest store here, the plethora of shoes for ladies and kids will make you think otherwise. Here, you'll find all types of boots, in all kinds of lengths - ankle, calf and knee - in a multitude of colours and styles ranging from the classic tans to peppy look-at-me colours. 
Whether you prefer heels, block or flats, you'll find a winter-staple that'll be your type to the boot (get it?)! These boots will either become your winter staples or help you channel your inner-Beyonce - either way, it's a win-win! Although the price range may be a little steep, most of the boots fall in the Rs 1,600 category. Go and buy those boots 'cause 'Winter is coming'!  
Where | Sawhney Shoes - Shop No. 166, Lane E
Price Range | Rs 1000 - 4500
2. Kin's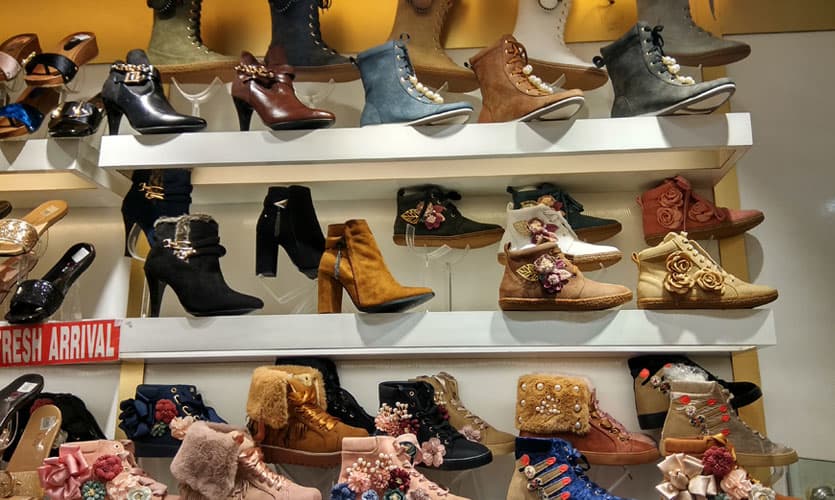 At one end of the market, you'll find the famous Kin's shop. One step inside and you'll know exactly why - with the most trendy shoes and bags in the market, no wonder Kin's is the 'IT' shop of Sarojini. Their collection looks straight out of Vogue - think super chic, trendy and glamorous. Their boots collection for the ladies is quite the scene-stealer, with jewelled embellishments, fur, artsy designs, ribbons and pearls, and comes in all shades of pink, brown and black that you can think of. 
But if these statement-making boots aren't your style, you can also find some stylish ankle-length boots in muted tones of brown and black in suede and faux leather. So add this store to your list, the next time you go boot-hunting!  
Where | Kin's - Shop No. 95, Lane E
Price Range | Rs 1,099 - 2,599
Call Them | +91 11 2467 9176
3. Prince Shoes (Shop 123)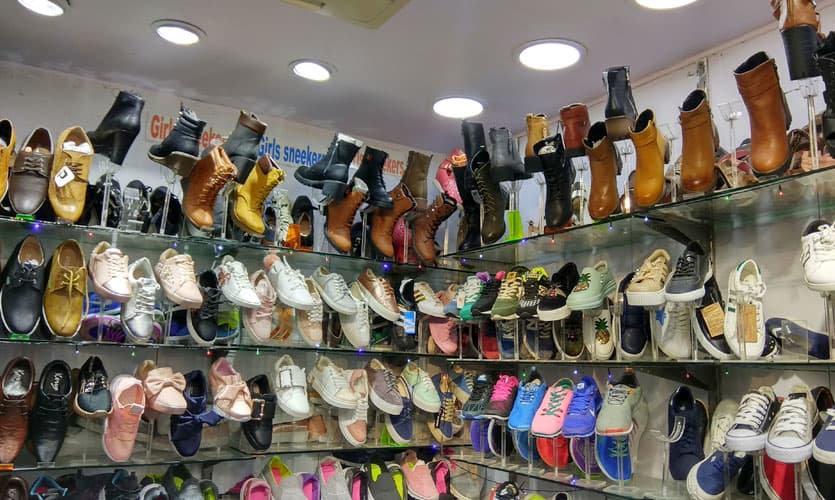 Cinderella's glass slippers, who?! We only know Prince Shoes! The boots that we saw were available in standard colours like blacks and browns, but if you look closely, you'll also find simple and classy boots that come in unique shades like olive green, which look quite similar to the Forever 21 variants. The boots are of superior quality and will probably last for many seasons - consider these boots an investment and shop away!   
Where | Prince Shoes - Shop No. 123, Export Line
Price Range | Rs 1,200 - 2,400
4. Stelatoes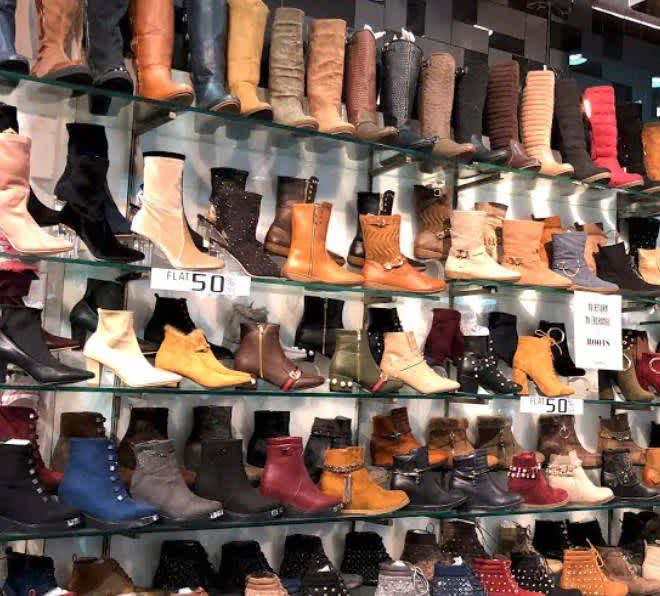 This now well-known store, in the front streets of Sarojini, is jazzing things up with boots so pretty they made us squeal with delight! They've got boots from Topshop and Amelia, so come get your hands on these exclusive pieces in classic cowboy style with buckles, fringes and all that jazz! With ankle and knee-length boots in stylish colours and polished details, glam up your winter wardrobe with these adorable pairs. 
Apart from being gorgeously designed, these boots are of a top-notch quality which will ensure that they keep you snug for a long, long time. Go score!   
Where | Stelatoes - Shop No. 21
Price Range | Rs 2,200 - 4,000
5. Shop 71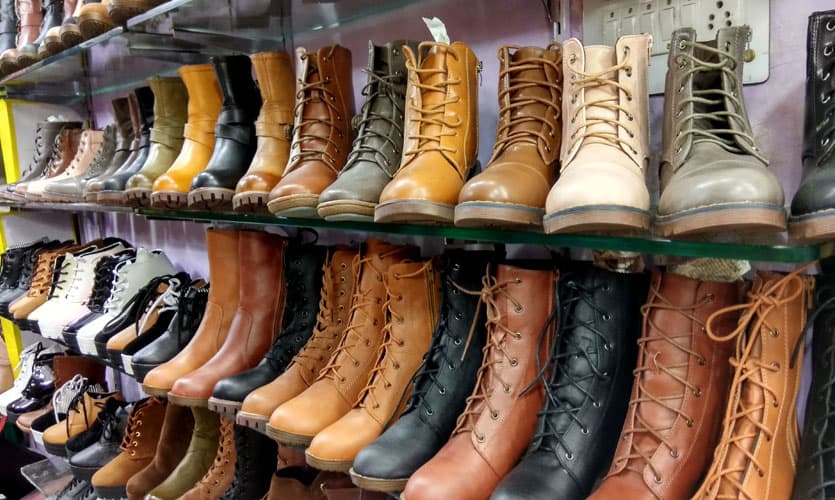 We stumbled upon this shop quite by accident but upon entering and seeing all these boots, we think it was serendipity! With a wide-ranging collection, they house various style of boots in timeless shades and minimalistic yet stylish designs and embellishments. With fur and cute AF buckles, these boots are imported straight from shopping destinations like Bangkok and Hong Kong. 
Apart from the usual shades of tans and blacks, there were boots which were prettily laced up in pink, white and striped variants, finished off with a glossy shine and heels to shine on! Near Kamal Jewellers, you should definitely check this place out for its wide variety and reasonable price range!
Where | Shop 71 - Shop No. 71, Export Line
Price Range | Rs 800 - 3,000
Bookmark all these glam stores for all your winter boots needs and head over to Sarojini with your girl gang NOW!