Delhi
5 Things Like Yummy Chicken Momos, Chole Bhature & Chicken Biryani To Try In Sector 18, Noida
In every nook and corner of Sector 18, Noida, you shall find food, from street food to cafes to restaurants, this food kingdom has it all. This place offers you innumerable options to eat from while you're out chilling with your friends and it's easy on the pocket as well. We scoped out the area and here are the five things that we tried out!
1. Chicken Momos @ Eating Corner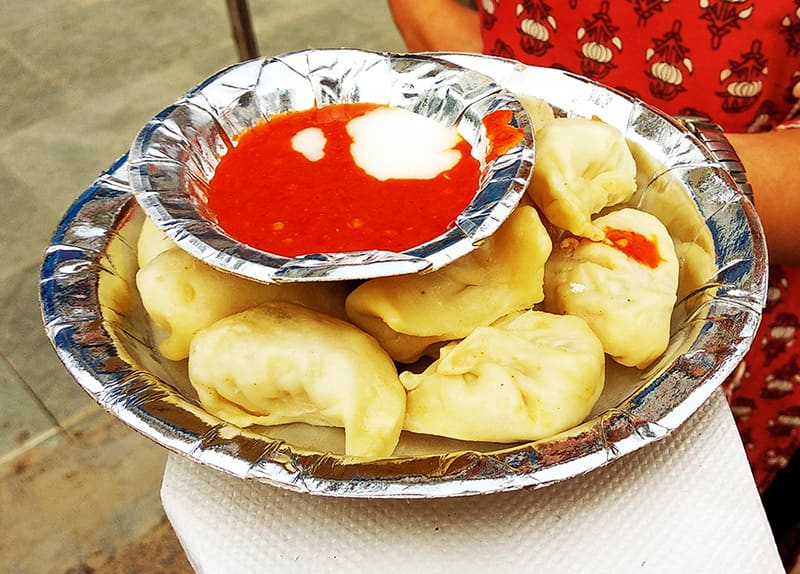 There is no time for chit chat while devouring momos made with love. These little delicate dumplings were amply stuffed with juicy chicken and made us go 'oooh' 'aaah' owing to the legendary fiery red sauce. Momos are the go-to street food and you better bookmark this place to your favourites!
Price | Rs 50 (Half Plate) & Rs 70 (Full Plate)
Where | Eating Corner - Near Sector 18, Metro Gate No 2
2. Chhole Bhature @ Shri Radha Krishna Cholay Bhature & Food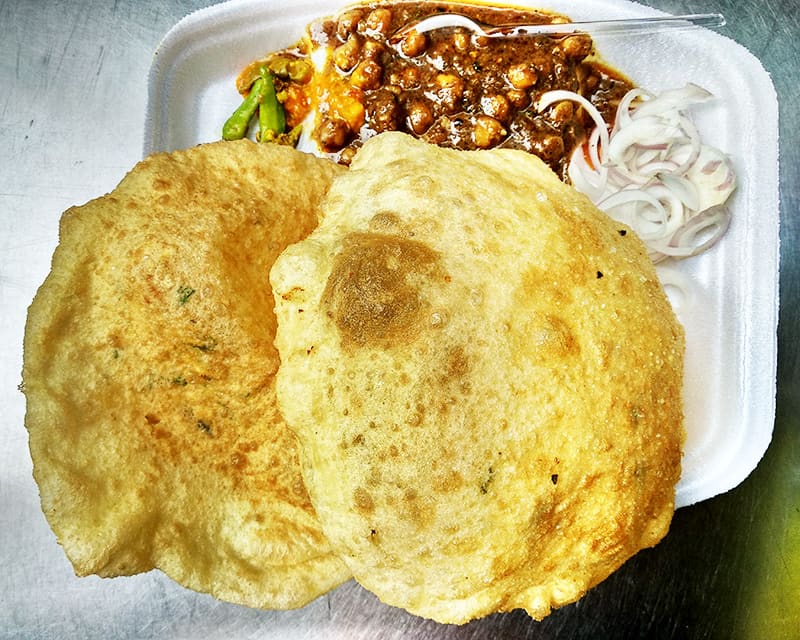 Nothing completes a weekend like a filling plate of Chhole Bhature with your fam or friends right in the morning. Huge bhaturas poked with a fork which expelled heat vapours is how we started with before gorging on this delectable dish. The pickle and salad on the side proved to be a game-changer for they added that extra hint of tanginess that took this dish to a new high. This place is one of the most famous chole bhature joints around here and now, we know exactly why. Come here and try it for yourself!
Price | Rs 60
Where | Shri Radha Krishna Chole Bhature & Food - Near Sector 18, Metro Gate No 2
3. Chicken Biryani @ All-Khurshid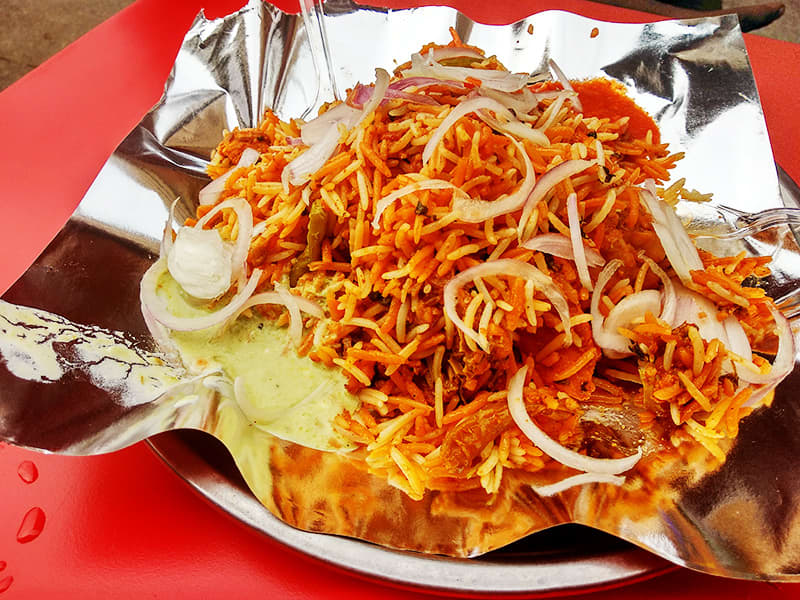 Chicken biryani is the most sought-after dish of every non-vegetarian. If posed in an MCQ question, it would look something like this -
        Do you love chicken biryani?
Yes

Definitely

A & B
Heaped on a plate with green & red chutney and onions, along with loads of chicken, this item  makes for the perfect lunch or dinner. The meat was perfectly cooked and the rice was extremely flavourful. Together, they made for one heck of a dish. Best had hot, hurry scurry before your plate gets cold!
Price | Rs 100 (Half Plate) & Rs 180 (Full Plate)
Where | All-Khurshid - P Block, Food Market
4. Idli Sambhar @ Devkinandan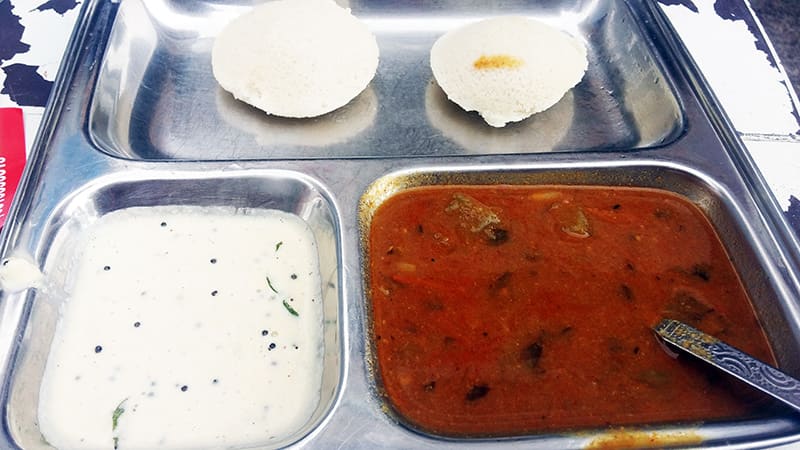 You can't NOT like South Indian food, it's a cuisine loved by almost everyone. Popular as a breakfast item down South, It is definitely a pan-India favourite. This dish of 2 pieces of rice idlis that were steamed to perfect fluffiness and served with flavoursome, albeit tad bit spicy sambhar and our ever-favourite coconut chutney, was a sheer delight. Give this one a shot and you'll thank us for sure!
Price | Rs 40
Where | Devkinandan - P Block, Food Market
5. Kesar Pista Kulhad Lassi @18 Street Food Court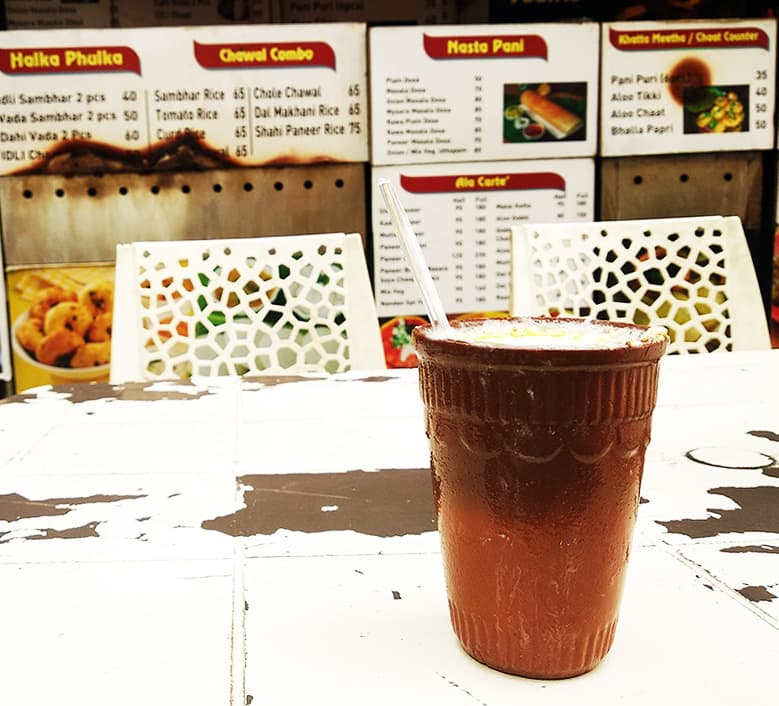 One absolutely can't miss the thick sweet lassi served in a kulhad with kesar and pista, when here. From the moment we held it, to the moment we finished it, we just couldn't pause because it was so good. It refreshed our moods and was the perfect drink to end our meal! Come over and your 'lassi moustache' will be the evidence of your happiness!
Price | Rs 60
Where | 18 Street Food Court - P Block, Food Market