Delhi
5 Things Like Pizza Momos & Samosa Chaat Starting At Rs 10 @ Sector 110 Market, Noida
Sector 110 market has been one of the lesser known places but it's gradually coming in the limelight as people are moving to this side of the city. Besides the famous Evergreen Sweet House or the several other fast food franchises such as Kanha, Dominos and Pizza Hut, the market has some pretty decent street food options to gorge on, as well. The affordable and appetizing prices fit the bill for those on a budget and the yummy snacks served here, make for a perfect evening with friends. We went about the area and here's what all we tried!
1. Samosa Chaat @ Porwaal Ji Ke Nano Samose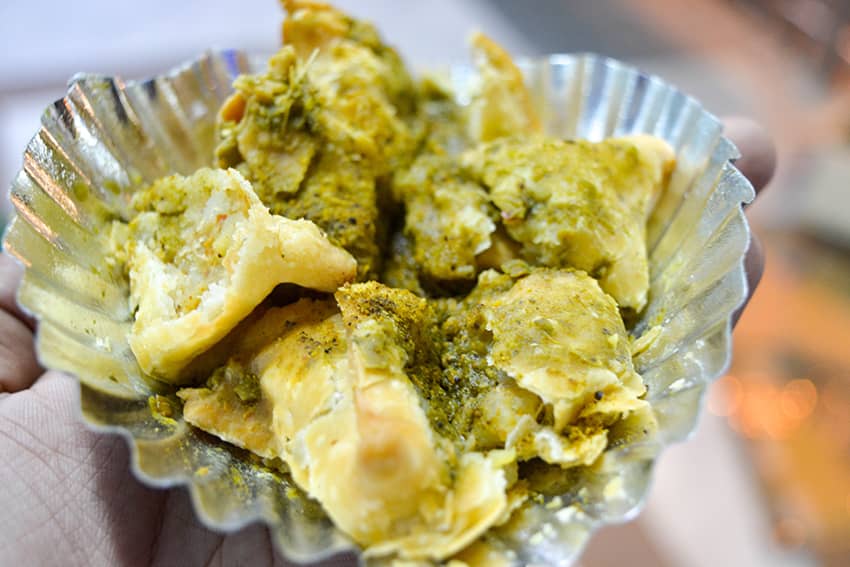 This tiny stall facing Smart Kitchen, is a samosa shop famous for its Samosa Chaat. Each plate is prepared fresh every single time a customer orders it. The samosas were crushed and then topped with their signature green and meethi chutneys. The little golden pouches were stuffed with mashed potatoes and peas quite generously and the stuffing was appropriately spicy for our taste. This dish's unique preparation provided that extra zing which made it different from your regular plate of samosas. Come here with your pals and hog all you want, without straining your pockets at all!
Price | Rs 10
2. Shawarma @ Uncle Chicken
This centrally located joint is every youth's go-to place, here in this market for their delicious, indulgent and affordable shawarmas. These delicate shredded chicken rolls they serve here are juicy & tender and come with the sides of creamy mayonnaise, as well as, spicy green chutney. There great service and flavourful product makes this place worth a visit. 
Price | Rs 60
3. Pizza Cheese Momos @ Smart Kitchen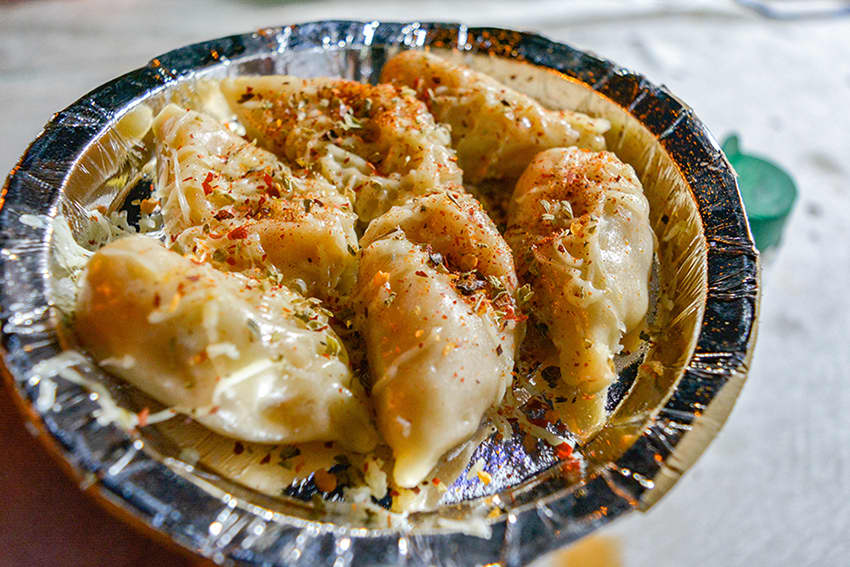 For all pizza and momos lovers, this dish is the perfect blend of the 2 flavours, bringing you the best of both worlds. Stuffed with corns, capsicums, onions and oodles of mozzarella cheese with grated cheese of top, too, this snack is something you'll remember for a long time. The dough felt so soft, thin & tender in our mouths and the filling reminded us of the true essence of a pizza. And not only this, these people have plenty of other momos options as well, ranging from tandoori to chocolate ones. Try this place out and you won't go back disappointed! 
Price | Rs 120
4. Chicken TIkka Roll @ Zaika Kathi Rolls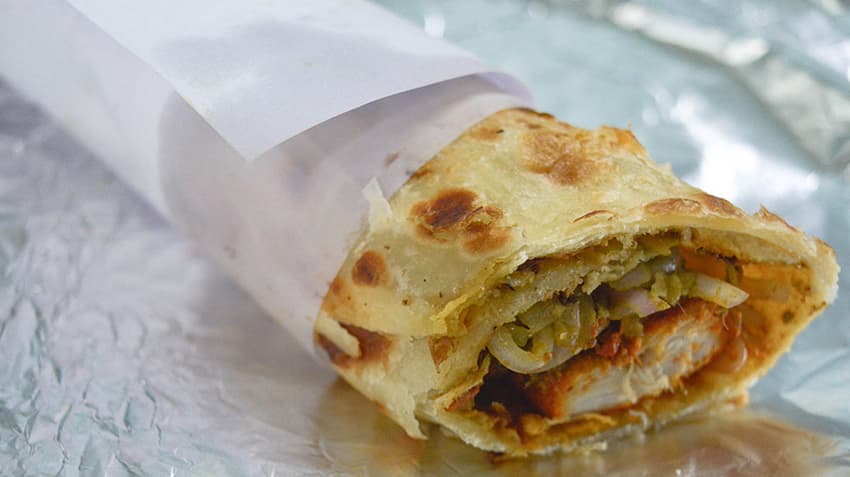 If you're a kathi roll fan then this joint will definitely win your heart. Also located in the center of the market, right beside Uncle Chicken, this place offers  plenty of options from Chicken Tikka, Mutton Seekh to Paneer and Egg rolls. We tried the Chicken Tikka Roll which comes wrapped in their flaky Malabar Paratha with a filling of spicy vegetables, juicy chicken tikkas and chutney. One bite, and we were taken by it's unbelievable flavours! And, in case, you're not here for kathi rolls, this place also caters to the ones who like momos, roasted chicken or biryani. So, whatever your reason, just come here and go back happier and content! 
Price | Rs 100
5. Kulfi Faluda @ SRK Agra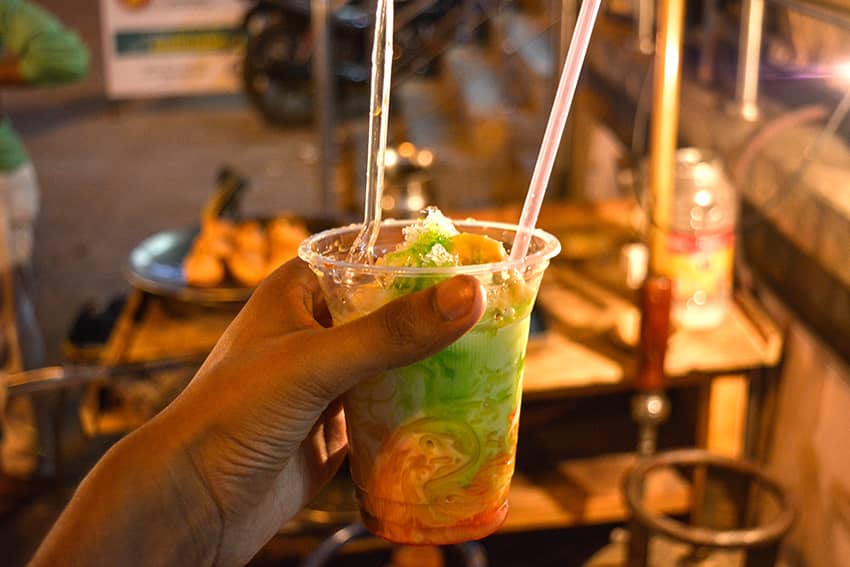 A rich, creamy and smooth kulfi, loaded with an assortment of nuts, meets authentic, rose-scented falooda and you get this perf dessert at SRK Agra. Besides, if you're also a gol gappa and aloo tikki lover, then this place fulfils your needs also and that too, in a delectable manner. So, visit this stall, 'cause every eating spree deserves a sweet ending!
Price | Rs 50
Altogether, this market has some great street food options to fill your hungry bellies and souls, and we'd recommend that if you're around, then definitely swing by!