Delhi
5 Things Like Makhani Momos & Kurkure Burger You Need To Have @ King Shawarma, East Patel Nagar
Literally the size of a small food truck, King Shawarma is a fast-food joint nestled in the heart of East Patel Nagar market aka EPN. It offers a variety of fast-food snacks like hot dogs, shawarmas, chaaps, momos, rolls, pastas, fries, noodles, and sandwiches! This tiny takeaway food joint had such a vast selection of snacks to choose from that our indecisive minds couldn't figure out what to eat. We finally shortlisted five of their famous food items to gorge on. Read on to find out which ones!
1. Kurkure Momos

For a shop that's famous for their special kurkure snacks, we weren't surprised to see Kurkure Momos on their menu. The plate consisted of four pieces of tempting and exceptionally crispy looking kurkure dumplings, garnished with some spring onions and served with mayonnaise and chilly sauce. We couldn't wait for the dish to cool down, and with the first bite of the steaming hot momos, absolutely fell in love with the snack! They were crunchy, loaded with a mixture of delicious vegetables and tasted delightful with the two sauces. Try it and you'll gobble it all down in seconds, we bet!
Price | Rs 80
2. Creamy Chaap Hot Dog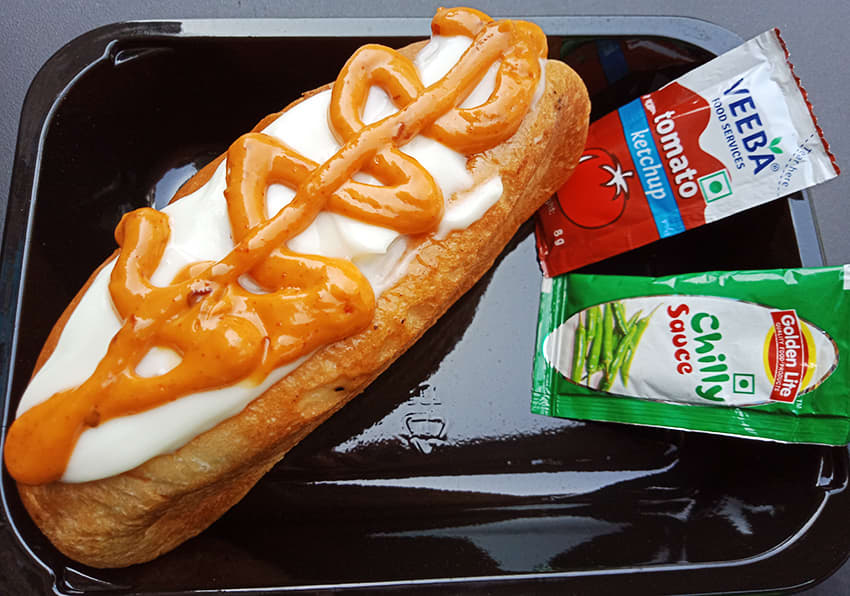 This was one of our favourite snacks from the joint. The soft hot dog contained small chunks of soya loaded with chilly sauce & onions, and was topped with a lovely cream and mustard sauce. The presentation was fantastic, and the filling was absolutely delicious! The hot dog was also available in other variants of paneer and chicken fillings. With the brilliant fusion of a tandoori chaap in a classic hot dog, we highly recommend this wonderful easy-to-eat snack!
Price | Rs 80
3. Tandoori Paneer Shawarma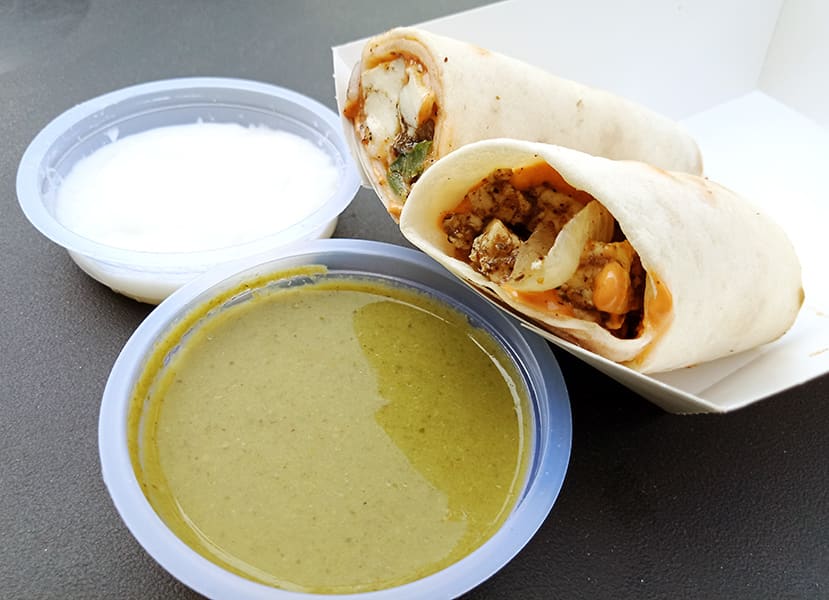 A soft and thin wrap filled with small cubes of the tandoori masala paneer, mustard sauce, diced onions and capsicums, this shawarma surely was a quick and appetizing eat! Served with white sauce and a tangy pudina chutney, the dish was aptly spicy and extremely light. However, we thought that the quantity was a little less. Available in various other non-veg and veg variants, this snack serves as an easy and yummy side dish.
Price | Rs 70
4. Kurkure Burger

This snack was made by King Shawarma to compete with the popular hyperlocal fast food restaurants. Well, we don't know about the competition, but we sure as hell enjoyed this burger that had a 10 on 10 crunch factor! It was stuffed with a special aloo tikki that was covered in a thick layer of kurkure, a dollop of mayonnaise, and came adorned with sesame seeds at the top. Their exceptional kurkure tikki paired with the sauce of your choice is sure to tickle your taste buds!
Price | Rs 110
5. Makhani Momos

The last thing that we tried here was their creamy Makhani Momos. The dish was a complete meal of steamed vegetable momos laden with spicy makhani gravy, onions, capsicums and garnished with coriander leaves. Again 10 on 10 for presentation! The quantity was quite impressive, and the gravy was terrifically tasty. Although the makhani was a little oily, we absolutely enjoyed having it with the deliciously delicate and hot steamed momos. While we ordered half a plate that had only 4 pieces, the snack was uber fulfilling!
Price | Rs 170 (8 Pieces)
While you can stand and eat these quick and savoury snacks, they also provide a takeaway option with good-quality packaging. The place gets pretty crowded in the evenings, so we suggest you visit it in the early hours of the afternoon. Overall, we had a marvellous time while trying the different snacks from this place. So, if you're passing by the market sometime, do visit King Shawarma!
Where | King Shawarma - 12/19, Shop 3, East Patel Nagar Market
Timings | 12 Noon - 11 PM
Call Them | +91 9953 542 420