Delhi
5 Things Like Cheese Croquettes, Chocolate Gulab Jamun You Need To Try At The Dinning Room
Imagine the most beautiful tropical wallpapers, vintage lights, floor-length mirrors and ample sunlight combined with a bunch of delicious vegetarian food, well, that's The Dinning Room for you. The Dinning Room that opened up in Old Gupta Colony, Vijay Nagar dishes up some sumptuous and unique dishes and drinks that are hard to resist. They are one of the very few completely vegetarian fine-dining restaurants in the area and we absolutely loved the interiors and mood lighting of the place. So, we decided to give five things off their menu a try and here's our verdict without further ado.
1. Twist At Dinning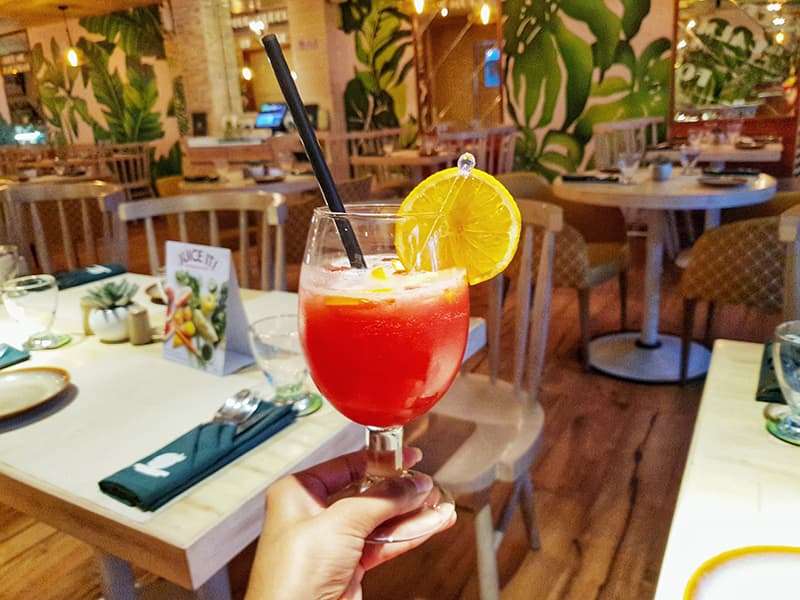 We started our meal with this interesting mocktail that combines the goodness of fresh orange, passion fruit, peach, cranberry and strawberry with a refreshing lemonade base. It has to be one of our favourite mocktails ever because though it's a fruity melange, you'll still be able to distinguish the different flavours. Also, did we mention, it's pretty Insta-worthy with the tropical background and all! In case you wanna try something else, go for their Dew & Sunrise mocktail or one of the smoothies to go with your meal.
Price | Rs 175
2. Indian Masala Chai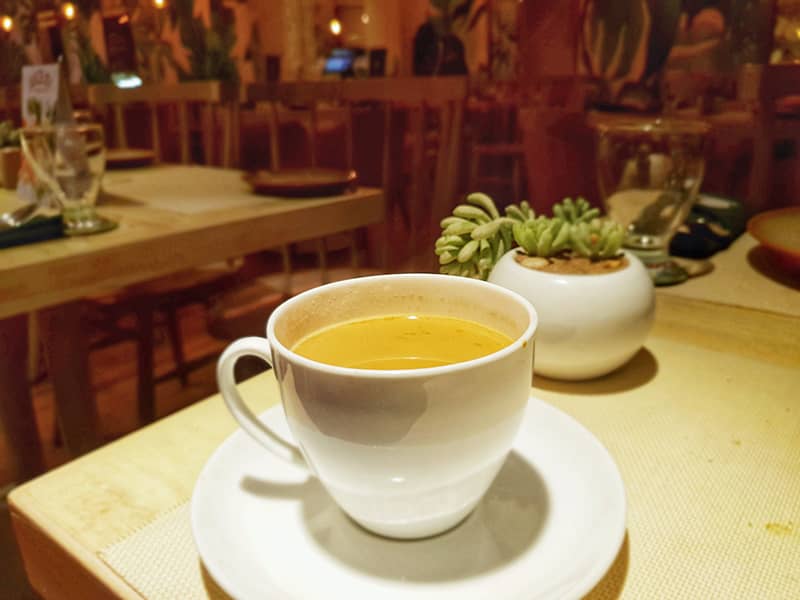 Being Indians, we simply can't say no to a nice cuppa tea and defo not when it's a Masala tea! We know it's not the quirkiest thing out there but you have to try this amazing hot beverage here. It's the perfect warm drink you need to sip on this winter as you munch on their tasty delights. In case you are not a Masala Chai person, you can also try their other hot beverages which include different kinds of coffee.
Price | Rs 75
3. Cheese Croquettes With Jalapeno Mayo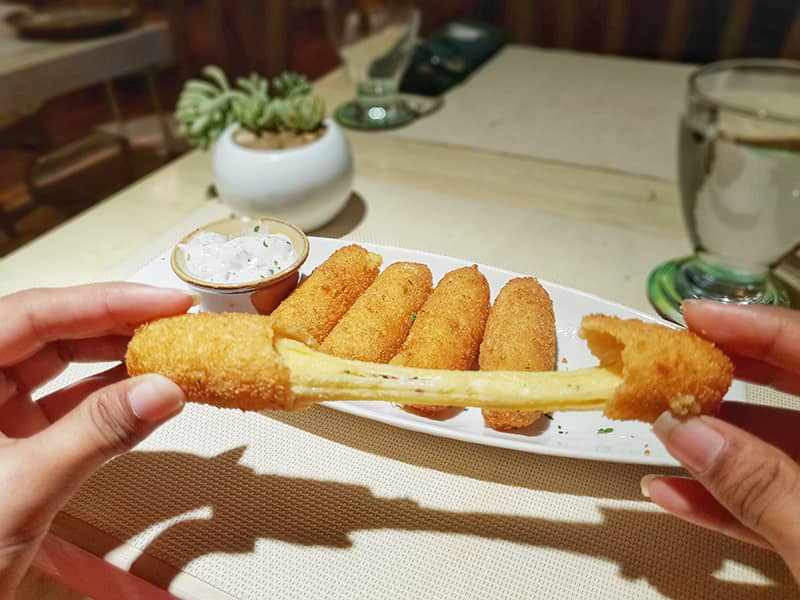 Come on, we all love a little cheese (read tons of cheese), so we just had to try these. The croquettes were loaded with chunks of thick and gooey Mozzarella and bits of cottage cheese. Our only complaint is that they felt a little bland by themselves for our taste. The Jalapeno mayo acted as the perfect accompaniment giving the necessary tangy flavour to it. Overall, it is a big thumbs up for all cheese lovers out there. Also, the cheese pull is crazy!
Price | Rs 265
4. Chaap Ki Biryani With Raita & Salad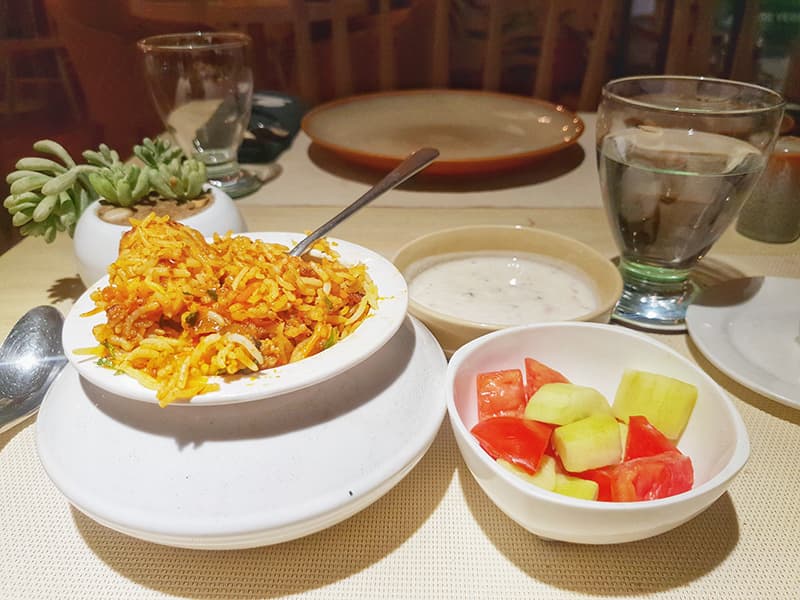 Best 'Vegetarian' Biryani ever! 'Nuff said. We're not joking when we say that this is the only veg Biryani you'll ever need to have. It combines our two favourites, biryani and chaap, so no complaints. Flavoured rice layered with ample amounts of roasted chaap that were equal parts soft and masaledaar, this Biryani had just the perfect flavour. On top of that, the raita added even more zest to the already tasty dish. The only part of the dish that didn't live up to our expectations was the salad but we still thoroughly enjoyed it and we appreciate the quantity for such an affordable price. We are undoubtedly going back for it because we simply can't get enough of it, it's really that good.
Price | Rs 275
5. Chocolate Gulab Jamun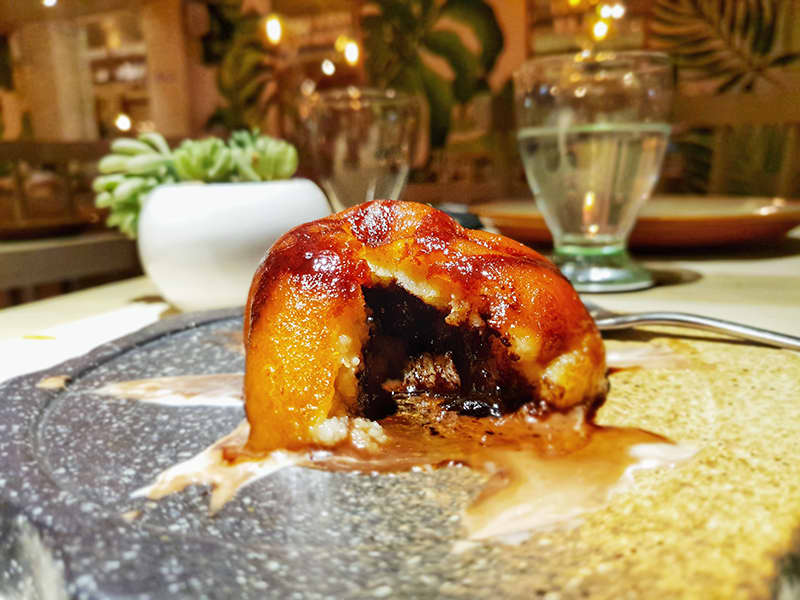 Now, this is what we've been looking for all our lives! This is the dessert we didn't even know we needed and wanted so badly. For those of you who can't choose between Indian sweets and chocolate, you don't have to anymore. It's literally a sweet dough ball dipped in sugar syrup and oozing with chocolate and brownie. As you cut into this dream dessert, it feels like choco lava inside our very own Indian sweet. If imagining that doesn't make your mouth water, we don't know what will.
Price | Rs 175
By the way, they have a private room that seats about 10 people for private family gatherings or small get-togethers as well on top of the ample available seating. Don't forget to get some pictures for the gram while you're at it. Trust us, you do not want to miss dining at The Dinning room so head over right away!
Where | The Dinning Room - D-2, Ground Floor, Polo Road, Old Gupta Colony, Vijay Nagar
Timings | 11:30 AM - 12:00 Midnight
Call Them | +91 11 4084 9248
Meal For Two | Rs 1,000
Check Out Their FB Page | https://www.facebook.com/thedinningroom.farmfoods/