Delhi
5 Things Like Butter Chicken Fries & Italiano Pizza We Had @ Food Overloaded, Paschim Vihar
We've hunted down the perfect restaurant for all the grunge lovers, just outside Paschim Vihar East Metro Station. In the corner of a circular market, the welcoming vibe of this vintage house called Food Overloaded offers a cozy and chiller ambience. Step inside and you'll see that the floor is decorated with small pebbles that rumble beneath your feet and for some reason, the sound feels almost like a lullaby. The walls are painted with an extremely beautiful scene of a typical European sidewalk trattoria which is bound to put a smile on even the wryest of faces. Right at the peak of this humid weather, we decided to settle down in this indie looking outlet for our lunch and here's what we had!
1. Berry Blast Shake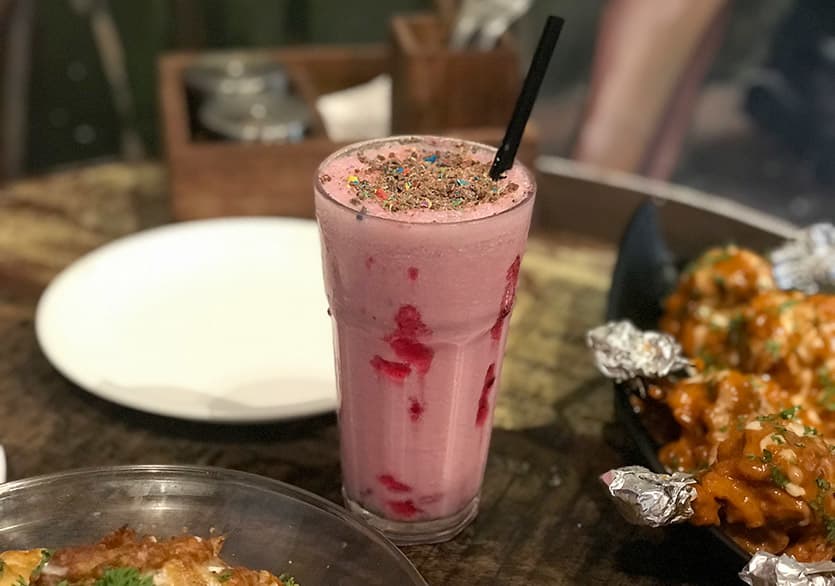 This blend of strawberry and blueberry puree presented in a shake sent shivers of pleasure down our spine. If anything, this was the showstopper for us. A rich and creamy milkshake with the base of the sweet duo of our favourite berries, this one had beautiful consistency. Topping the pretty lady were gems. The topping of chocolatey Gems was a delight when we bit into them while slurping this delicious milkshake.
Price | Rs 130
2. Creamy Chicken Lollypop

These drumsticks were sent to us straight from heaven. The juicy and tender chicken drums were thoroughly coated with spicy mixed sauce and drizzled with fresh cream. The highlight of the dish, their delicious sauce was a combination of our usual tomato chutney, made from red chillies, tomatoes, garlic, and creamy sweet mayonnaise. The taste of the succulent chicken got amplified when mixed with the scrumptious dressing. Garnished with coriander, this dish will definitely make you forget that there is a world outside this cafe.
Price | Rs 250
3. Baked Nachos And Corn Pasta

Ever since Doritos commercialised nachos as chips snacks, people have been experimenting with these thin crisps using a variety of flavours and sauces. This dish was roofed with a canopy of crunchy nachos, topped with olives. But beauty is what lies on the inside. Covered with a layer of gooey mozzarella, the bed of penne pasta cushion dressed in mixed sauce and bits of sweet & juicy corns welcomed us with soft chews. The dish was almost made up of pull apart bites with crisps and lots of flavour, served hot!
Price | Rs 240
4. Butter Chicken Fries

This is it. This. Is. It! You get butter chicken, you get fries and you put them together. Need we say more? This dish was an amalgamation of two of our favourite food items blending together like soul mates. Masala fries mixed with roasted chicken slices, dressed with the finger licking butter chicken sauce, resting shyly under the blanket of gooey cheese. The chicken was so tender, it melted inside our mouths almost instantly. The potato fries were chopped to an optimum width and were soft and chewy and dissolved into bursts of flavour on our palates. Nicely done, Food Overloaded! 
Price | Rs 210
5. Non Veg Combo II (Choice Of Pizza: Chicken Italiano Pizza)

This combo offered us two cold drinks, one pizza with non veg toppings along with two slices of cheesy chicken garlic bread. The delicious toast on the side of a chilled drink and gooey pizza, tell us what more do you need to make your day? Our pizza might be topped with the conventional mozzarella and bits of freshly chopped olives, what mattered was what lay under the mountain of bubbly cheese. Soft and chewy veggies such as broccoli, carrot, 
mushroom and zucchini, tossed in creamy and rich alfredo sauce, were spread across the thin base of the delicious Italian trophy.
Price | Rs 350
This beautiful place is a sweet retreat away from your burdened city life. The staff matches every bar of hospitality with ease. The food oozes of love and freshness. The best thing about this place's food is that they have turned our usual favourites into something zestful and given it their own twist! So, why don't you grab your friends or your favourite book and head to Food Overloaded for a gala time! 
Where | Food Overloaded - A4, Shop 4, CSC DDA Market, Paschim Vihar
Call Them | +91 11 4512 1665
TImings | 11 AM - 11:30 PM
Check Out Their FB Page | https://www.facebook.com/foodoverloaded/