Delhi
5 Stalls With Everything From Shopping To Food Options We Hit Up @ The German Xmas Market 2018
The last few days of the year are always the reason to be merry, especially with Christmas on its way as we bid adieu to the running year and get ready to welcome a fresh start with a bang. To keep the vibe alive, the embassies take an extra effort and enable us, Delhiites in the capital, to find our merry on multiple occasions, one of them being the German Christmas Market.
The 21st edition of the capital's much awaited and fun filled event showcasing an exclusive palate of interesting lifestyle products including designer home accessories, high-end fashion wear, children's goodies & activities, stationery, garden accessories, delectable food items and beverages on sale was held over the weekend. The highlights of the event were the all-German cuisine, candy store, traditional German Christmas food, beautifully decorated Christmas tree, German chocolates, a live band in the evening, on-the-spot painting competition for children, Christmas choirs, magic shows by German magician and of course, Santa Claus!
Over 90 exhibitors showcased choicest collection of Christmas decorations and other festive goodies, German food products, home accessories, cosmetics, handicrafts, garments, gift articles, freshly grown fruits and vegetables, ayurvedic oils, hand-made pickles and much more. What really made the fair our favourite Christmas event in Delhi was the German beer by the tap and by the bottle, sausages such as bratwurst up for grabs, along with several other dishes to tingle our taste buds. For whom, the beer isn't their cup of alcohol, there was also mulled wine to sip on.
There was a lot for the kids too, such as taking part in a painting competition, kite making activity, and most importantly, visiting the shops to meeting a friendly Santa Claus who was distributing small presents throughout the event. Here are a few things that specifically grabbed our attention!
1. Bespoke Pelle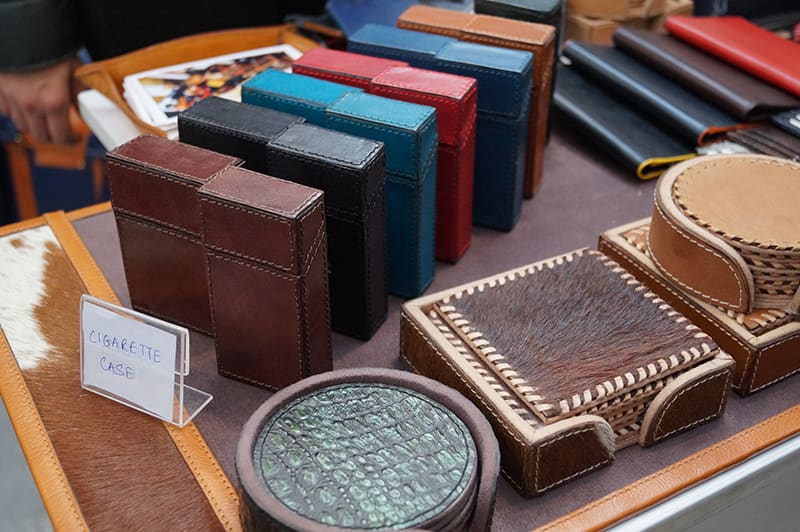 Originating in the late 1947, the brand today caters to individuals, museums, re-enactment groups, movies providing all kinds of handicrafts be it period swords, knives, axes, suits of armour, accoutrements, leather accessories and related items. They manufacture a range of stylish and luxe leather products at very reasonable prices using the best materials available, be it Drum Dyed or Vegetable Tanned leather,  the threads, linings, machinery, or metal fittings. The stall showcased their categorical cutlery, along with handcrafted wallets, wine bags, ashtrays, money clips, wallets, coasters and more - all in premium leather. They even had cool and stylish stuff like lighter cases, wine bags, golf ball cases and watch cases which one would love to flaunt!
Check Out Their FB Page | https://www.facebook.com/Bespoke-pelle
2. Courtyard Memories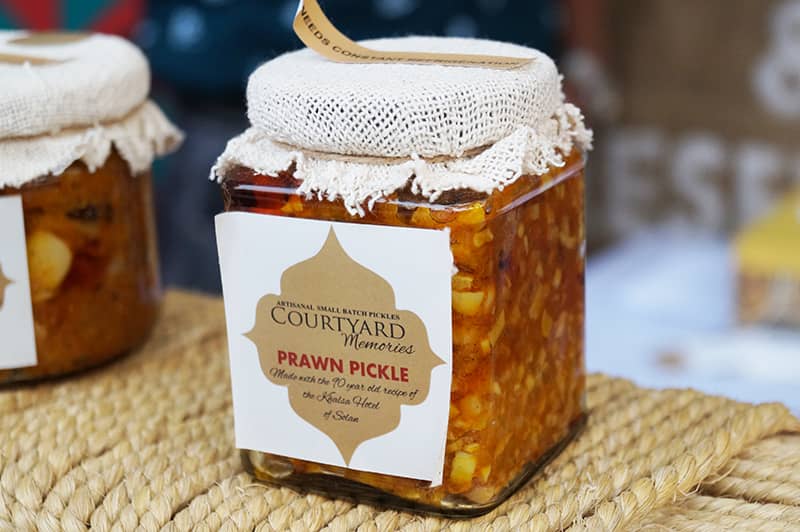 The initiative of the Courtyard Memories rested on the idea to bring to the shelf a jar packed from home congruent to one which you get returning from your ancestral home, a taste so familiar and yet something one can't find anywhere else. This kiosk exhibited pickles and preserves ranging from something as simple as a lemon pickle to something exorbitant as prawn pickle, which didn't have any preservatives, flavour enhancing additives or even permitted food colours. Made in small batches and produced using artisanal processes, the ingredients that went into these small cutesy jars of nostalgia are fussily sourced and are sometimes even handpicked from farmers' fields itself!
Check Out Their FB Page | https://www.facebook.com/2016courtyardmemories/
3. Mutt Of Course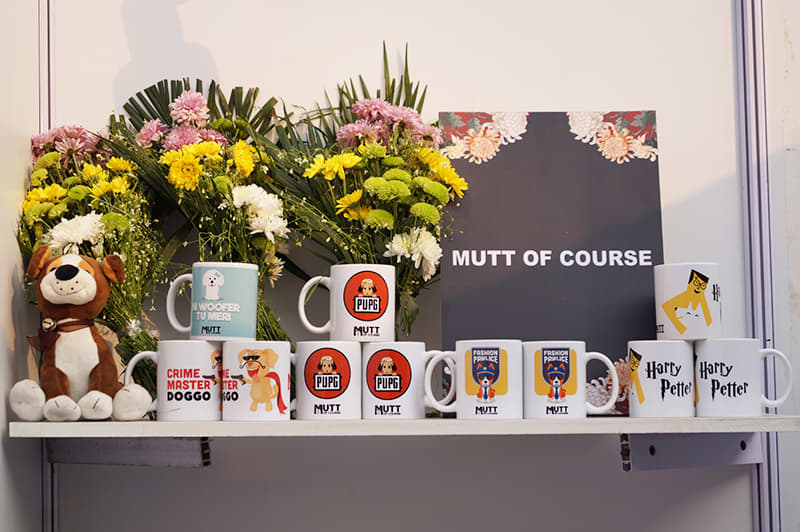 Mutt Of Course is the happiest brand for dogs' collars, leashes, beds, jackets, mats and a lot more magical stuff that make the doggos smile and wag their tails like never before. Being man's best friend, their loyalty is complemented by these super cute, fun and absolutely affordable products which were exclusively printed and designed for the lovely mutts. This kiosk had quirky bow ties, bandanas for the dogs and printed mugs, dog-shaped stuff toys and notebooks even for their owners, a win-win situation for everyone. No wonder the those little furry friends wagged their tails at this stall the most!
Check Out Their FB Page | https://www.facebook.com/muttofcourse/
4. Octavious Tea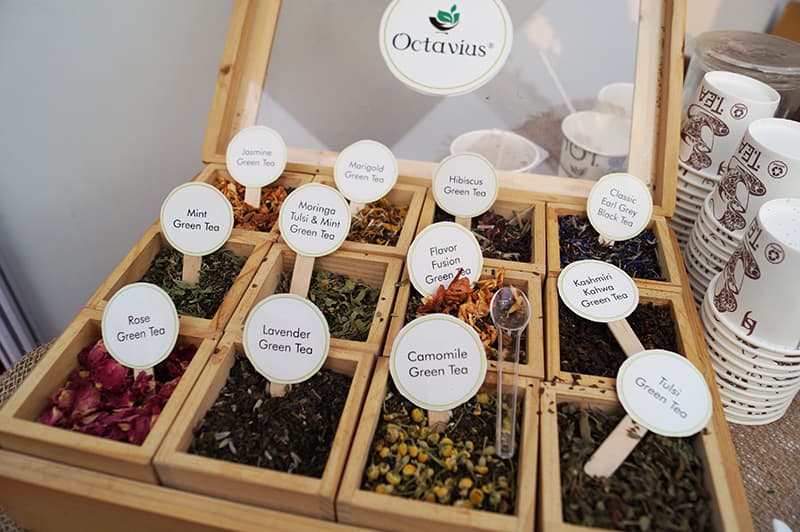 Apart from the all-German cuisine for our indulgence available at the fest, we witnessed this stall exuding a sweet and raunchy aroma making us actually forget everything and float over to this one. Ranging from generic tea flavours such as Rose, Mint, Lavender and Tulsi, they also had some extravagant flavours such as Camomile, Moringa Tulsi, Marigold Green, Hibiscus Green etc. There was even a provision to taste the various options available before buying them making sure you know exactly what you're splurging on. This one was simply brew-o-some!
5. Kavi The Poetry-Art Project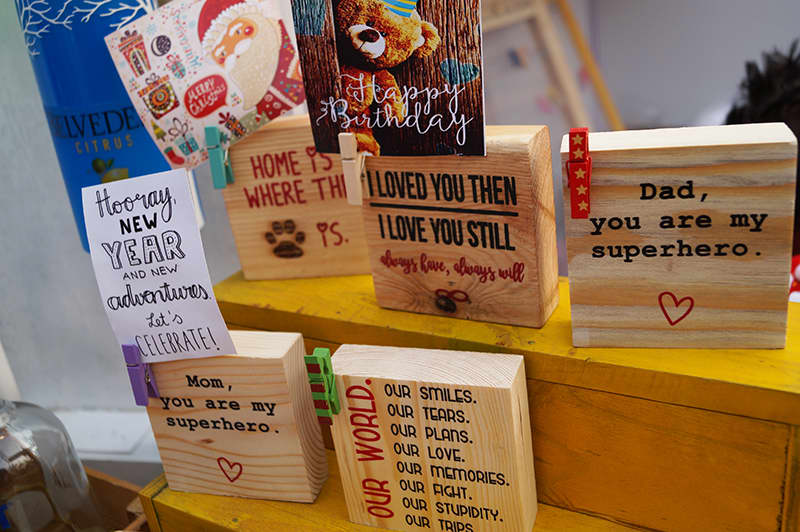 Kavi is an initiative to make poetry come alive as visual art in living spaces. Flowing with a simple thought that something as beautiful as poetry deserves to be seen, read and realized more in our day-to-day lives than only breathe in blogs, books, private journals and recitals, this outlet grabbed the most eyeballs. Making poetry reflect in living spaces as visual concepts, their products includes varieties of lamps and key hangers from upcycled wine and beer bottles, craft clocks, wall art, bags, planters, cushion covers and much more!
Check Out Their FB Page | https://www.facebook.com/KaviThePoetryArtProject/
With various decorative items for Christmas being sold, the festival also homed a stationary kiosk selling all the German brands of stationary, unique and exclusive silver jewellery, hand-woven rugs and shawls, aromatic oils to spruce up the environment along with organically grown food products such as keto sugar etc.
This two-day event took place under the aegis of the German Embassy and was supported by the German School & Federation of Indo-German Societies in India. We are glad that such fun festivals are being hosted in the city that bring various cultures together!
When | Saturday & Sunday, 8th & 9th December
Where | German Christmas Market - Bikaner House, Pandara Road
Entry | Rs 350
Timings | 11:30 AM - 7:30 PM
Browse Through Some More Pretty Images Of Our Fun Trip There!