Delhi
5 Things Like Bhalla Papri, Momos, Kachori & More We Tried For As Low As Rs 10 In GTB Nagar
In search of some new grub, to appease our ever hungry soul, we ventured out to GTB Nagar, one of the biggest hubs for student-friendly eateries in the city. Every other building is a contemporary and inviting restaurant, that offers you a unique experience you'll never forget. But let's be honest, in the midst of all these expensive places, one does crave for an affordable dish, that can send you over the moon with its flavours and goodness. Here are five places in and around GTB Nagar that we've curated for you - read on and bookmark away!
1. Chowmein Samosa @ RAM - G Samose Wale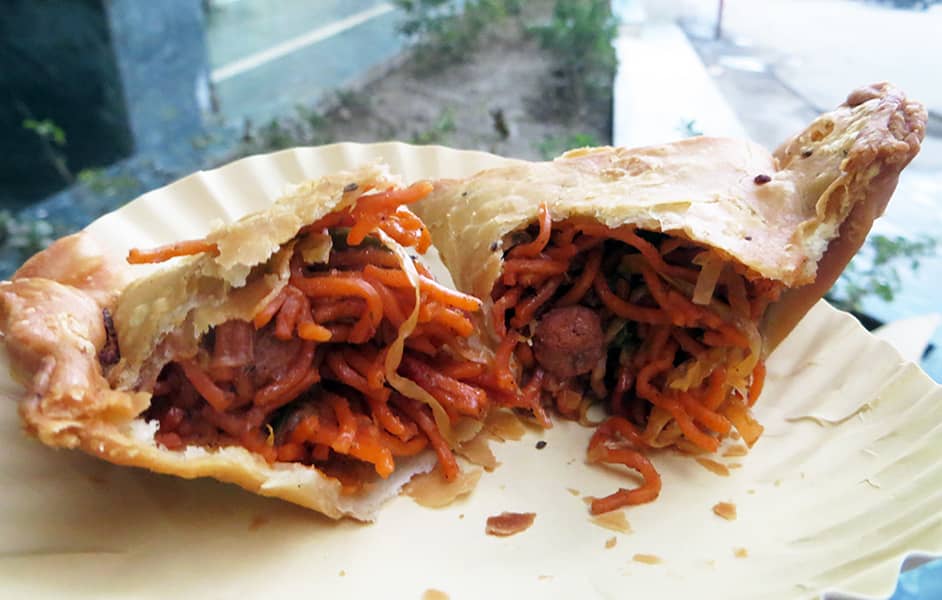 This place offers some of the most unique combinations of samosas, including Chocolate and Shahi Paneer Samosa, and we decided to opt for something quirky - their Chowmein Samosa. The Chowmein Samosa, as the name suggests, had noodles as stuffing inside. The noodles were delicious on their own, but stuffed in a fried samosa, they took the dish to another level! The item was piping hot, so beware, else you might just burn your tongues! 
Where | C-16, Hudson Lane
Price | Rs 15
Call Them | +91 9873 430 849 & +91 9873 430 876
Timings | 9:30 AM - 9 PM
2. Kachori @ New Shama Kachori Bhandar
This place offers low price for reasonable quantity. From four small pieces to one big piece, the charges are as low as Rs 10. Cool, na? The crispy kachori, served with spicy and delicious aloo on top, was a heavenly combination. The spices were perfectly balanced in the aloo sabzi and the kachoris tasted soft, and didn't fall apart at all, until we bit into it, of course! 
Where | Near Kingsway Camp Crossroads, GTB Nagar Metro Station
Price | Rs 10
Call Them | +91 9873 430 849 & +91 9873 430 876
Timings | 6:30 AM - 6:30 PM
3. Bhalla Papri @ Harprasad Chat Bhandar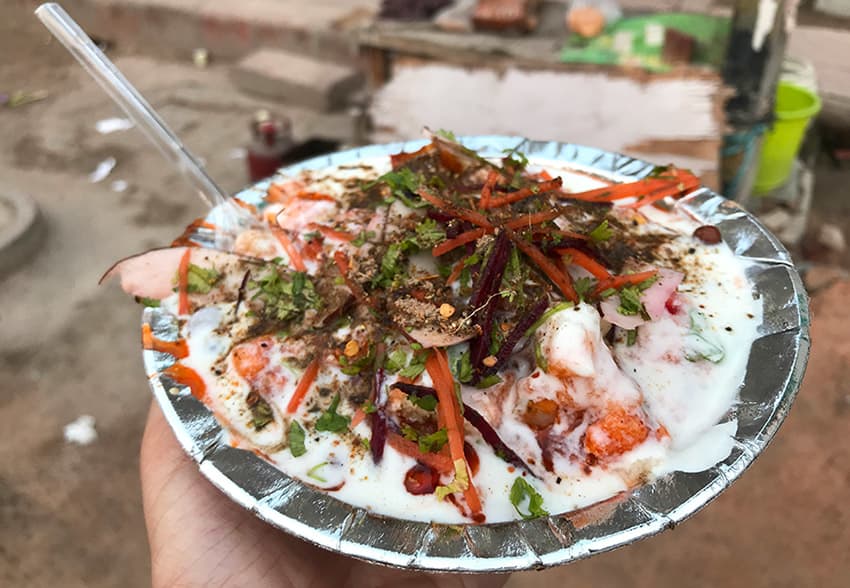 Our dish of Bhalla Papdi was, in short, perfection. The papdis were crispy, the bhallas were succulent, and when served with cold chutneys of tamarind, pudina and yogurt, made the dish insanely yummy. There was so much going on in our dish - boiled chole and potatoes, slices of coconut, carrot and beetroot, pomegranate seeds, dhaniya and ginger slices - everything was heaped over the dish. Land up here and believe us, you won't regret it.
Where | Near Shop 32, Thekedaar Surjeet Singh Marg, Hudson Lane
Price | Rs 35
Timings | 5 - 10 PM
4. Veg Roll @ Patna Roll Centre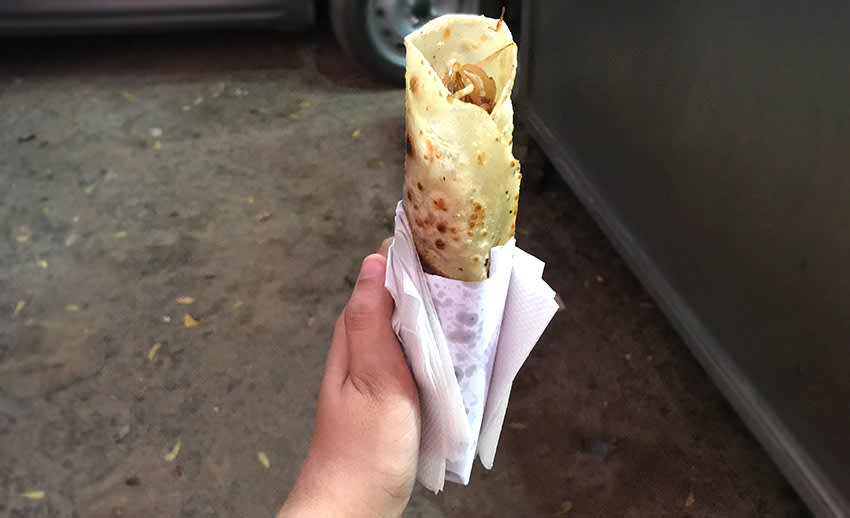 With lights flashing on the top of the stall, the owner offers some really delicious rolls for your hungry tummy. The roll we had was not only stuffed with delicious and freshly made chowmein, but the wrap itself was soft and crunchy at the same time. The noodles were chewy, the seasoning was perfect and the sauces were all blending together inside our mouths. And the crowning glory? The owner seemed very hospitable, polite and ready to welcome you with a smile!
Where | Opposite Tyagi Diary, M.C.D. Market, Kingsway Camp, Thekedaar Surjeet Singh Marg, Tagore Park Extension
Price | Rs 20
Call Them | +91 9560 812 786
Timings | 4 - 10 PM
5. Steamed Paneer Momos @ Special Momos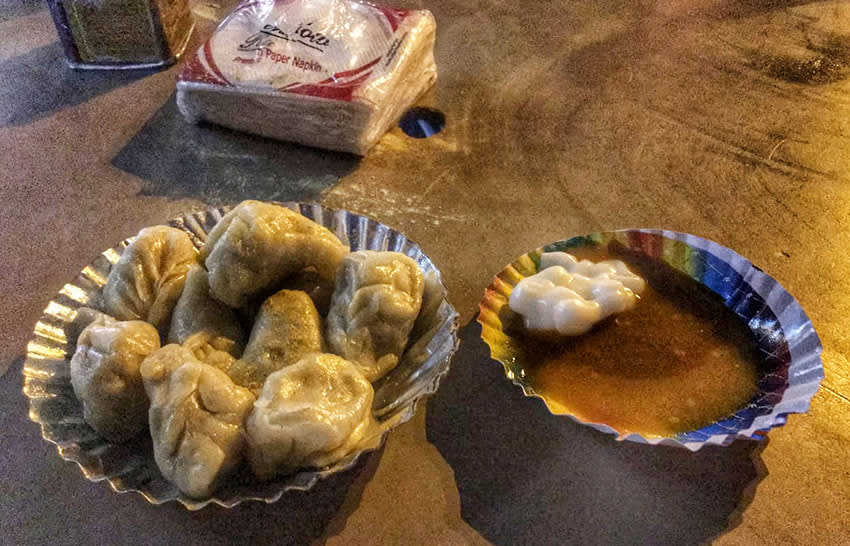 This place serves vegetarian and non-vegetarian momos, both steamed and fried, at the same rate. The delicious filling inside the momos will make your insides scream in joy. The soft and chewy momos impressed us from the very first bite itself. They were steaming hot and loaded with the filling of paneer, cabbage and carrot, all cooked to perfection. Defo try this place out!
Where | Near Elevator/Lift To Metro Station Hall, GTB Nagar Metro Station, Outram Lines
Price | Rs 30
Call Them | +91 9654 759 378
Timings | 10 AM - 10 PM
There you go - your hood guide to yummy, affordable eats in GTB Nagar! Drop us a comment and tell us which place you liked best!