Delhi
5 Scrummy Street Food Dishes From Chole Samosa To Kulhad Lassi We Tried @ Milan Chole Bhature
Summer holidays call for casual hangouts and loads of chit chat over some snacks. Unfortunately, our summer breaks have completely dissolved into taking classes or working, but every once in awhile, we do require something tangy and spicy for our flavour-hungry taste buds. And for exactly that, we have located an eat-out joint for your desi palate in the streets of Mukherjee Nagar. The extremely condensed menu of Milan Chole Bhature stall offers some of our favourite items such as chole bhature, jalebi and samosa, to name a few.
Here are the yummies we decided to try from their menu:
1. Chawal Chole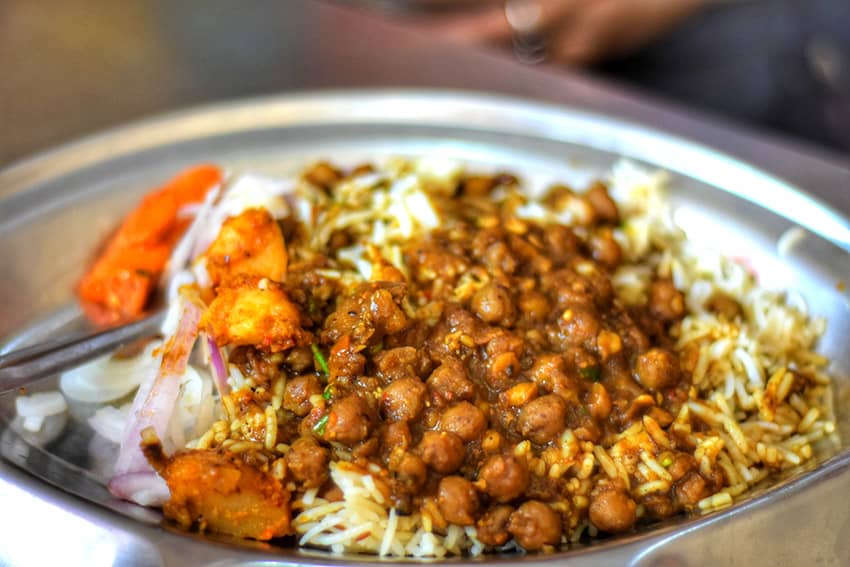 A conventional dish with a zest of bazari masala, this item is not only appetizing and bursting with tasteful spices but is also surprisingly filling. Garnished with chopped coriander leaves, with small chunks of potatoes and raw onion slices on the side, green chilli pickle and carrot pickle fermented upto just the right amount of sourness, we licked off every last morsel and take our word for it, you will too! 
Price | Rs 50
2. Puri Sabzi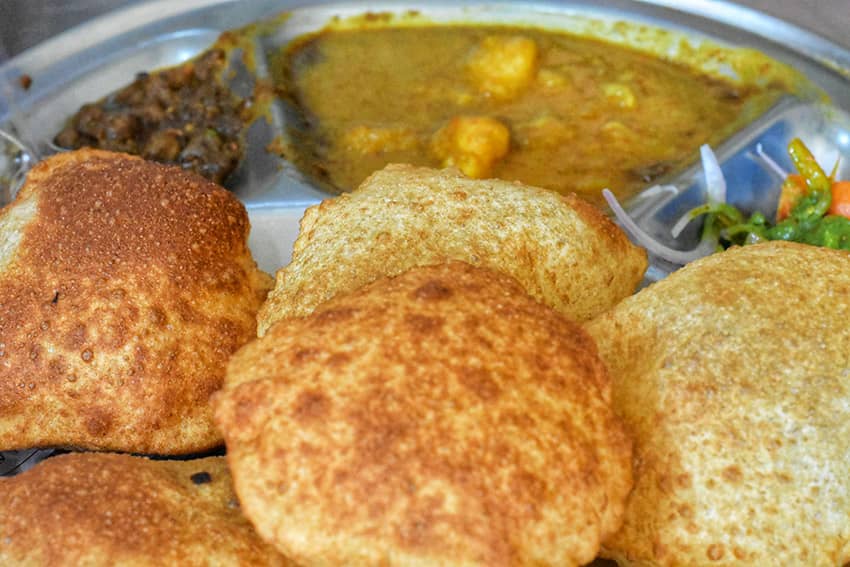 Puris freshly fried upto just the apt crispness served with gravy aloo sabzi and chole on the side, this dish is yet another winner on the menu. Served on the side were some raw onion slices and green chutney. The splendid blend of spices and coarse black pepper in the chole is a delicious combination which we highly recommend! 
Price | Rs 30
3. Chole Samosa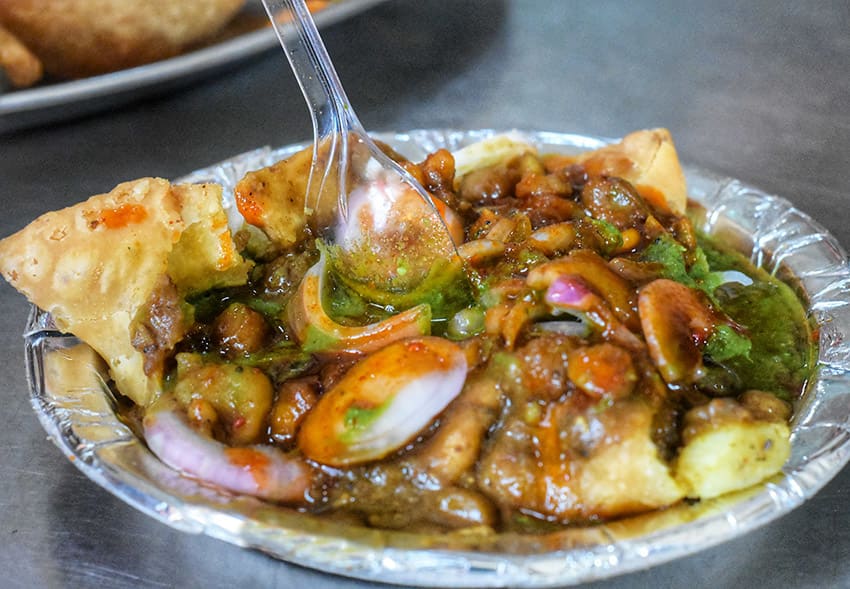 The samosa, crushed open and served with chole on top, garnished with tamarind and green chutney, raw onions and chopped coriander is a dish you NEED to look out for whenever you visit this place. It legit tastes like something you wouldn't believe. Still doubt us? Try it out for yourself! 
Price | Rs 15
4. Paneer Bread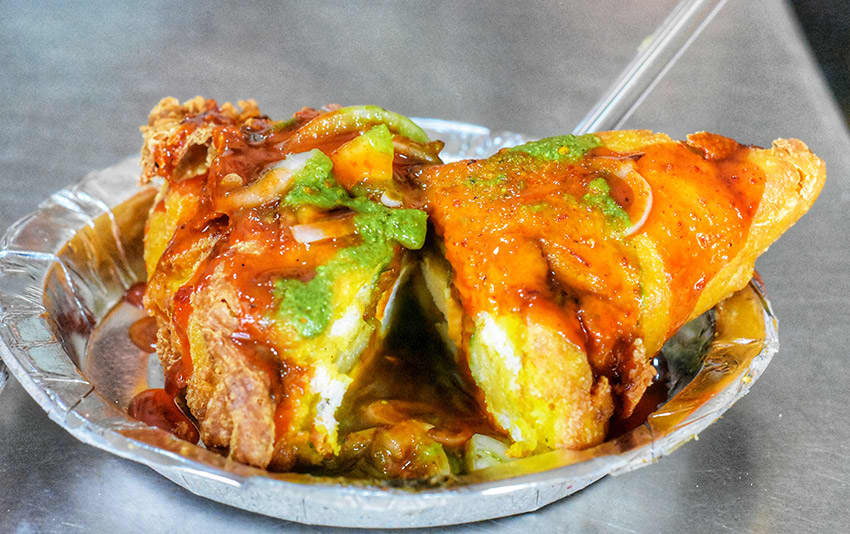 It might look like just another bread pakora, with cottage cheese and potato mash sandwiched between two slices of bread, coated with besan and fried, but looks can be deceiving. We found it extremely juicy and flavoursome and happily dug in. So, stop worrying about your waistline for a while and dive into it, you won't regret it! 
Price | Rs 20
5. Kulhad Wali Lassi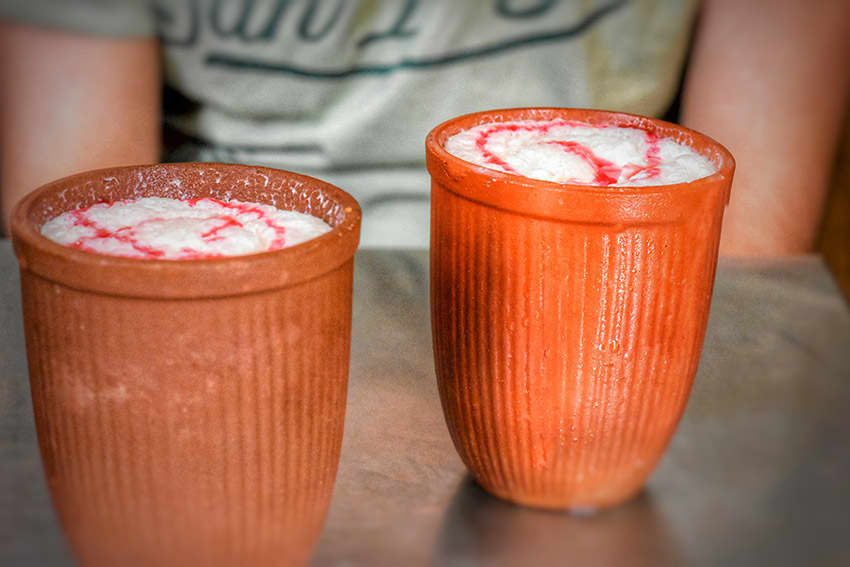 After having a savoury lunch, we craved for something light and sweet and their Kulhad Lassi was just the answer we were looking for. It was presented to us in kulhads with Rooh Afza drizzled on top. The cream floating on the thick lassi only added to its richness. This sweet drink with a hint of saltiness was exactly what we need to end our lunch on a satisfactory note. 
Price | Rs 40
So, while you may not encounter anything extravagant or quirky on the menu, the items are no less than a memorable treat for your bhukkad soul. We recommend you do give their concise à la carte a chance!
Where | Milan Chole Bhature - 1341, Near Batra Cinema, Mukherjee Nagar
Call Them | +91 9871 212 724
Timings | 9 AM - 7 PM