Delhi
5 Scrummies Including Singapuri Chowmein You Can Devour Under Rs 100 HERE In Janakpuri
Prem Chinese Fast Food in C4E, Janakpuri serves an assortment of yummy dishes but primarily specialising in Chinese (no surprises there). They dish out items ranging from fried rice and chowmein to momos, burgers and so much more. They have around 20 varieties of fried rice and noodles, no kidding! They are widely known for their quick service and authentic taste. After having heard a lot about this humble stall, we decided to check it out for ourselves. Read on to find out about our experience there!
1. Egg Chilli Garlic Chowmein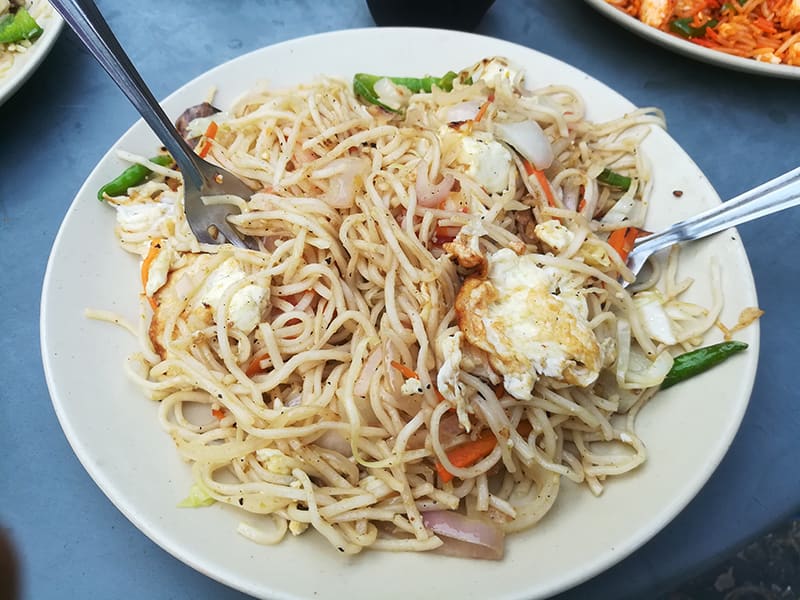 How can we go to a Chinese place and NOT hog on chowmein? So, the very first item of their's we decided to try was the Egg Chilli Garlic Chowmein. When it was presented to us, we thought it would be bland owing to its shade which appeared to be a lot whiter than we'd anticipated. But its very first bite reminded us not to judge a book by its cover as the noodles were extremely well seasoned and piquant. They were spiced optimally and the garlic flavour was pretty evident but thankfully wasn't too overpowering. The huge chunks of fried eggs and the surprise addition of paneer slices in the dish were just what was needed to make it top-notch. We can't wait for you all to try this one!
Price | Rs 80 Onwards
2. Chicken Chilli Garlic Fried Rice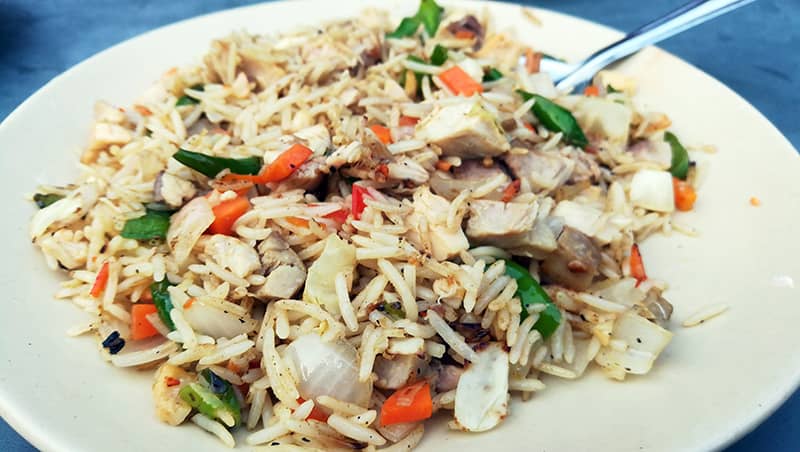 Fried rice is another staple of every Chinese fast food joint but it's an item that's slightly tricky to get right. We were a little wary to order this one but ultimately, throwing caution to the wind, we thought of going with their Chicken Chilli Garlic Fried Rice and boy oh boy, our taste buds thanks us for it. The veggies and the spices went really well together but what surprised us the most was the texture of their rice for they were incredible al dente and fluffy. The taste of garlic was bold enough to make its presence felt but not overbearing in any way which we appreciated a lot. So, drop everything and hog on this scrummy dish because we totally recommend it.
Price | Rs 90 Onwards
3. Chicken Singapuri Chowmein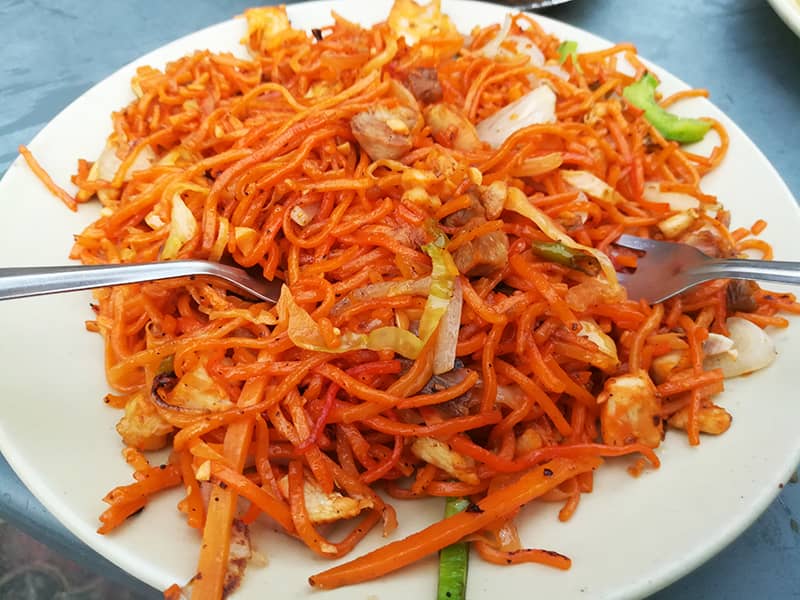 Alright, so their Chicken Singapuri Chowmein is not for the faint-hearted. They look fiery and even taste every bit of it. The chicken pieces in this dish were really juicy and the fantastic blend of sauces made it every spice lover's dream. The chilli and sour flavours danced exquisitely on our palates and left us hunting for water. Try it only if you've got the stomach for spice!
Price | Rs 90 Onwards
4. Chicken Fried Momos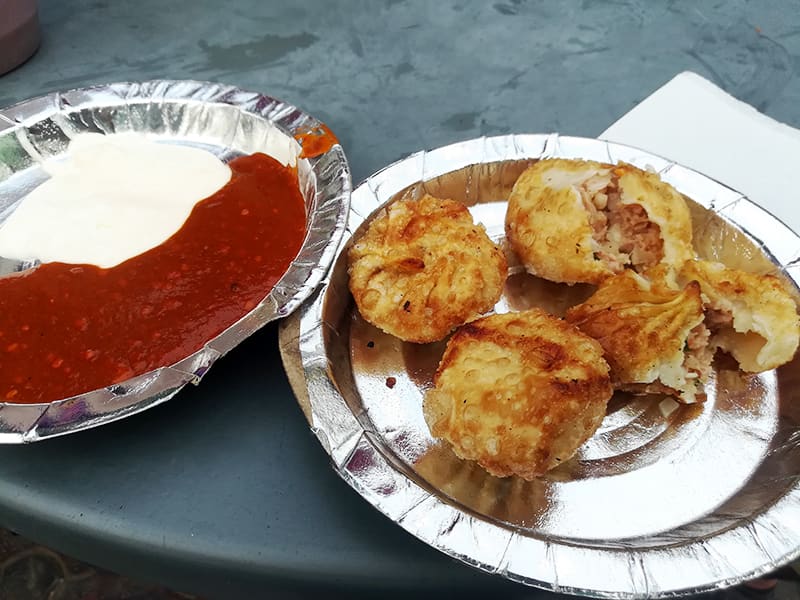 Momos are bae and we can't stress it enough. So, quite unsurprisingly, when we saw them on the menu we just HAD to try them. The chicken filling was succulent & flavourful and the momos had a nice crunch to them. This dish came paired with a spicy chilli sauce and mayo, as is routine, but they heightened the taste levels by miles. Momos lovers (read everybody), you guys can't afford to miss this one!
Price | Rs 40 Onwards
5. Paneer Singapuri Fried Rice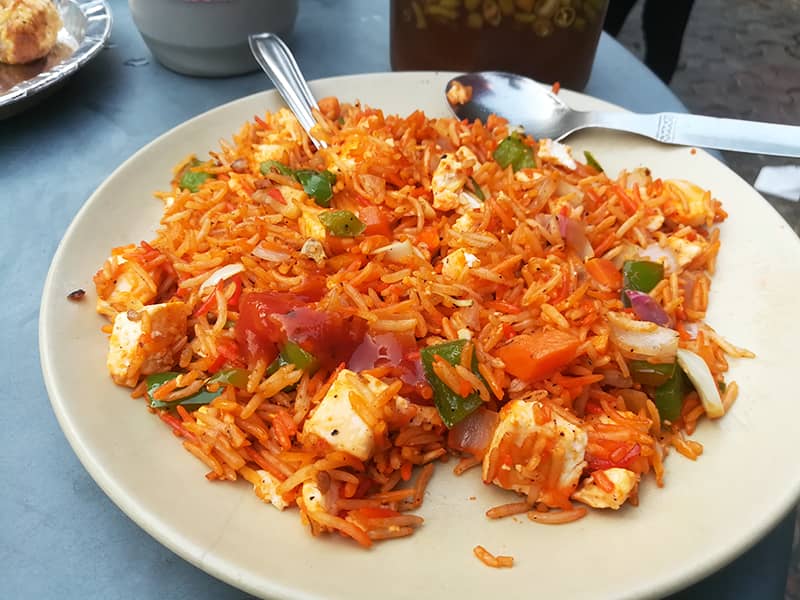 Emboldened by our previous fried rice experience here, we intrepidly ordered this vegetarian variant and were once again, not disappointed. Bright red in colour, this dish was a treat to the eyes. In this one too, the rice was fluffy and the veggies, perfectly cooked yet crunchy. The soft paneer chunks added a touch of richness which we welcomed wholeheartedly. We're sure you'll love it just as much as we did!
Price | Rs 90 Onwards
So when are you dropping by here for your share?
Where | Prem Chinese Fast Food - 23, C4E Market, Janakpuri
Call Them | +91 9650 413 885
Timings | 11 AM - 10:30 PM