Delhi
5 Reasons To Head To This Dragonfly-Themed Newbie By Priyank Sukhija & Badshah In Aerocity
There's a brand new casual dining restaurant in Aerocity called Dragonfly Experience which we recently visited and we gotta say - we were instantly floored by how gorgeous and high on energy this place is! Priyank Sukhija is the mind behind this pretty-as-a-picture place and he's one of the most successful restaurateurs in the country with popular brands under his belt such as Lazeez Affaire, Lord Of The Drinks, Plum By Bent Chair and lots more! Adding one more feather to his cap, Priyank has launched the Dragonfly Experience in collaboration with popular rapper and songwriter Badshah. When you land up here with your squad, make sure you leave all your swords and hats behind (or at least that's what their menu says)! To make things easier for y'all, we've listed down 5 reasons why you and your BFF have gotta land up at this buzzing spot this weekend!
1. Fill Your Tummies With Dragonfly Sushi Donut, Red Curry Pizza, Carbonara Dumplings & Oodles More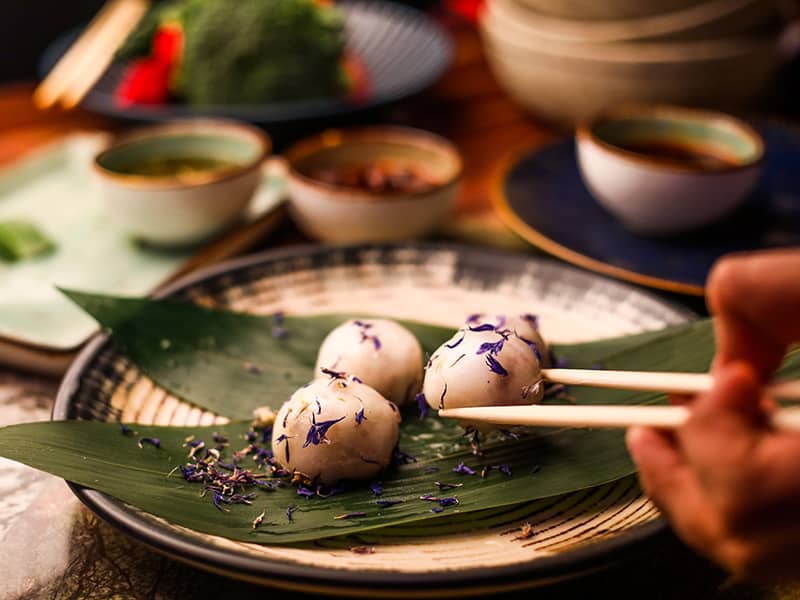 The way to a person's heart is through their tummies and we have a special place for Dragonfly's soul-satisfying food in ours! After putting in a lot of thought, the chefs here have come up with a menu boasting of fusion dishes from Asia and Europe that'll make your bellies happy and put a smile on your faces! From their massive array of delicacies, we sampled their Charred Thai Curry Chicken, Maryland, Mutton Pad Kar Bao, Cheese Lumpia Rolls and other savoury items which made our inner gluttons do the rhumba! You can also go for their Dragonfly Sushi Donut, Lebanese Eggplant Curry and even Tempura Baskets, Red Curry Pizza, Lobster Mac Swirls and over 30 kinds of dim sums. Sounds awesome, doesn't it?
2. You Can Swill Back Classic Full-Bodied Cocktails Served With A Twist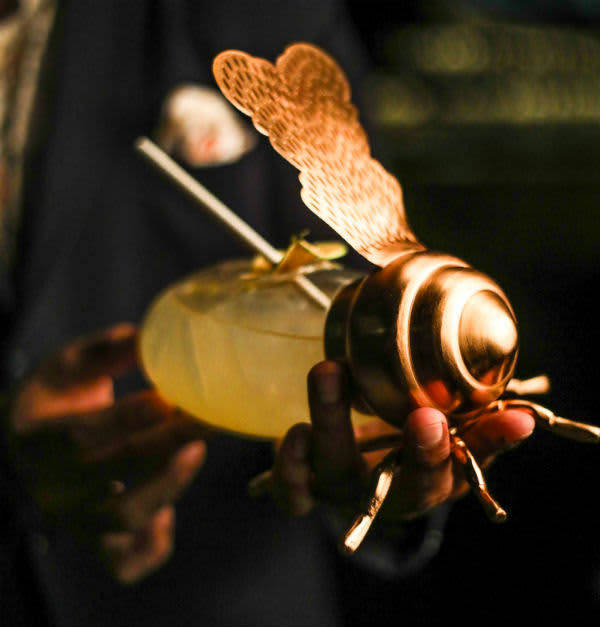 Dragonfly Experience takes the tipples game to a whole new level altogether with their specially curated drinks based on the concept of 'Manga Mixology'. This concept aims to introduce world-class mixology by Richard J. Hargroves. They have an extensive menu which is packed with tempting one-of-a-kind options for you to choose from with 12 signature drinks and 4 mocktails. We tried their Mugen, Lust and Goku, which was served in a super quirky dragonfly-shaped container to slurp from! 
3. Dragonfly-Studded Interiors That'll Compel You To Whip Out Your Cameras & Get Clickin'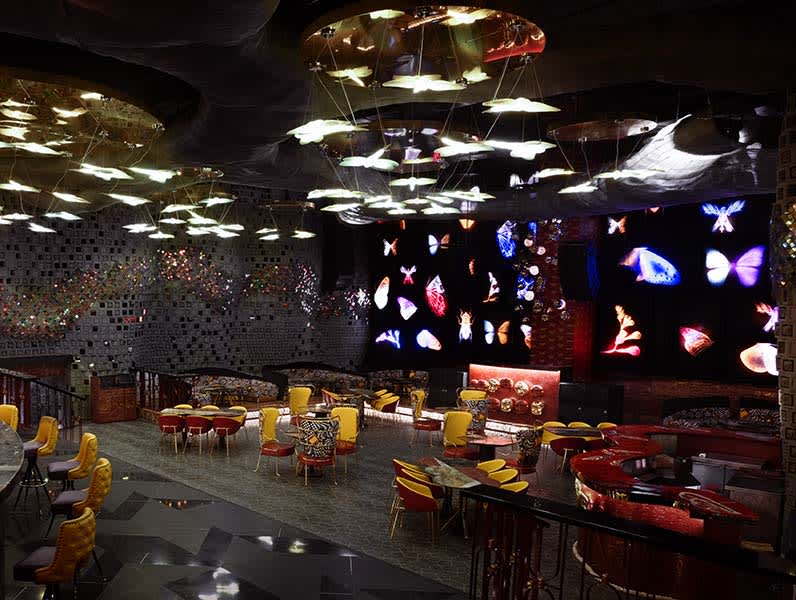 As soon as you step into this fetching place, you'll feel as if you've walked into a Japanese movie. The luxe pieces of furniture that adorn this breath-taking place hail from Bent Chair! The restaurant has been done up in such a way that it shows the life cycle of a dragonfly (wait, what?). The restaurant has 3 levels, each boasting of a bar and walls illuminated by bright lights that'll cheer up even the grumpiest of faces! There's an elaborate staircase that leads you to the main dining area that boasts of a live sushi bar where you can watch the chefs roll delish sushi right in front of your eyes! What more can one ask for?
4. Sinful Desserts That'll Make You Wanna Lick Your Plates Clean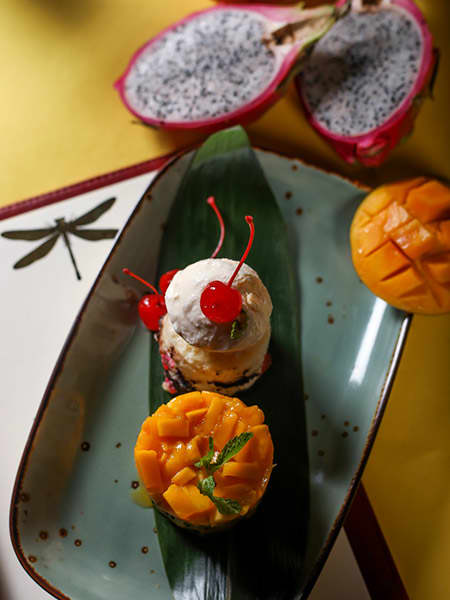 After a hearty meal, all one needs is some dessert, which is why we tried their Mandarino which is a cheesecake loaded with citrus crumble and Tartare Of Fruit - and our palates have been thanking the heavens ever since! A lot of attention was paid to the presentation and we sure were not disappointed. The tangy fruits drizzled with chocolate sauce made us drool like a baby 'cause it was just that tempting! Their gooey and melt-in-your-mouth cheesecake is a must-try when at the Dragonfly Experience, folks.
5. They Have A Special Manga Mixology Menu We Bet You've Never Seen Before!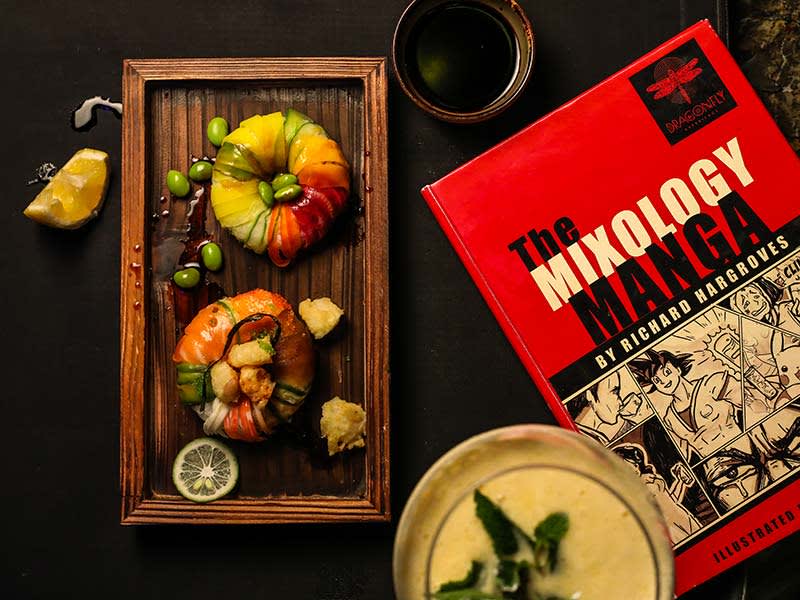 The funky menu of this place is modelled like an actual Manga, which are comics or graphic novels conforming to a style developed in Japan! Did you know that their entire Manga Mixology menu has been illustrated and drawn especially for this restaurant by Richard Hargroves who's the co-founder of The London Academy of Bartending? This unique Manga menu has handcrafted drinks that pay homage to some of the most iconic characters. 
The menu has been designed in such a way that each cocktail has a separate script or description which perfectly matches the iconic characters. You'll find caricatures of these characters alongside the names of the drinks such as Pikachu (Badshah's fave), Goku, Mugen and lots more!
So what are you waiting for? Call up your squad and start making plans already, folks!
Where | Dragonfly Experience - Worldmark 1, Aerocity
Timings | 12 Noon - 1 AM
Call Them | +91 7303 759 996
Meal For Two | Rs 1,800
Check Out Their FB Page | https://www.facebook.com/DragonflyExperienceDelhi/
Here Are Some More Fetching Images For You To Check Out!