Delhi
5 Reasons That'll Make You Flock Your Way Over To The Nerdy Indian In Saket Right Away
There are certain places that you feel like visiting again and again, The Nerdy Indian in Saket is one of them. If you tell us that the perfect cafe doesn't exist, we'll just take you to this one. Located near the oh-so-Insta-worthy Champa Gali in the Saiyadulajaib part of Saket, this new kid on the block is hard to miss. Already winning hearts with its one-of-a-kind concept, The Nerdy Indian is a paradise for bibliophiles and foodies alike & as pretty and cosy as it can get. So, without more delay, let us tell you the compelling reasons to check out this eatery!
1. It's A First Of Its Kind Concept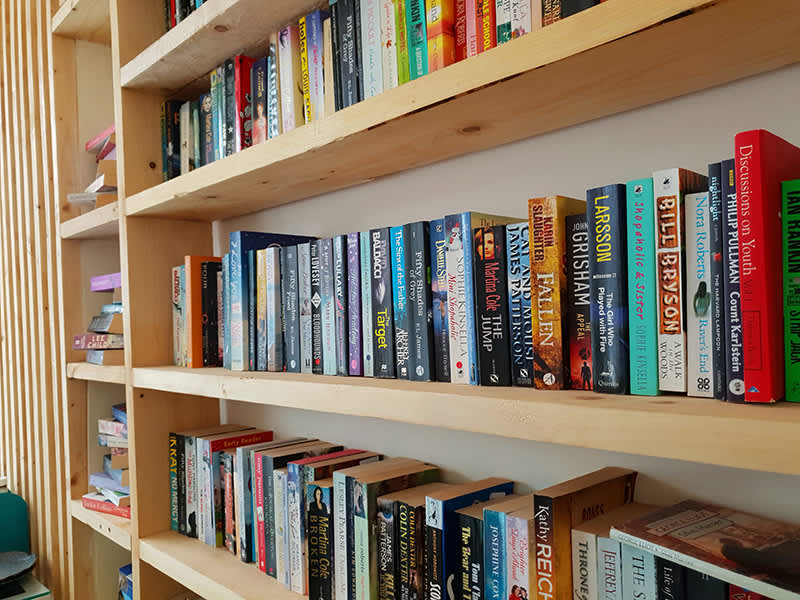 This place has introduced an idea that we didn't even know we needed and wanted so badly, the concept of giving free books with every order of Rs 500 minimum! It's the first time we've seen something of the sort in India and we couldn't be more delighted. So, the idea is that if you spend 1,000 bucks here, you not only leave with a full tummy and a satisfied heart but also, two awesome books of your choice. You get one book for every Rs 500 you spend on food and drinks here. The concept revolves around the notion of building a community of readers like old-timey cafes and promoting the habit of reading. 
2. It Boasts Of Cosy Vibes & Grammable Interiors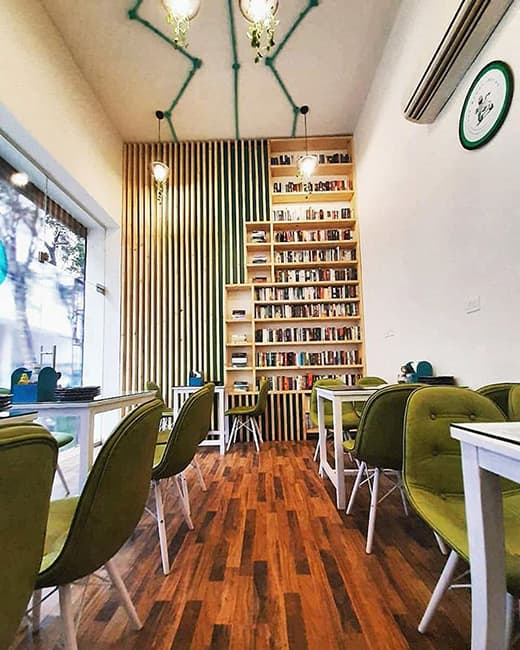 Picture Credits: sagardsingh
We live in an era of social media, so we're always looking for those cutesy corners to get clicked, aren't we? Well, you get a whole Insta-worthy wall here adorned with over 1,000 pre-loved books from a variety of authors! If that isn't enough then, they also have quirky comic strip tables for the perfect food, flat lay and ample natural light because you gotta get that right. We surely loved the choice of teal and white for interiors making it perfect for some quiet reading time while you sip on some hot coffee. So, pick up that James Patterson novel, grab some yummy pasta and get lost in the magical world of books here!
3. You'll Find Scrumptious Food For Everyone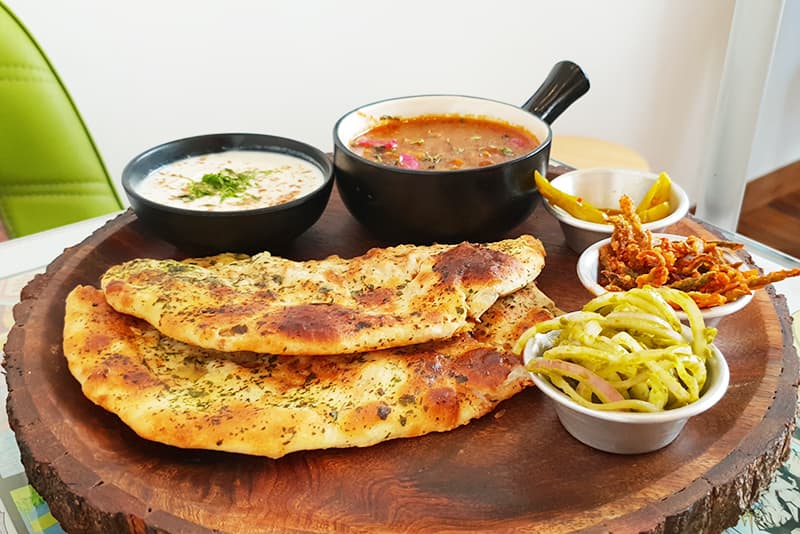 Who would want interruption when they're wandering inside the world of Hogwarts while slaying trolls and finding Horcruxes in the oddest of places? Exactly, nobody. That is where Nerdy comes in to save the day with an assortment of delicious dishes and some crazy delish desserts. Choosing from such a big menu was a challenging task but we settled for the Creamy Parmesan Spaghetti Pasta, Amritsari Kulcha with Chole and the Giant Vada Pav.
The pasta was served graciously with a side salad & crispy garlic bread which we loved to bits. The vada pav reminded us of Bombay in the first bite itself and is a must-try. But our fave has to be the Amritsari Chole Kulche because of the perfection that it was, served with chole, raita, chutneys and kurkuri bhindi, this one had a spot-on presentation and impeccable taste. You should also try the Nerdy's Fav Pizza, it'll leave you wanting more!
4. They Offer A Refreshing Variety Of Beverages & Delish Desserts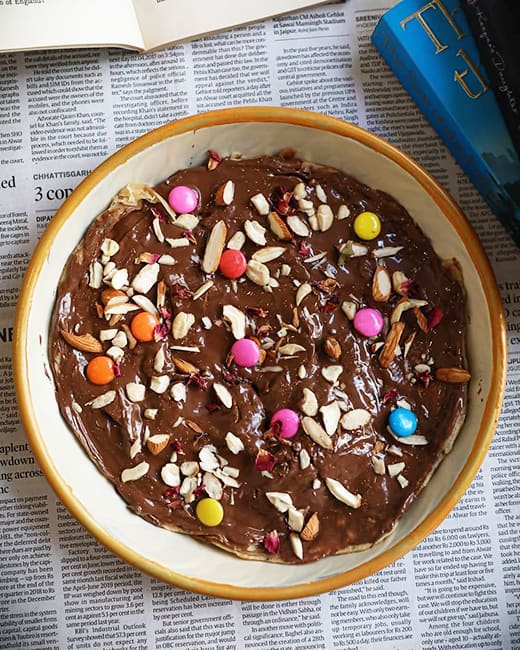 Well, of course, we aren't gonna miss out on the beverages. You ought to get yourself one of the buntas that they have, as they're simply refreshing and are perfect to go with every dish. We tried their Kokum bunta and thoroughly enjoyed it. They also offer a range of thick delectable shakes like Sirf Oreo and Makkhan Scotch, all of which make for ideal thirst-quenchers!
Now, to finish our meal on a sweet, we chose their popular Nutella Parantha out of the three curated dessert options. Trust us when we say this, it was love at first bite! Slathered with truckloads of Nutella and topped with Gems, this dessert made the end of our meal a happy one.
5. Their Warm & Friendly Staff Is An Icing On The Cake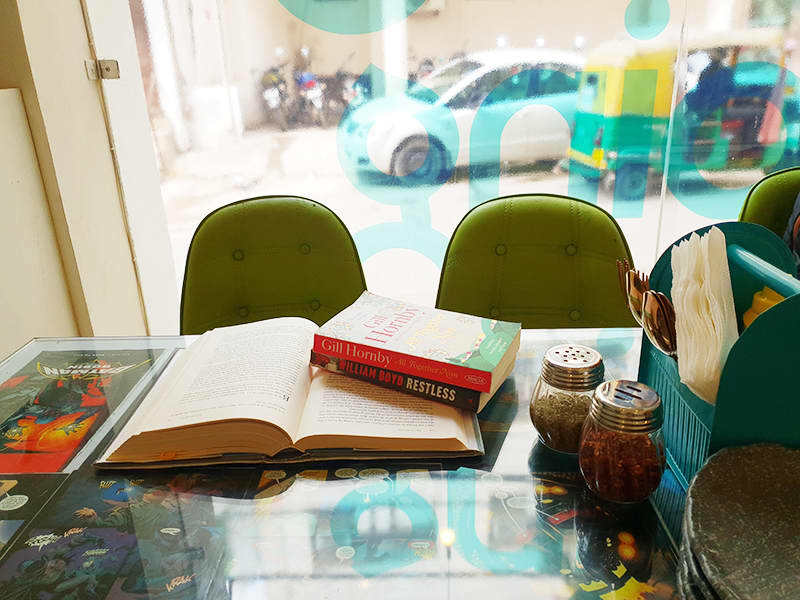 With everything as perfect as it can get, how could these folks not welcome us in the warmest of ways? The staff here will surely greet you with a smile and even help you get the book you want if you can't reach it. So, isn't it just an amazing place to be at? 
So, without wasting any more time, let The Nerdy Indian uncover the reader in you while you nosh on some yummy treats and beverages, or just get some awesome pictures. Head over and let this place nerd you out!
Where | The Nerdy Indian - 634, Lane Number 3, Saiyad ul Ajaib, Saket
Call Them | +91 9582 769 382
Meal For Two | Rs 850 Onwards
Timings | 12 Noon - 12 Midnight
Check Out Their FB Page | https://www.facebook.com/The-Nerdy-Indian-334238004138103/ 
Flick Through Some More Pretty Images Of The Place!