Delhi
5 Reasons Like Glow In The Dark Drinks & More That'll Make You Dash To The Dark Cafe, Hudson Lane
Bright and pretty is good, but do you know what's better? Dark and quirky! Don't get it? Well, we're talking about the all-new Dark Cafe in the food hub of North Delhi, i.e., the ever happening Hudson Lane. This quirky cafe is rapidly gaining popularity amongst the North Campus crowd for being one of its kind. We even managed to speak to the owner who told us the main motive behind the concept - it's about offering the freedom to be who you are without being judged or stereotyped by others and enjoying your time at the cafe bereft of worries. Now that's what we call a full-fledged package. And if that's not enough, here are 5 spot-on reasons for you to defo check this place out!
1. Super Fun And Unique Theme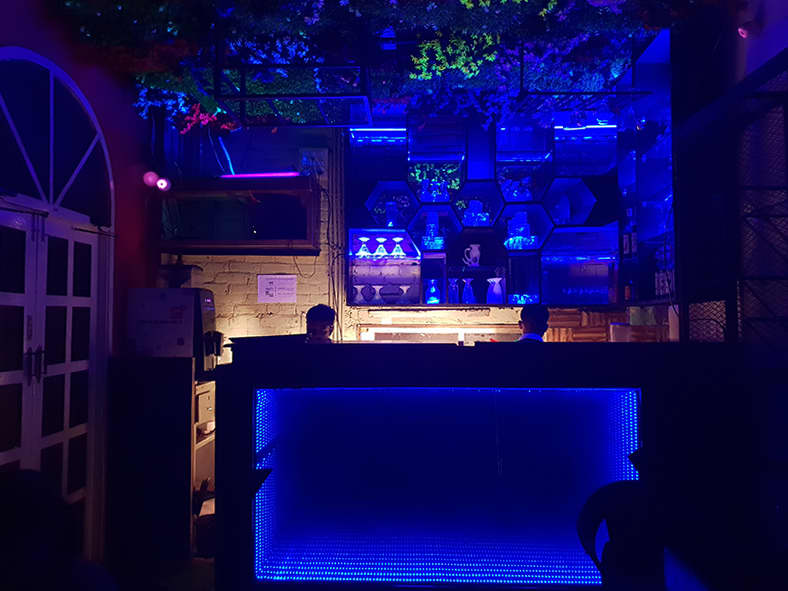 This new cafe has taken the whole glow in the dark concept to a new level of awesomeness with its decor and crockery. They have these luminescent glasses and plates in which they serve food, adding an interesting element to your dining experience. The coolest bits of this quirky place are the neon stickers that they have on the floors and the funky vibe that it gives off. But the real fun is when you wear white clothes because then you'll literally shine like a star in all that darkness!
2. Finger Licking Good Food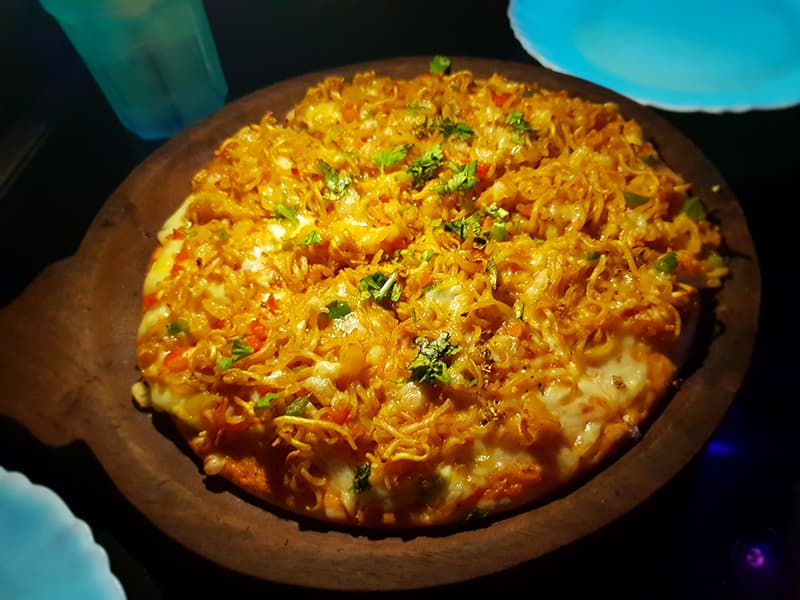 We're sure you must be thinking, "Theme and all is fine but how's the food?". Well, the dishes here are as good as the concept and they didn't disappoint us at all. Our personal favourite was the interesting fusion of our two beloved items - Maggi and pizza. Yes, they serve friggin' Maggi Pizza here! We literally had a 'Shut up and take our money' moment and this item proved to be worth every penny. Also, we'd totally recommend their pasta variants because they are awesome sauce3. 
3. Glow In The Dark Beverages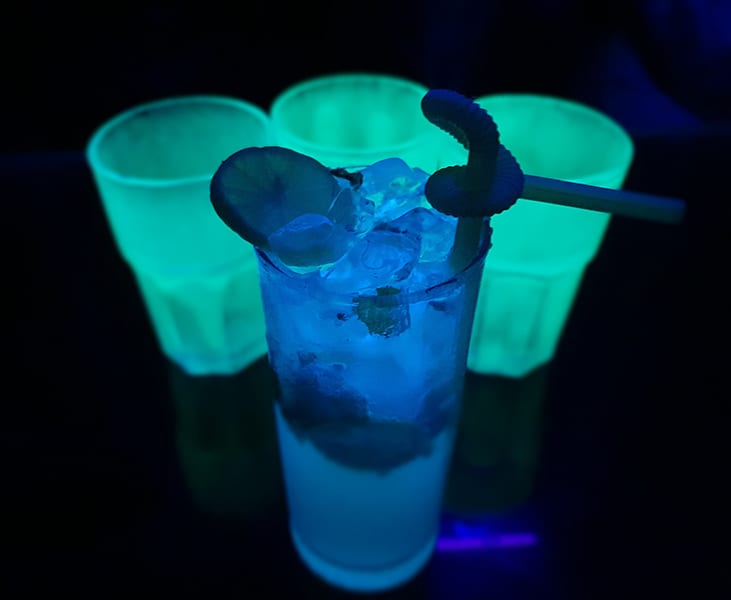 Don't you all need some refreshing and yummy drinks to go along with your food? Well, at least we do, so we ordered a Nutella Nut Shake which was the ultimate solution to all our sweet cravings. It was filled with the richness of Nutella and topped with bits of nuts to the brim. Then we decided to try their classic Virgin Mojito, which was a stunner because it literally glowed as we drank it! Their other shakes are also worth a try and offer bang for the buck!
4. Right Smack In The Middle Of North Campus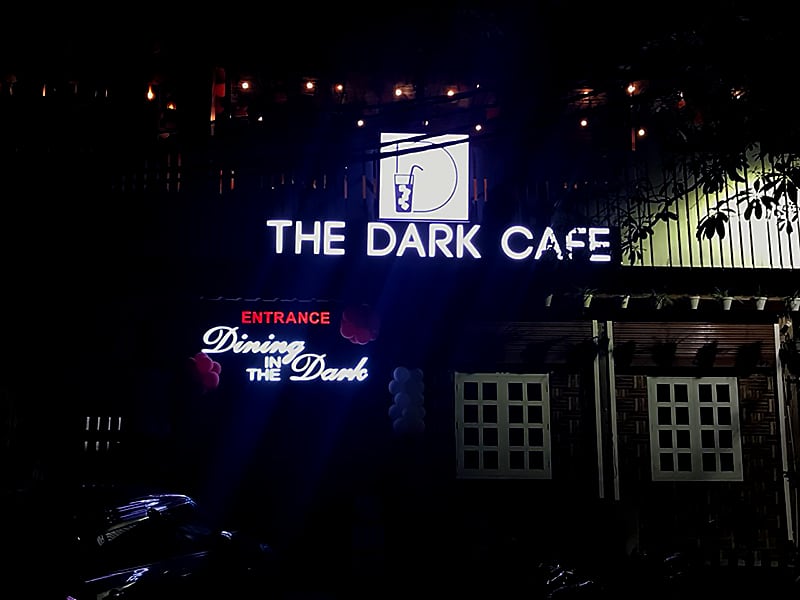 Want a place to chill at in between lectures or just feel like grabbing some delicious food after college? The Dark Cafe will come to your rescue. Located within walking distance of North Campus, this place might just become your favourite hangout spot!
5. Awesome Rooftop Seating Area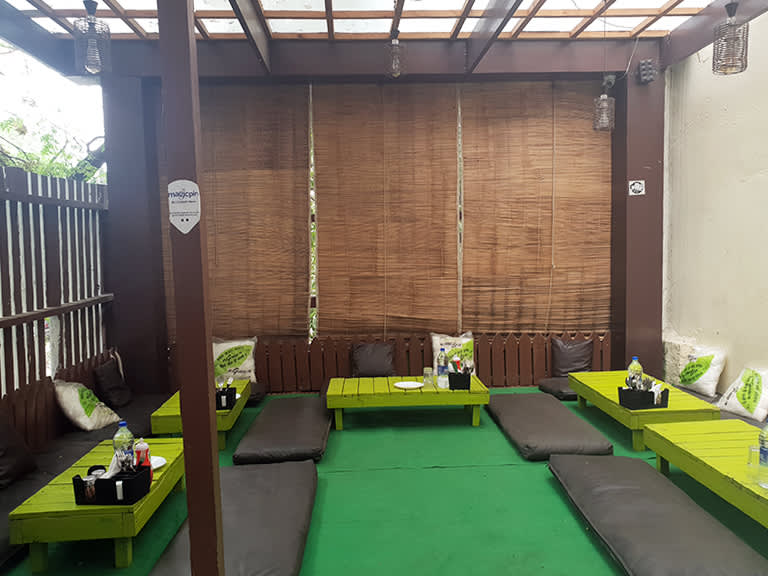 Not a fan of all that darkness? Don't worry, they even have a cute and cosy rooftop space with a completely different setting and lots of natural light compared to the themed ground floor. These peeps offer two completely different settings for you to choose from, so take your pick. The rooftop is perfect for a nice brunch with bae or just chilling with your friends!
So, what more reasons do you need to just drop everything and check out this new hip cafe in town? Don't forget to put on your whitest clothes and neon accessories to stand out in the crowd. Also, the polite & amicable staff here will take care of your needs and customizations. Come drop by soon!
Where | The Dark Cafe - DDA Market Complex, 1, Hudson Lane, GTB Nagar
Call Them | +91 9953 264 649
Meal For Two | Rs 800
Timings | 11 AM - 11 PM
Check Out Their FB Page | https://www.facebook.com/darkdining/
Follow Them On Insta | www.instagram.com/darkcafedelhi