Delhi
5 Pretty Ceramics & Home Decor Items We Found For As Low As Rs 20 @ The Hauz Rani Crockery Mkt.
Love shopping for ceramics and home decor knick knacks at those posh malls but can't bear with your wailing wallets after every trip? Well, just head to this gem of a place for everything ceramics. Pots, plates, soup bowls, regular bowls, terracotta toys and decor knick-knacks, you'll find everything here and that too at throwaway prices. Here's everything that caught our attention here. This place will defo test your bargaining skills, so head over and put them to use!
1. Earthenware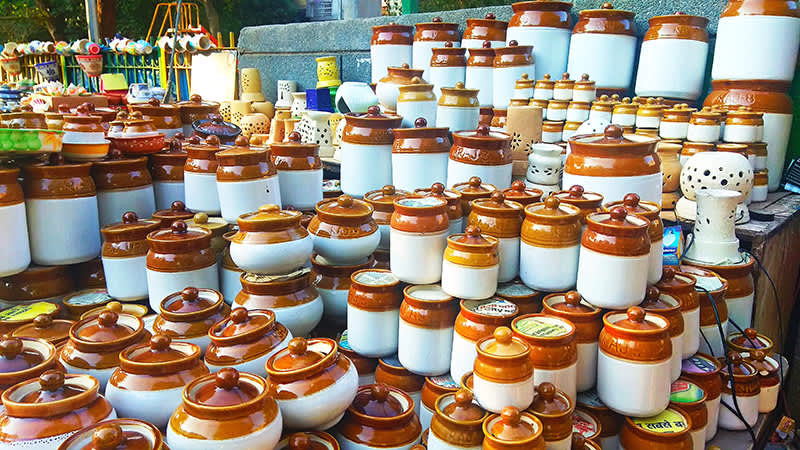 There were a lot of earthenware options to choose from - from flower pots ranging from 50 bucks for the small ones to around Rs 1,200 for the giant ones. There were also matkas here with strategically placed taps at the bottom for convenience (sweet), pretty hangings to beautify your balconies and living spaces and what not. You can also grab a mitti ka tawa (whaaat) which was an earthenware pan and quite fancy, if you ask us! Amongst many other fetching things to score, there were also charming diyas of every shape and size, gorgeous tulsi pots and more at this awesome place!
Price | Rs 50 Onwards
2. Indoor Planters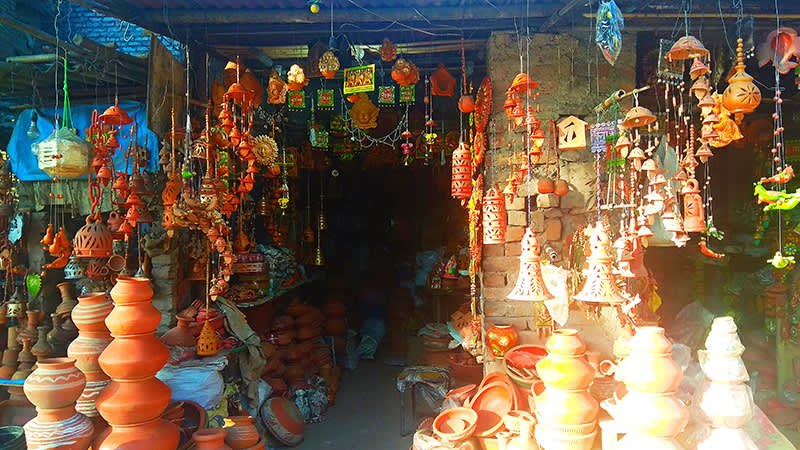 If you're someone who likes to nurture their own little gardens but always fall short of space, you can head over to this place and get anything you like. They have specific plants which grow indoors making your homes a more lively and beautiful place. There were even plenty of cool pots which can hang by your balcony railings and wall gardens with plants like Indian Basil, English Ivy, Areca Palm and many others which you can put in your homes and make it serene!
Price | Rs 30 Onwards
3. Decor Pieces
Your kitchens, dining areas and living areas will never look the same after you've been to Hauz Rani. You'll be surprised as to what things as simple as a jar or a plate or even salt & pepper shakers can do. Even the most basic things from here can completely change the look of your places and add an edgy class to them. You can find an endless variety of little trinkets to hang, put on your walls, keep on the tables or even use in some way or the other. You must grab a lot of fragrance oils and dispensers that'll add a touch of serenity to your place!
Price | Rs 50 Onwards
4. Crockery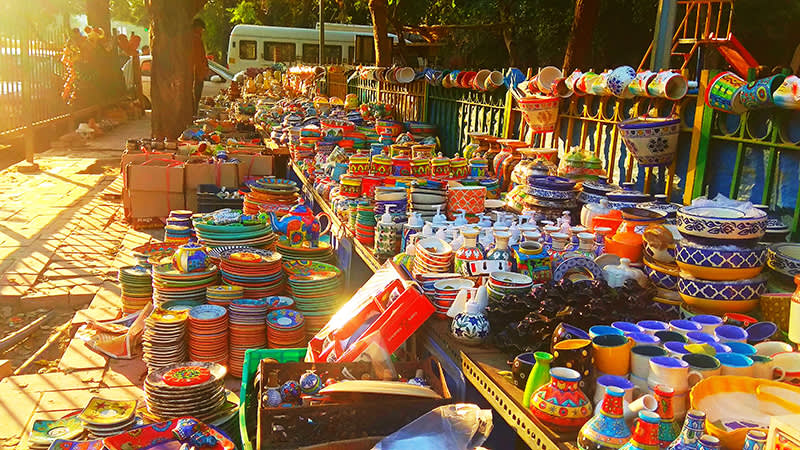 You are in for a treat with this one because this place houses all the snazzy ceramics that you can possibly imagine. All that fancy plates and dinner sets those posh cafes and lounges boast of are not a secret anymore as you know where to get them from. The unbounded assortment of the various cups, plates, glasses, mugs, trays, bowls, teapots and what not will get your heads spinning for sure. And these items are not that expensive as their looks claim to be for you can get them on a steal rate here. Give your kitchenware a funky revamp at incredibly low prices!
Price | Rs 50 Onwards
5. Terracotta Toys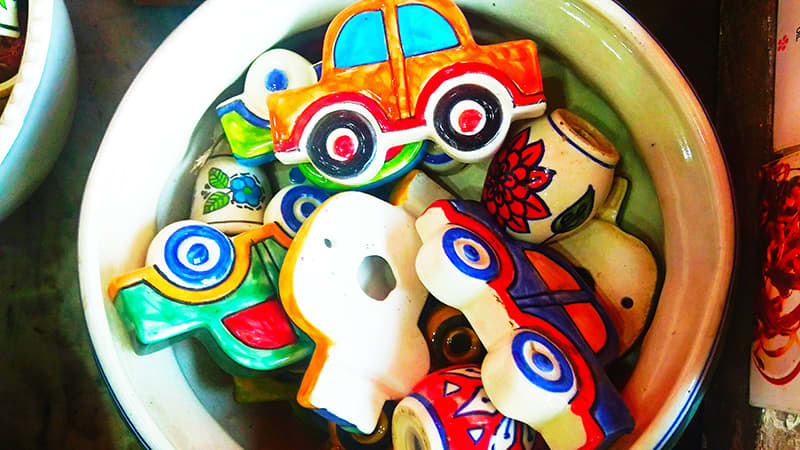 Speaking of throwaway prices, what especially caught our eyes at this already blindingly colourful market were these really vibrant and cutest little terracotta toys of all shapes and sizes. From tiny little real looking tea sets for girls to play with to cars and trucks for boys & so much more, you'll find them all here. And if they fall and break you don't need to worry for they don't cost as much anyway!
Price | Rs 20 Onwards
This place is a must visit for all the homemakers or decor enthusiasts who are looking for some cute little trinkets and similar items at dirt cheap little prices!
Where | Hauz Rani - Outside Malviya Nagar Metro Station Gate No 4
Sift Through Images Of Other Pretty Things We Found Here!