Delhi
5 Popular Places In Purani Dilli That Whip Up Soul-Satisfying & Rich Halwas
The advent of winters necessarily brings with it the freedom of having oily food without being and feeling sweaty and roaming around the streets of Old Delhi in search of beautiful things, lip-smacking food and desserts to finish off every meal. One of the best desserts commonly used, cooked and relished in India is the evergreen halwa. Be it the sweltering heat of summers or the continuous downpour of monsoons or the bone-numbing winters of Delhi, halwa is one dish that is relished lovingly in Indian households.
So today, we decided to leave our warm and snuggly quilts to walk the length of Shahjahanabad in search of halwas that could only be prepared or chanced upon in the winters of our vibrant city. We came across some really old and even a few quirky halwas being prepared in this day and age like the sohan halwa and the habshi halwa. For more, let's take you on a sweet journey of the walled city and told you what all we had here!
1. Vishal Mawa Bhandar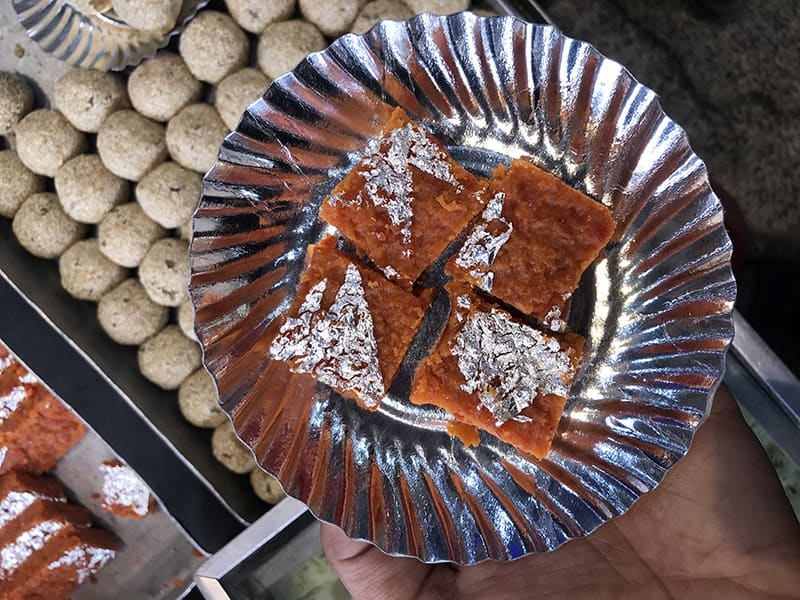 Barely 40 years into the trade, Vishal Mawa Bhandar has made a mark for itself amongst the traditional families and sweet eaters of Delhi. It's widely known in this part of Chandni Chowk for fresh mawa, milk-based sweets and traditional winter desserts. The legendary gajar ka halwa gets a twist over here as they make Gajar Barfis rather than halwas. We tried a small piece of the sweet treat and got transported to a land of pure bliss so much so that we ended up having almost 5-6 pieces more. Apart from this, we also tried their Til Ke Ladoo which were amply packed with the best quality dry fruits. Next time there is a marriage in your house, remember to order from Vishal Mawa Bhandar!
 
Price Per Kg | Rs 400 (Gajar Barfi)
Where | Vishal Mawa Bhandar - 470, Chandni Chowk, Near Katra Neel
Call Them | +91 9711 336 640
Timings | 8 AM - 8 PM
2. Chaina Ram Sindhi Confectioners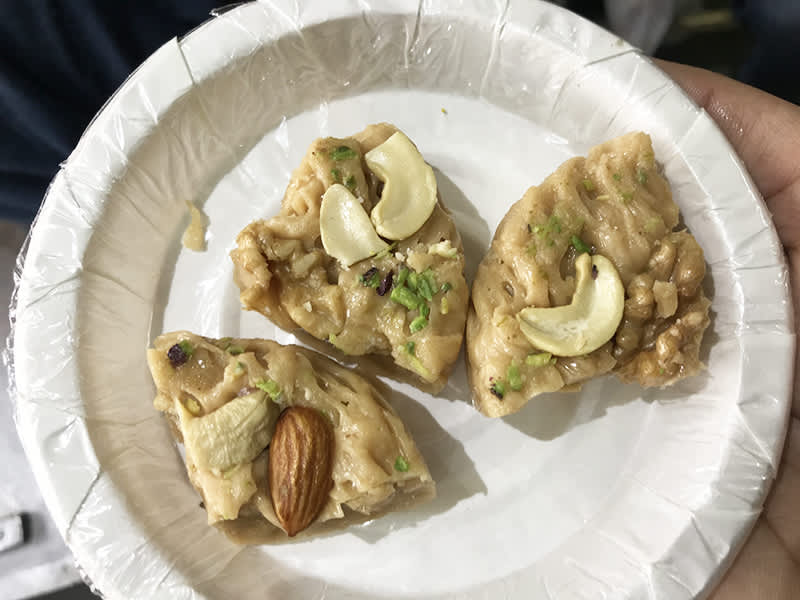 How do you begin to talk about an establishment which is almost as 117 years old, the history of which ranges from one country to another? Originally from Lahore, Chaina Ram set up shop in Fatehpuri area of Chandni Chowk after partition and has not looked back since. We noshed on one of their bestsellers, the Sohan Halwa and boy was it good? Oozing with ghee in every bite, this halwa made our tummies happy like nothing else. So head out now and get kilos packed for your family but do remember that they don't make the halwa on a Sunday as the vegetable market is closed for the last day of the week!
Price Per Kg | Rs 760 (Sohan Halwa)
Where | Chaina Ram Sindhi Confectioners - 6499, Fateh Puri Chowk
Call Them | +91 11 2392 7585
Timings | 8 AM - 8 PM
3. Kanwarji's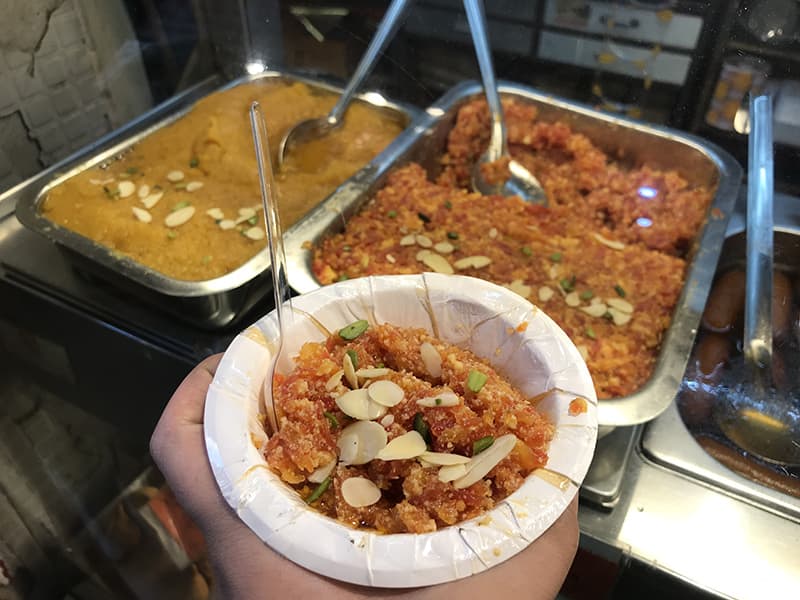 Located right at the corner of the Paranthey Wali Gali, Kanwarji's has never been away from the spotlight. Extremely well known for kachoris and barfis, their Gajar Ka Halwa and Moong Dal Halwa are the ideal treats for your sugar cravings. With deep rich colour of red in the Gajar Halwa and the golden sizzle on the Moong Dal Halwa, you know you're putting your trust of desserts in the right hands! We loved every bit of their offerings and hope that you pay Kanwarji's for y'all are missing out on something unbelievably scrummy!
Price Per Kg | Rs 600 (Moong Dal Halwa)
Where | Kanwarji's - 1972-1973, Corner Gali Paranthe, Opposite Central Bank, Chandni Chowk
Call Them | +91 9811 049 585
Timings | 9 AM - 9 P
4. Meghraj Halwai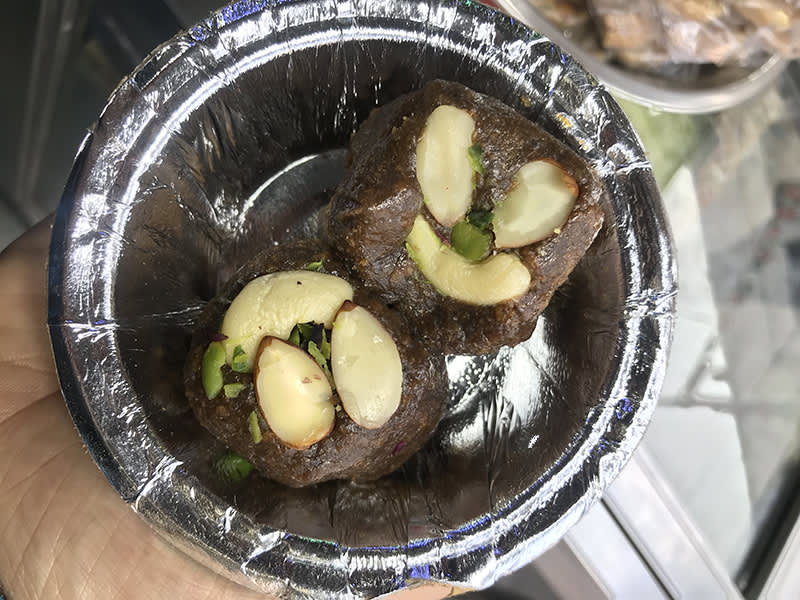 Located opposite to the legendary Chaina Ram is Meghraj Halwai. Having been in the business for almost five generations, Meghraj has his loyalists all over the world and claims that locals swear by the quality of their offerings. This place is now the only one left with the recipe of a decent Habshi Halwa along with the most lip-smacking Gajar Ka Halwa and Moong Dal Halwa. Dripping with oil, loaded with dry fruits and flavours that burst on your palates, Meghraj Halwai's items are not to be missed at any cost!
Price Per Kg | Rs 520 (Habshi Halwa)
Where | Meghraj Halwai - 292-293, Chowk Fatehpuri
Call Them | +91 11 4358 7876
Timings | 7:30 AM - 9 PM
5. Sheeren Bhawan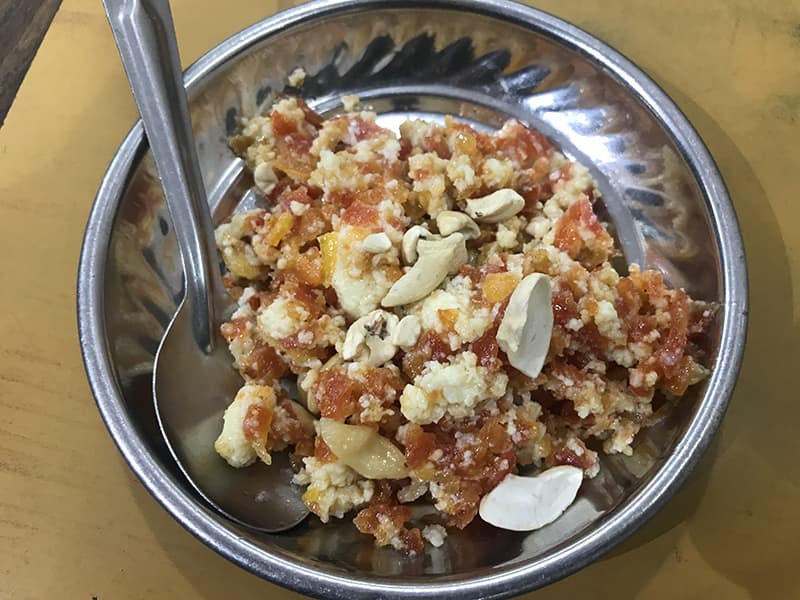 Sheeren Bhawan is a local favourite for the food that they prepare is nothing less than legendary. Painted in a simple white and looking very hygienic, there was a huge thaal on the front porch of the shop containing Gajar Ka Halwa which was kept on coal embers which lent it an earthen flavour. It's pure genius, to tell the truth. We ordered their small 100 gms plate and it was enough to tell us that Sheeren Bhawan is the best in Delhi when it comes to gajar ka halwa. Perfectly balanced flavours, a burst of silky khoya in your mouth and an endless supply of dry fruits to keep you wanting for more. We still have dreams of that heavenful plate and so will you, so grab your partners and begin exploring!
Price Per Kg | Rs 500 (Gajar Ka Halwa)
Where | Sheeren Bhawan - 1470, Jama Masjid, Choori Walan Road
Call Them | +91 9958 662 226
Timings | 8 AM - 11 PM
So head out to your favourite place and start hogging on these scrumptious halwas ASAP!