Delhi
5 Places That Whip Up The Most Overloaded & Cheesy Afghani Sandwiches In Delhi
'That's too much cheese', said no one ever! Food that's oozing with gooey deliciousness is the way to our hearts. Afghani sandwiches are the new cheesy rage in town. These sandwiches are overloaded with sauces, mayo and no points for guessing, oodles of cheese. Your hands are going to be messy and your faces will be plastered with the widest smiles after devouring these gigantic bursts of creaminess. If all things cheesy make you happy, give this list a quick (drool-worthy) read!
1. Sandwich King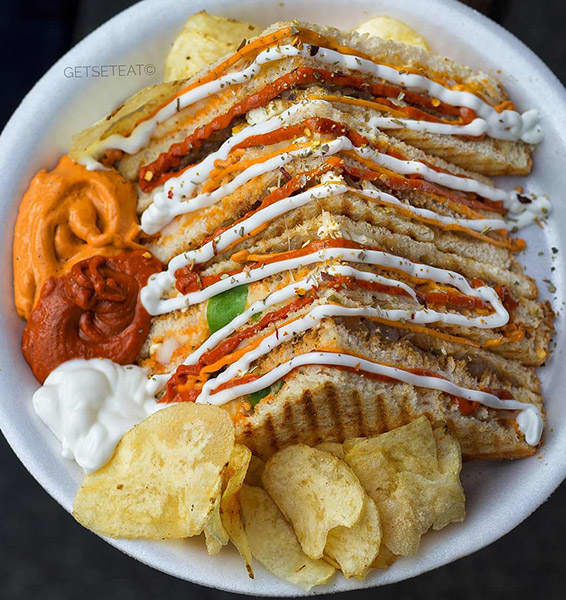 Picture Credits: get_set_eat
This place serves loaded sandwiches which are fit for a royal feast. Their offerings are lip-smackingly tempting and overloaded to saturation. Stuffed with chilli paneer, onion & tomatoes, these treats are enveloped with chipotle sauce, liquid cheese and mayo. Phew! Served with potato crisps and even more sauces on the side (not that we're complaining), this is the ultimate cheat meal that you deserve at the end of a chaotic day at work or college!
Where | Sandwich King - NSP & Noida
Price | Rs 160 
Timings | 8 AM – 12 Midnight
Call Them | +91 9999 516 236 
2. Hashtag Foods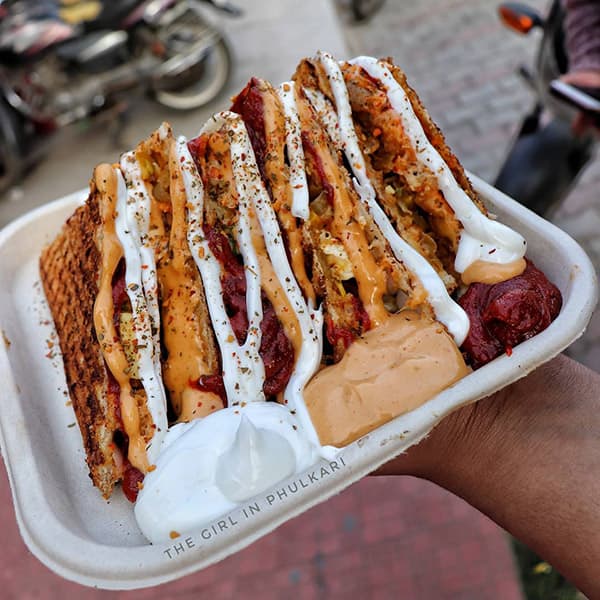 Picture Credits: thegirlinphulkari
As residents of social media, we know hashtags are trendy and sandwiches from Hashtag Foods are trendy AF! Devouring their mammoth sandwich, graced with cheese and mayo on all sides is how we want to start our weekends, as should you. Scamper over here to have the yummiest cheat meal of your lives. Don't forget to post a scintillating snap of this heavenly delight on your Insta feeds! 
Where | Hashtag Foods - G-89, Aggarwal Millennium, Tower 2, NSP
Price | Rs 140
Timings | 7:30 - 12:30 AM
Call Them | + 91 11 4556 5793
Check Out Their FB Page | https://www.facebook.com/hashtagfoodsofficial 
3. Hot Spot Mini Shop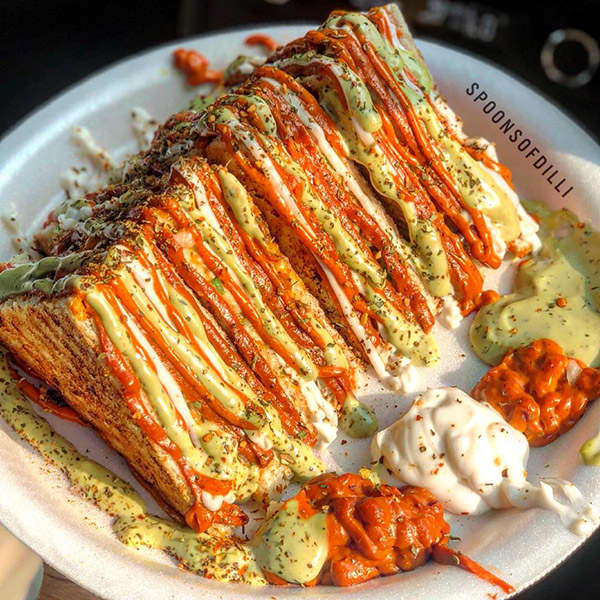 Picture Credits: spoonsofdilli
For a joint so small joint, they sure make massive sandwiches! Their offerings are bound to get your hands dirty but daag acche hain (wink wink). With filling so mouthwatering and condiments extremely creamy, you won't be able to resist polishing off the entire plate. This place will satisfy your cheesy cravings and you'd love to visit again. So just remember to walk in here on an empty stomach because you're gonna be super fed when you come out!
Where | Hot Spot Mini Shop - NSP & Prashant Vihar
Price | Rs 150
Timings | 11 AM - 11 PM
Call Them | +91 9999 730 071 
Check Out Their FB Page | https://www.facebook.com/Hot-Spot-Mini-Shop-459301717754346/
4. Penta Cafeteria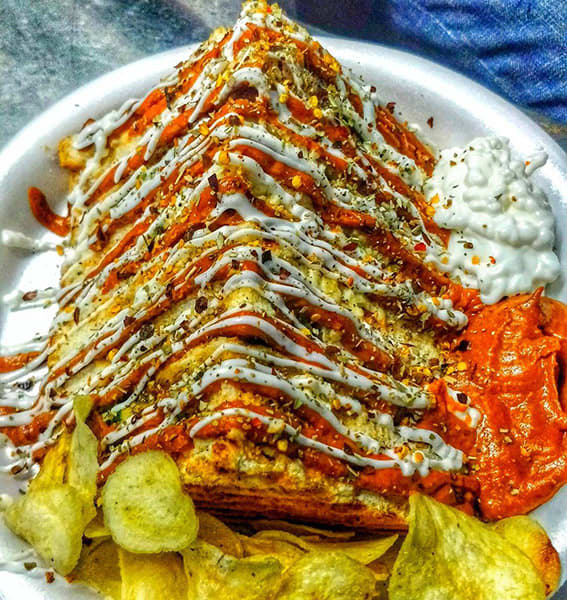 Picture Credits: eatwithvaishali
Go tripping with your gang at Penta Cafeteria as finishing their monstrous sandwiches is not a one-man task. Served with potato chips, it's difficult to stop at one bite! Messy cheese hands and heartfelt smiles are complementary. They use the freshest ingredients and slather 'em up with the creamiest cheese that'll be dripping everywhere. All you'll want after devouring their deliciousness will be a relaxing nap! 
Where | Penta Cafeteria - Shop 6, Block 5, LSC Derawal Nagar, Gujranwala Town
Price | Rs 160
Timings | 8 AM - 10 PM
Call Them | +91 8800 950 378
5. Billu's HUT
Picture Credits: onmytable_5
Billu's Hut is basically the Mecca for all things cheesy. They serve everything on their menu with truckloads of cheese and flavour. Whether it's their mouthwatering pastas or divine shakes, Billu's Hut knows how to whip up yummies that'll drive you nuts. Make sure you order one (or some) of their thick shakes, to wash down these decadent sandwiches. If you don't love cheese, be prepared to be reformed and enter the Church of Cheesus with their delicacies!
Where | Billu's HUT - NSP & Jail Road
Price | Rs 140
Timings | 11 - 12 AM
Call Them | +91 9971 136 341
Check Out Their FB Page | https://www.facebook.com/Billus-HUT-161743804425908/
You might need to run a few extra miles on the treadmill after chomping on these overloaded sandwiches. But we can assure you, it'll be worth it!