Delhi
5 Places Dishing Out The Most Insane Looking & Overloaded Freakshakes In Gurgaon
This Is A Representative Image
Picture Credits: youngisthan.in
Don't you just love those monstrous looking, instagram-worthy freakshakes that are slowly but surely taking over the city?! Of course you do! Delhi's scorching summers constantly calls for gulping down these chilled & super filling shakes and so, for all the Gurgaon-waasis, we have 5 places to indulge in a glass of scrumptious freakshake right away! 
1. AMPM Cafe & Bar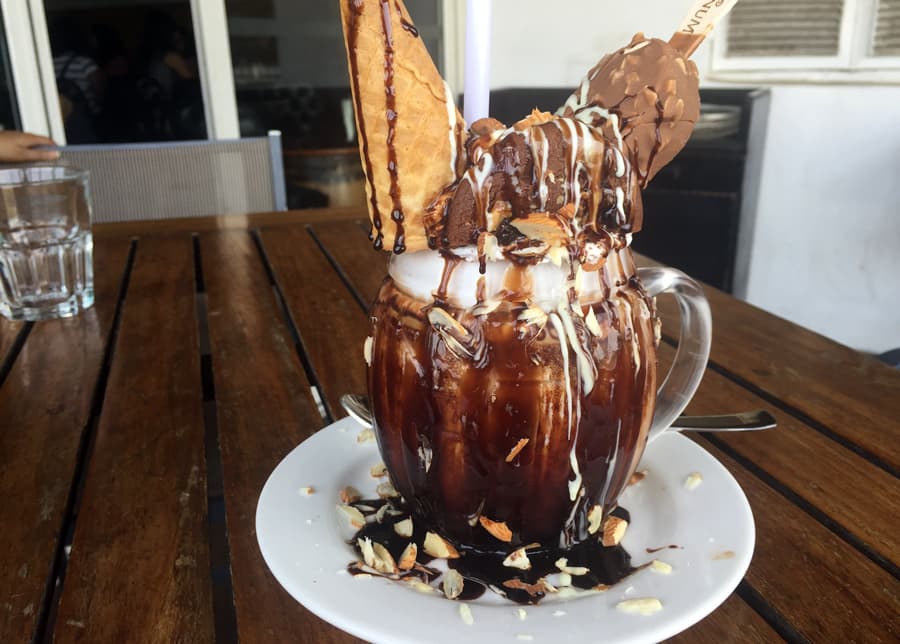 This swanky cafe in GGN with a kickass bar and pretty interiors, is the house of some delectable freakshakes! These guys cutely call these shakes 'Lickables' and trust us peeps that's exactly what you'd be doing when you have them. They have butterscotch loaded - Scottish Obsession, Caramello la Salty that has popcorns in it *say whaaa*, Gems & milk chocolate filled Swiss Kiss, Magnum Upside Down and SOOO many freakshakes on their menu.  
Price | Rs 235 Onwards 
Timings | 11 AM - 12 Midnight 
Where | AMPM Cafe & Bar, DLF Galleria, DLF Phase IV & Ambience, DLF Phase III 
Check Out Their FB Page | https://www.facebook.com/ampmcafeandbar/
2. Morellos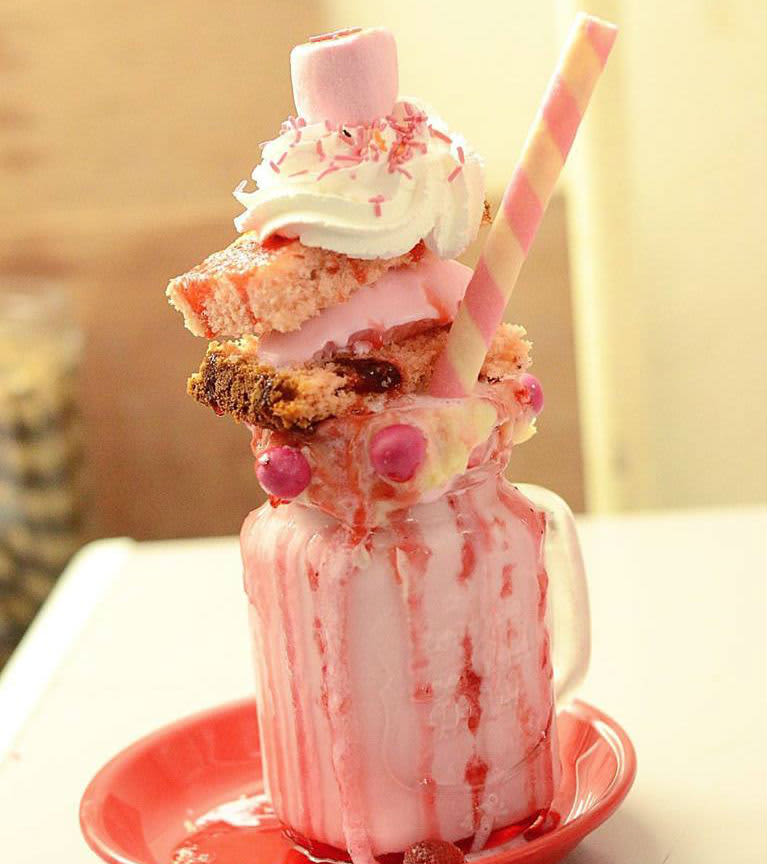 You'd be left 'mess'merisied by the freakshakes here! These guys probably need no introduction as their shakes have been ruling our Insta feed ever since they came into being. This colourful, li'l cafe in Sector 50 dish out picturesque freakshakes like Berry Berry Loaded Shake, Snickers & Peanut Butter Shake, Bubblegum Shake that comes with a cotton candy and tons more. So if you haven't tried out these amazing freakshakes yet then we'd say go right away! 
Price | Rs 299 Onwards 
Timings | 10 AM - 10 PM 
Where | A-118, Nirvana Courtyard Market, Nirvana Country, Sector 50
Check Out Their FB Page | https://www.facebook.com/morellosshakes/
3. Cafe Wanderlust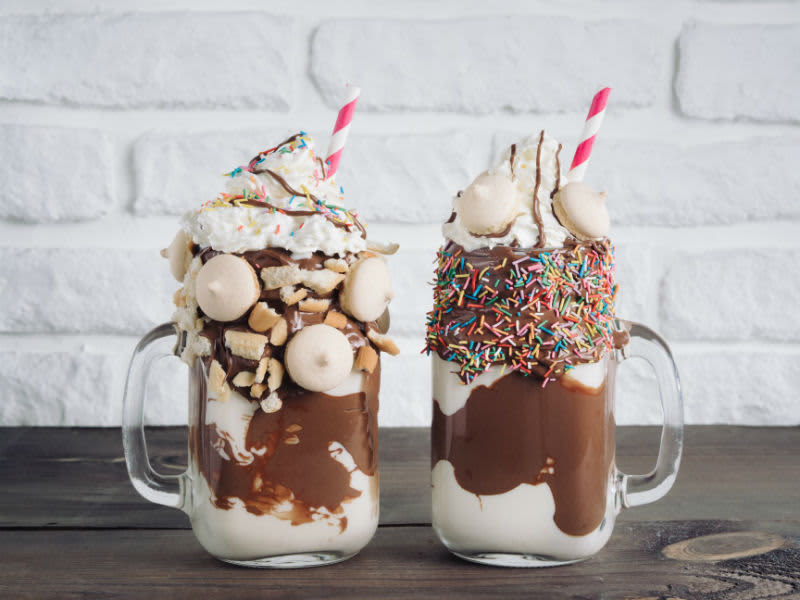 If you are bitten by the travel bug then this place is for y'all! With walls filled with world maps & books, RAD swing chair and comfy bean bags, this is one of our fave hangout places in GGN! Coming to the second reason why we love this place - the beautiful Wanderlust Thunderous Shake. This freakshake is served in a mason jar, full of frothy, yummy shake and lots of whipped cream, colourful sprinklers AND Nutella filled cookies on top of it *heart eyes*. Heading here yet?
Price | Rs 325
Timings | 10 AM - 11 PM
Where | DLF Galleria, DLF Phase IV
Check Out Their FB Page | https://www.facebook.com/cafewanderlust/
4. Cafe Alberto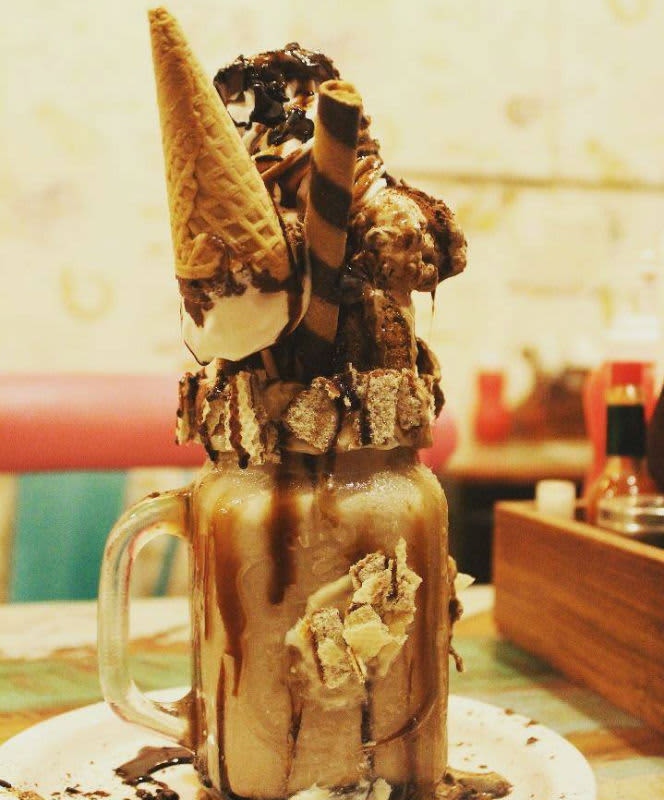 This cutesy, li'l cafe in Gurgaon serves yummilicious and totally freaky shakes like Oreos Cookie Crumble, Bubble Gum, Corneto and more and you HAVE to try them all out! Pair these shakes with their delicious Chicken Tikka Wrap or Grilled Cottage Cheese Burger and you're good to go.  
Price | Rs 299
Timings | 11 AM - 10:30 PM 
Where | A-212, Supermart I, DLF Phase IV
Check Out Their FB Page | https://www.facebook.com/CafeAlbertoIndia/
5. The Forestta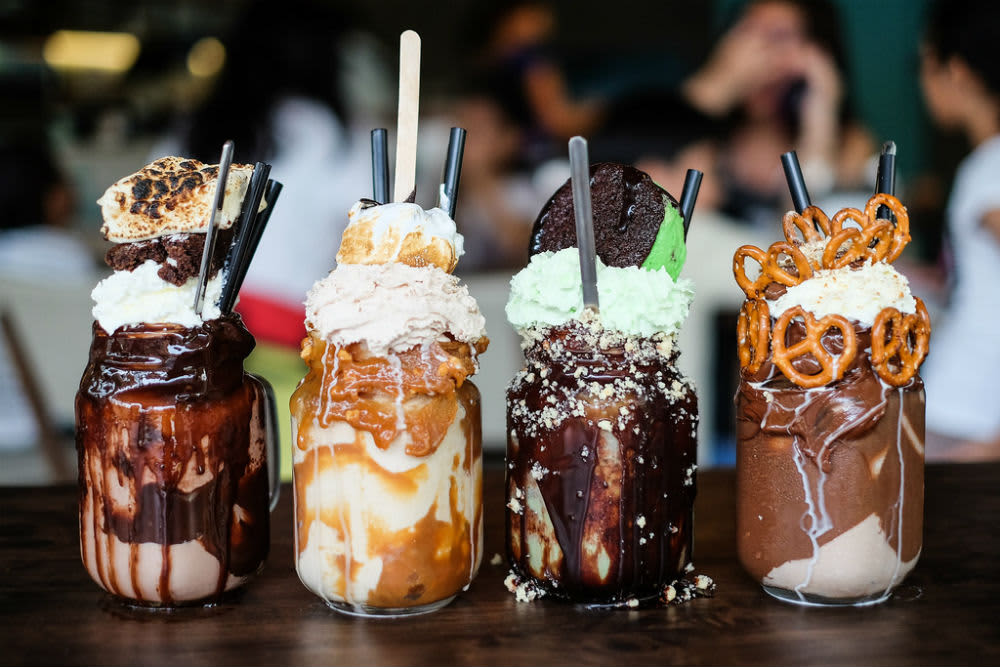 This Is A Representative Image
Picture Credits: youngisthan.in
These guys add the freak in the freakshakes! They have Flat Red Velvet, Brownie Mint Choco Chip and Salted Caramel Doughnut Oreo Cookie shake on their menu and they're as yummy as they sound. Head here the next time you crave shakes at 3 AM 'cause these people are wide open even in the wee hours of the morning. *YAY*! 
Price | Rs 200
Timings | 6:30 PM - 5 AM
Where | Plot 27, Saraswati Kunj, Suncity, Sector 54
Check Out Their FB Page | https://www.facebook.com/theforestta/
So bookmark these places 'cause nothing beats the heat like an overloaded freakshake!