Delhi
6 Of Delhi's Prettiest Reading Nooks Where You Can Grab Your Books And Go
Hello fellow book-clutchers! Reading for us is akin to relaxation, carefully easing open the leather-bound covers and rifling through the pages only to enter a whole different world that elevates you from your present one. Yup, we get you, don't we? Now now, we already know you're getting buried under an avalanche of articles about the best coffee spots to go perch yourself at, but here we're trying to get at something a lil bit different.
Not just a book cafe, but actual slices of oasis within the city where you can literally put yourself on airplane mode and escape from reality for a couple of hours (or 5, but who's counting?). Let's take you on your bookish journey now, shall we?
1. Lodhi Gardens
Picture Credits: Revant Cherian Idikulay
Right, picture this. Rolling lawns (90 acres), a historic, archaic monument spearing up in the background literally standing there as a stalwart testament to time already gone by. You head on over with your picnic basket, a fresh sheet and a pile of books you absolutely adore and curl up in the lap of nature! Put your phone on silent and sway with the magic of the written word! Affording you bursts of cool shade and lots of private nooks, you can curl up here for as long as you want. The best bit - you don't even have to order anything and you can get some really good pictures for the gram! *wink wink*
Where | Lodhi Road, Lodhi Estate
2. Hauz Khas Fort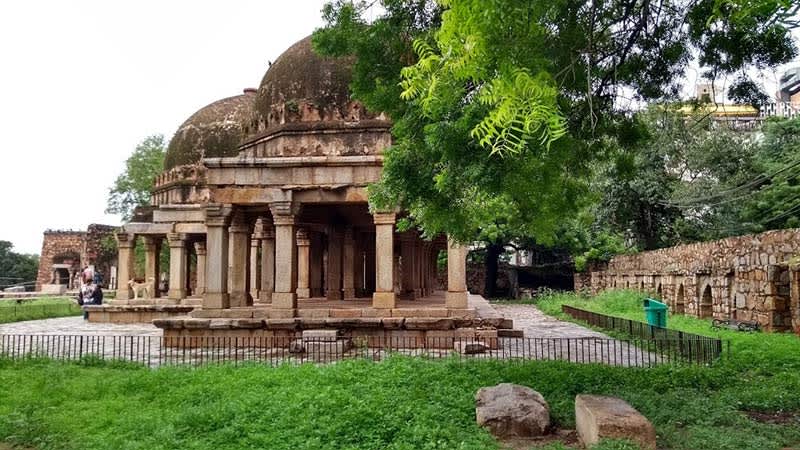 Picture Credits: Shruti Kaushik
You've got gumbads (dome-structures) dotting the entire complex, a beautiful lake you can happily sit by (the area is also frequented by amateur guitarists, so you'll be regaled with music too!) and an endless expanse of trees to gaze upon, not to mention the scores of tombs studding the ancient patchwork that is the Hauz Khas Fort. 
We suggest bringing along your much-thumbed copy of To Kill A Mockingbird or your fave volume outta the Harry Potter series (The Goblet of Fire obv), a cold bottle of Himalayan Flavoured Water (Peach for us), find a shady corner and plop your work-weary ass down for some me time *blissful sighs*!
Where | Hauz Khas Village, Deer Park, Hauz Khas
3. Mehrauli Archaeological Park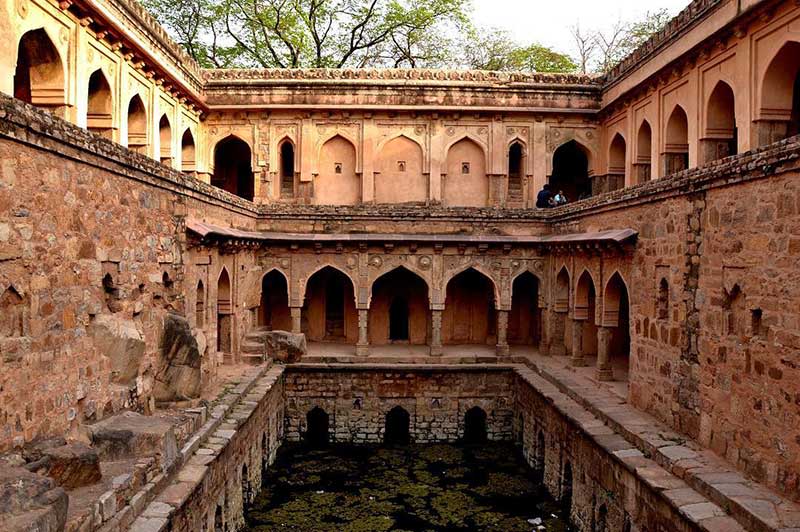 Picture Credits: tiwari.hitesh
Now this one's an Instagram-worthy lush park if there ever was one! Winding paths, lots and lots of little hillocks, and a precious, huge baoli to top it all. You'll see lots of people coming and picking their spots for a round of baddy, cricket or just to listen to some tunes. Come by, bring a bottle or two of refreshing aam panna to swill down, your earphones and that one soulful, deep book you've always wanted to decipher in peace!
Where | Opposite Qutub Minar Metro Station, Anuvrat Marg, Mehrauli
4. Garden Of Five Senses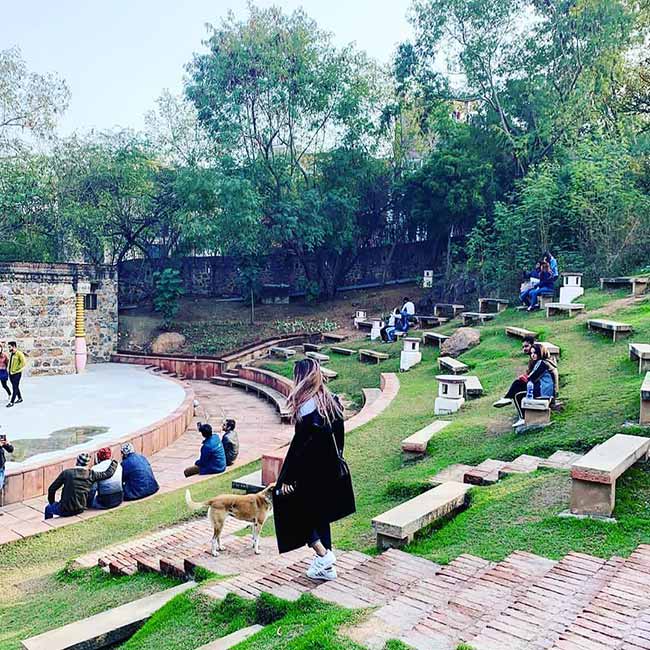 Picture Credits: joker_sphotography
Spreading gleefully over 20 acres of Aravalli rocky outcrops, the Garden of Five Senses has always been a buzzing hotspot in Delhi, particularly patronized for the bevy of cool watering holes it boasts (read Fio Cookhouse). This place is bristling with pretty cobbled pathways, sculptures artistically placed here and there, gushing fountains and actual sundials! 
Bursting with greenery and lots of gnarled trees offering plentiful shade, head over one late afternoon to catch the sun's last rays and finally finish that book that's been lying on your bedside table for the last six months (let's be honest, it's been a year now). Happy wallowing, fellow bibliophiles!
Where | Saket Metro Station, Mehrauli-Badarpur Road, Said-ul-Ajaib
5. Swarna Jayanti Park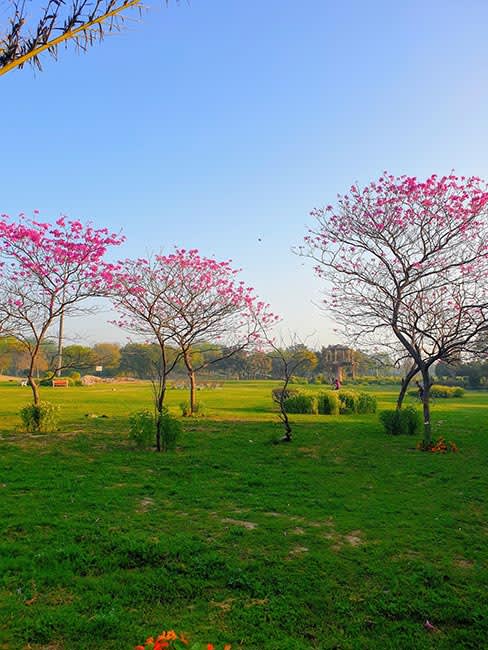 Picture Credits: Sunil Singh
Swarna Jayanti Park, more commonly known as the Japanese Park is situated in Rohini Sector 10. This colossal, lush green park makes the perfect picnic spot and a safe place for you to tuck away all your worries and sit with a copy of your favourite thought-provoking hardbound. Clean walking paths and lakes with colourful boats make it an ideal spot for taking a stroll while you're on a break from that engaging set of pages. If you're lucky you may also spot egrets and storks beside the lake quenching their thirst. Spread a blanket and dive into the pages of your book insulating the hustle-bustle of the city. 
Where | Rohini Sector 10 
6. Waste To Wonder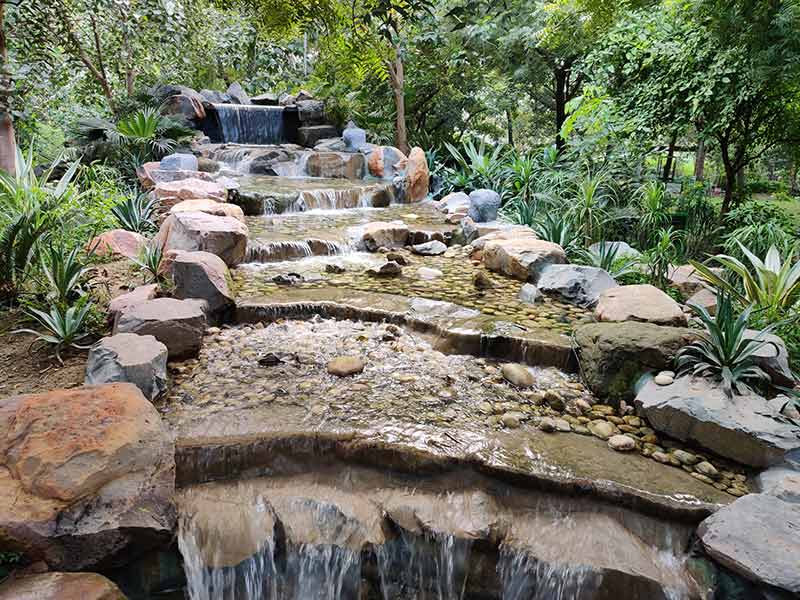 Spread o'er seven acres, this park is built with the scraps of automobile parts and other metal waste and is home to miniature replicas of the seven wonders of the world. You feel like heading over already, don't you? Well well, we haven't even given out the deets of the concealed pretty spots yet. Away from the commotion in the park, you can sit in the lap of nature and enjoy a picturesque view with your head dug deep into your book. Enjoy your book or just sit around taking in the serene view and appreciating the beauty of nature. 
Where | Waste To Wonders Park - Near Nizamuddin MS, Sarai Kale Khan
Timings | 11 AM - 11 PM (Closed on Mondays)
Entry | Rs 50 (For Adults) & Rs 25 (For Kids Aged Between 3-12 Years)
Check Out Their FB Page | https://www.facebook.com/wastetowonderpark/     
Where will you be heading?