Delhi
5 Next-Level Affordable Stores In KNags To Snag Tops, Dresses & More Starting @ Rs 200
What Sarojini is to South Campus people, Kamla Nagar is to North Campus ones! Be it to save ourselves from hunger pangs between classes or add some new clothes to our wardrobe, this place always comes to the rescue.
And since we know it's difficult to navigate such a big place and find the perf shops that fit your budget, we went around KN to find some awesome stores where you can renew your wardrobes without burning a huge hole in your pockets! Here's presenting to you our top 5 picks for budget friendly shopping in Kamla Nagar!
1. Incense 

This place is pretty much an apparel haven that stocks everything from basic denims to fancy gowns. The last time we checked, the range of their jeans started at just Rs 599! It's almost like a small mall in itself with three huge floors.
The ground floor is dedicated to menswear and the first and second floors are full of women's clothing. You'll find every trend possible at this place, be it an off-shoulder dress or a choker top. The variety that they offer is endless and if you look long enough, you'll be able to score an entire outfit for just a thousand bucks!
Where | Incense - Shop No. E-172
Price Range | Rs 400 - 3,000
Call Them | +91 11 4521 0011
Timings | 9:30 AM - 10:30 PM
 2. De Fashion Garage By Robert Russell

Though the name sounds hoity toity and fancy, this place won't set you back by a lot. With a really fun collection of denims, jackets, tees and accessories for both guys and girls, this place has sort of a grunge vibe to it.
Their collection starts at 650 bucks and is absolutely worth every penny. A must check out is their range of skirts which has everything from skaters to button downs. You'll also find some pretty great patches and buttons in case you're into DIY! Plus, the décor is an added bonus!
Where | De Fashion Garage - 3-UB, Jawahar Nagar, In The Lane Next To Keventers
Price Range | Rs 650 - 4,500
3. Teen Queen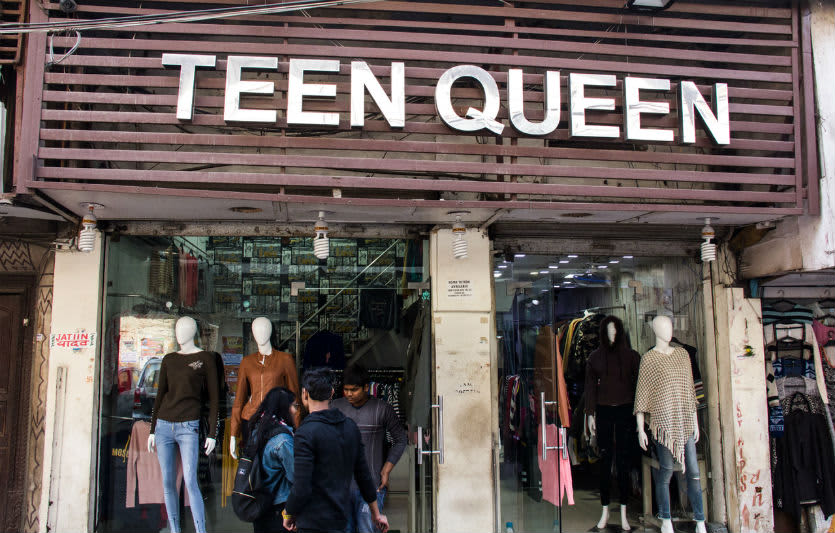 We found this place while strolling in Kamla Nagar and we're SO glad we did. Why, you ask? Well, you can pick up anything in this store and it'll range between 200 to 2,000 bucks. How crazy is that?! We absolutely loved their winter collection as almost every piece was an absolute steal for such low prices. They have a good variety of tops for girls, especially for all the #CollegeOOTDs!
Where | Teen Queen - Shop No. 1-G
Price Range | Rs 200 - 2,000
Call Them | +91 9873 372 327
Timings | 11 AM - 9 PM
4. Fashionize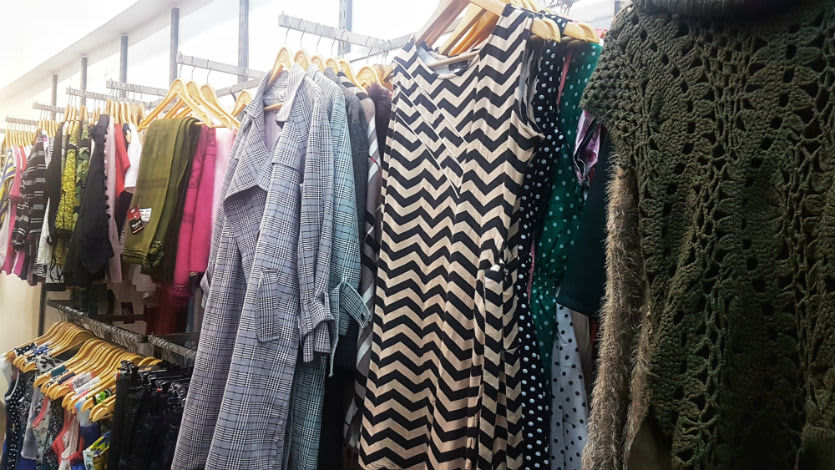 We stumbled upon this store because we saw a sign that read 'Fashionize at 300 bucks.' Sandwiched between branded stores, it was a sight for sore eyes! This store has a decent variety of tops and shirts starting at just 300 bucks. Our favourite were the dresses, especially the cold-shoulder ones.
They also have some really cool skirts and shorts and to complete your look, they also feature some really trendy handbags!
Where | Fashionize - In The Outer Lane That Has KFC & Domino's
Price Range | Rs 300 - 2,000
 5. Kasrr

Our list wouldn't have been complete without this place. Right below iWorld, Kasrr is a fashionista's paradise! The lavish gowns on the window display pulled us into the store and we were mighty impressed! This outlet has a great variety of Indo-western & western gowns, along with a huge collection of western casual clothing only for women.
Need to look like a diva at a cousin's wedding but didn't get time to shop? Need to shop last minute for your fresher's? Don't worry because you can score an absolutely elegant and stunning outfit for under 2000 bucks at this place!
Where | Kasrr - Right Below iWorld, 2 UB, Bungalow Road, Opp. Bindal's
Price Range | Rs 500 - 5,000
Call Them | +91 11 4752 0200
Timings | 11:30 AM - 7:30 PM
Check Out Their FB Page | https://www.facebook.com/kasrrfashion/
We've got you covered for your Kamla Nagar shopping spree so shop away, Kamla Nagar style!