Delhi
5 Most Romantic Restaurants In Faridabad That Are Actual Couple Goals!
Disclaimer: Bearing in mind the current health crisis befalling the city and the world at large, we're tweaking our content policy and recommendations. Stay positive, keep hygiene levels up and don't fall prey to panic and misinformation.
We know it's hard finding true love these days, but do you know what's even harder? Deciding on where to take your date for the perfect romantic meal; 'a meal to remember' if you may call it. Finding the right spot (to eat food) is never easy, but it does get easier with us here to help. Just so that you have the perfect romantic evening, we've come up with a list of the 5 most romantic restaurants and cafes in all of Faridabad which we reckon will step your game up a notch and help you spend quality time with your special someone. 
1. Café Parmesan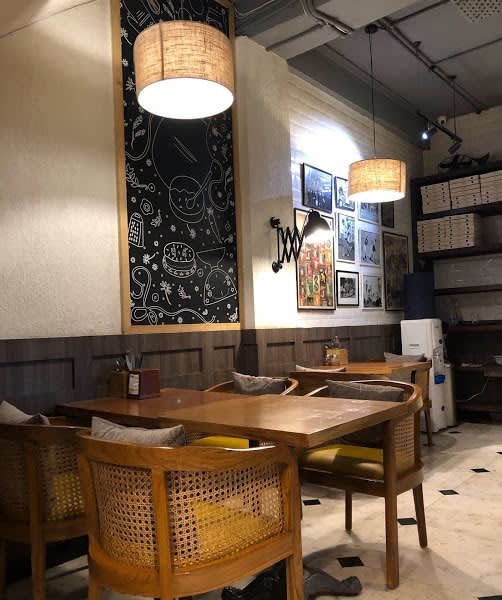 Picture Credits: Deepshe Saluja
Located in Faridabad sector 15, this cafe is a must-go for all those couples who like a little live music while munching on food and drinks. The perfect mix of aesthetic and class, Cafe Parmesan is a damn good place for a date. While they are famous for their interiors, they serve some of the most eclectic Italian food. From starters to the main course to desserts, this cafe has you covered. Stop wasting any more time and go book a table already!
Where | Café Parmesan - SCF No-42, 1st Floor, Sector 15
Meal For Two | Rs 1,000
Timings | 11:30 AM - 11:30 PM
Call Them |  +91 9971 463 427
Check Out Their FB Page| https://www.facebook.com/cafeparmesan/
2. The Aravali Story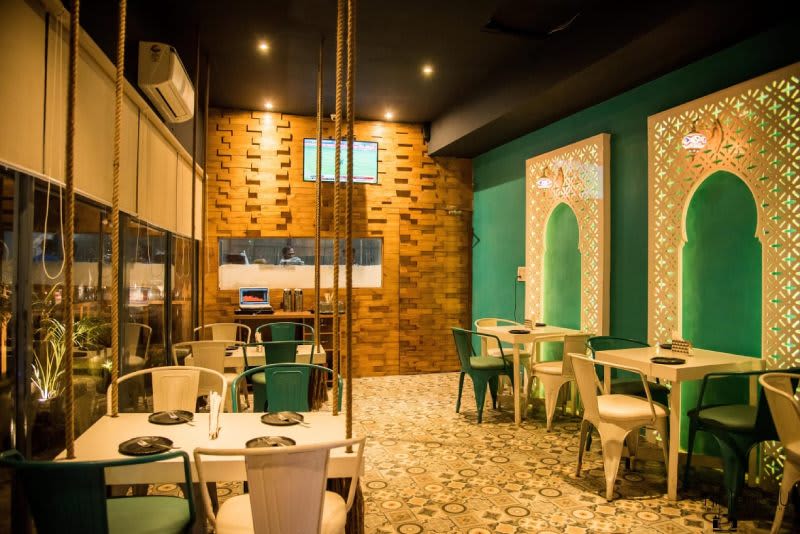 Picture Credits: vijji dagar
One of the only cafes with lovely decor along with a dedicated outdoor seating area, The Aravali Story is the perfect haven to take your boo on that much-needed date. Customers have time and again visited this hidden gem situated in sector 47, Faridabad for their Signature Hakka Noodle, Honey Chilli Potatoes, and the Indian Pizza. Far from the city's hustle & bustle, you can find some quiet here, to spend an evening with your boo.
Where | The Aravali Story - Near Manav Rachna University Gurgaon, Pali Rd
Meal For Two | Rs 900
Timings | 11 AM - 11:30 PM
Call Them | +91 9540 168 458
Check Out Their FB Page | https://www.facebook.com/THEARAVALISTORY/
3. Cheese & More - The Kitchen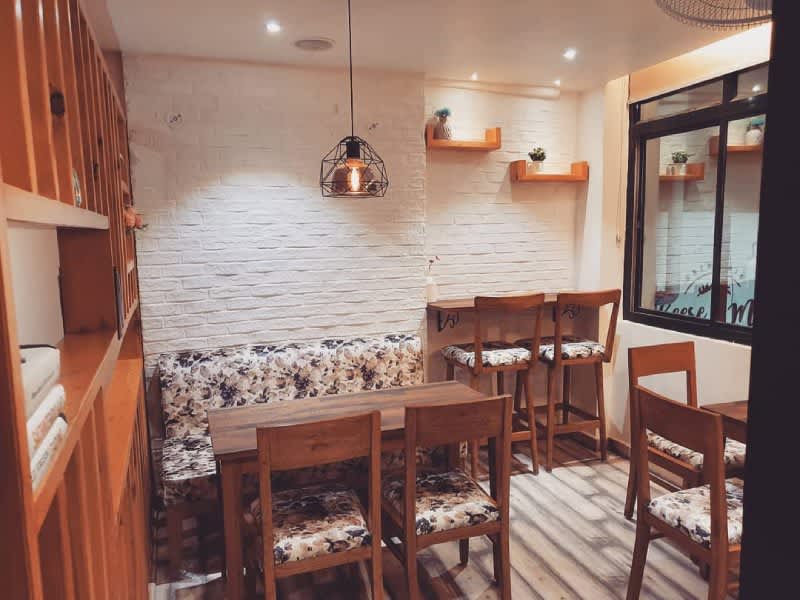 A great place to take your loved one for continental and fast food cravings. The interior and service of this place will leave both of you awe-struck. It's cute, it's cosy, and it smells of relish-worthy delicacies from the moment you enter. Apart from ogling away at its decor, we recommend you order the Pasta Alfredo, Chicken Shawarma, and the not-so-greasy yet cheesy Garlic bread, and let the magic happen!
Where | Cheese & More - The Kitchen - 9-10, Vatika Complex, Ground Floor, Charmwood Village, Surajkund
Meal For Two | Rs 600
Timings | 11 AM - 11 PM
Call Them | +91 9667 712 708
Check Out Their FB Page | https://www.facebook.com/cheesenmore/
4. Theskypatio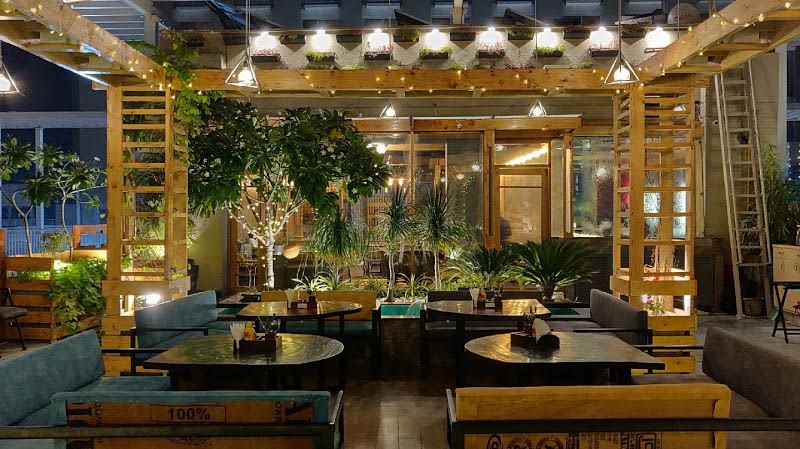 As the name suggests, The Sky Patio offers to its customers a roof-top dining experience, along with a regular in-house dining experience. Usually, we prefer roof-top when we hear of it but at this restaurant, both experiences are of similar quality and ambience. The interiors of this place have been tastefully designed to bring together a look of an upbeat-yet-elegant looking restaurant. Do try out their Tandoori Chicken platter, Mushroom Soup, and Paneer Lababdar from its never-ending spread of mouth-watering dishes spanning over three cuisines!
Where | Theskypatio - BR301, 81, High Street, Sector 81
Meal For Two | Rs 1,300
Timings | 12 Noon - 12 Midnight
Call Them | +91 9315 637 374
Check Out Their FB Page | https://www.facebook.com/Skypaio/
5. Cafe Grub Up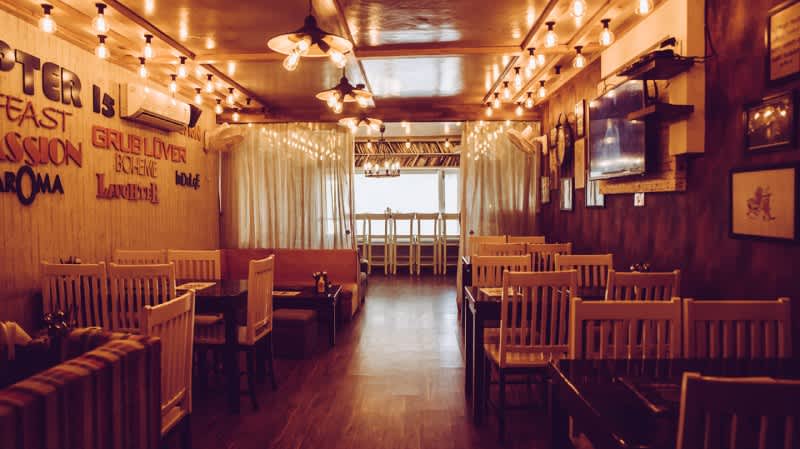 We believe romance is felt best when under an open sky, which works in your favour since we've found out this gem of a place amid the busy streets of sector 15. Spread over two floors which also includes a rooftop, this cafe seems to be the new date spot in the city with its lush interiors and mood-setting lighting. Do order their Waffles, White Sauce Pasta, Chicken Pizza, Veggie Pizza, and many other lip-smacking dishes to experience foodie bliss with your partner!
Where | Cafe Grub Up - SCF 43, 2nd Floor, Main Market, Sector 15
Meal For Two | Rs 1,000
Timings | 10 AM - 11 PM
Call Them | +91 8588 835 658
Check Out Their FB Page | https://www.facebook.com/cafegrubup/
Now there's only one thing left to do, and it's trusting us and taking your date to any (or more) of these romantic restaurants. We've at least got your date plans sorted, the rest is up to you! *Wink*