Delhi
5 Lassis We Tried Ranging From Chocolate Lassi To Gulkand Lassi At This Place Serving 29 Varieties!
With the mercury soaring higher than ever in Delhi, this weather is bound to make you sweat faster than you can say 'Obama out'. But fret not, for we have found just the solution for it. Rajsthani - the lassi shop, located near the Fountain Chowk, Pitampura offers 29 distinct flavours of lassis, 12 delicious kinds of ice-cream faloodas, 14 types of kulfi faloodas and 12 mouth-watering variants of ice-cream shakes. What we're trying to say is that this hidden gem is a perfect haven in this scorching summer!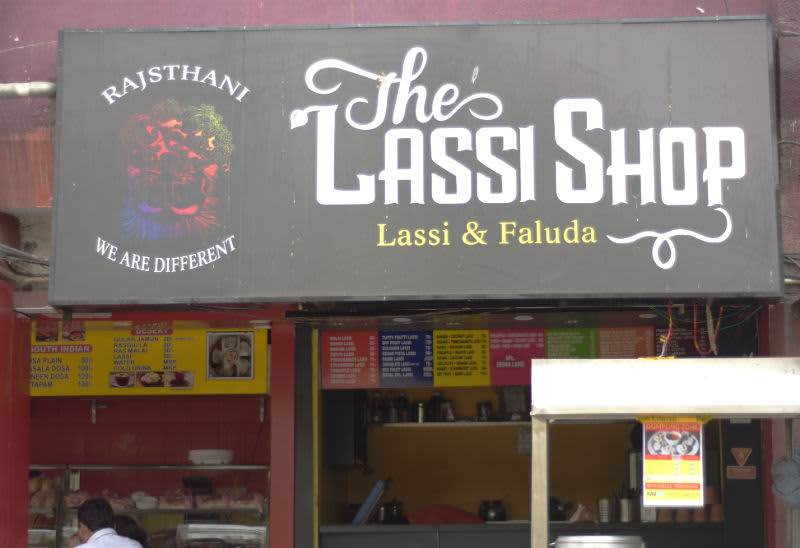 Locating the shop called for a little trail of adventures but it was completely worth the hassle.Totally drained and heavily perspiring upon arrival at the shop, we decided to try out their cool and unique lassi flavours and here's what we ordered.
1. Pomegranate Lassi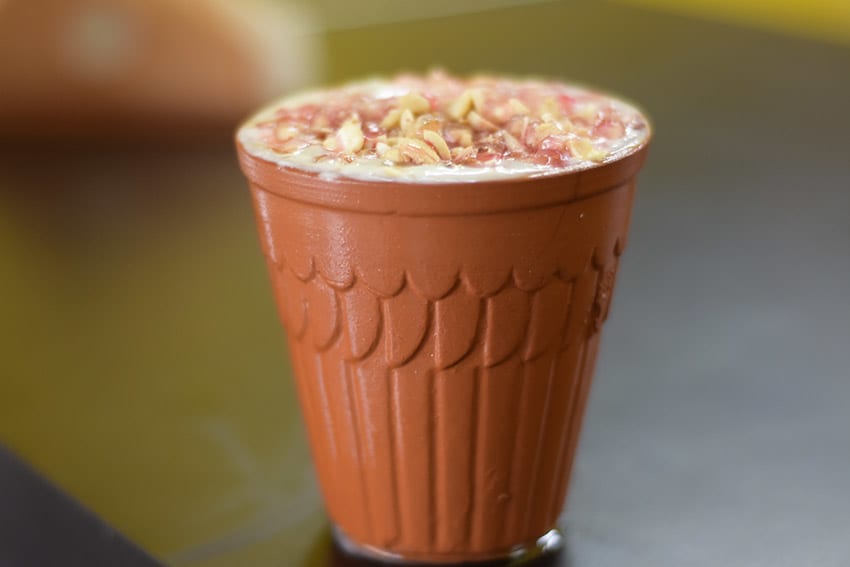 This drink is to die for, honestly. The texture of the Pomegranate Lassi was very creamy and thick. It was almost like drinking a soothing cold, velvety mixture of smooth flavours. The pomegranate seeds were mixed evenly throughout the sweet lassi, along with raw cashew nuts. The dry fruit added a rich nutty flavour to the chilled beverage. The drink was served topped with some more pomegranate seeds and cashew nut bits - making it look all the more drool-worthy. 
Price | Rs 70
2. Chocolate (Kitkat) Lassi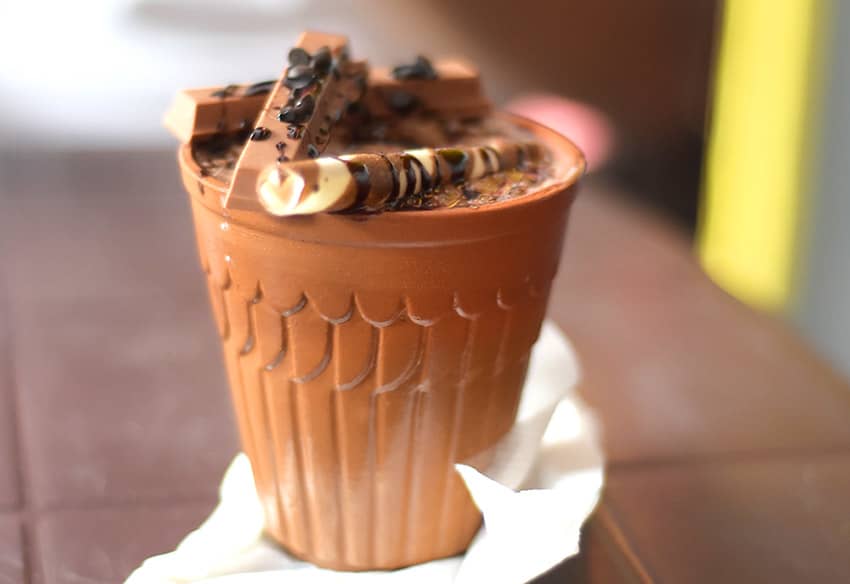 For anyone who, like us, just needs to hear the word 'chocolate' before their eyes light up like a Christmas tree, this lassi is your calling. There were two options for additional garnishing - Oreo or Kitkat and we decided to go for the latter. Topped with a chocolate wafer twig and Kitkat sticks, it almost felt like the Chocolate Lassi sat there singing soft lullabies to our palate as we drooled. The drink came garnished with choco chips and dark chocolate sauce, making the rich texture of the lassi taste heavenly. Basically, this one is a total must have while you're at this place! 
Price | Rs 80
3. Mixed Fruit Lassi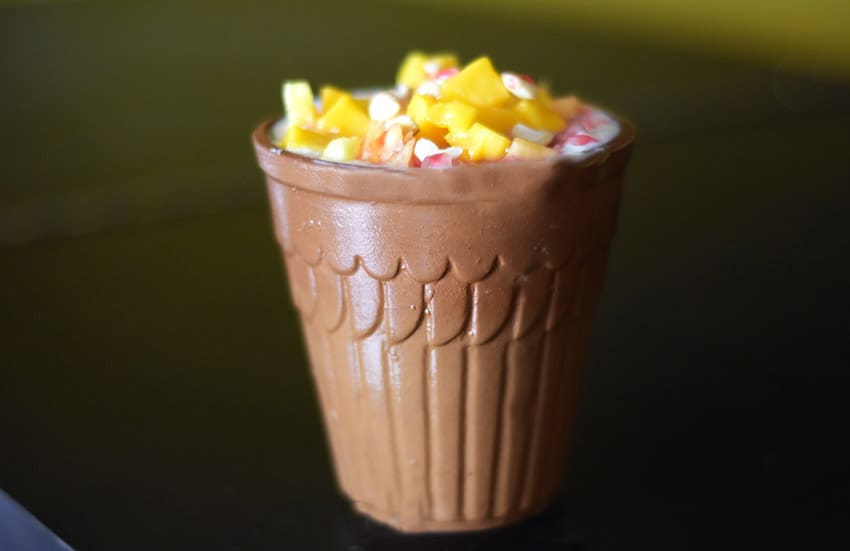 Topped with succulent bits of juicy and fresh fruits, this drink made us fall in love with it from the very first sip. The texture of this lassi was so thick that you might have to use a spoon to scoop it up than slurp it down with a straw, as convention goes. The drink was loaded with fruity chunks inside along with its nutty crown which sat invitingly at the top. The Mixed Fruit Lassi was a real treat, especially given the humid weather, it was tasty and refreshing at the same time. 
Price | Rs 80
4. Gulkand Lassi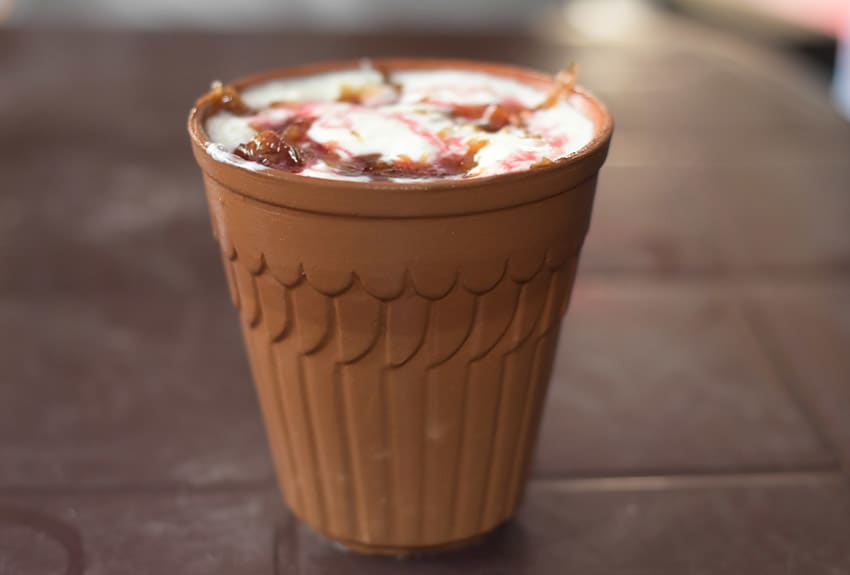 The sweet and intoxicating aroma of gooey gulkand syrup hit our noses much before the lassi met our taste buds, giving us a fair idea of how delicious this drink was going to be. Topped with sweet and savoury gulkand, the drink was loaded with bits of rose petals which were coated with sugary goodness. The airy texture and the bursts of sweetness that could be felt intermittently made this drink all the more memorable. So, if you wanna try something sweet and refreshing, this lassi should definitely be on your list! 
Price | Rs 70
5. Jeera Lassi
Although we wanted to try a few other varieties from the menu, the shop had run out of the ingredients for most of the other lassi items, so we decided to go for something they highly recommended 'cause like they say, 'When in doubt, order the chef's special and you can never go wrong.' We did just that and turns out, our choice was right. The Jeera Lassi was not only creamy and velvety smooth, but also the optimum blend of salty and sour, something we truly appreciated after all the sweet lassis we had tried so far! Garnished with roasted jeera and black salt, every sip of this lassi had a piquant flavour to it. 
Price | Rs 50
At the end of the day, Rajsthani is a haven for cold desserts and drinks. With an immense variety in terms of ice-creams and faloodas, we had a great time there. We'd say grab your foodie friends and visit this place already!
Location | Rajsthani The Lassi Shop - A8, NN Tower, Fountain Chowk, Block B, Road 44, Pitampura
Contact Number | +91 9999 718 291