Delhi
5 Items Like Rajma Chawal & More That You Must Wolf Down @ The Iconic Jain Chawal Wale, CP
The one thing all of us like more than exploring and trying out everything that's new is gorging on our very own comfort food. And street food is THE best way to feel right at home!
A little away from the Connaught Place main circle, Jain Chawal Wale is an age-old joint serving up some spicy and filling North Indian dishes. This quaint eatery has been a favourite of locals for many years now and their rice dishes are said to be finger-licking yummy. We decided to head on over to this legendary place to try out some of their best-loved dishes for ourselves. Here's a quick recount of all that we tried!
1. Paneer Bread Pakora With Sabzi
We decided to start off with a light snack and thought a bread pakora was the perfect way to do that. Their Paneer Bread Pakora was served with a spicy chole sabzi. The bread itself was crisp and fried to a light golden hue and the sabzi played the role of a spicy accompaniment. Even though the dish was cooked well, we felt that the bread was oily and the filling had an overbearing flavour of spices and chillies although the chole tasted nice and we were impressed with the portions of the dish. If you have a stomach for chillies, this will serve as a good light snack for you!
2. Rajma Chawal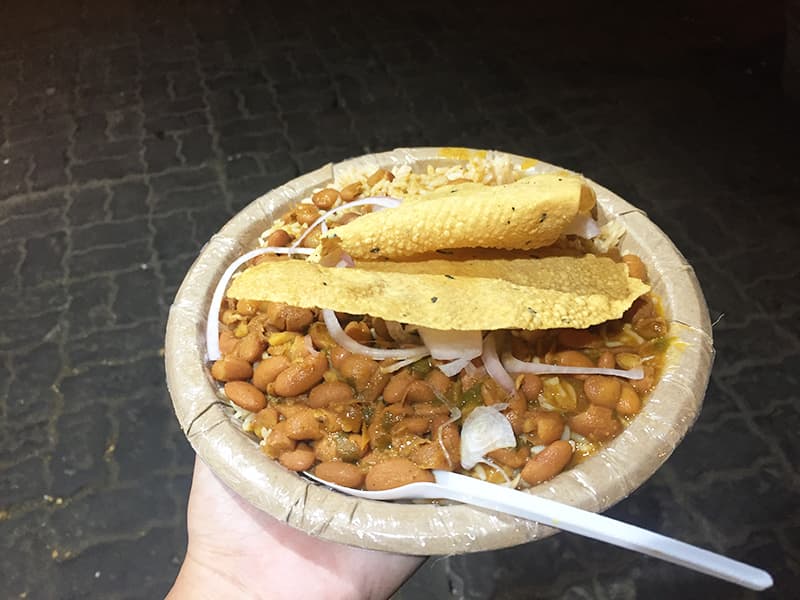 Jain Chawal Wale is best known for its rice dishes, so naturally, we were truly waiting with bated breath for their Rajma Chawal. One serving of rice was presented with a generous helping of rajma, some onion ringlets and a piece of crispy papad. The sight of the dish made our mouths water and its taste, too, lived up to our expectations. The rice was soft as well as fluffy and the rajma curry was really flavourful and thick with just the right amount of spiciness, all of which were a delight to our palates. Whether you're a rajma lover or not, you should defo go for this one!
3. Chatpata Tikka Chaap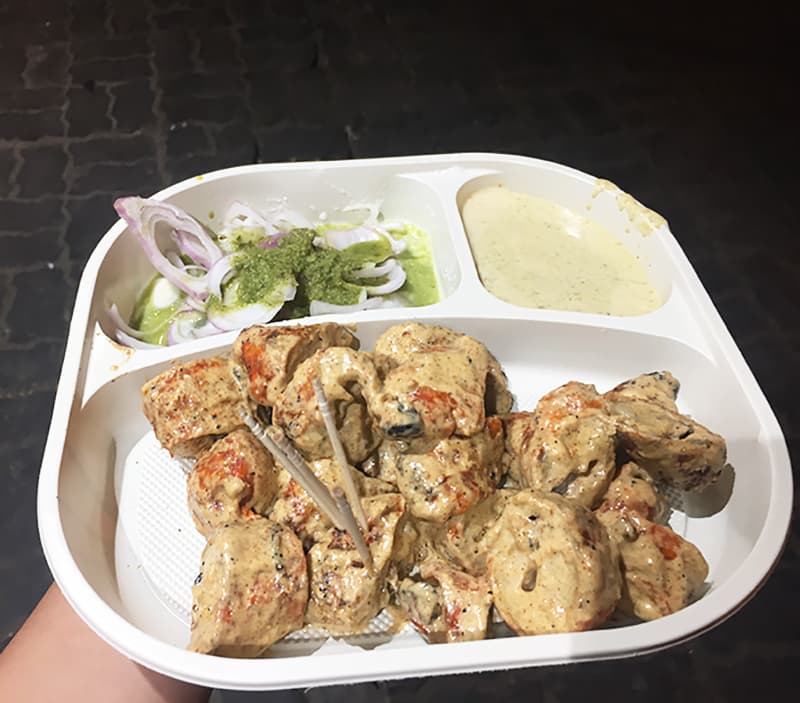 Since it's a Delhi's street food fave, we decided to order up their Tikka Chaap. The dish was served with some pickled onions and a side of creamy chutney. We liked that the chaap itself was fried and then drenched in a buttery sauce which enhanced its taste greatly. The chaap was perhaps slightly overcooked which made it a little chewy but we immensely enjoyed the buttery sauce and chutney it came with. With optimal cooking, this dish has the potential to be a great one.
4. Kadhi Chawal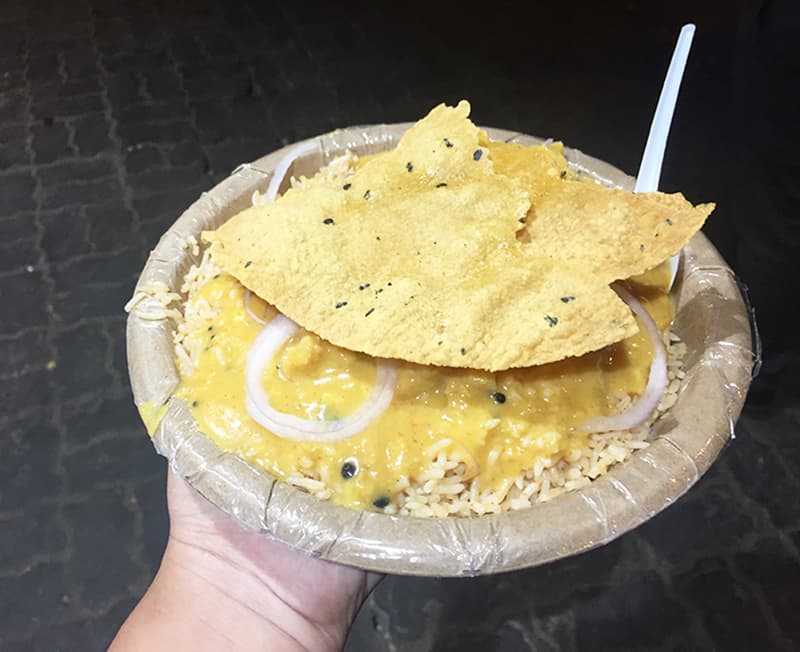 We decided to try out another rice dish that is a bestseller at this joint, their Kadhi Chawal. Served in a similar fashion as the Rajma Chawal, the rice was covered with a generous helping of kadhi with some onion ringlets and a piece of papad on top. And this rice dish, too, met our expectations. The kadhi was creamy and piquant which was the USP of the dish. The papad that sat atop the rice was crispy and added a crunch factor to the overall dish, something we highly appreciated. This one's a must-have!
5. Amritsari Paneer Kulcha Platter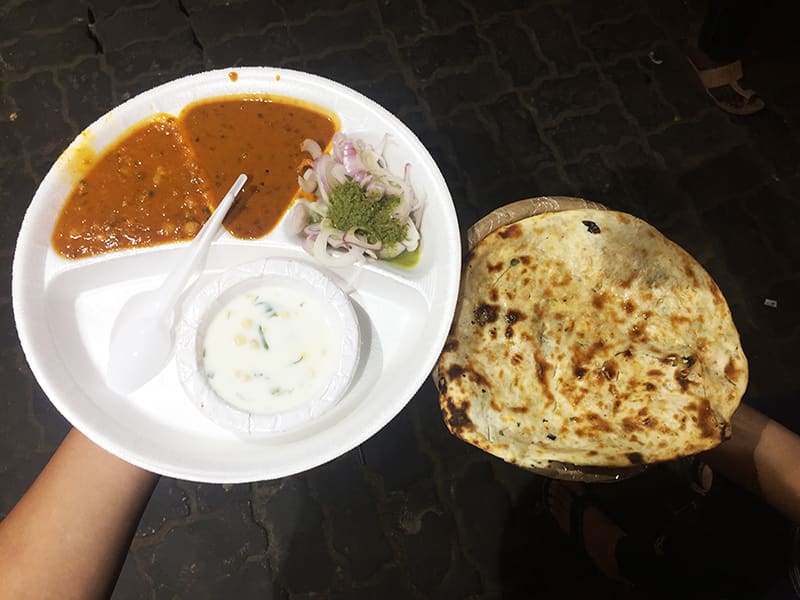 The final dish we tried at Jain Chawal Wale was their Amritsari Paneer Kulcha Platter. The dish was served with two Paneer Kulchas, chole, Makhani Dal and raita along with some pickled onions. We enjoyed the taste of the kulchas which came stuffed with loads of paneer and the raita was a refreshing addition to the dish. Although the curries were amazing, the dish seemed incomplete without a yummy accompaniment to the crispy and fluffy tandoori kulchas. Come over and defo do give this one a try here!
Our food journey at Jain Chawal Wale was truly a memorable one. The popular joint is best known for dishing out rice items and we could understand why. The locals, too, seemed to enjoy the food at this joint for they'd flocked over in hordes. This eatery also continues to remain a favoured haunt of all night owls, as they serve till late at night. So, drop by and nosh on their offerings and become a part of the legacy!
Where | Jain Chawal Wale - 1/90, Block P, Baba Kharak Singh Road, CP
Call Them | +91 9911 177 118
Meal For Two | Rs 250