Delhi
5 Insanely Cool-Looking Dishes You MUST Gorge On WIth Your Tribe At This Newbie In Rohini!
Gone are the days when Rohini residents cribbed for a good cafe as the area now witnesses a flourishing foodie scene and Too American is a proud new entrant right here in Sector 3. Located in the M2K Rohini block, this one's right opposite BTW. A small cutesy cafe with tic tac toe painted on one wall from top to bottom and sticky notes with feedback from the patrons on another, we truly loved its pretty interiors especially the hanging lights and the wall art here.  And delving into the main part, that is food, here's everything that we tried here!
1. Mint & Watermelon Mojito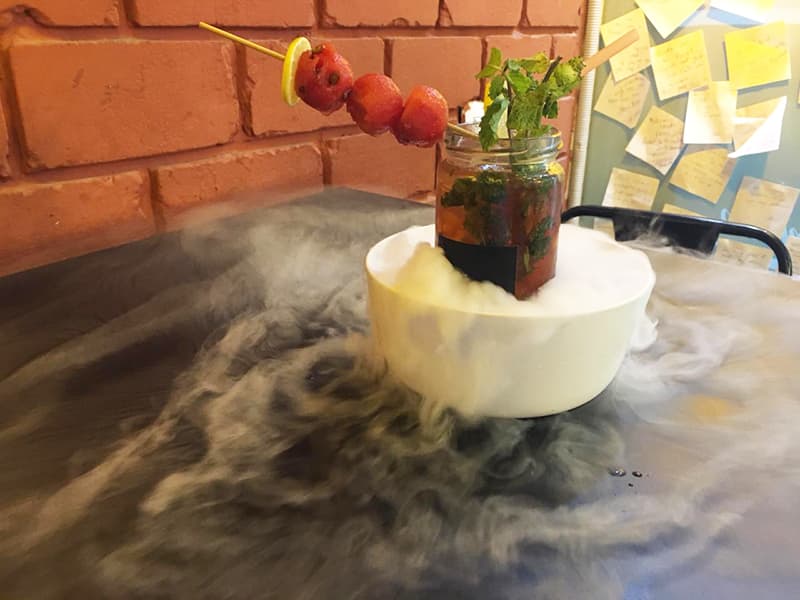 Blame it on the scorching heat but we wanted to start our food date with a refreshing drink and turns out, this Mint & Watermelon Mojito is exactly what our souls ached for. Served in a big beaker, placed in a bowl (they call it the 'smoky' bowl) with that whole nitrogen effect going on about it, the drink looked 'smoking' cool! The age-old combination of mint and watermelon was simply perfect for a fresh start. We loved the sweet and tangy flavours served with loads of ice and lemon zest. Now that's what we call a chilled experience!
Price | Rs 159
2. Non-Veg Go Caesar Salad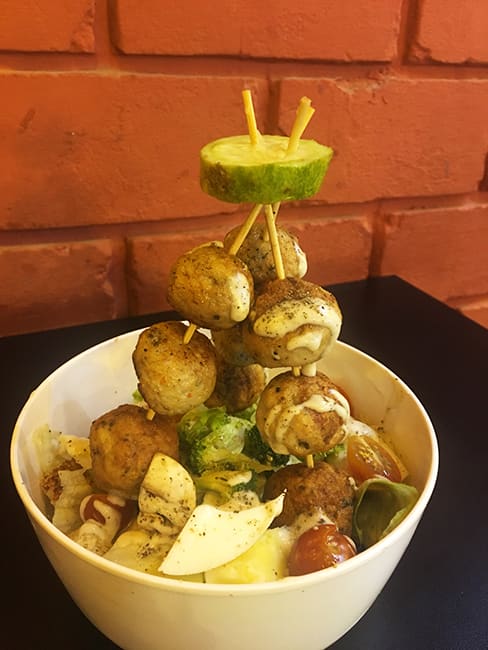 Wait right there before you start judging us for ordering a salad, 'cause this one had tasty written all over it! The picture itself says a lot and trust us, this dish will redefine your salad experience with the very first bite. We ordered the non-veg variant which came with three sticks full of sumptuous meatballs that were perfectly cooked and flavoured. Accompanied by a bowl full of veggies, boiled eggs and delicious dressing, we certainly polished off every last bit of it without any qualms. Try this one out for sure guys, salads have never tasted better!
Price | Rs 199 Onwards
3. Mother-In-Law Fries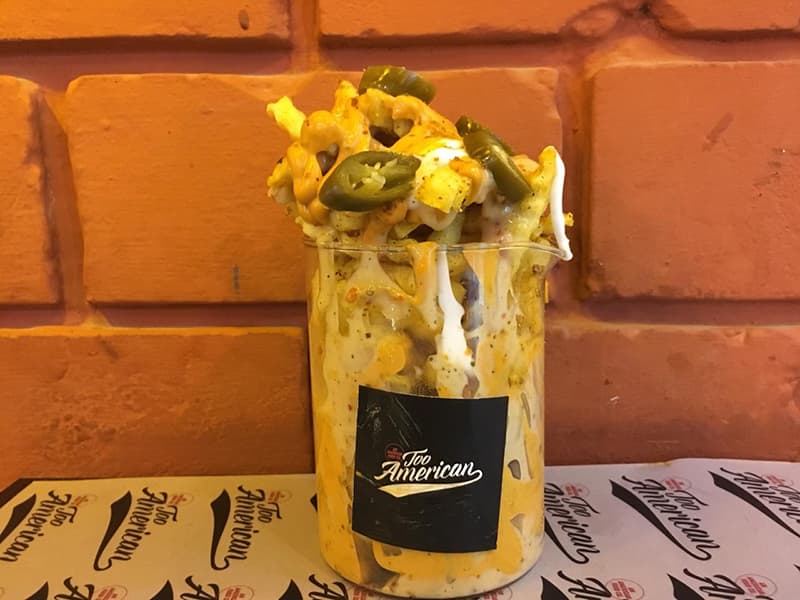 Yes, these fries were legit called Mother-In-Law and if you go through the description on their menu, you'll defo have a hearty laugh before digging into them for it says that these fries are sweet and spicy just like your mother in law's nature (LOL!). Well, we're not sure if that holds true but the fries were definitely a good pick. These guys use their in-house jalapeno sauce along with the regular mayo which makes the dish quite spicy, so make sure that you have a strong palate to appreciate it. The fries were so addictive that you won't be able to stop even if you don't fancy the spices much!
Price | Rs 139
4. Pasta Primavera
With an inverted jar spilling all its glorious contents onto a bowl, this one was a visual delight. The glass jar was placed in your regular takeaway container with creamy and luscious pasta spewing out which gave it a very enticing appeal. This white and red sauce pasta tasted insanely delicious and we couldn't be happier with our choice!
Price | Rs 199 Onwards
5. Juicy Hell Burger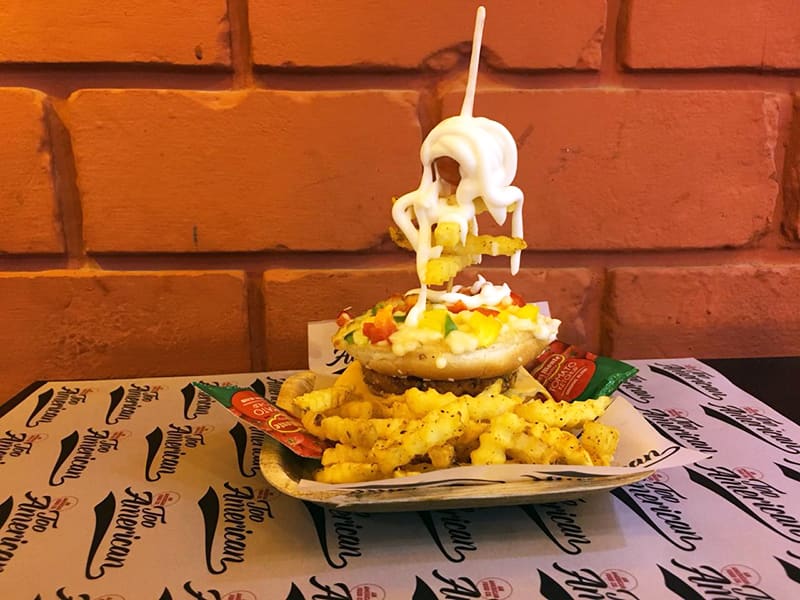 If you ask us, we would want to call this one the 'Beauty-Bun' because it looked absolutely stunning, almost the show stopper of the day! The upper bun was placed upside down topped with veggies and cheese giving you the pizza feels in a burger, while the rest was exactly like a standard burger with a crispy tikki and loads of veggies. What we loved the most was the stick full of fries and mayo that was made to pass through the burger. It not only added to the visual appeal but also brought in the creamy flavours of mayo to the dish!
Price | Rs 159 Onwards
Although a newbie in Rohini, this one sure stands apart from the rest and is certain to make a mark for itself in the area. What's exceptional about these folks is the creativity they've put into presenting their even most regular dishes in an ingenious and extraordinary fashion, something akin to a mad scientist's experiments which makes dining here a gastronomical journey to remember. We had an amazing experience eating our hearts out at this place, so when are you dropping by with your squad? 
Where | Too American - G-84/77, Agarwal City Plaza, Sector 3, Near M2K Cinema Hall, Rohini
Meal For Two | Rs 450
Timings | 11:30 AM - 12 Midnight
Call Them | +91 11 4563 5061
Check Out Their FB Page | https://www.facebook.com/tooamerican/