Delhi
5 Incredible Places You Can Score Yummy Dishes For Under Rs 160 In Sectors 62 & 63, Noida
Finding new places to eat at is an experience of joy. So, as your guardian angels, to increase your options, here we're listing some places in Noida's sectors 62 and 63 you definitely need to hit up with your gang for that impending reunion. Unbeknownst to many, these sectors offer quite a lot of varieties when it comes to food and should defo be on everyone's to-checkout list!   
1. Masala Iced Tea, Schezwan Samosa & More @ Chai Peeni Hai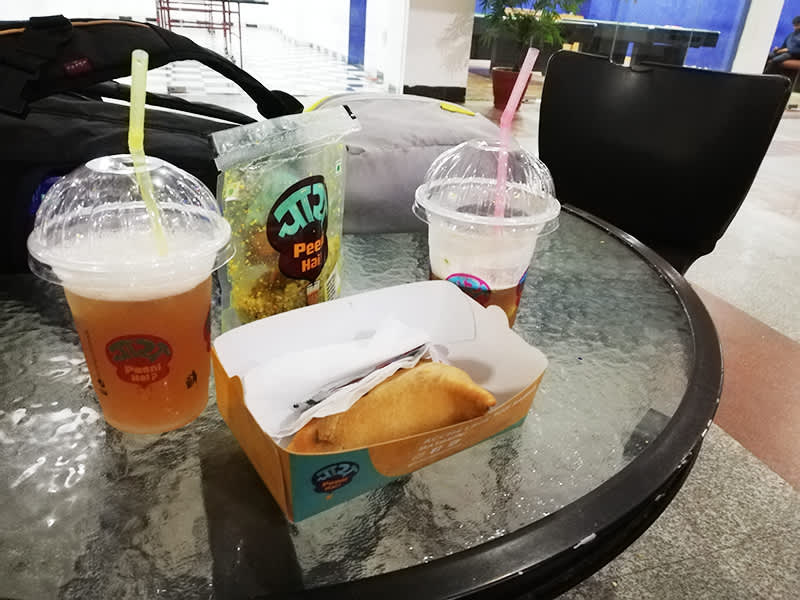 Chai Peeni Hai is a pocket-friendly and cheerful place. Their menu offers a variety of tea options in hot & cold variants starting at just Rs 15. Their set up is beautiful and gravitates you towards itself owing to its attractive prices and catchy looks. We happened to try their Masala Iced Tea, Litchi Iced Tea, Schezwan Samosa and Chaska Bhel. Everything's unbelievably reasonable on the pockets and incredible in taste. They don't just offer tea, they offer an experience!
Price | Rs 39 (Masala Iced Tea), Rs 49 (Litchi Iced Tea), Rs 40 (Schezwan Samosa) & Rs 10 (Chaska Bhel)
Where | Chai Peeni Hai - C-56/9, Stellar IT Park, Sector 62
Call Them | +91 7357 352 424
2. Paneer Tikka @ Patiala Shahi Caters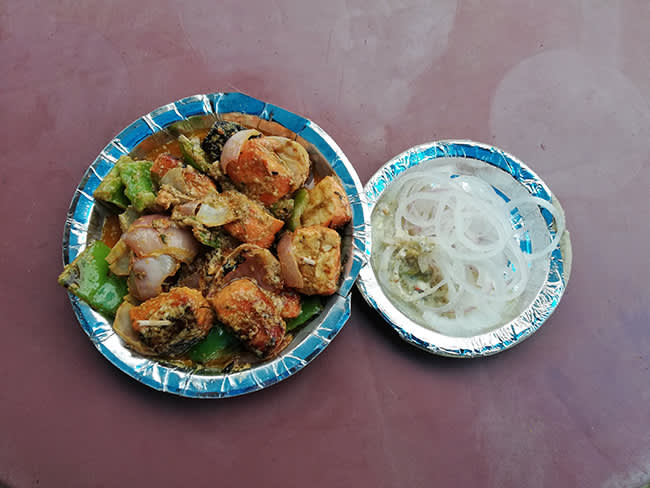 Right outside Galaxy Business Park, you'll find many stalls selling street food. Right from golgappe, aloo tikki, chole bhature, litti chokha to dal makhani and naan, you'll find practically everything here. We visited one such shop named Patiala Shahi Caters for a delicious tandoori snack. We tried a scrumptious plate of Paneer Tikka marinated with delectable sauces and cooked vegetables. Cooked to perfection, this is a great munching option for everyone!
Price | Rs 140
Where | Patiala Shahi Caters - Outside Galaxy Business Park
 3. Chicken Tikka Pizza Cone @ Cafe Cones & Curries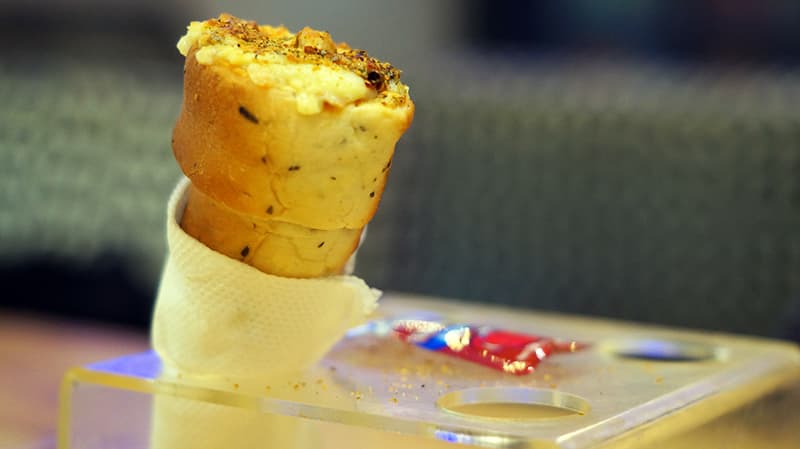 Delicately prepared dishes with elegant presentation and superb combination of flavours in a quiet setting with classical music in the background complemented by excellent service sums up this place. You've got to try their Chicken Tikka Pizza Cone because it oozes with cheese and is absolutely delectable. Little pieces of marinated spicy chicken tikka sprinkled with oregano and chilli flakes and topped with loads of cheese, all inside a crispy cone, this snack is as much a treat to the eyes as it is for the taste buds. Come, grab your cone NOW!
Price | Rs 159
Where | Cafe Cones & Curries - Shop 8, Galaxy Business Park, Galactic Court, Sector 62
Call Them | +91 9560 081 569
Timings | 9 AM - 11:30 PM
Check Out Their FB Page | https://www.facebook.com/conesandcurries/
4. Chicken Seekh Burger & Iced Tea @ CAFE 99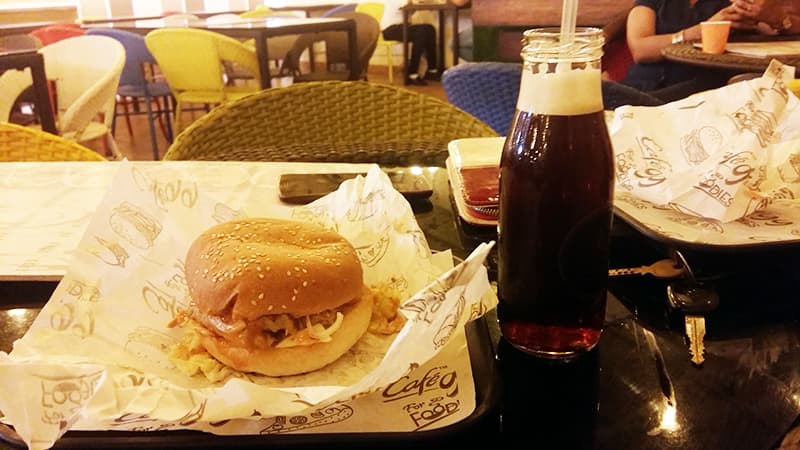 This place feels like a cosy neighbourhood cafe owing to its beautiful ambience and heavenly food. Vibrant, fresh and stylish decor with soothing music playing all day long characterises this joint. From the moment we entered, the orange lighting gave us a pleasant feeling and their toothsome Chicken Seekh Burger made our experience here even better. Pieces of chicken kebab, a layer of lettuce, tomatoes, onions and an assortment of tangy sauces, all tucked between two burger buns made for the perfect evening snack with your friends. The sweet and chilled iced tea was the perfect accompaniment to our burger. Their menu caters to your every occasion, be it a light snack in the evening or a full-blown family dinner. Pop in and show your Insta followers what they're missing out on!
Price | Rs 59 (Chicken Seekh Burger) & Rs 49 (Iced Tea)
Where | CAFE 99 - C-3, Sector 63
Call Them | +91 8586 905 301 &  +91 1204 337 782
Timings | 12 AM - 12 PM
Check Out Their FB Page | https://www.facebook.com/cafe99noida/
5. Chilli Chicken Roll @ Filmy Flavours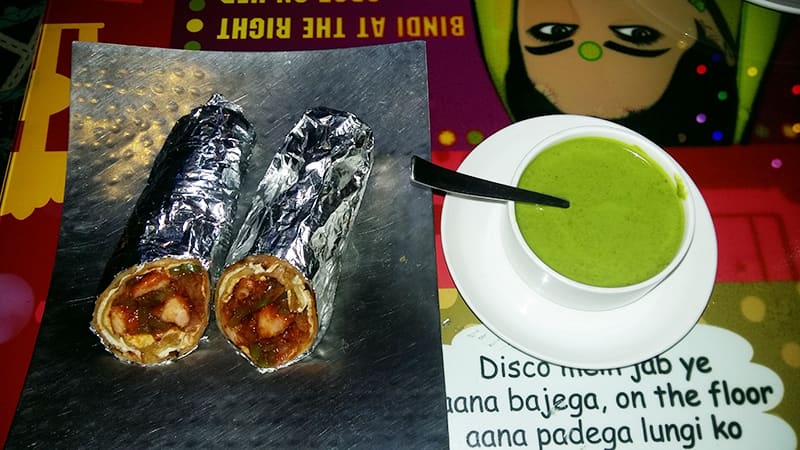 All you Bollywood freaks out there, this is where you want to be. As the name suggests, Filmy Flavours is a Bollywood-themed restaurant which is sure to mesmerize you with their glitzy and sparkly interiors. The restaurant is spacious and peppered with filmy quotes and standing cutouts of movie stars. It is sure to bring a smile to your face and you cannot deny the urge of clicking pictures and making memories here. Coming to the food, we tried their Chilli Chicken Roll and boy did it do justice to the joint's name. It was bursting with flavours and was pretty filling. This is the perfect place for a romantic, filmy-style date with bae!  
Price | Rs 140
Where | Filmy Flavours - 1st Floor, Plot 36, Block H-1 A, Commercial Market, Sector 63
Call Them | +91 9599 962 577 & +91 9599 962 477
Timings | 12 - 3:30 PM & 7 - 11 PM
Check Out Their FB Page | https://www.facebook.com/FilmyFlavours/
If you're in Noida and are looking for places to eat at with your special someone, friends, colleagues and family, head to these eateries and delve into a memorable experience!