Delhi
6 Ice Cream Parlours That Do quirky Ice Cream Flavours That Are Perfect For Summers In Delhi
Are you also bored of having the basic vanilla, chocolate and strawberry ice creams? Us too! So, with the idea of trying something new and exciting, we explored and came across these 6 ice cream parlours that serve quirky and out-of-the-box ice cream flavours! Happy reading and experimenting!
1. Naturals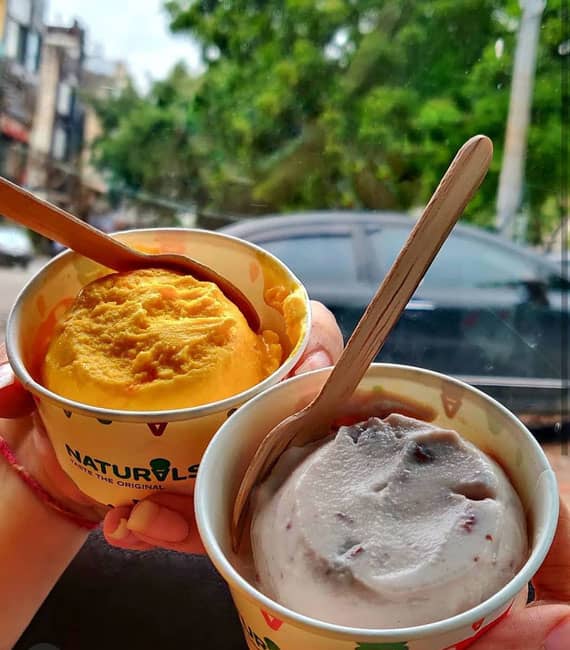 Picture Credits: welovenaturals_
Fruits. Milk. Sugar. These three ingredients are said to have propelled this brand into the Museum of Greats. Naturals is every bit legendary as it seems. From 1984, when it started operations in Mumbai to its 5th outlet in Delhi, the love for this particular brand has only increased manifold! We count ourselves die-hard loyalists of this particular ice cream chain and the flavours served at Naturals are as different and as quirky as can be! From Chikoo to Sitaphal, from Coconut to Shrikhand, from Jamun to Mango, Naturals has embodied quintessential Indian fruits into a product that we can't live without! 
Where | Naturals Ice Cream - Multiple Outlets
Timings | 11 AM - 12 Midnight
Call Them | +91 8076 856 943
Cost For Two | Rs 300 Onwards
Check Out Their Insta Feed | https://www.instagram.com/naturalicecream/
2. Haagen Dazs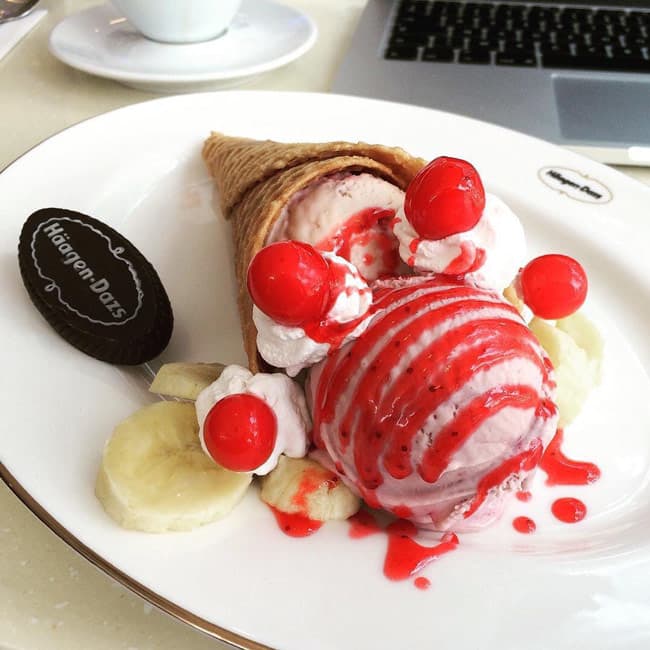 Picture Credits: thehungryveggie
For all those who love to eat luxe every now and then, this place gives you those luxury vibes you love. European Fondue, The Eiffel Tower and Brooklyn Bridge are some of their famous combinations. Also try Seventh Heaven from their menu, which serves 7 ice creams of your choice with fruit toppings. Head over to this fancy ice cream parlour, ASAP!
Where | Haagen Dazs - Ambience Mall, DLF Phase 3, Gurgaon
Timings | 10 AM - 11 PM
Call Them | +91 12 4466 5524
Cost For Two | Rs 700 Onwards
Check Out Their FB Page | https://www.facebook.com/HaagenDazsIndia/
3. Cremeborne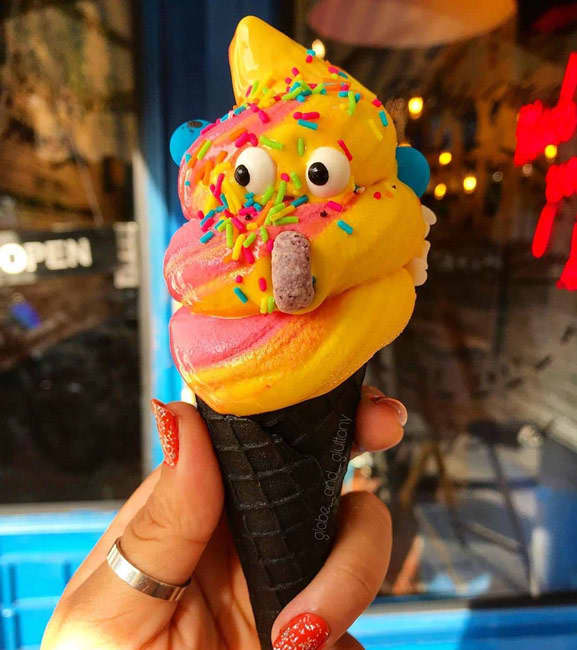 As exciting and delicious as the name sounds, this place definitely stands up to the pre-defined expectations. Their Matcha flavoured ice cream is served with matcha sticks and they've also introduced a to-die-for Black Nutella Swirl Ice Cream that comes topped with coconut powder to give a snowy effect! We're drooling already! Must. Have. Ice Cream. Now!
Where | Cremeborne - 57, Municipal Market, Connaught Circle, Connaught Place
Timings | 11 AM - 12:30 AM
Call Them | +91 9540 217 076
Cost For Two | Rs 500 Onwards
Check Out Their Insta Feed | https://www.instagram.com/cremeborne/
4. Havmor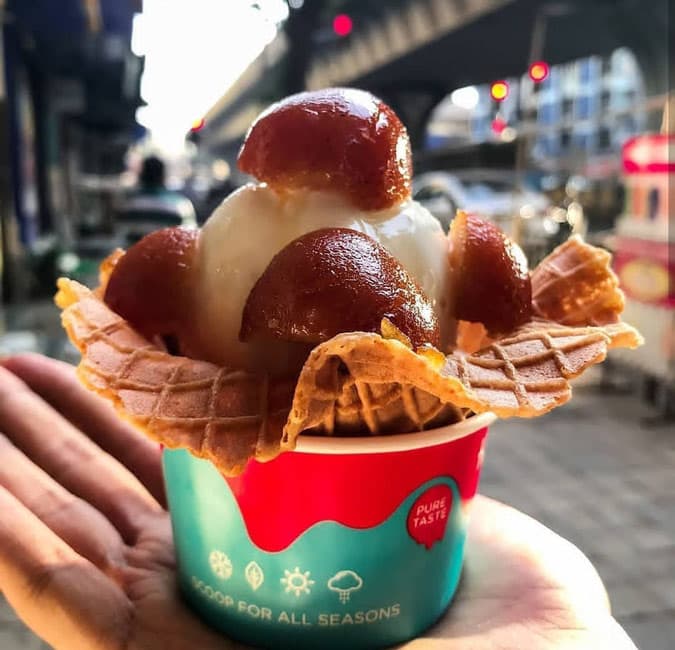 Picture Credits: havmor_ashok_vihar
Havmor is a classic ice cream parlour that makes the most delicious ice creams we've ever tasted. When you land up here with your fam you can choose from over 160 varieties of quirky flavours and combos like Swiss Cake Ice Cream, Mahabaleshwar Strawberry Ice Cream, Kaju Anjeer Ice Cream, Gulab Jamun Ice Cream, and more! They even do these mouth-watering ice creams cakes that are too sinful for words! So the next time you drop by, don't forget to try their sublime Raspberry Dark Chocolate Ice Cream Cake!
Where | Havmor Ice Cream - Multiple Locations
Timings | 11 AM - 11 PM
Call Them | +91 7930 909 000
Cost For Two | Rs 350 Onwards
Check Out Their FB Page | https://www.instagram.com/havmoricecreams/ 
5. Jaatre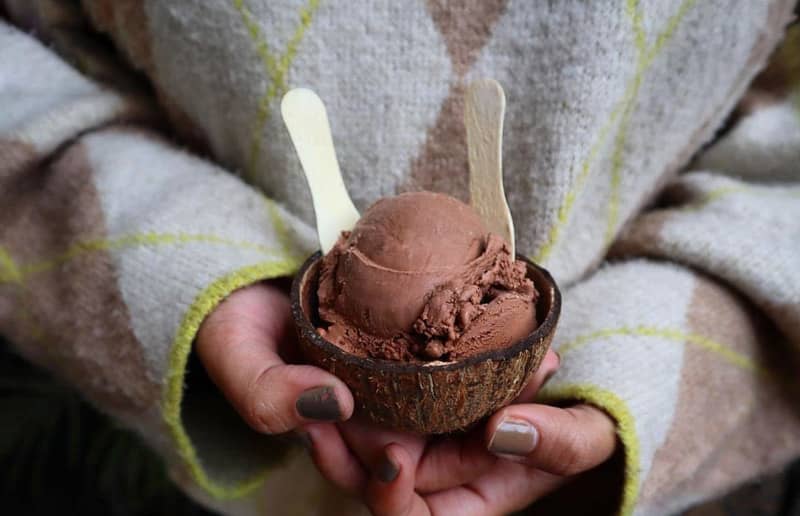 If you're looking for quirky flavours, then you're in the right place! Jaatre is another cult favourite of the locals and they've even started serving their ice creams in a terracotta tub! How cool is that? They're also uber-popular for their signature Mango Chilli Sorbet that's the right amount of spicy and sweet! So, drop by and try their other quirky flavours like Palm Jaggery Roasted Sesame, Black Pepper and Cardamom Ice Cream, Chocolate Orange Ice Cream and more! 
Where | Jaatre - GK I, New Friends Colony & Other Outlets
Timings | 12 Noon - 12 AM
Call Them | +91 8448 765 549
Meal For Two | Rs 500 Onwards
Check Out Their FB Page |  https://www.instagram.com/jaatreicecream/
6. Zimero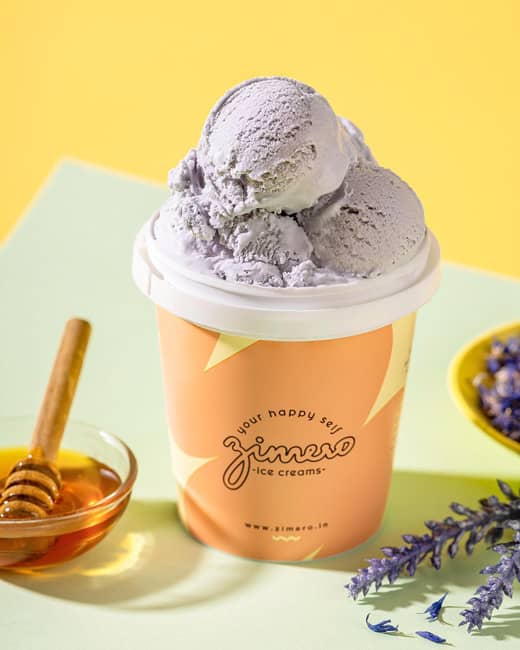 The ice cream makers at Zimero are on a mission to craft the best-tasting ice creams for you made with simple, clean and premium ingredient ingredients. Not only are the ice creams free of artificial additives, but Zimero also strives to come up with flavours that you have never even heard of before! Try their South Indian Filter Coffee, Triple Cherry Bomb, La La Lavender flavours that are loved by all and health-conscious folks can try the sugar-free range which includes Jag 'n' Crunch, Yes Vanilla, No Sugar, Jags 'n' Al and more! 
Where | Zimero - Multiple Locations
Call Them | +91 9289 726 848
Meal For Two | Rs 300 Onwards
Check Out Their Insta Feed | https://www.instagram.com/zimeroindia/
So folks, grab your spoons and dig into these scoops of creamy, luscious, sweet goodness!