Delhi
6 Ice Cream Flavours Like Vanilla Blockbuster & Tutti Fruity Popsicle We Tried @ Havmor
It's that time of the year again when the Sun is beating us down and we seek refuge in shade, wherever we find it. In this scorching heat, our only saviour is, no points for guessing, ICE-CREAM! Be it the refreshing ice popsicles or the creamy, flavourful scoops on top of crunchy cones, ice-cream is our salvation from the unbearable summer in Delhi. And since we're forever in search of some new flavours to treat our palate, we set out on a mission to find some exciting and offbeat ice-creams flavours and our search led us to Havmor. Here's what we discovered while we were there. 
1. Raj Bhog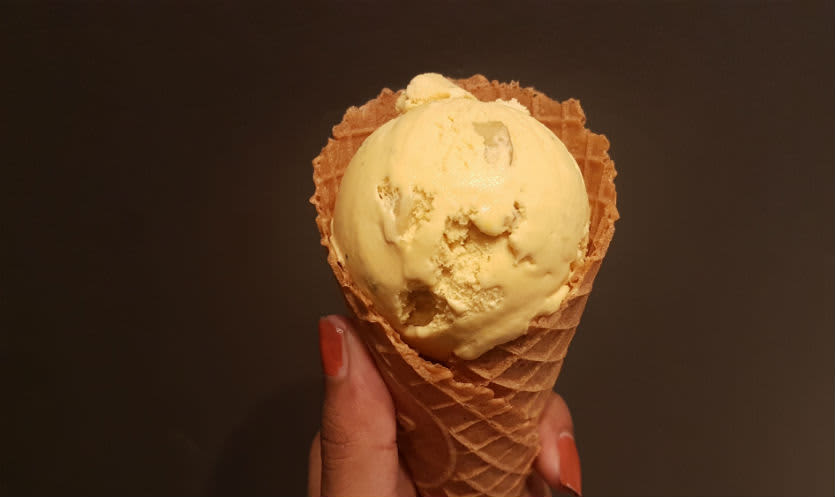 This one is perfect for people who love Indian mithais. Inspired from our forever favourite Kulfi, this ice cream has the signature taste reminiscent of the Indian delicacy - Rajbhog. As you'd dig into this scrumptious dessert, you will be welcomed by the taste of crunchy dry-fruits that complement the flavour perfectly. Waffle cone, waffle cup or normal cone, take your pick and goble away this ice cream. 
Price | Rs 95 (Per Scoop In Waffle Cup)
2. Cookie Ice Cream Sandwich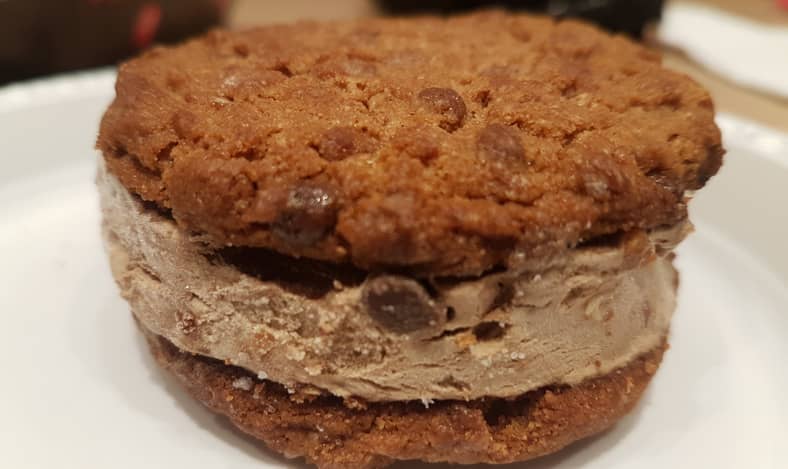 Cookie, ice cream and sandwich - 3 of our favourites rolled into one mouth watering treat! What else could we have asked for?! You HAVE to try this one or else you'll be missing out on a lot. The Cookie Ice Cream Sandwich has creamy chocolate ice cream with lots of nuts, sandwiched between two big crumbly chocolate cookies. We won't be exaggerating when we say that tasted heavenly. You can grab one of these from the Havmor carts that you see everywhere these days.
Price | Rs 50
3. Mocha Brownie Fudge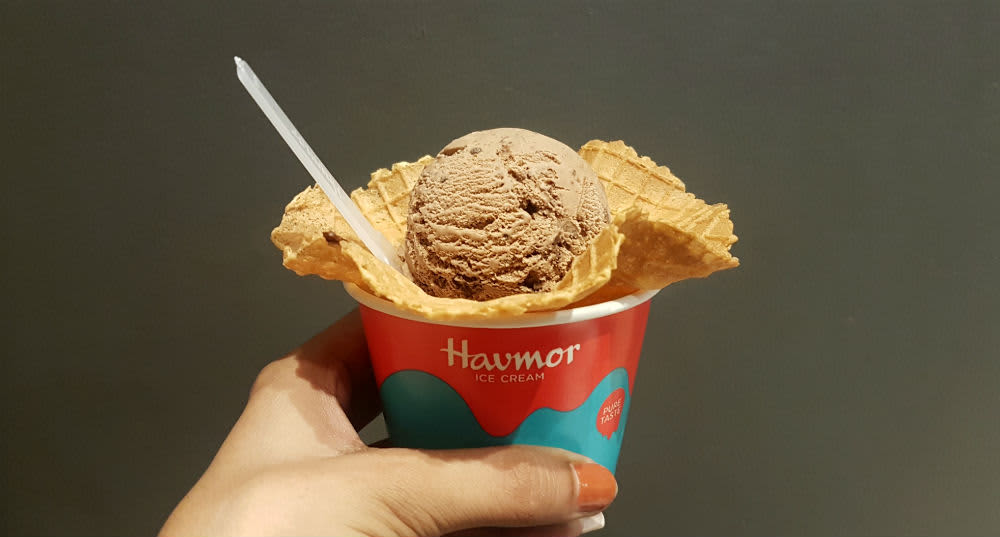 This ice cream tastes like it has been sent from heaven, no exaggeration! The Mocha Brownie Fudge is perhaps the perfect amalgamation of coffee, brownie and chocolate. This smooth coffee flavoured ice-cream with delish bits of brownie served on their signature waffle basket is exactly what you need to reach the seventh heaven. So, do try this one out the next time you're at a Havmor outlet.
Price | Rs 95 (Per Scoop In Waffle Cup)
4. Chocolate Bar Blockbuster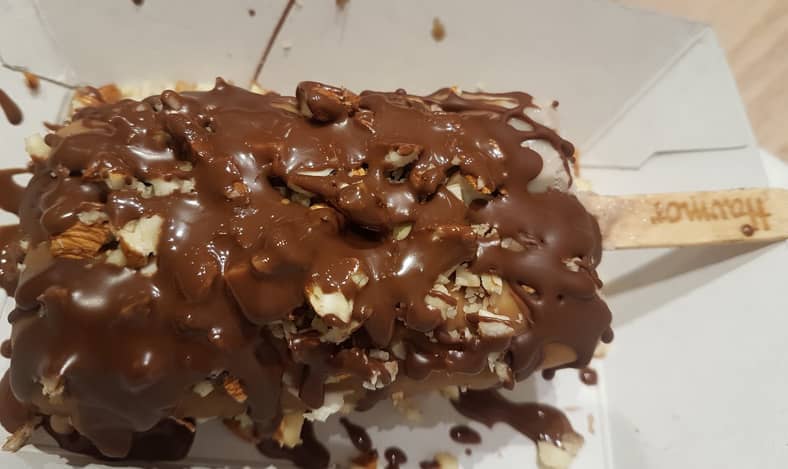 The idea of getting our ice cream made right in front us got us all excited, and so we decided to try out their Chocolate Bar Blockbuster! The Bar looked exactly like a chocolate bar, with an ice cream stick attached to it. We got our bar dipped in dark chocolate (omg!), sprinkled with chunks of crushed almonds and drizzled with milk chocolate. The very sight of it made us drool. One bite was all it took to make us crave more and more. 
Price | Rs 85
5. Vanilla Blockbuster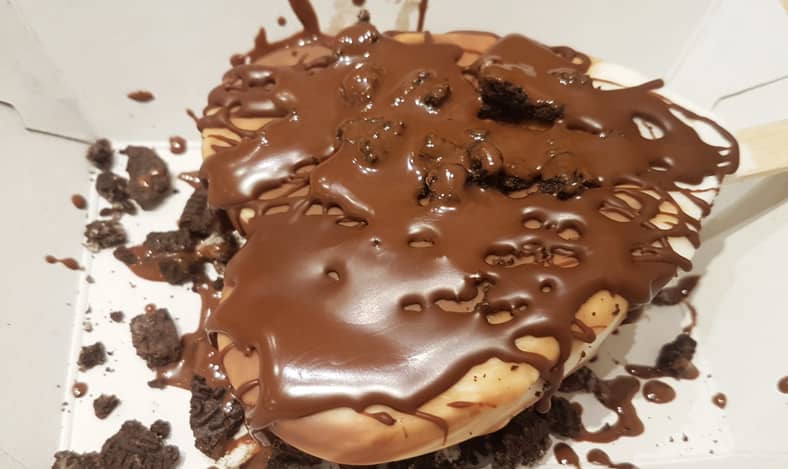 Next up was another blockbuster; the heart shaped Vanilla Blockbuster. We experimented this one with milk chocolate dip, crushed Oreos and dark chocolate drizzle. It looked super tempting and decadent, and we devoured it all in a jiffy. The concoction of the vanilla bar and chocolate drizzle was absolutely heavenly - you seriously gotta go try this! 
Price | Rs 85
6. Tutti Fruity Candy Popsicle
There are two kinds of people in this world, one who like popsicles or the other who like their ice cream in cones/cups. We belong to the third category - the lover of all kinds of ice cream! Tutti frutti is a popular ice cream flavour but Havmor offers this amazing flavour in the form of a popsicle, aren't these guys the coolest?! We loved this refreshing ice cream as it also had tiny bits of tutti frutti candy in it.
Price | Rs 15
We think Havmor is very aptly named as it leaves you wanting for more even after trying so much. If you end up visiting them, do try out their various flavours for free (yes, you can do that!) and then decide. 
Where | Havmor - Kamla Nagar, HKV, Janakpuri & Other Outlets 
Check Out Their FB Page | https://www.facebook.com/HavmorIcecreams/