Delhi
5 Fruit Sandwiches Like Pineapple, Mango & Chiku We Tried @ Jain Coffee House Starting At Rs 50!
In the middle of the busy streets of Old Delhi, lies a coffee house that celebrated its platinum jubilee this year. Jain Coffee House, with its unique menu, has been serving quality food since 1948. Their owners haven't changed much of the standards and by the way the shop appears, it can be easily be mistaken for an old shack. But once you look past the first impression, their delicious items  will make you come back for it again and again.
We decided to hunt down this place, located smack dab in the middle of one of the busiest lanes in Delhi and try their unique fruit sandwiches.
1. Mango Sandwich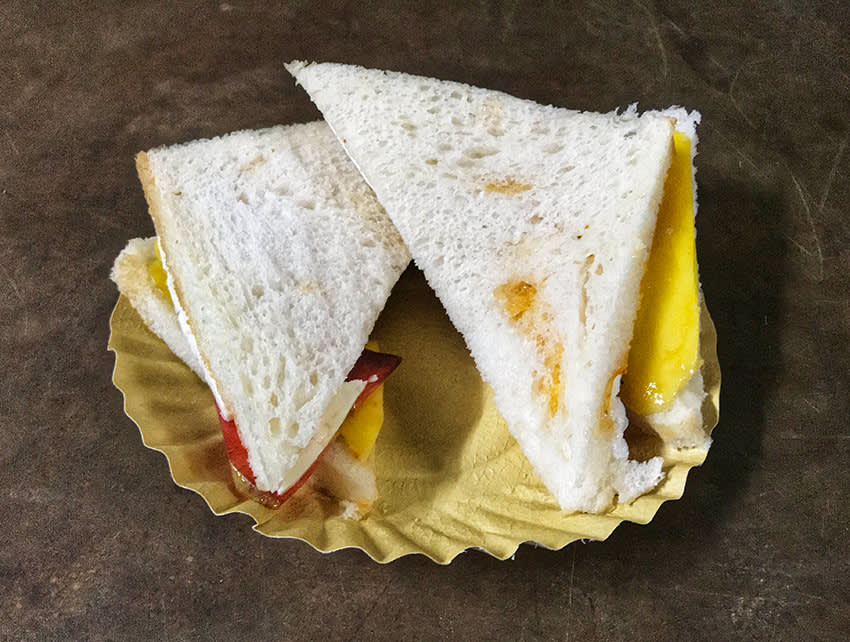 This unique snack, where mango slices are dried with a cheesecloth and then stacked with pieces of paneer and plums, over a layer of jam and butter, is a distinct sandwich. With sweetness overpowering your palate and the layer of butter providing a dash of saltiness, this sandwich is a must for all the mango lovers. 
Price | Rs 50
2. Banana Sandwich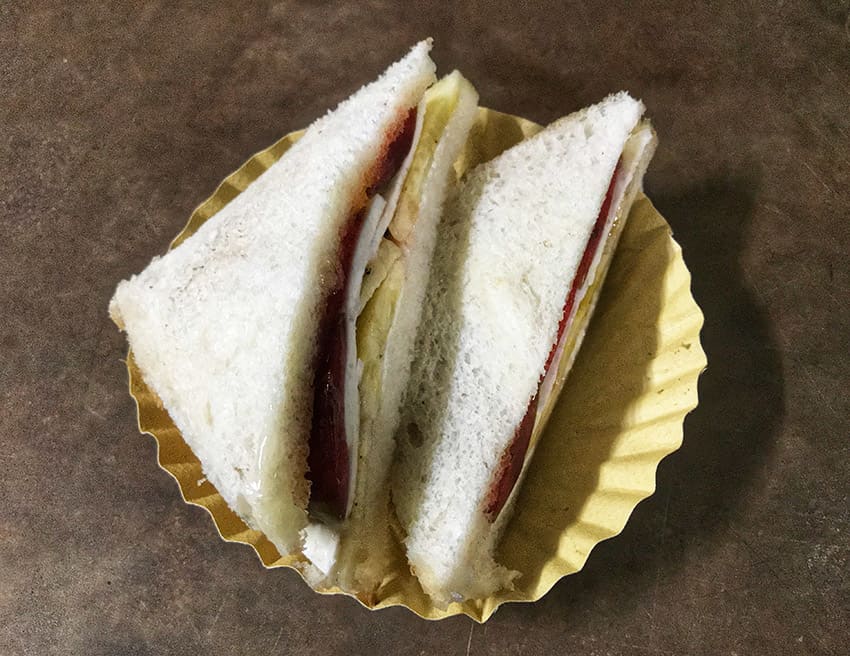 This one is yet again, another sandwich which has a unique blend of fruits, paired up with the traditional bread layering, which'll make your mouth water. The other ingredients are paneer, plums and jam-butter spread. The moment you smell this sandwich, an aroma reminiscent of a fruit chaat hits you and the taste is just as delicious, if not more. Prepare your tongue for an explosion of flavours with this one. Let's go bananas!
Price | Rs 50
3. Pineapple Sandwich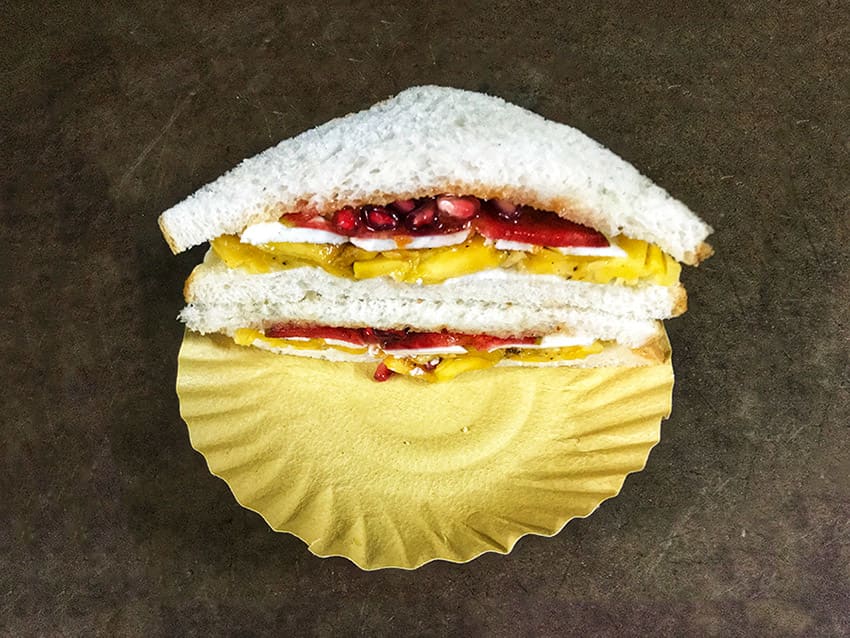 Fun Fact - Pineapples are the only known source in nature of the enzyme Bromelain which essentially digests proteins. So, in actuality, when you eat a pineapple, it's basically eating you back! But don't let such trivialities stop you all from allowing ourselves the pleasure of trying their pineapple sandwich! The sweet bites of this delicious fruit in this item, with the addition of other ingredients, is not for the faint-hearted. We guarantee you, it'll leave you hooked!
Price | Rs 100
4. Apple Sandwich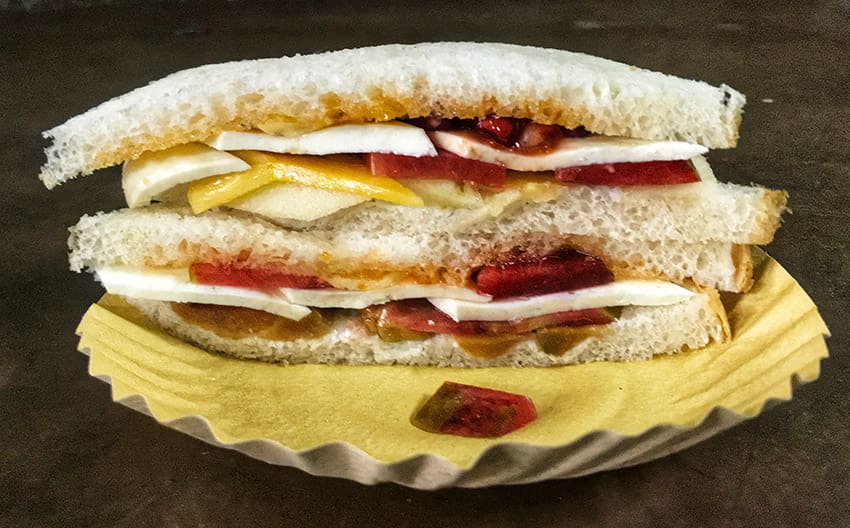 This sandwich is the apple of our eye. No seriously! The fruits, although out of season, seemed and tasted extremely fresh. The soft and juicy apple slices placed almost decoratively between chunks of paneer and apriplum was the most inviting dish of the day. An apple a day, keeps the doctor away, so, that sorta makes ordering this one up mandatory, no? 
Price | Rs 100
5. Chiku Sandwich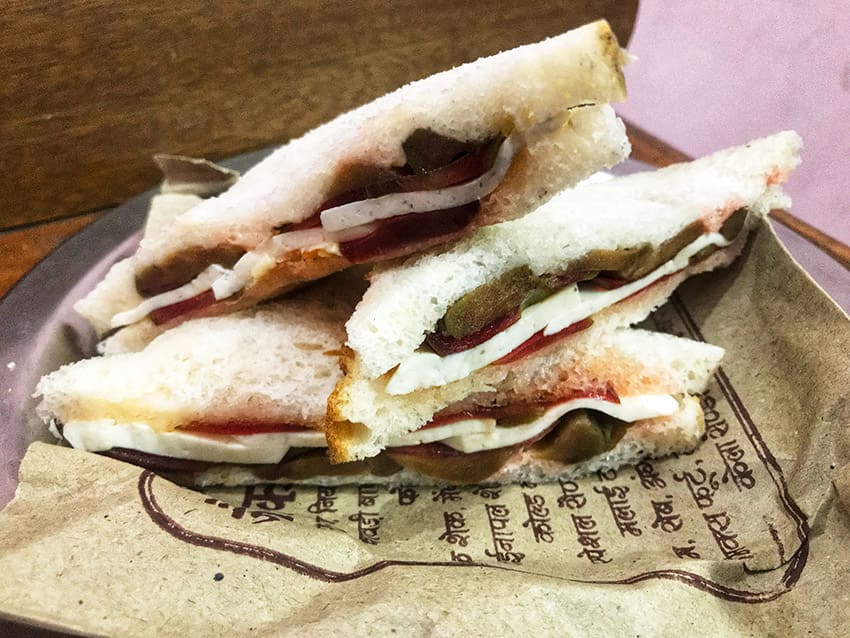 This quirky blend of chiku and bread is the ideal example of what a successful food experiment looks like. The taste of the fruits were distinctly evident in each bite. The fruits were freshly chopped and the dish was certainly the winner of the day. The sweet and grainy fruit is not just one of our favourites on its own, but also made us fall in love with the combination immediately!
Price | Rs 100
It is not very easy to find this small and worn out shop. It is actually located in a tight block block rather than out on the main road. But every ounce of struggle to find it and every penny spent on the food here, is worth it. So, come and hog as much as you can! 
Where | Jain Coffee House - Shop No. 4013, Raghu Ganj, Chawri Bazar
When | 10 AM - 8 PM
Call Them | +91 11 2391 8925