Delhi
5 Foodie Gems Like Pizza Samosa & Butter Chowmein We Discovered Outside Laxmi Nagar Metro Stn.
Laxmi Nagar Station! Doors will open on the left! Please mind the gap! If you're a daily Blue Line Metro traveller, then this HAS to be the most dreaded sentence you hear while traveling! But there's more to this metro station than the chaos and ruckus. You'd find tons of eateries flanked on either side of this station and we decided to try them out. Here's everything we gobbled up!
1. Golgappe @ Shiv Chaat Bhandar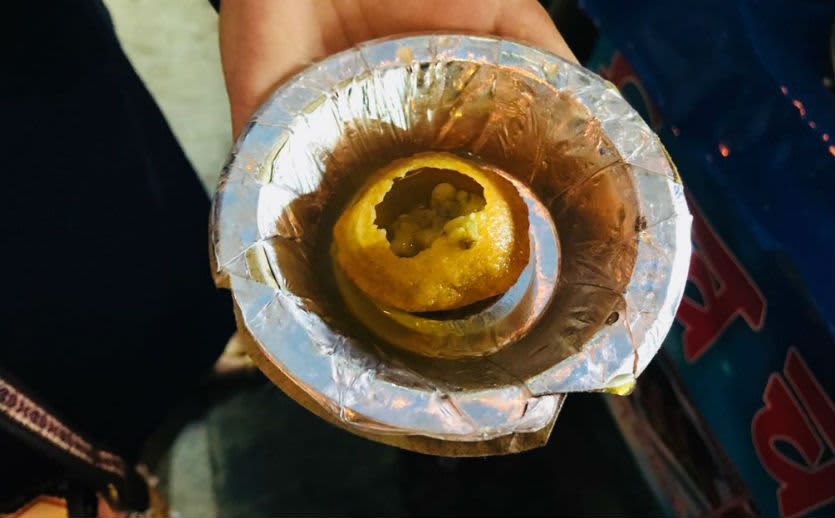 You'd spot Shiv Chaat Bhandar as soon as you exit the metro station as it's usually flocked by people! And like a true Dilliwala, we couldn't resist the temptation and tried out the delicious looking golgappas here. If you like your golgappas a li'l tangy but not overly spiced then you need to try this stall out. But since we're all about spicy food, this place definitely left us a little disappointed!
Price | Rs 10
2. Pizza Samosa @ Ramji Samose Wala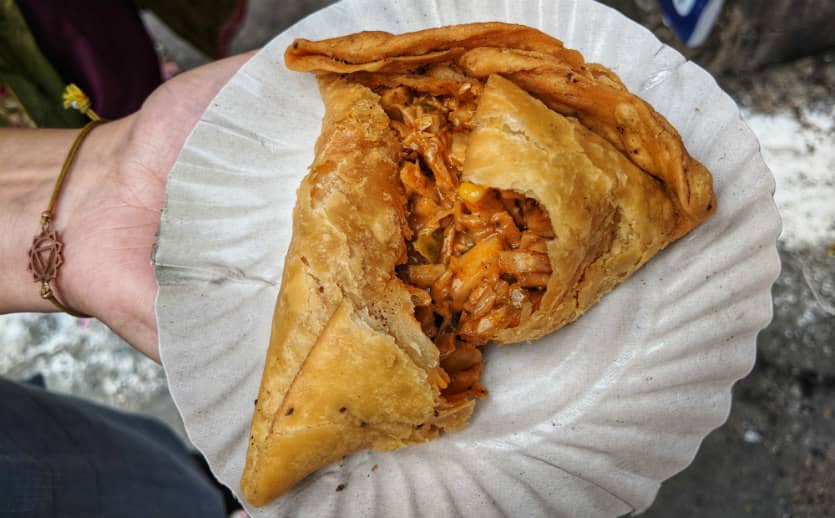 Samosas to Dilliwalas is what pizza is to Joey! So we headed to Ramji Samose Wale, a small shop that is famous for dishing up 86 kinds of samosas. They have everything from Pasta Malai Samosa to Tandoori Chaap Samosa and we were definitely spoilt for choice here. We tried out their Pizza Samosa and trust us peeps it was all things amazing! Loaded with perfectly fried veggies and cheese, the samosa was crispy and yummy, so defo order this!
Price | Rs 15
3. Chole Bhature @ Shri Ganesh Corner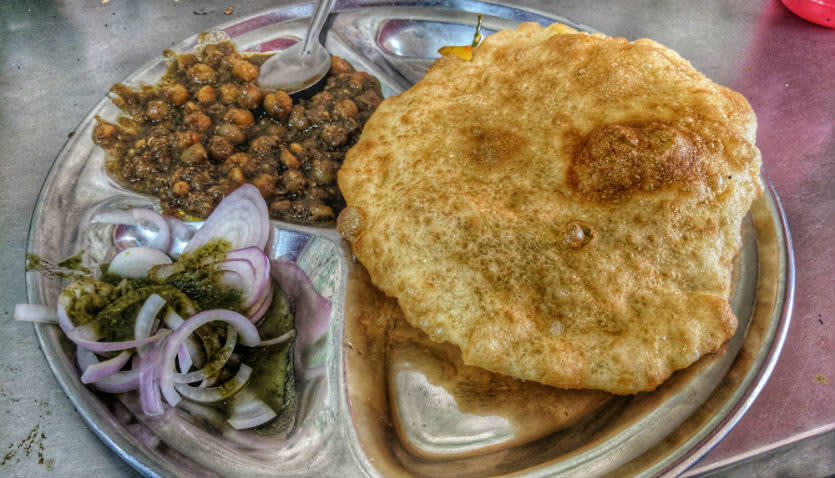 There's no way we could have given this one a miss! Shri Ganesh Corner is one of the most famous eating joints in Laxmi Nagar. The spicy chole and the piping hot paneer filled bhature served with achar and chutney laden onions here will surely get you drooling. This tiny li'l eatery is swamped with people throughout the day. So head here if you're broke and looking for a filling and yummy meal!  
Price | Rs 35 Onwards
4. Plain Dosa @ Flavor Of Southwala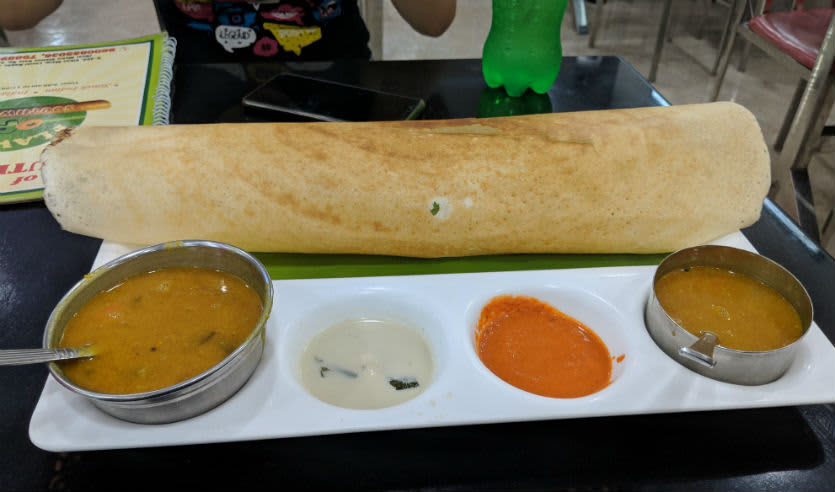 Take an exit from Laxmi Nagar Metro Station and you'd come across this amazing place called Flavor Of Southwala. This place looks like a fine dine restaurant in the chaotic lanes of Laxmi Nagar but the prices here will make you dance happily! We tried out their Plain Dosa and relished every bit of it. The dosa was crispy, the sambhar perfectly spiced and the chutneys added great flavour to the whole dish. So if you're craving some dosas or idli then this is the place for you!
Price | Rs 70 
5. Butter Chowmein @ South Indian & Chinese Fast Food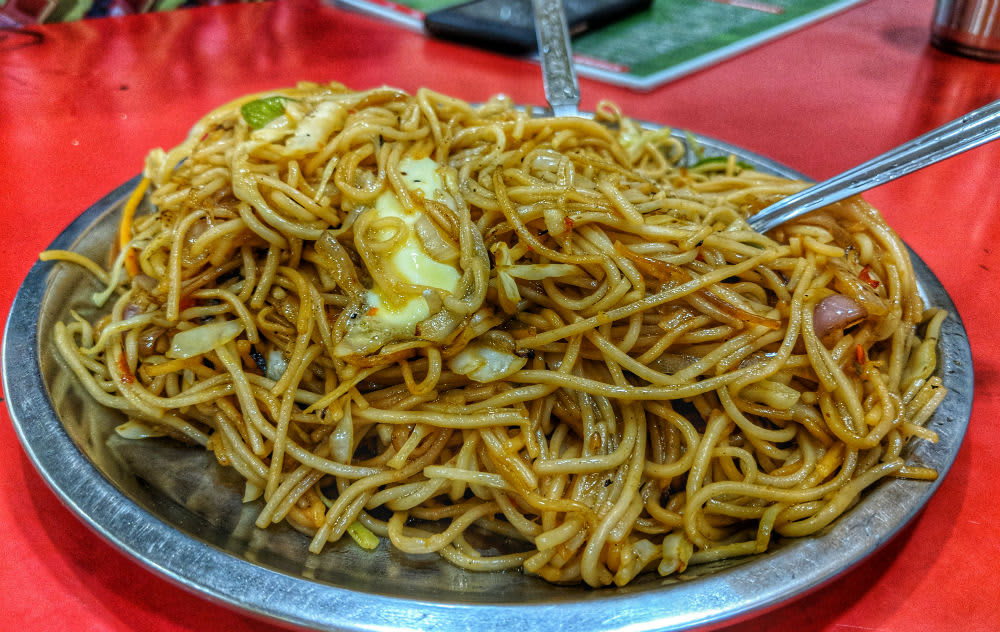 Just a few steps away from the metro station, our next stop was South Indian & Chinese Fast Food. Just as the name suggests, this place served South Indian food and Chinese delicacies. We ordered up their Butter Chowmein as it instantly caught our eye. We were served a plate full of chowmein loaded with veggies and a big chunk of butter that was melting fast amid the hot noodles! You'd have to spread the butter in the middle to get the flavour in your dish 'cause believe us, these noodles tasted great with this amazing addition. So head here after your long coaching classes and polish off a plate (or two) of this scrummy chowmein!  
Price | Rs 70 Onwards
So this was what our food hunting near Laxmi Nagar Metro Station looked like. How many of these places have you tried out?