Delhi
5 Eateries To Visit In Rishikesh To Feast On Yummies & Enjoy The Pretty View Starting @ Rs 300
If you're one of us, then you too have been bitten by the travel bug, haven't you? Travelling is one thing that we absolutely love and we pack our bags as soon as we get a chance to escape the heat and pollution of Delhi. So, our recent vacay took us to Rishikesh, the tranquil city of Uttarakhand in the Himalayan foothills beside the Ganges River. It's popular for its river-rafting, yoga retreats as well as for the Beatles Ashram but apparently, it's also full of some amazing cafes and restaurants. We went ahead and made a list of all the awesomesauce cafes and restaurants that we visited. So, the next time you plan a college trip with your squad or a peaceful retreat with your family to Rishikesh, don't forget to check out these eateries. Let's dive in, shall we?
1. A Tavola Con Te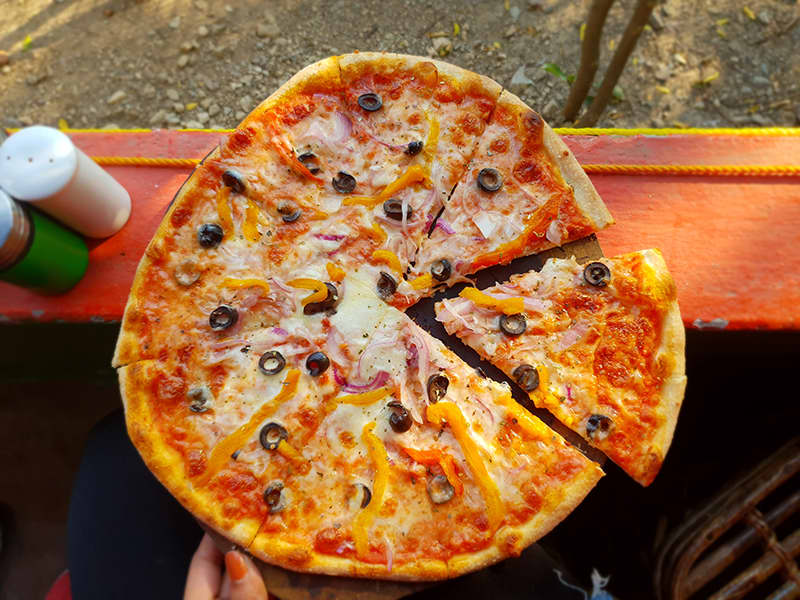 Does Italian food make you drool? Well, if your answer is a yes, then A Tavola Con Te is the place to be for you! Started in 2014 by an Italian couple named Titziana and Andrea, who moved back to Italy, this place is now managed by Mr. Ramesh Tiwari. The name is Italian for 'At the table with you' which we find rather interesting and personal. It's a unique and beautiful place with an open garden seating and a covered shed one with wooden chairs and tables. This place serves a variety of freshly made pizzas right out of their wood-fired ovens as well as scrumptious pastas and salads. You can also satisfy your sweet cravings with one of their three delish desserts or your thirst with their range of beverages. We would totally recommend their Siciliana Pizza, Cannelloni Pasta and Tiramisu. Also, they have some very lovable in-house pets in case we didn't give you enough reasons already!
Where | A Tavola Con Te - Inter College Road, Behind Kriya Yoga Ashram, Tapovan Sarai
Call Them | +91 8979 676 849
Timings | 12 Noon - 3 PM & 5:30 PM - 9:30 PM
Meal For Two | Rs 900
Check Out Their FB Page | https://www.facebook.com/atavolaconte/
2. 60's Cafe Delmar/ Beatles Cafe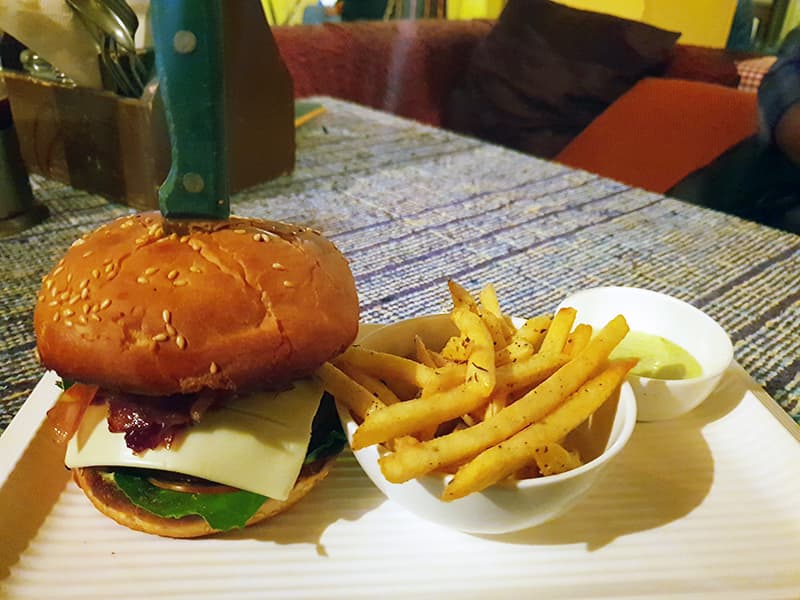 As you've probably already guessed, this one is a Beatles-themed cafe that's 10 years old and has the most stunning view of the Ganges river and Laxman Jhula. It's the ideal place for a Beatles fan because it's literally filled with their memorabilia, pictures and more. In fact, they only play Beatles' songs and even have live music evenings, isn't that like the cherry on the cake? Their menu is huge and versatile with vegan and gluten-free options as well, if you'd like. Their service can be a little slow due to the demand but the food is simply delicious. The burgers, pizzas and desserts are totally worth the wait so do pay them a visit!
Where | 60's Cafe Delmar/ Beatles Cafe - Paidal Marg, Tapovan Sarai, Near Hanuman Mandir, Badrinath Road, Laxman Jhula
Call Them | +91 8979 582 527
Timings | 11 AM - 9:30 PM
Meal For Two | Rs 600
Check Out Their FB Page | https://www.facebook.com/the60s.in/ 
3. Divine Resort Rishikesh 
On the path leading to Laxman Jhula, located on the bank of river Ganga is this bakery and resort with amazing food offerings and one of the best views in the city. The resort offers an open buffet that anyone can try while sitting next to the amazing view of the Ganges flowing and gushing. We got a chance to try their breakfast buffet and we were greeted by a variety of food options ranging from parathas to South Indian and Garlic Bread to Poori Bhaji. 
Accompanying the hotel, there's a bakery with the same view and a lot of nice pastries, croissants and an array of teas to choose from. So if you're visiting Laxman Jhula, do swing by for a filling meal! 
Where | Divine Resort Rishikesh - Laxman Jhula Road, Tapovan
Call Them | +91 1352 442 129
Timings | 7 AM - 10:30 PM
Meal For Two | Rs 500
Check Out Their FB Page | https://www.facebook.com/pages/category/Travel-Company/Divine-Resort-Rishikesh-193243767408369/ 
4. Tattv Cafe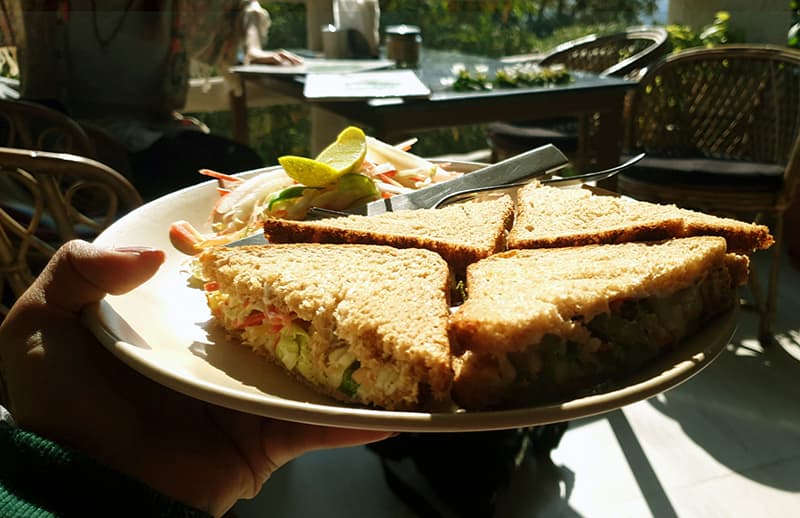 Located in the heart of Tapovan, Tattv Cafe is easy to find on the main road and offers the perfect place to grab an amazing breakfast. Nestled in between the hilly areas with an amazing view and lots of warm sunlight, Tattva offers an amazing view coupled with scrumptious meals. From homemade gnocchi to Israeli food, you will find many offbeat flavours on their menu. If you are looking for more traditional options then you can go for their set breakfast combos, eggs or pancakes. We tried their sandwiches and were not disappointed at all. If you end up visiting Tapovan then do drop by! 
Where | Tattv Cafe -  Badrinath Marg, Near Police Chowki, Laxman Jhula, Tapovan
Timings | 8 AM - 10 PM
Meal For Two | Rs 600
Check Out Their FB Page | https://www.facebook.com/tattvRishikesh/?ref=br_rs 
5. Chotiwala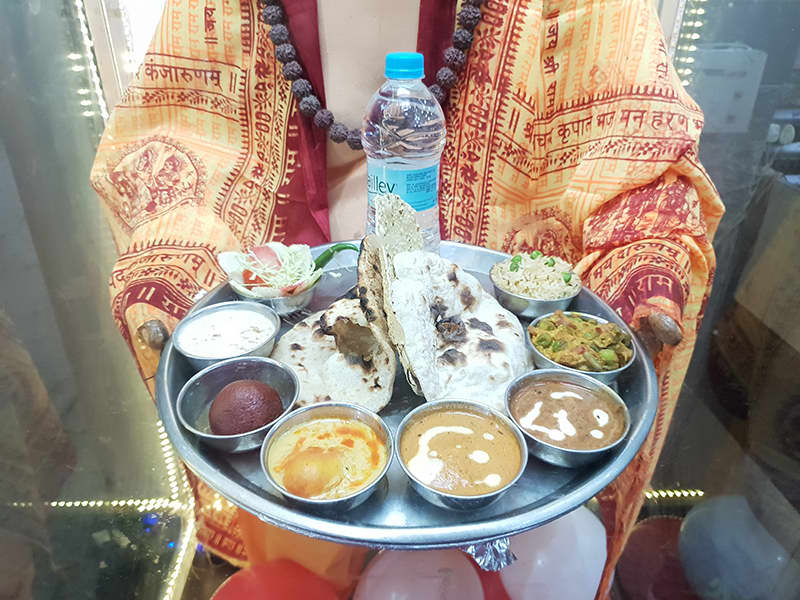 One of the most popular outlets in Rishikesh, Chotiwala has a rich legacy of providing a multi-cuisine family dining experience to travellers from far and wide. Located near the end of Ram Jhula, it's easy to spot this place by the original Chotiwala mascot, a man dressed as Chotiwala sitting outside the place to greet people. With its wide variety of food be it North Indian, South Indian, Garwhali or Chinese, this place has something for all kinds of travellers. But their speciality is the Thalis that serve a variety of all you can eat Indian delicacies and sweets. Despite the popularity, it's one of the most bang for the buck places to eat at while visiting Rishikesh so we definitely recommend a visit to this one. And don't forget to get a selfie with Chotiwala, guys!
Where | Chotiwala - Near Ram Jhula, Swarg Ashram, Rishikesh
Call Them | +91 9639 490 001
Timings | 9 AM - 10 PM
Meal For Two | Rs 300
Check Out Their FB Page | https://www.facebook.com/Chotiwala 
Why are you still waiting? Pack your bags and head right over to Rishikesh to relax while you devour some scrumptious food and beautiful views!