Delhi
5 Drool-Worthy Things You Should Stuff Your Faces With @ The Junkyard Cafe In CP
Junkyard Cafe needs no introduction! Their quirky interiors are made out of junk and scrap materials and give a colourful twist to the whole place. So, the next time you're in CP, don't forget to pay a visit to this superb cafe 'cause it's not just their interiors that'll blow you away but they also do bucket loads of mouth-watering dishes and boozy drinks to appease your inner gourmands. We've compiled a list of 5 MUST-TRY items at Junkyard Cafe so have a look and prepare to chow down like never before!
1. Edison Bulb 3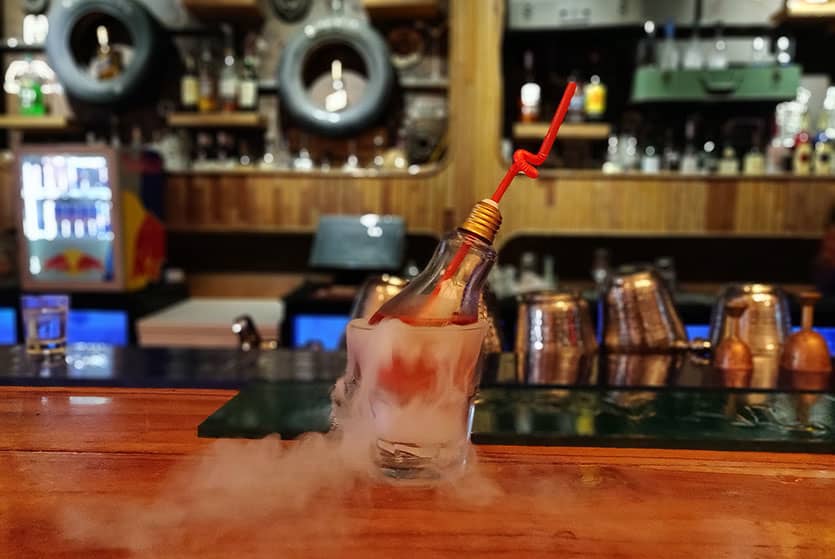 Junkyard Cafe does drinks that are served in a bulb and if this is not quirky enough for you then what else will be?! The Edison Bulb 3 is a mixture of vodka with watermelon, basil and lime juice and comes in a nitrogen glass with mist emanating from it which gives it its signature futuristic and spooky vibes. This boozy concoction will 'switch on' your mood and give you a happy high fosho!
2. Skeleton No. 2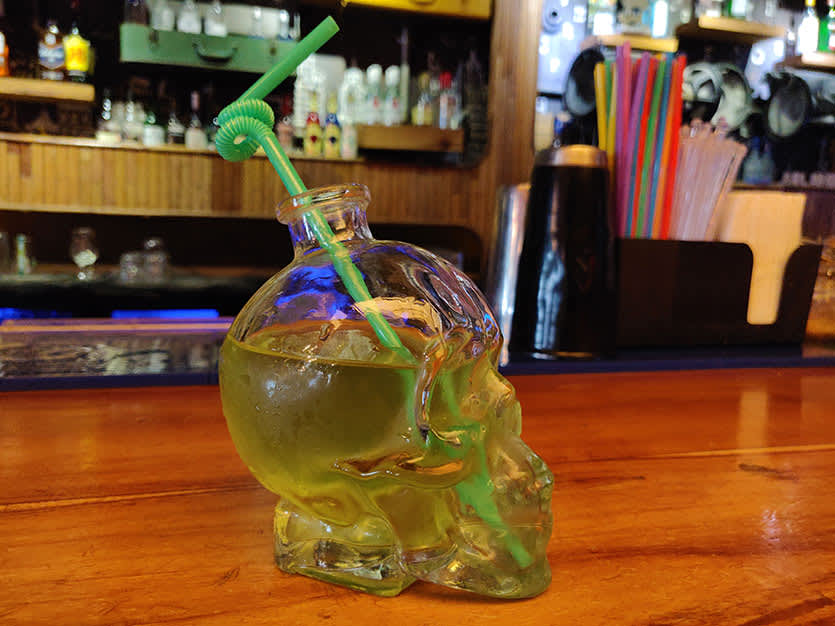 One of the cocktails in their Graveyard section of the menu that caught our attention was Skeleton No. 2 which is infused vodka, white rum, green melon, kaffir lime and then finally topped off with lemonade. But what makes this zesty drink exceptionally attractive is its presentation for it's served in a super cool skeleton-shaped glass which deserves a special place on your Insta-feed!
3. Pav Bhaji Bruschetta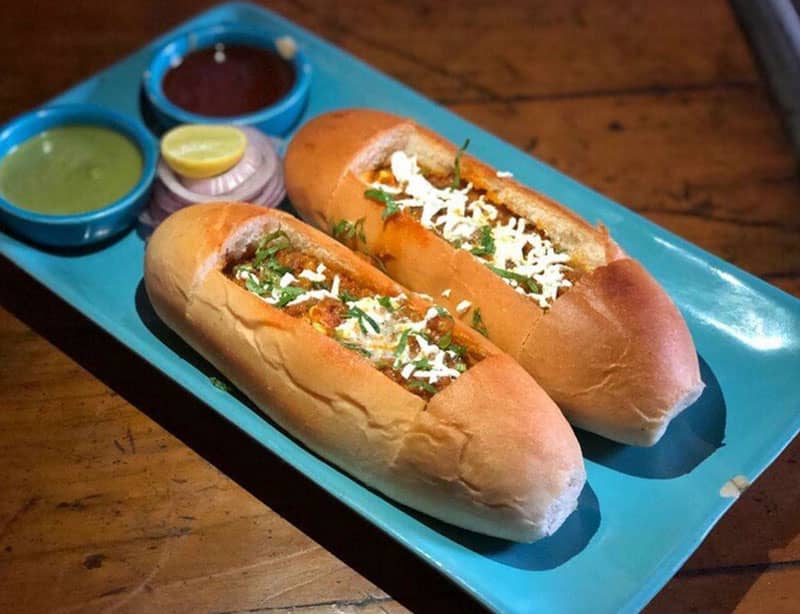 Picture Credits: lets_explore_delhi_
Forget your regular pav bhaji and make way for the funky Pav Bhaji Bruschetta! This offbeat form of the much-loved desi dish has us drooling and if you're in the mood for a burst of flavour then you NEED to try this one! These footlongs are filled with bhaji and plated up with a side of chutney and onions. Just bite into this tempting fusion of Indian and Western to bless your taste buds!
4. Chicken Ranch Burger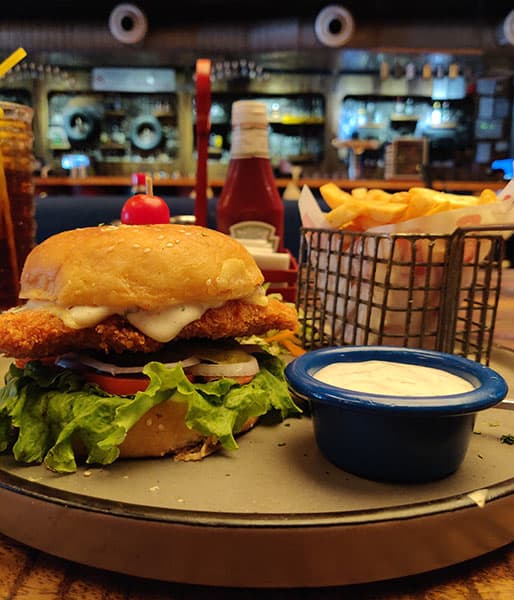 There's no better comfort food than a cheesy, super-loaded burger with crispy and soul-satisfying fries on the side. Junkyard Cafe's Chicken Ranch Burger will give you legit foodgasms and fill your tummies with cheesy goodness. The incredibly packed burger is stacked with a juicy chicken patty, tomatoes, onions, jalapenos and molten cheese. Gorge on this behemoth while chugging down tasty cocktails for a filling snack!
5. Bhatti Ka Murg Tikka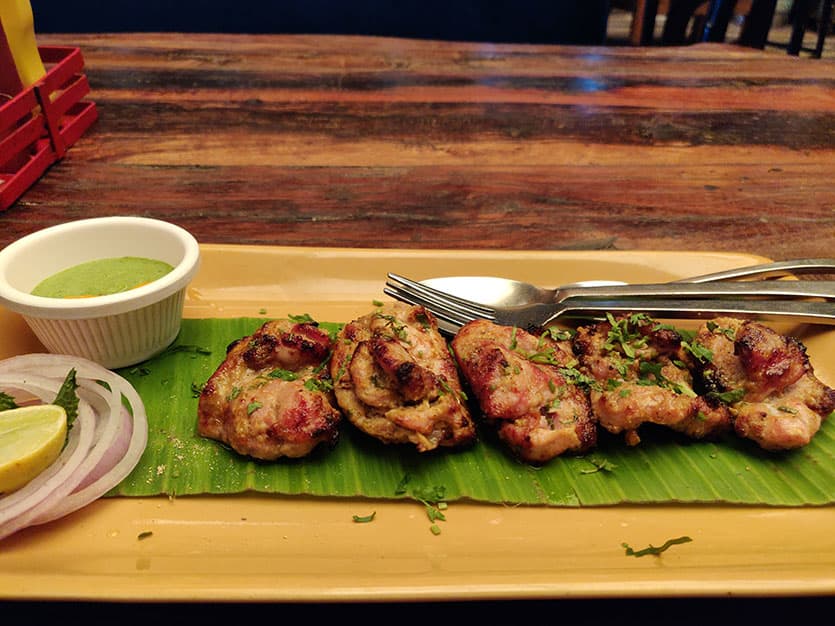 The toothsome Bhatti Ka Murg Tikka should be on your list of things to gorge on 'cause this one surely is a game changer. This tandoori delicacy will take your tastebuds on a memorable ride of flavours and leave a lasting aftertaste! Garnished with coriander and served with a mint chutney dip, this flavoursome offering at the Junkyard Cafe is to-die-for!
So, there you have it, guys. Go on and try these dishes and have a yummiliciious time with your entire squad at the Junkyard Cafe this weekend!
Where | Junkyard Cafe - 91, 2nd Floor, N Block, CP
Timings | 12 Noon - 1 AM
Call Them | +91 9599 947 642
Meal For Two | Rs 1,500
Check Out Their FB Page | https://www.facebook.com/junkyardcafecp/