Delhi
5 Dishes You Must Try At This Stall In Jantar Mantar Where Everything Is Under Rs 100
Chole Bhature and momos are great, but we have to admit that a nice crispy dosa is also loved by us all! We cannot get enough of tasty South Indian food, now can we? But finding yummy yet pocket-friendly South Indian fare can be a bit of a task in Delhi. So, we decided to hunt for it and found just the perfect place, that too in the heart of Delhi. Known by the name of 'Jantar Mantar South Indian Food' as per Google maps, this almost home in the wall joint dishes out delicious dosas, idlis and more under 100 bucks. 
Fun fact, it was started by Kesavan Kutty over 30 years ago, on Delhi's Jantar Mantar Road, CP in the year 1987. It gained popularity due to its protest prone location and thus, becoming commonplace for people to eat at. A real hidden gem! Here's what we dug into here.
1. Mysore Masala Dosa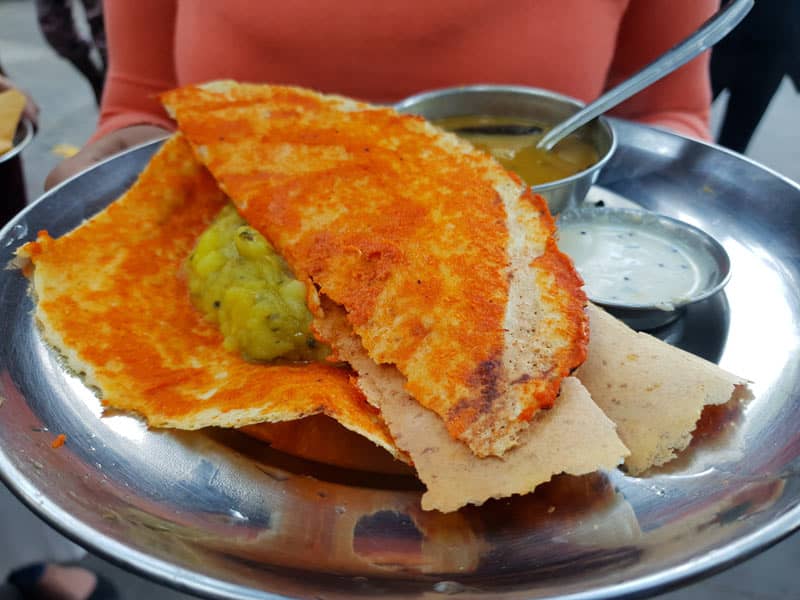 This one has to be our most favourite dish of all, we simply couldn't get enough of it! This one had a nice thick layer of garlic-red chilli chutney smeared on the inside of the dosa along with their usual potato filling. Served along with piping-hot sambhar and coconut chutney, this dosa will surely make your tongue as well as tummy happy. The best part about this one is the perfect balance of flavours in it and the crispiness of the dosa. Do give it a try!
Price | Rs 80
2. Idli-Vada Sambhar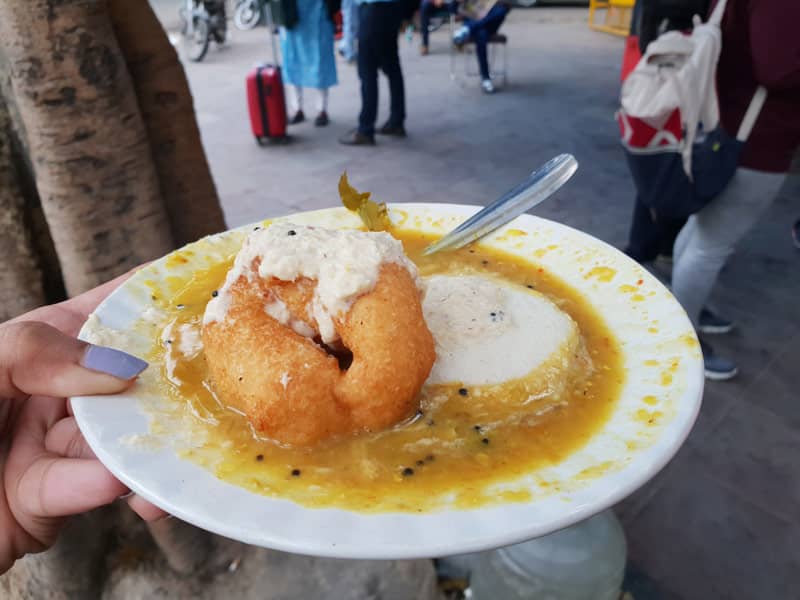 If you're near this place and need a quick yet tasty snack, this one's all you need. One of their best-selling items on the menu, their idli-sambhar combo is loved by everyone who tries it. Fresh idlis are served in a bowl, over which hot sambhar is poured and then topped with the chutney for you to dig into. Each plate has 2 idli pieces, but if you'd like, you can ask for one idli and one vada, just like we did. The sambhar has no onion in it but instead, it is flavoured with small pieces of okra and brinjal.
Price | Rs 50
3. Paneer Masala Dosa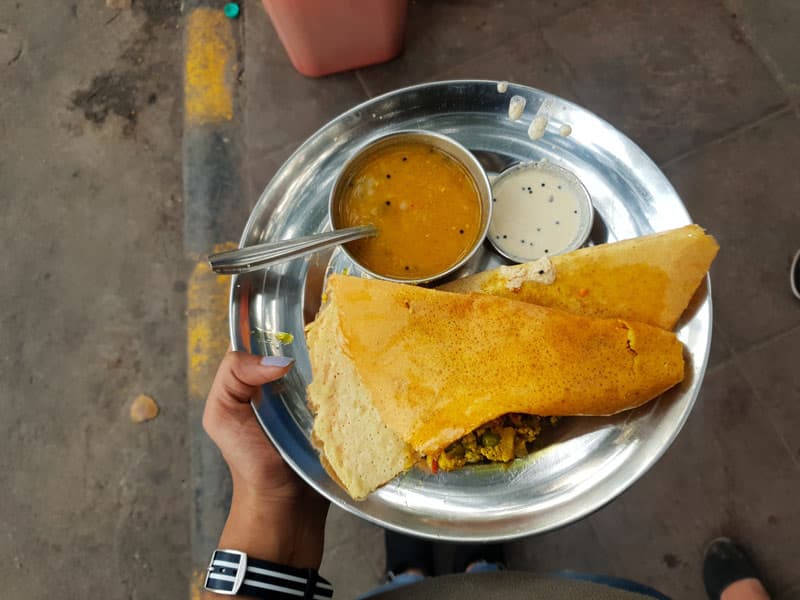 This is for all the paneer lovers, because why not! Paneer is as versatile as it gets, so there had to be a paneer dosa. This one is a rather interesting one, not our favourite, but still pretty good. It is filled with paneer, onions and capsicum and tastes a little like Indian Chinese food. Our only complaint would be the amount of oil in it, but otherwise, it surely gets a thumbs up from our side. Also, it's the most expensive dish on the menu.
Price | Rs 90
4. Onion-Tomato Uttapam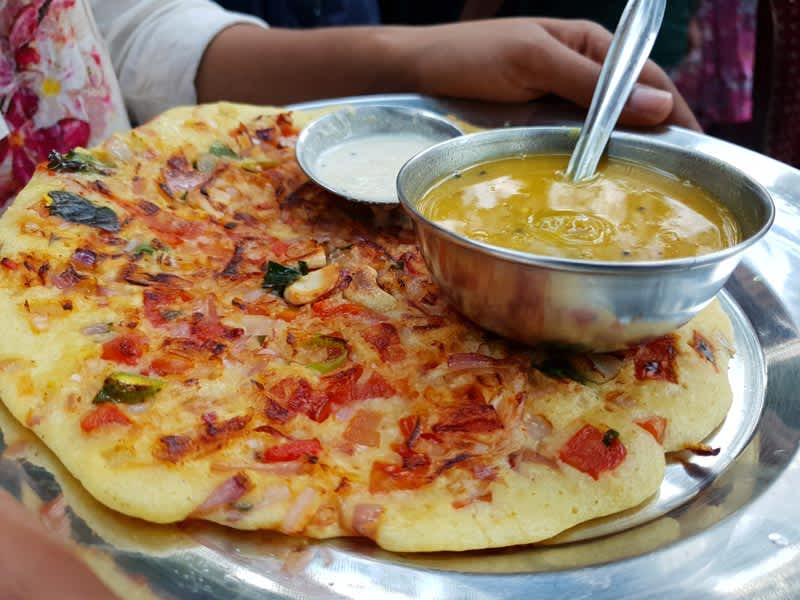 Uttapams don't get the appreciation they should, and this one is a must-have at this place. It's our very own desi South Indian pizza and it's amazing. We tried the classic onion-tomato variant, but you can even go for their Paneer Uttapam or Coconut Uttapam which are equally tasty. It is served with sambhar and coconut chutney as well and it's wonderful how it's crispy and soft at the same time. It's a steal if you want something yummy and filling at a reasonable price.
Price | Rs 80
5. Onion Masala Dosa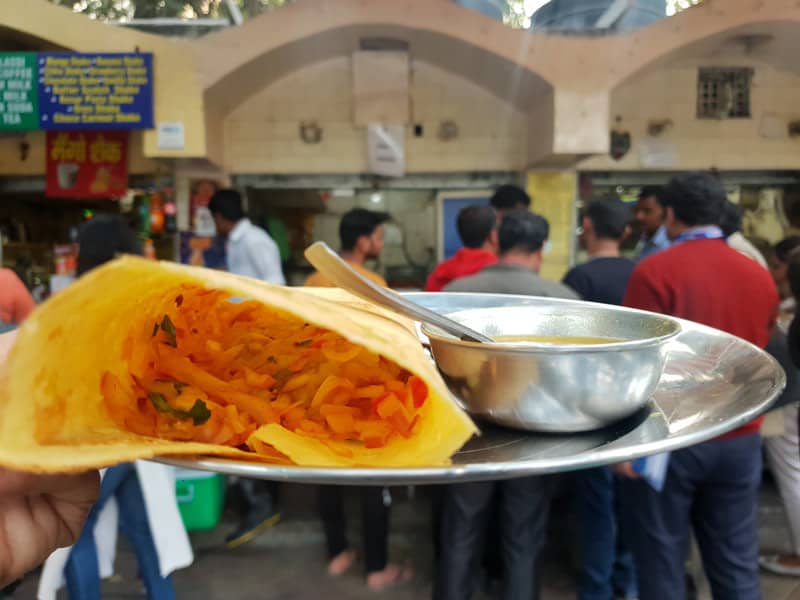 We love our dosas and simply cannot get enough of them. You defo need to give this one a shot as it's golden crispy dosa filled with hot potato-onion filling will teleport you to food heaven. Again, served with hot sambhar and cold nariyal chutney, this one is one of our favourites at this place. The amount of filling is pretty generous but you'll still be left wanting for more. 
Price | Rs 70 
If you're heading there to try some of these delish South Indian dishes yourself, be prepared to wait for a little as it's pretty crowded. Thought their service is quick, the taste and affordability of this joint makes it a hot spot for students, office-goers as well as families. You can find the place on Google maps with the same name or otherwise, the best way to reach here is by getting down at Patel Chowk Metro Station on the Yellow Line and then walking from there. Also, if you can't go to the Jantar Mantar stall, you can try Kutty's South Indian cafe in V3S Mall which is the second outlet of Kesavam Kutty.
So, what are you waiting for? Head over right away!
Where | Jantar Mantar South Indian Food - Near Jantar Mantar bus stand, Jantar Mantar Road, CP, New Delhi
Timings | 9:30 AM - 9:30 PM
Meal For Two | Rs 200