Delhi
5 Scrummy Dishes Starting At Just Rs 90 You Defo Gotta Pig Out On @ Raabta, NSP
Netaji Subhash Place aka NSP (as we all know it), is an absolute gem for food lovers like us because of the neverending food outlets that this place has! We jumped at the opportunity of trying out the mouth-watering dishes at Raabta - Soulful Delicacies and grabbed the chance by the neck. 
Like most other places in NSP, this one is a small food joint. The lack of chairs and seating arrangements at this place is surely a problem but the finger-lickin' and delish food here definitely makes up for it! We tried 5 yummilicious dishes and here's our take on them! 
1. Oreo Coffee Shake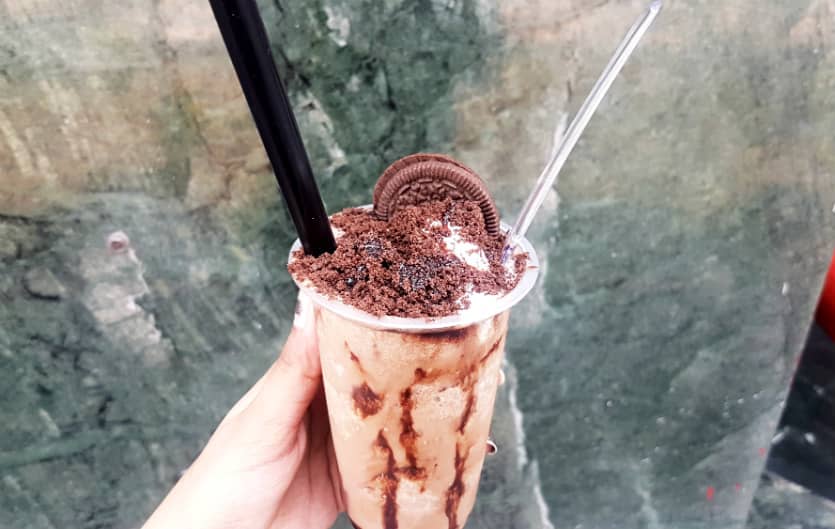 Choosing from their diverse range of shakes and beverages was a task but we settled on their Oreo Coffee Shake. We have a thing for heavenly combos and when someone says Oreo & coffee together, all we can say is - just take our money already! 
The shake justified its name and was the perfect blend of crushed Oreos and coffee. You can also choose Oreo with strawberry or chocolate flavour in this drink. This one is a must try if you want something cool and sweet for your taste buds.
Price | Rs 125 Onwards 
2. Mint Lemonade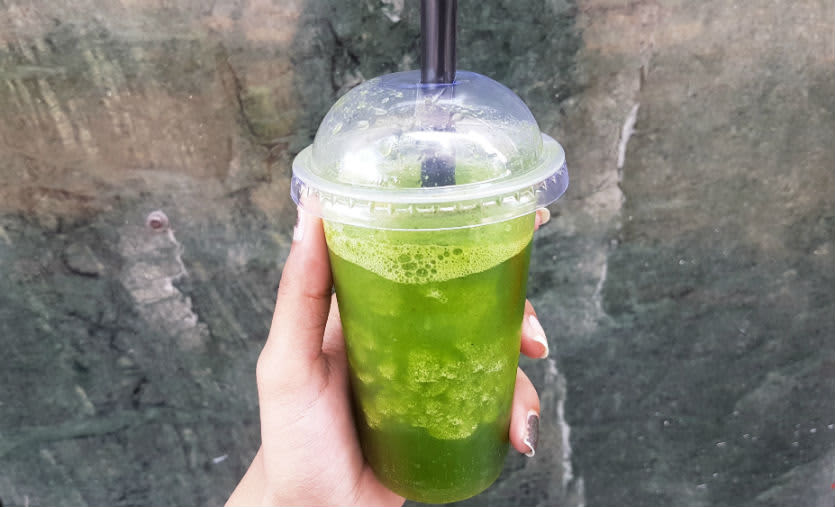 The Mint Lemonade here is the ultimate refreshing drink if you want to feel energised instantly! Highly recommended by the peeps at Raabta, this drink is different from your usual lemonades. It's refreshing and consistent in taste till the last drop and is prepared with fresh lemon & mint and no artificial syrup. This lemonade was like a minty slush and was served chilled but without ice cubes. We got this as a complimentary drink with our Death Valley Pizza and we definitely loved it. Try this and you'll gulp it all down in no time!
Price | Rs 90 Onwards 
3. Death Valley Pizza With Onion And American Corn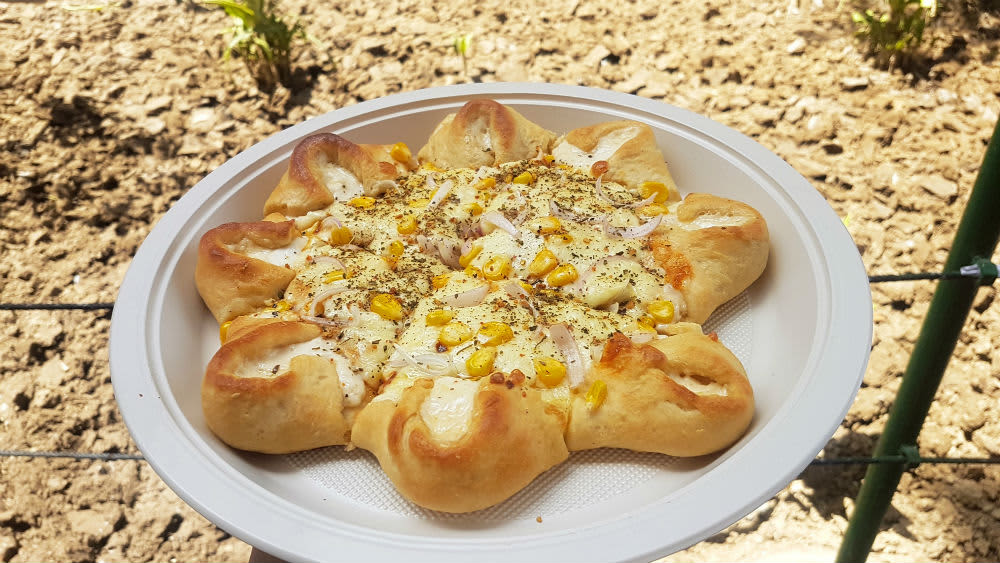 If you call yourself a foodie then you HAVE to try the Death Valley Pizza here! This pizza is the ultimate cheese-y delight that comes with its own cheese pockets at the end *YAY*! With customisable toppings, this one comes in Medium size only and is enough to satiate the hunger of two people easily. So head here with your bae and gorge on this yumminess! 
Price | Rs 350 
4. Mixed Sauce Maggi Pasta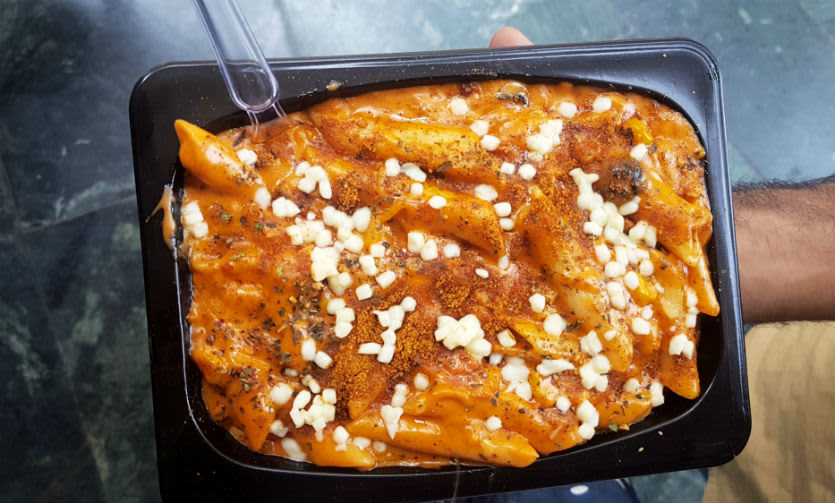 Perfect pasta doesn't exis...yes, it does. Trust us guys, this pasta was as good as it sounds! The people at Raabta came up with the genius idea of combining Maggi and pasta, and we're glad! This was our favourite dish of the lot because of the perfect combination of the flavours and the creaminess of the pasta. They used penne pasta, actual Maggi noodles, veggies like onions, corn and olives in it and we totally recommend this one!
Price | Rs 159 Onwards 
5. Chilly Cheese Curly Fries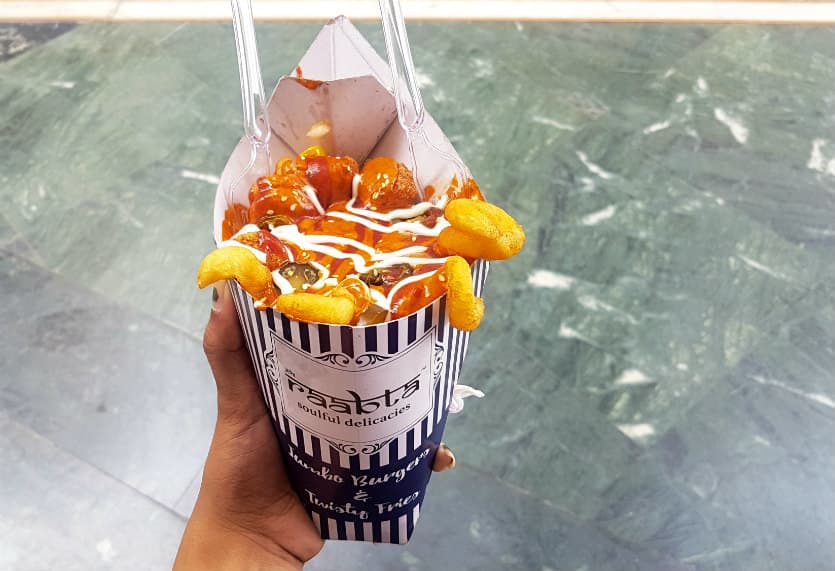 These fries were fully-loaded with loads of mayo, chilly garlic sauce and cheese *drool, drool*. These guys made up fall in love with curly fries served with an innovative twist! We liked the fact that these guys added veggies like corn and jalapenos in the fries to make it more than just fried potatoes.
All though we loved the spicy and tangy flavours, our only complaint was that the fries weren't crispy enough! Also, if you're a Nutella person then you can try out their crazy Nutella Fries - sounds quite yummy! 
Price | Rs 199
This place is an absolute gem in terms of quality, quantity and affordability. Their menu is vast and we loved almost everything that we tried here. The only issue is the lack of seating space here but their yummy food more than makes up for it. Totally a bang for the buck with scrumptious food, Raabta is our new NSP fave!
Totally a bang for the buck with scrumptious food, Raabta is our new NSP fave!
Where | Raabta - Soulful Delicacies - G-35, Aggarwal Cyber Plaza 1, NSP
Call Them | +91 11 4562 6999
TImings | 11:30 AM - 10:30 PM
Check Out Their FB Page | https://www.facebook.com/pg/raabtasoulfuldelicacies/