Delhi
5 Dishes Like Butter Chhole Kulche & Aloo Tikki For Just 25 Bucks Onwards We Tried @ Vijay Nagar
Don't we all remember waiting with bated breath for the gol gappe wale bhaiyya to cross our lane with pennies in hand, eager to stuff our mouths with spicy pouches of happiness and other little chatpati treats?
Well, hold onto those memories because Shyam Chaat Bhandar in Vijay Nagar promises the nostalgic taste of our childhood favourites packed with flavours and freshness. Although this food stall offers a very select menu of street cuisine and comfort food but the hordes of people waiting to be served vouches for its quality. Here's everything we gobbled up!
1. Dahi Bhalla Papri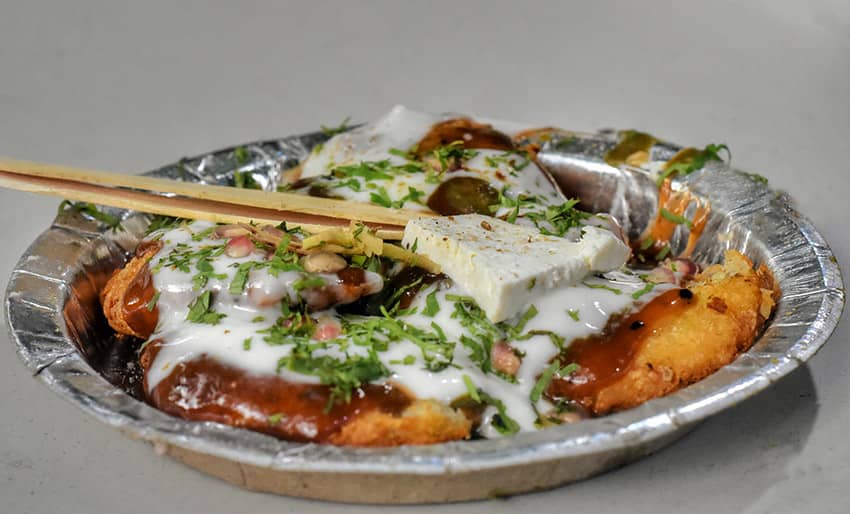 Soft and moist vadas served with crispy papdis on the side, loaded with deliciously creamy and cold curd topped with the garnishing of chopped coriander leaves, slivers of ginger, a generous sprinkling of sweet and juicy pomegranate seeds and sweet & sour tamarind sauce and green chutney is what we were presented with. The plate was a treat for the eyes and our taste buds alike and we wolfed down every last bite of it. Yes, we see you salivating already so get off your derrieres and scoot!
Price | Rs 60
2. Bharwa Gol Gappe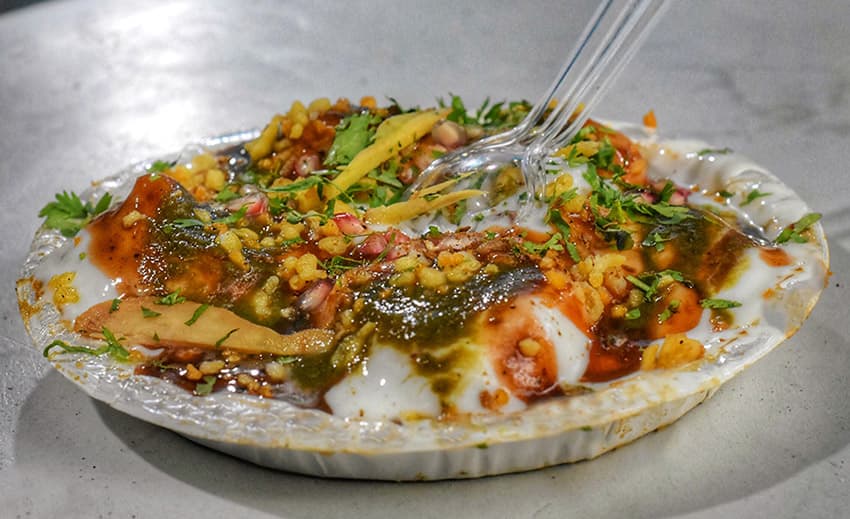 Gol gappe oozing with curd, tamarind sauce and green chutney are presented with coriander sprinkled on top. The green chutney, tamarind sauce and cold curd is poured over the gol gappas once they're placed on the plate. Fresh slivers of ginger and a handful of pomegranate seeds garnish the dish coupled with small pakoris. It's difficult to put an entire piece inside your mouth in one go but believe us when we say this - do it! 
Price | Rs 60
3. Aloo Tikki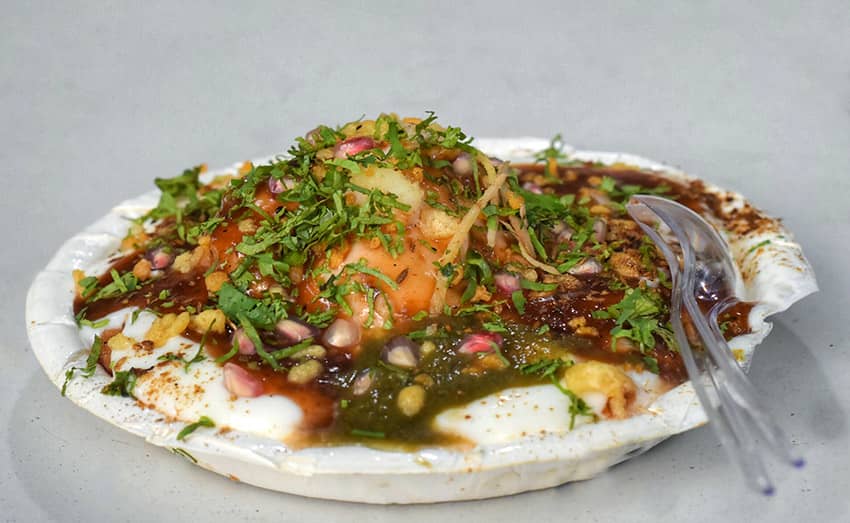 This dish was a combination of ingredients like no other. Sitting on the throne was an asymmetric slice of perfectly juicy and golden paneer, beneath which were two pieces of tikki drenched in a concoction of slurpy sauces of tamarind sauce, green chutney and a sea of curd. The garnishing done with coriander leaves, pomegranate seeds, slivers of ginger and crispy pakoris. Defo go try this yummy here!
Price | Rs 40
4. Butter Chhole Kulche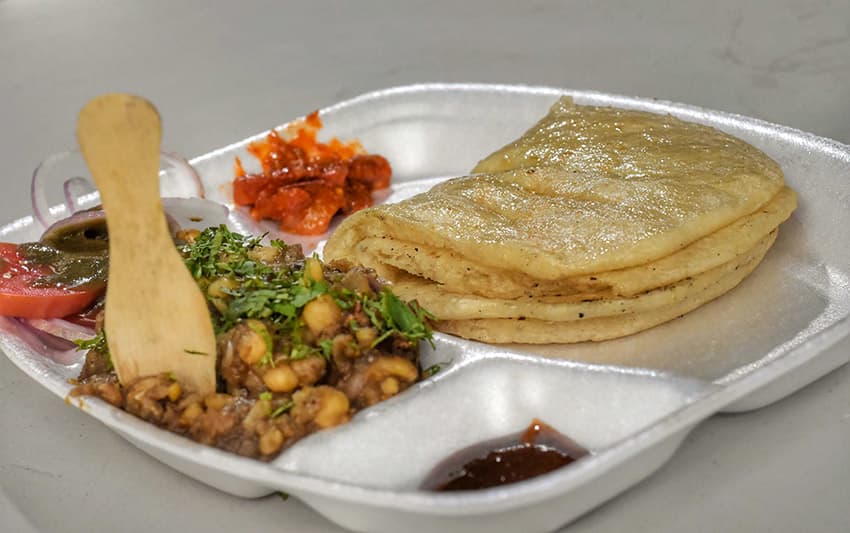 An exceptional dish, served with a warm and tender kulcha layered with melted butter and spicy chhole on the side with an overpowering taste of salt, pickle, tamarind sauce, and tomatoes and onions drizzled with green chutney, this one's bound to make you lick your fingers till the last drop. It didn't take us long before we had to ask for our second helping of chhole! The taste was delicious and it had a perfectly balanced sourness to it with bits of coarsely crushed black pepper. Let this dish brighten your day, like it did ours!
Price | Rs 30
5. Matar Kachori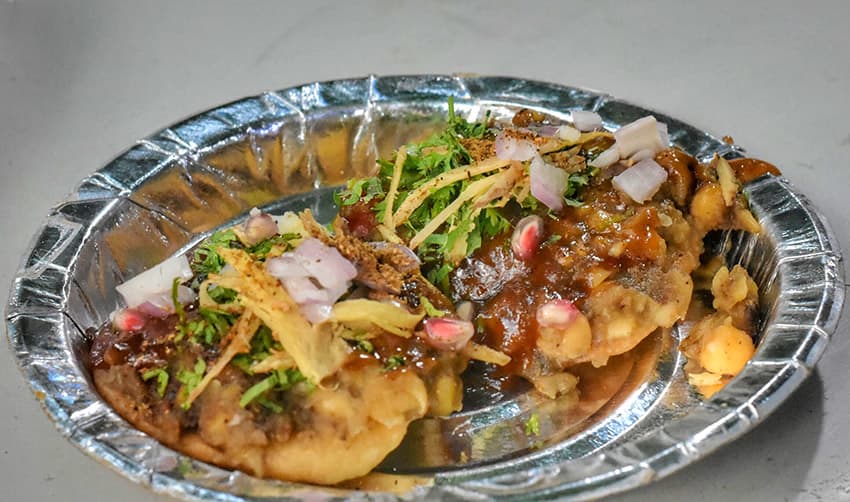 This zingy and tangy dish of matar served brimful over crispy kachoris didn't fail our expectations of deliciousness. It came topped with coriander leaves and pomegranate seeds along with chopped onions and chat masala. The apt saltiness of the matar along with the crunchy kachoris elevated the flavour of this dish to a new high. A big, fat THUMBS US from us!
Price | Rs 25
These dishes were overall really colourful and visually appetizing which only added to their oomph factor. This small stall at the edge of the road might have gone unnoticed by you a lot of times while strolling about, but now's the time to stop and try out their menu and we promise you, you'll be back for more!
Where | Shyaam Chat Bhandar - Shop 1, Main Market, Near Gurudwara, Vijay Nagar
When | 10:30 AM - 10:30 PM 
Call 'Em | +91 9990 006 057 & +91 9811 200 035