Delhi
5 Delish Street Food Dishes For As Low As Rs 10 You Must Hog On @ Indira Park, Uttam Nagar
Disclaimer: Bearing in mind the current health crisis befalling the city and the world at large, we're tweaking our content policy and recommendations. Stay positive, keep hygiene levels up and don't fall prey to panic and misinformation.
Since we're always on the lookout for hidden gems around the nooks and crannies of the city, we dawdled down the tight lanes of West Delhi, where we found some pretty cool and some even hatke dishes that you might not get elsewhere. Scouting through the busy streets of Indira Park and its extension in Uttam Nagar, we came across a lot many places and it's defo something we wanna share with y'all. Read on to know about our experience at this place!
1. Chicken Chettinadu & Appam @ Le Calicut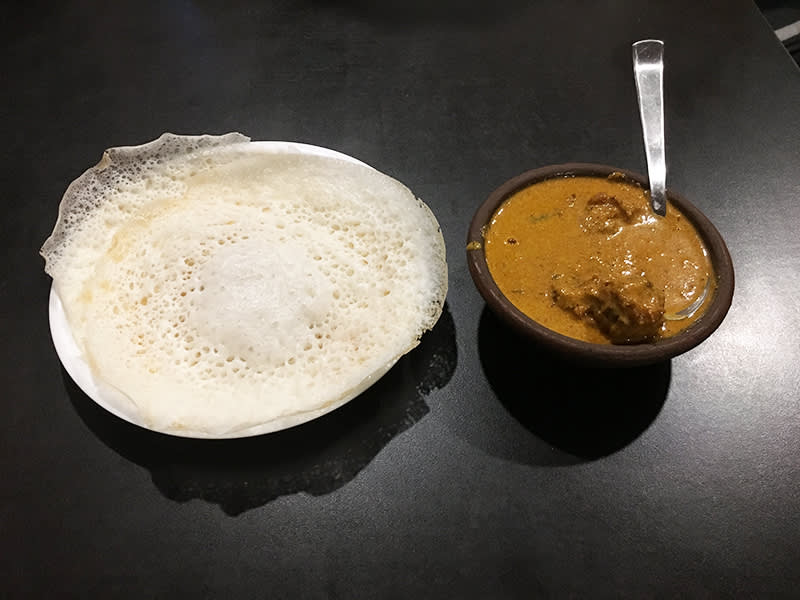 While looking for outlets with decent seating in the area, we stumbled upon this lovely South Indian restaurant where we were recommended one of their specials, Chicken Chettinadu which came served with a sort of South Indian chapati called Appam. The chicken curry was absolutely amazing, all of its varied flavours from a tinge of spicy to just the right amount of coconut-y, balanced perfectly with the soft and mild Appam. The curry was strong and appetizing, we would totes recommend you to try it out, especially if you're a fan of South Indian food!
Where | Le Calicut - RZ-7, Indira Park Road
Price | Rs 120 (Chicken Chettinadu) & Appam (Rs 15 each)
Call Them | +91 9513 130 638
Timings | 7 AM - 11 PM
2. Veg Chowmein And Paneer Manchurian @ Mehra's New Chinese Food Plaza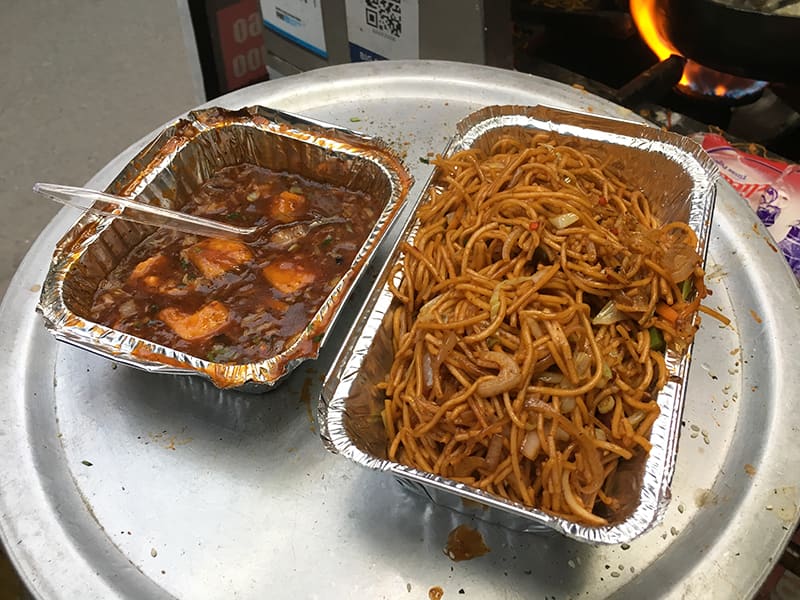 When talking about the street food of Delhi, there's no way we won't talk about the widely loved noodles and manchurian! The desi and spicy version of the Chinese delicacy is found all over the streets of delhi, and this was every bit as delicious as we expect from a  quintessential Dilli street dish. The Paneer Manchurian served alongside it was also a delight, with its spicy gravy and yummy, fried chunks of paneer, both making for a delicious and fulfilling meal together, all in just 150 bucks!
Where | Mehra's New Chinese Food Plaza - RZ-68, Shop 2, Indira Park
Price | Rs 50 (Veg Chowmein) & Rs 100 (Paneer Manchurian)
3. Macaroni Samosa @ Nirmal Sweet Corner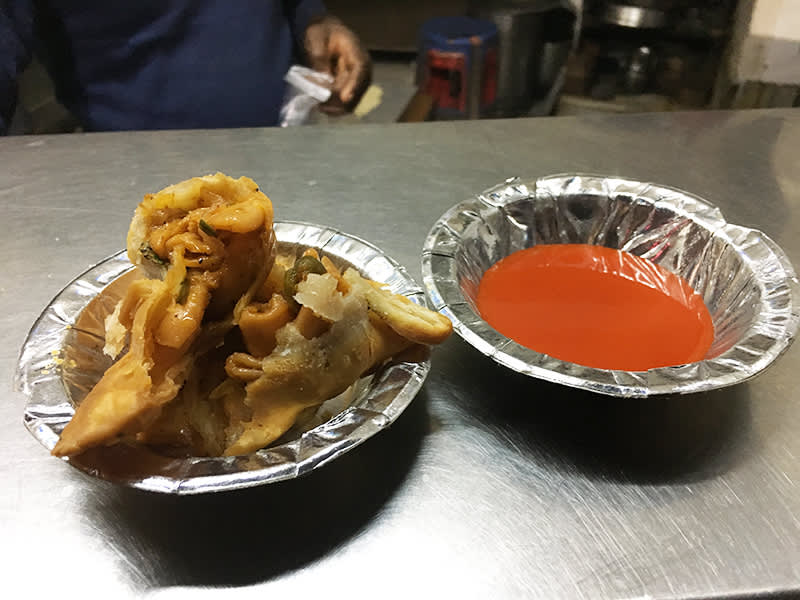 This sweet shop corner has everything from samosas, kachoris to jalebis and so much more, all of which are amazingly flavourful but their one-of-a-kind offering Macaroni Samosa caught our eye, so we decided to try this one out. The seemingly weird experiment actually worked out pretty well and this combination of Continental and Indian tastes blended together quite awesomely. We're still wondering why there aren't more places offering these unique combos!
Where | Nirmal Sweet Corner - Indra Park Extension, Near Hanuman Market, Ram Dutt Enclave
Price | Rs 10
4. Veg Grilled Cheese Sandwich @ Cafe De Beinka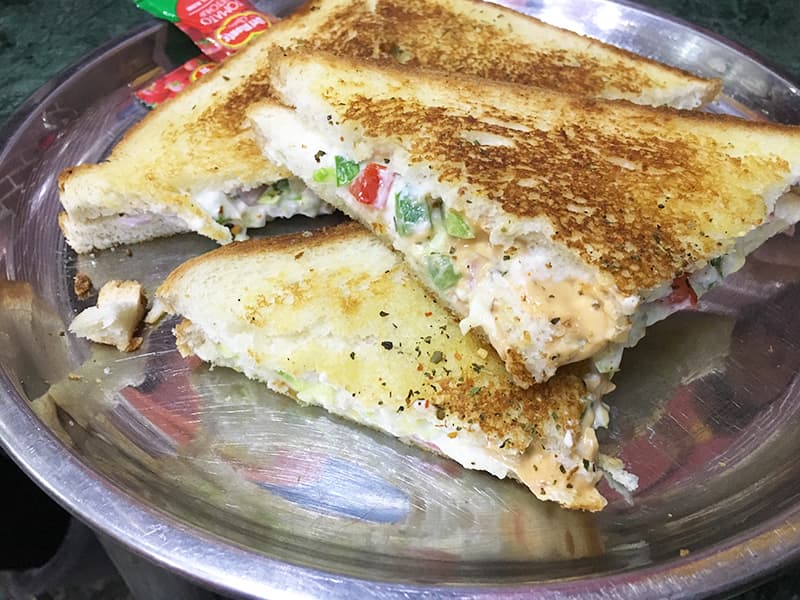 After trying the new and peculiar experiment, we came back to one of our fave mainstream choices from the streets - Veg Grilled Cheese Sandwich. This snack was quite big and fulfilling which would pretty much make up for a meal in just 120 bucks. This yummy treat was loaded with cheese and packed with an assortment of spices & veggies, making for a wholesome and scrummy delicacy!
Where | Cafe De Beinka - RZ-35/36, Indra Park Extension, Near Hanuman Market, Ram Dutt Enclave
Price | Rs 120
Call Them | +91 8447 784 778 & +91 8447 787 877
Timings | 11 AM - 11 PM
5. Chocolate Shake @ Mini Spl Juice And Shake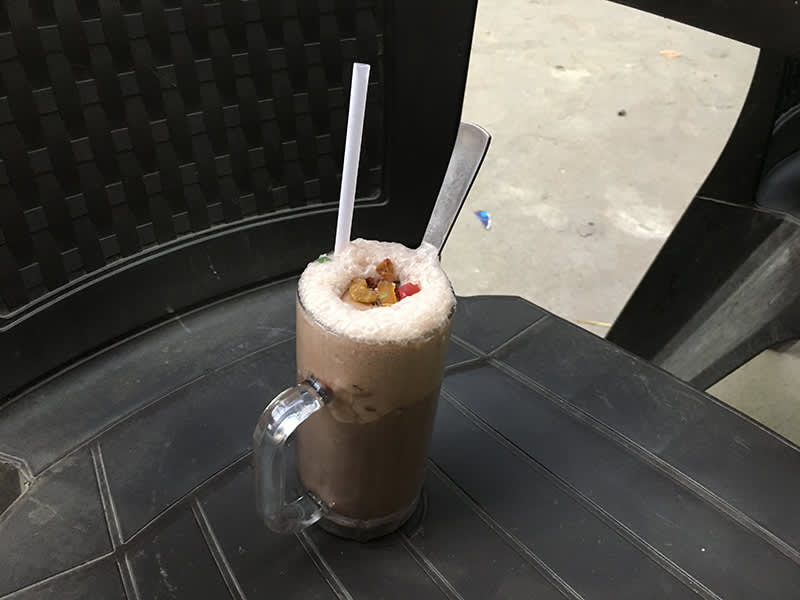 This was a thick, creamy chocolate milkshake, sprinkled with chunks of candy on top and served with delicious chocolate ice cream to complete the dish. This cold and sweet milkshake was perhaps the best way to end our food journey at this place. The pieces of colourful candy made this decadent beverage a unique treat and as for the overall taste, as we believe one can never go wrong with chocolate!
Where | Mini Spl Juice And Shake - Near Mehra's New Chinese Food Plaza
Price | Rs 45
We've found you the best in the area and even though they might be tucked away in an urban village instead of a swanky clean cafe lane, there's a lot you'll take away from this unique foodie experience!