Delhi
5 Deliciously Creamy Ice Creams Under Rs 80 Like Red Chilli Sorbet & Ratnagiri Mango @ Jaatre
Jaatre, which is at walking distance from the newly-opened Sukhdev Vihar Metro Station, is a cool ice-cream parlour offering a variety of unique flavours and mixings! And the best part is that all these flavours are served in hollowed-out coconut shells *AWWW*. Lured straight in, here's what we tried (and loved) at Jaatre!
1. Black Pepper & Cardamom

Now there's a combo you don't spot every day! Their Black Pepper & Cardamom flavour comprised bold hints of both pepper and cardamom and surprisingly, these two flavours blended in very naturally, giving us a thoroughly hatke flavour to sample.
Price | Rs 70
2. Jamun Jeera

A bit sour and a bit sweet - that's how we can best describe the Jamun Jeera dished up here at Jaatre! A medley of yummy jamun and zesty jeera, this one's a definite twist on the regular jamun ice creams you'll spot in Delhi.
Price | Rs 65
3. Ratnagiri Mango

This one is surely our favourite and will soon become yours too! Delicious and creamy and definitely infused with Ratnagiri mango flavours to the core, we relished this yummy mango-y delicacy to the fullest here.
Price | Rs 75
4. Orange & Chocolate 

A finely blended mixture of orange and chocolate in equal proportions, this one tasted absolutely scrumptious. The tangy orange flavours balanced the sweetness of chocolate and needless to say, we polished off every last spoonful!
Price | Rs 70
5. Red Chilli Sorbet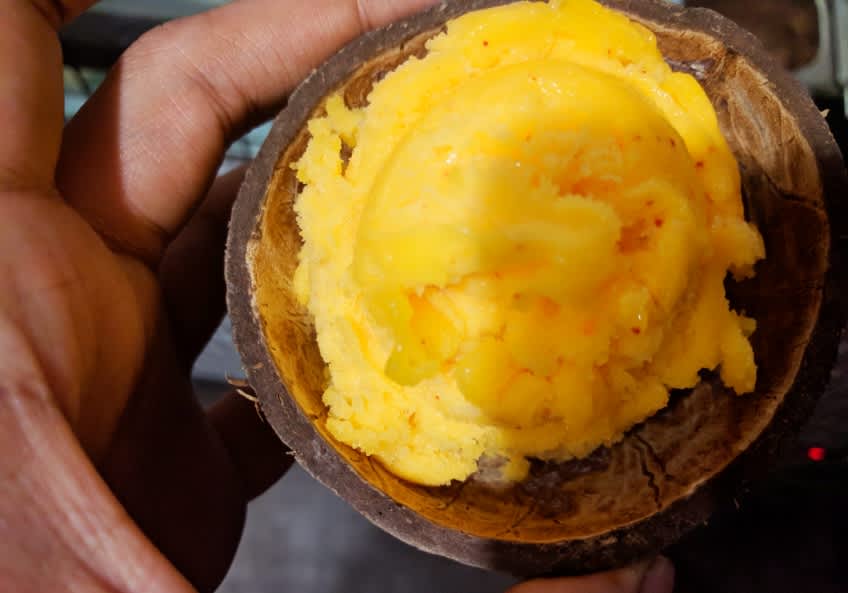 The unusual fusion of mango and chillies adds to the USP of this particular flavour! Spicy and sweet at the same time, this one is tailor-made for those looking to experiment with traditional ice cream varieties. 
Price | Rs 65
This small-batch ice cream joint is an absolute paradise for those looking for a nice change from the usual chocolate flavoured ice creams you'll find in every nook and cranny. Plus, these guys have a nice rustic backyard you can sit back in and relish your ice creams at so come on by!
Timings | 12 Noon - 12 Midnight
Where | Jaatre - Shop 1, Near Escorts Hospital, Sukhdev Vihar