Delhi
5 Delicious Snacks Such As Tandoori Paneer Kulcha You Can Hog All Under Rs 100 In Janakpuri
We all have been there guys; broke and hungry, desperate to fill our stomachs without wanting to poke holes through our pockets. Scavenging for quality food that fits our budget is one of the fondest memories of our student lives and we take pride in it. Our mission was to hunt down and target places in Janakpuri to enjoy scrumptious food and we are proud that we now have a list of places we can crash at to have some of the tastiest and yummiest snacks without worrying about spending too much on food. But let's be honest, food is worth every penny. Here are five places in Janakpuri we gorged at under 100 bucks!
1. Aloo 'N' Cheese Burger @ Wat-A-Burger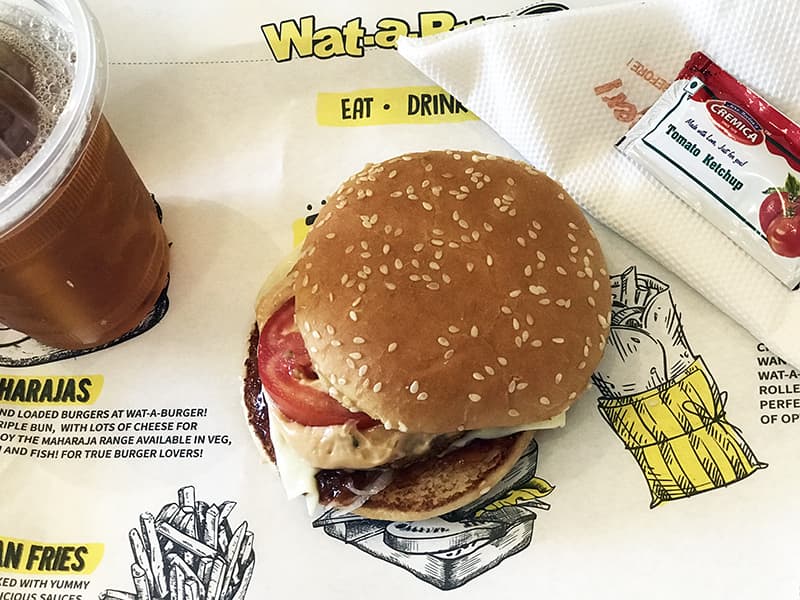 Truly an exquisite and heavenly snack packed between two buns, this dish is one of our favourites from their extensive menu. This burger was oozing with flavour and had everything we would want in our snack to fill our rumbling tummies. Veggies such as a juicy slice of tomato, mayonnaise and a crunchy deep-fried patty sat waiting for us to bite in. The zest of cheese slice that melted inside our mouths is what elevated the taste of the burger. Served with ketchup, we had to control our animalistic instincts so as to not stuff the entire burger in our mouths in one go, that's how delicious it was!
Price | Rs 75
Where | Wat-A-Burger - A86, Ground Floor, C2B Market, Lal Sai Mandir Marg
Call Them | +91 9910 558 772
Timings | 11 AM - 11 PM
Check Out Their FB Page | https://www.facebook.com/Wat-a-Burger
2. Chili Paneer Hot Dog @ Shortcrust Bakes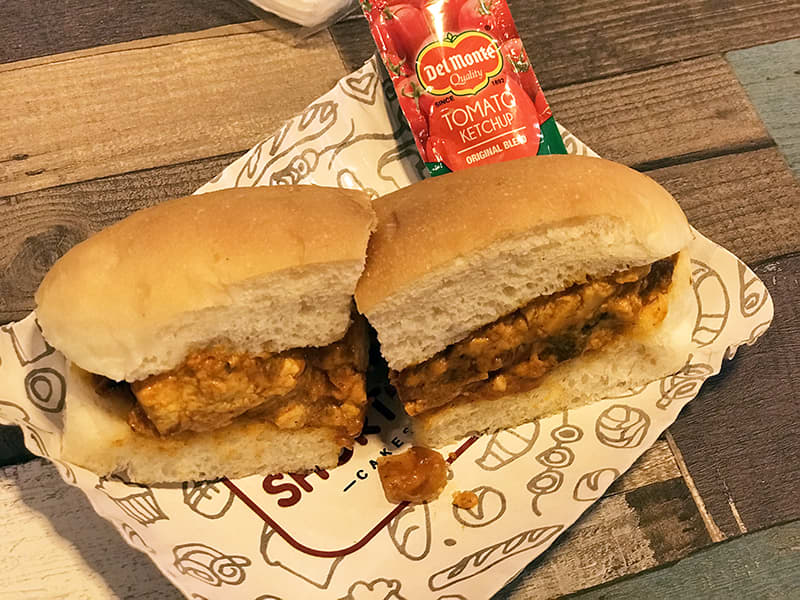 Were we expecting a savoury snack at a bakery? Probably not. Did we get it anyway? Hell, yes! The moment we walked in into the bakery, it smelt of cookies and vanilla. Their Chilli Paneer Hot Dog was served to us all warmed up and sliced in two with the filling of the buns oozing out of the crevice. The paneer was not only drenched in the sauces, but it was also almost as if the paneer was left to marinate in that delicious mixture for months. The chilli paneer mixture was spread evenly between the hot dog and came with ketchup on the side; we didn't need it though because of all the sauce and the filling that was melting and flowing out like molten lava of flavour!
Price | Rs 50
Where | Shortcrust Bakes - 84 A, Block C2B
Call Them | +91 11 4034 7001
Timings | 10:30 AM - 11 PM
Check Out Their FB Page | https://www.facebook.com/Shortcrust-Bakes
3. Peri Peri Chicken Samosa @ Medley Samosa Lounge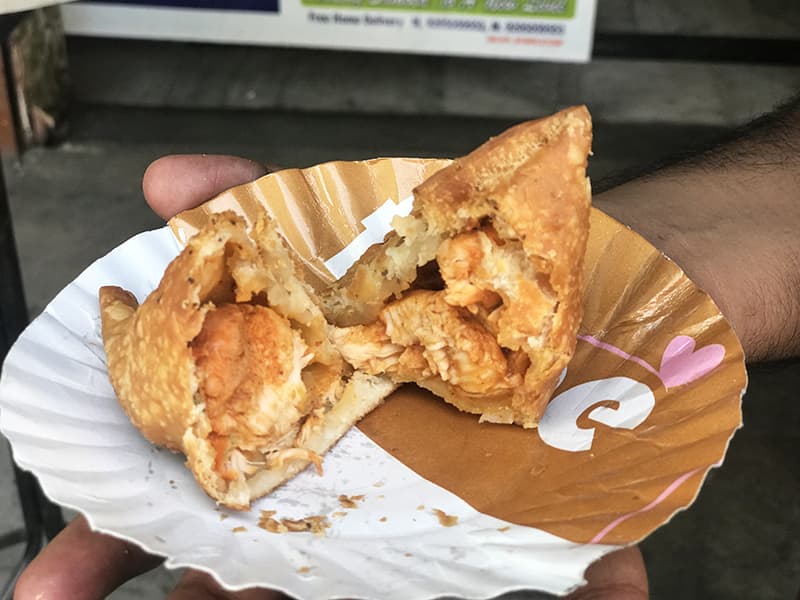 What happened to the chicken that crossed the road? Well, it came back to us, drenched in peri peri sauce and stuffed in our samosa. Mind you, Medley might be far from a lounge but isn't far from flavour in their food. Although this place has no seating, so, you might want to prepare yourself for a standing and eating ritual.
The chicken was dry and on its own, it was probably just going to be shreds of dry meat but the peri peri sauce balanced it out for us. Served with ketchup and green chutney, this samosa is a must try. The peri peri chicken couldn't have been put to any better use than as the filling of a samosa!
Price | Rs 75
Where | Medley Samosa Lounge - Pocket 13
4. Tandoori Paneer Kulcha @ Bakington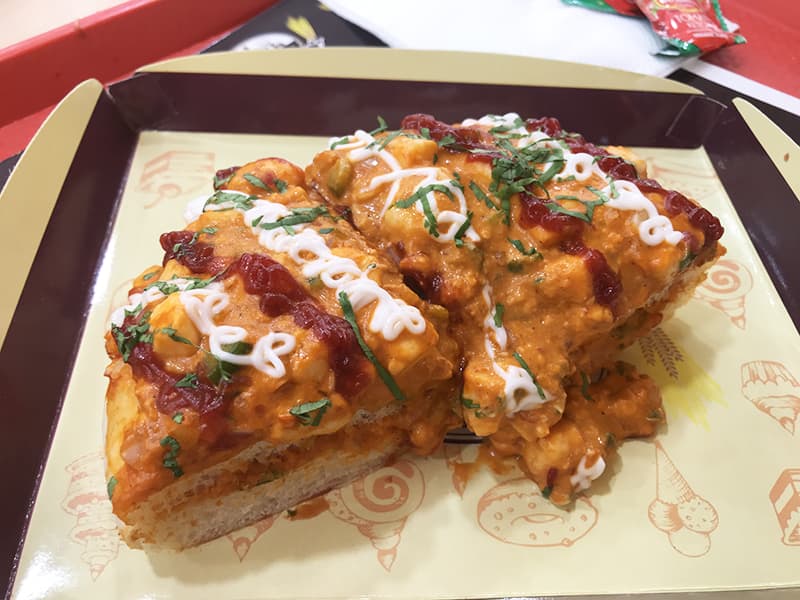 Stuffed kulchas take us back to our school days every time we see them, lying wrapped in the sticky paper. When they're topped with sauces such as mayonnaise, ketchup and our beloved tandoori sauce, it just amplifies our need to devour them as if our life depends on it.
This stuffed kulcha was filled with all sorts of goodness. It was soft and almost dissolved in our mouths the moment we bit into it. With the gooey filling spilling out of the kulchas with chunks of paneer peeking from between the sauces, everything about that sinful snack was inviting and made us forget civility for the time being!
Price | Rs 80
Where | Bakington - A 3/230, Opposite St Francis School
Call Them | +91 11 4506 6550
Timings | 10 AM - 10 PM
Check Out Their FB Page | https://www.facebook.com/Bakington  
5. Grilled Paneer Cheese Sandwich @ AADD M AADD B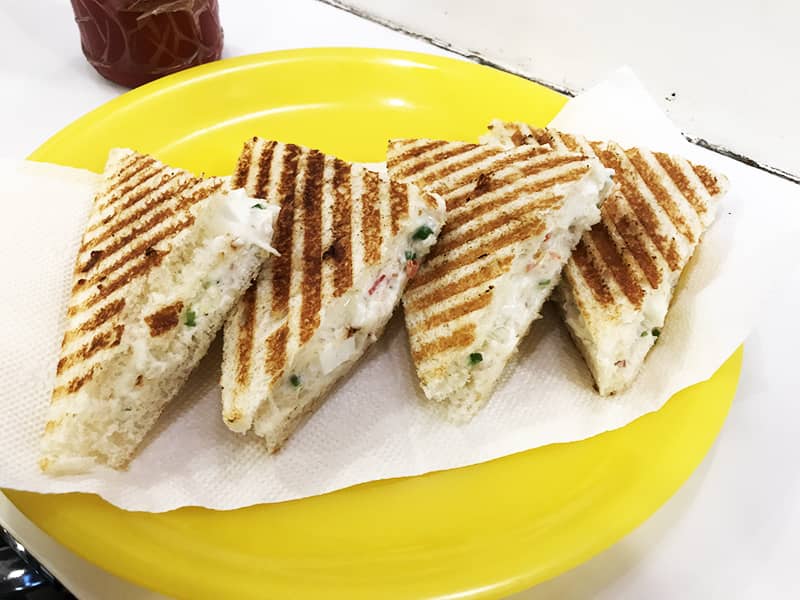 These small pieces of triangles were layered with cheese and coleslaw mixture. The mayonnaise mixture of chopped veggies and that creamy cheese was a walk of heaven straight from the kitchen of gods.
Yes, it wasn't out of the box. The usual grilled bread and creamy assorted veggies mixture spread along with a slice of cheese, nothing exclusive. Yet, the taste and the blending of flavours from rich to tangy and salty, every zing was calling out to us. The simplicity of the sandwich, along with chunks of paneer was all we needed to include in our lunch!
Price | Rs 90
Where | AADD M AADD B - Fire Station Rd, Block C 4B
Call Them | +91 95609 53430
Timings | 10:30 AM - 10 PM
Check Out Their FB Page | https://www.facebook.com/aaddmaaddbdelhi/
Evening snacks make up for the majority of our lives. If you're a foodie like us, we wake up, we wonder what we'll eat, we eat, we sleep and we're proud of ourselves. Janakpuri houses a lot of educational institutions and thus, we have a lot of students looking for places to hog at and forget about the stress of their lives. These places were some of the best which fill your stomach and don't feel heavy on your pocket. Do stop by and have these snacks with your friends after your tiring day!