Delhi
5 Delectable Fusion Desserts Like Nutella Golgappe To Try For A Hatke Sugar Rush
Get over regular desserts like the Nutella cheesecake, chocolate pound cakes and more, as we're back with yet another list where we talk about five delectable fusion desserts that you can and should try in Delhi ASAP. So, read on folks, and be ready to plunge your forks into these yummies to satisfy your sugar cravings!  
1. Daulat Ki Chaat With Rose Petal Chikki @ Indian Accent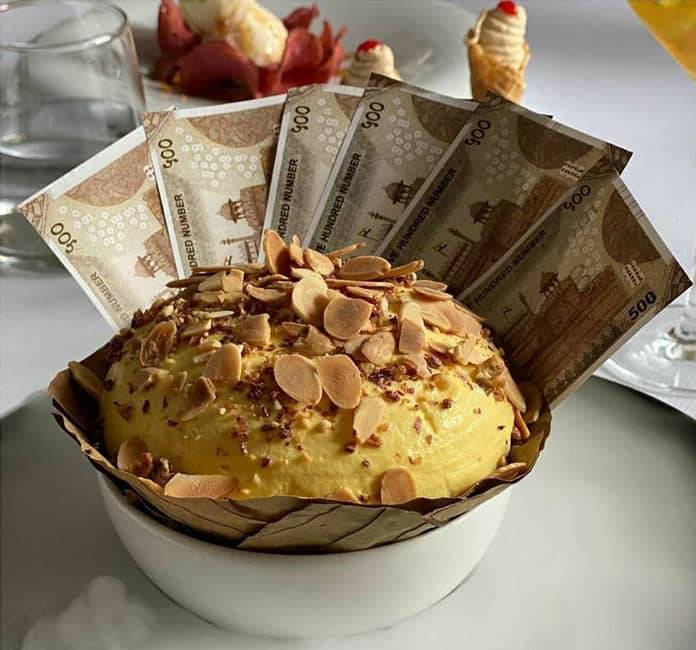 Picture Credits: priyankachopra
Dilli's iconic Daulat Ki Chaat is given a quirky twist at the lavish Indian Accent, wherein milk is used as the main ingredient and is combined with roasted almonds and crispy rose petal chikki. Fellow dessert lovers, go on and try this once it's safe to do so - we know you want to!
Where | Indian Accent - The Lodhi, Lodhi Road
Price | Rs 725
Call Them | +91 9871 117 968 & +911 6617 5151
Here's Their Website | https://indianaccent.com/?fbclid=IwAR3B_qx7L1WXvN3pUFgW3f4-KmkTlnsTvfk7YulVeN_YE6a8JGPhriJJXX4
Check Out Their FB Page | https://www.facebook.com/indianaccentrestaurant/
2. Gulab Jamun Cheesecake @ The Chatter House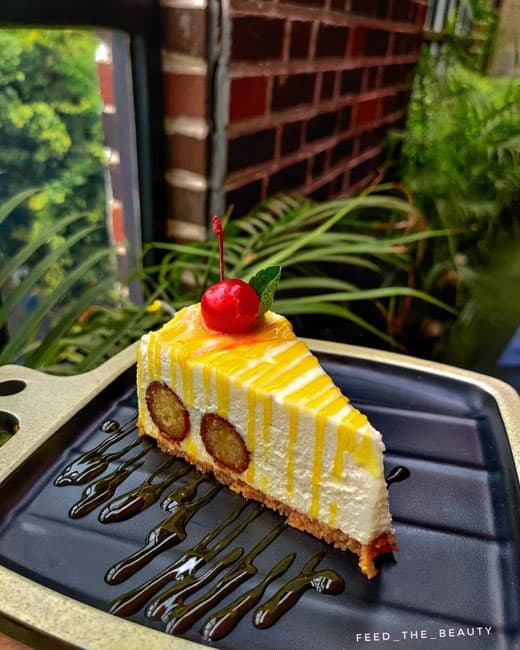 Picture Credits: feed_the_beauty
The flavour of this extremely fluffy and creamy cheesecake is enhanced by the soft gulab jamuns and, in all honesty, this out-of-the-box dessert has won us over! Even the presentation is so beautifully done that it's a treat for sore eyes - make sure you don't miss out on this delish dessert, folks!
Where | The Chatter House - Lower Basement, Epicuria, Nehru Place Metro Station, Nehru Place
Price | Rs 290
Call Them | +91 7222 047 777, +911 2623 7777 & +911 2623 8888
Check Out Their FB Page | https://www.facebook.com/thechatterhousekhanmarket/
3. Nutella Golgappa @ Social Foodie Inside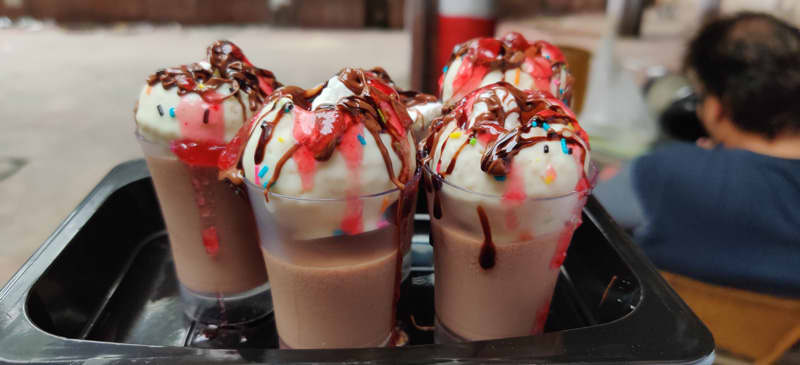 The scrummy and massive Nutella Golgappas here come stuffed with cream, Nutella (ofc!) and are topped with crunchy sprinkles that will fosho give you a sugar rush to remember! Served in shot glasses that are half-filled with liquid chocolate (OMG), this crazy dessert is something you'd wanna try ASAP, right?
Where | Social Foodie Inside - GG II, 71-A, Vikaspuri
Price | Rs 120
Call Them | +91 9971 081 342
Check Out Their FB Page | https://www.facebook.com/socialfoodieinside/
4. Apple Jalebi At Cafe Lota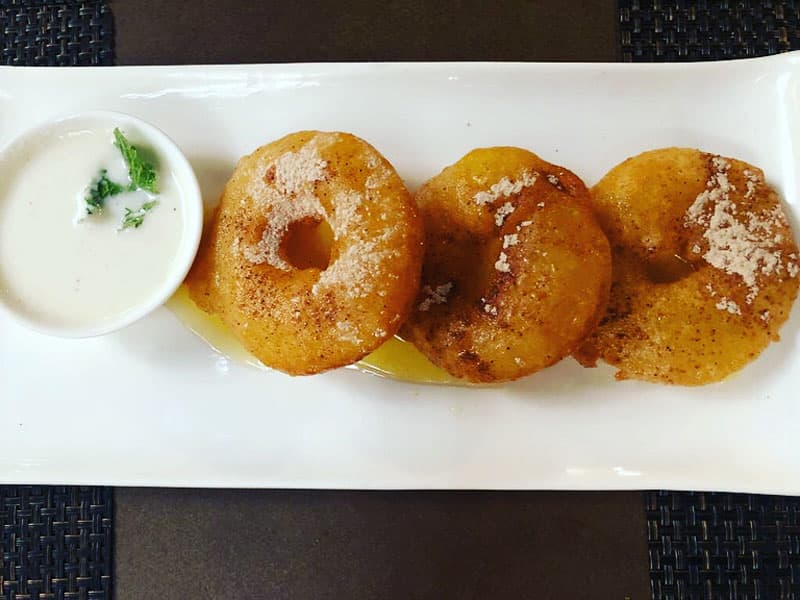 Picture Credits: gunjan1991
Fancy some crunchy Apple Jalebi sprinkled with cinnamon powder and served with creamy coconut rabdi? If your answer is a vehement yes, then Cafe Lota is the place you need to head to! BTW, they're also delivering to your homes, so order up and gorge on this delectable dessert while you're cozied up on the couch at home!
Where | Cafe Lota - National Crafts Museum, Gate 2, Bhairon Marg, Pragati Maidan
Price | Rs 270
Call Them | +91 7838 960 787
Check Out Their FB Page | https://www.facebook.com/CafeLota/
5. Bhappa Doi Cheescake With Laddu Crumble & Salted Caramel Pearls @ Eau De Monsoon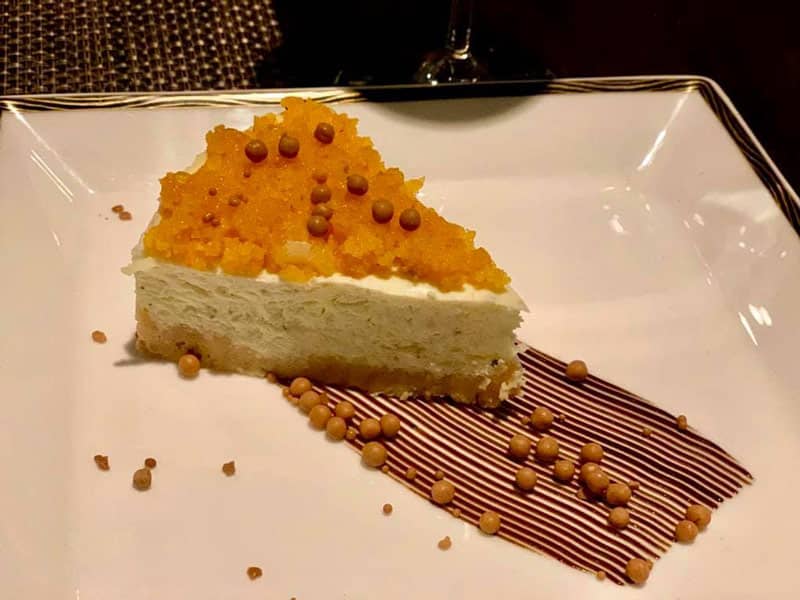 Picture Credits: aldo.saruba
You might have tried a bevvy of cheesecakes, but ever heard of a Bhappa Doi Cheesecake? Eau De Monsoon serves a melt-in-your-mouth cheesecake made of steamed yoghurt topped with a layer of laddu crumble and delish salted caramel pearls that we are totally crushing on RN, and you will, too!
Where | Eau De Monsoon - Le Meridien - Windsor Place, Janpath
Price | Rs 695
Call Them | +91 8588 891 988
Check Out Their FB Page | https://www.facebook.com/LeMeridien.NewDelhi/
Folks, when are you giving these HATKE desserts a try?!